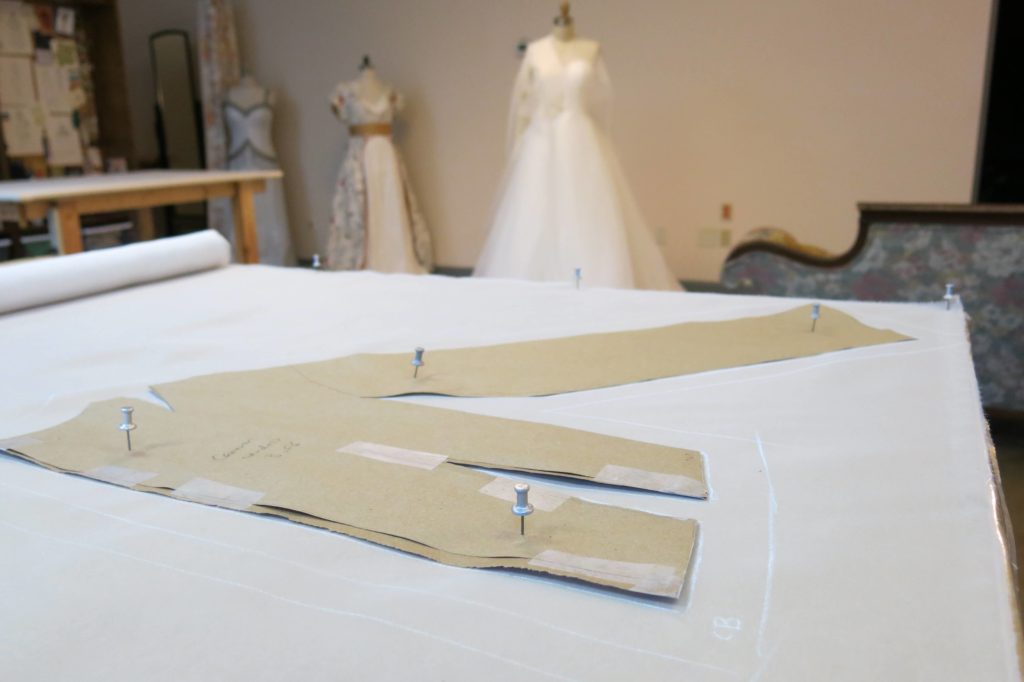 After I drafted her custom pattern (and went on a little a custom fabric designing trip), I was ready to cut and construct the mockup version of Cameron's custom wedding overdress!
The overdress would ultimately be a handcrafted from a lightweight sheer silk fabric (with custom printed flowers!) with satin bias edging. For my mockup test version, I used cheaper versions of the same: polyester organza fabric to be edged with cotton bias binding.
Even though I did my rough drape using muslin, it is important that the test dress is as close to the real thing as possible. Custom sewing is all about experimenting, so I want the results of my tests to be as accurate as they can be! I also want my bride to have an easy time imagining the real dress while wearing the experimental one.
Cutting Out Cameron's Mockup
Using the pattern to mark and cut the fabric is actually one of my favorite tasks!
The skirt part of the overdress includes a lot of fabric and features a long train. My huge 4×8 cutting table (find my tutorial to make your own here) was still too small for the largest piece. I needed to pull out my table extender for the job….