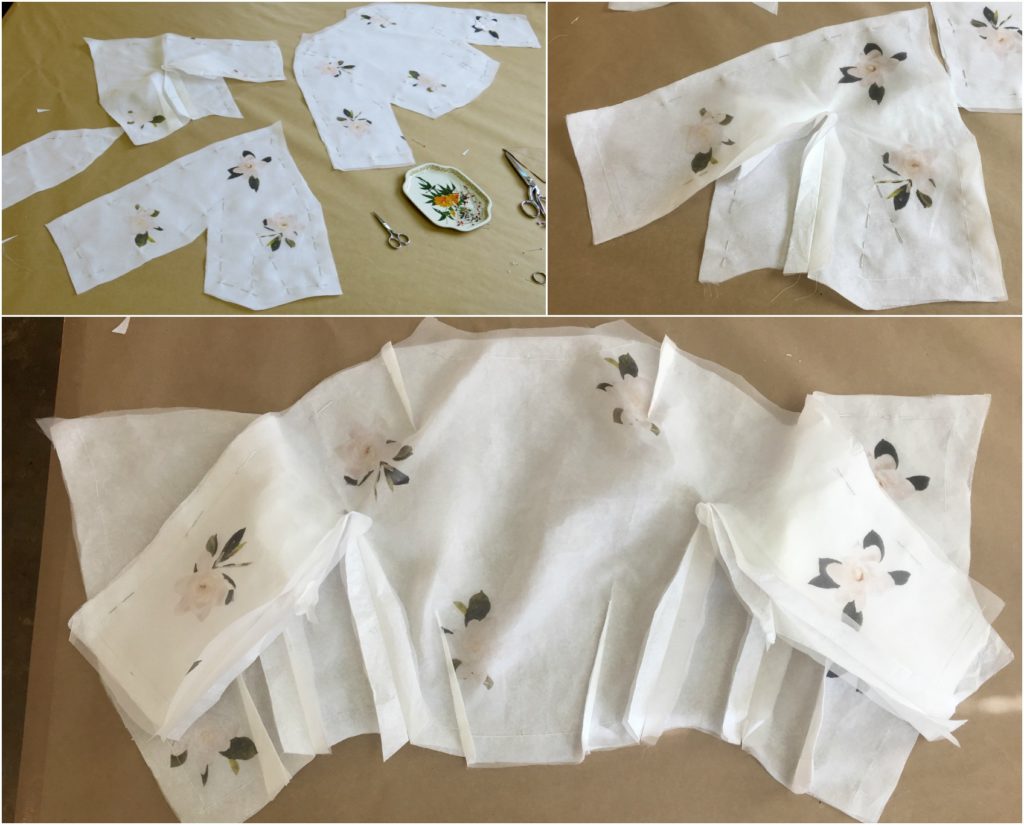 After getting in some practice sewing the skirt pieces of Cameron's custom wedding overdress (made of cutom-printed sheer silk and backed with tissue paper), it was finally time to tackle the top. Cameron's design features cut-in-one gusset sleeves.
What the heck are cut-in-one gusset sleeves? Well, you don't see them much in modern clothes, mostly because they are tricky to sew. Though beautiful, they are not labor efficient or material layout efficient for factory production. Good thing I only sew couture…
Back in my day…
I first fell in love with cut-in-one sleeve designs around 15 years ago when I was in graduate school (I have a Masters Degree (MFA) in Costume Production from UNC Chapel Hill). The class was called Period Pattern and, as I recall, basically went like this: Each week, our teacher would hand each student (class size 2-6) a different period garment image (her choice!). Our assignment was to figure out how to reproduce it, and then do so. She assigns us the image of a dress and we turn in a dress.
When we got to the early 50s, my assignment was La Cigale by Christian Dior. It's really beautiful and gets more beautiful the more you examine it. While it is very hard to see in any photos I've ever seen of this dress, it (not only has a Y dart) has cut-in-one diamond gusset sleeves. Looking very closely you can see that there is no armhole seam. The same piece of fabric wraps the body from center front all the way to the sleeve hem. Yet, it is very fitted! How can that be? Turns out: it's because of gussets….