"As a client, I felt valued, pampered and professionally looked after, even while Brooks Ann and I spent a lot of our time laughing our way through our meetings!
The Creators' Collaborative / By Hand London
"Padding a Dress Form as Your Body Double"
"One of the most helpful tools I use to create custom-fit clothes is the custom body double… 
I'm excited to share my discoveries and journey while making my first custom dress form for myself! 
And my favorite part: No measurement sheet!!!"
… A thimble enables you to use more of your hand while hand sewing, as opposed to simply pinching the needle between two fingers. When you have a thimble protecting the middle finger of your stitching hand, you can push the needle through the fabric, giving you greater control, precision, and speed. I'll show you how wearing and using a thimble compares to holding a pencil—something you probably do every day. With practice, you'll stop dreading hand sewing and start discovering all the ways it can improve the quality of your garments. A thimble might even help you fall in love with handwork."
"Claws Star Jenn Lyon Marries Longtime Love Taige Jensen: Inside the 'Kitschy' New York Nuptuals"
"Episode 56: Hand Sewing with Brooks Ann Camper"
"Brooks Ann Camper shares her incredible sewing journey that has taken her from Broadway costume creation to making custom bridal gowns. She teaches us how you can up your game by incorporating hand sewing into your next projects! Brooks Ann's positive attitude about enjoying the act of sewing and taking care in the details is truly infectious."
"11 Talented Brides Who DIYed Their Own Wedding Dresses and Impressed Us All"
"While most brides purchase their gowns from a bridal retailer, some brave and talented women opt to make their own dresses for the big day instead. Below, meet and marvel at 11 women who DIYed their wedding dresses in some way…
#11 "Yes, I made my own wedding dress. After making [my sister-in-law] Katie and Melissa's wedding dresses, I got engaged to my wonderful, amazing, handsome husband Charles," bride and bridal designer Brooks Ann Camper wrote on her blog…"
A guide to bias bindings.
"If you're unsure how bias works, or if your bias binding attempts have been a bit wonky, this guide should offer some insight! I'll share my thoughts on bias, how to make your own tape, couture secrets of getting it to lay smoothly around curves, and two ways to finish off an edge using double fold bias tape."
"All the Difference in the World: Brooks Ann Camper's Wedding Garb is Custom Made, But It's Hardly Customary"
"For almost a century, Hillsborough's Eno River Mill was a large textile mill with on-site housing for its employees. Today, like much of the Piedmont's former industrial infrastructure, it's an artfully preserved commercial development full of businesses both big, like Mystery Brewing Company, and small, like Brooks Ann Camper Bridal Couture.
It's unusual to find a bridal shop in a maze of open loading bays and crumbling brick outbuildings, but the unusual is exactly what Camper's clients are searching for. Inside, the shop resembles an artist's studio, except that it's clean and softly lit. There are antique sewing machines—one Camper inherited from her grandmother, a patternmaker for J.C. Penney—a couch, and a dressing room. Sketches paper over the walls. Dress forms in markedly personal shapes stand in corners."
A guide to upgrading your sewing with professional-quality tools, fabrics, and furnishings.
"We all know that practice is important, but the quickest way to elevate your sewing status might be to upgrade what you are using to create your projects. I first learned to sew as an adult while working in professional workrooms using professional tools. I believe this was one of the reasons why I was able to go from absolute beginner to sewing for Broadway in only five years."
"Brides with a vision choose custom gowns"
"You are a bride-to-be going to your first wedding dress consultation. You drive to a studio, sit down to talk with the designer and then leave, all without trying on or even looking at a single dress. That might sound scary, but this is the first of many steps brides take when they go with custom bridal designers over off-the-rack dresses.
Two Triangle custom gown designers, Brooks Ann Camper and Marie Cordella, specialize in bringing ideas to life while staying focused on the nucleus of any wedding: The bride and her dress…"
A guide to the sewing technique of underlining.
"Very early in my sewing life I was thrust into "couture." I had extremely little sewing experience when I started working in a major professional theatrical costume shop. This is where I first learned to sew as an adult beginner.
Starting the learning process by creating high-end, custom-fit garments, many designed by Tony Award winners, quickly taught me the value in "advanced" techniques. But it also taught me not to be scared that they are "too advanced" for a beginner to try. Often the hard way isn't actually all that hard.
My favorite couture sewing technique is underlining, and there is no reason why a beginner can't master this skill. In fact, I think underlining makes everything about the rest of the sewing process easier, while creating longer lasting and more professional looking results. Win-win!…"
A personal essay about finding talent in unexpected ways.
"Sewing skips a generation, or so they say. My maternal grandmother was an excellent seamstress. She worked in a Texas sewing factory and sewed many of the clothes worn by her 4 daughters, as well as her own. She even made my mom's wedding dress 51 years ago. My grandmother, who died just as I was beginning to learn to sew, probably never dreamed that I'd soon become a custom wedding dressmaker…"
"Meet the Maker Interview"
It takes a fair amount of confidence matched with humility to take on the often emotional task of crafting someone's custom wedding dress. When Brooks Ann Camper saw an underserved market for one-of-a-kind bridal gowns that didn't fit the standard cookie cutter mold, she jumped in with both feet.
She strives to help brides look and feel their best on their big day, and we think there's no better way to put your talents to use than to make others feel amazing!
Redress is always interested in hearing more about designers who are passionate about creating beautiful textile products that empower people and we recently learned of a couture wedding dressmaker / custom sewing instructor just down the road from Raleigh in Hillsborough, NC – Brooks Ann Camper.
We asked her a few questions about what made her choose this path and how she feels she can help non-designers create custom clothing that makes them look and feel great.
When I tell people that I am teaching adults how to sew using their own designs and their own patterns, their eyes get big. Whoa… seems so mysterious…. so advanced… so ambitious…
When I tell people the course is designed for beginners to garment sewing, frankly no one believes me. Pattern making seems like it would be really hard; something that only people who already have a lot of experience making clothes should even attempt. I have a confession to make, though: I have never graded a pattern and I do not know how to do an FBA. To me, that is what sounds hard…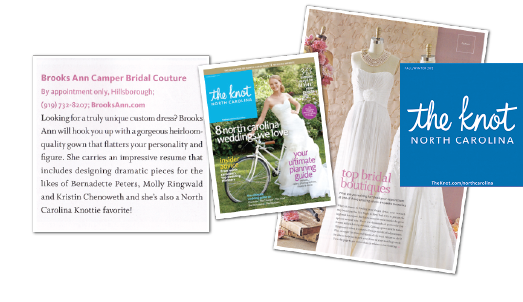 When it comes to finding your dream dress, your instinct may be to hop the first flight to New York City to peruse the high-end boutiques. But take a moment and consider the great dresses within driving distance. Getting a gown nearby makes things easier when it comes to fittings and detail adjustments. Plus, an expert in town will know all the local venues so she'll be able to help you match your dress to your wedding's style. Turn the page and get some ideas on where to start looking.
Looking for a truly unique custom dress? Brooks Ann will hook you up with a gorgeous heirloom-quality gown that flatters your personality and figure. She carries an impressive resume that includes designing dramatic pieces for the likes of Bernadette Peters, Molly Ringwald, and Kristin Chenoweth and she's also a North Carolina Knottie Favorite!
The Knot Best of Weddings
As featured on page 14 of the Spring/Summer Issue of The Knot North Carolina
The votes are in! Here are the real brides' picks for venues, cake bakers, florists and more in your area.
Thanks for all of your support!