So, where is it exactly?
Open by Appointment Only.  (No drop-ins please.)
UPDATE: June 2021
I have moved temporarily (but am still in Hillsborough). I'll give you directions when we coordinate your appointment.
———-
437 Dimmocks Mill Road, Suite 8, Hillsborough, North Carolina 27278
Brooks Ann's Sewing Room is located in Suite 8 of the Eno River Mill which is between the train tracks and the Eno River, across from Occoneechee Mountain.  It's not far from Historic Downtown, and even closer to the popular shopping/drinking/dining area at South Nash Street.
Using the address with mapping software leaves a little to be desired, so I made some maps.  These should help you get to Hillsborough, then to the Mill, then to my Sewing Room…
Getting to Hillsborough: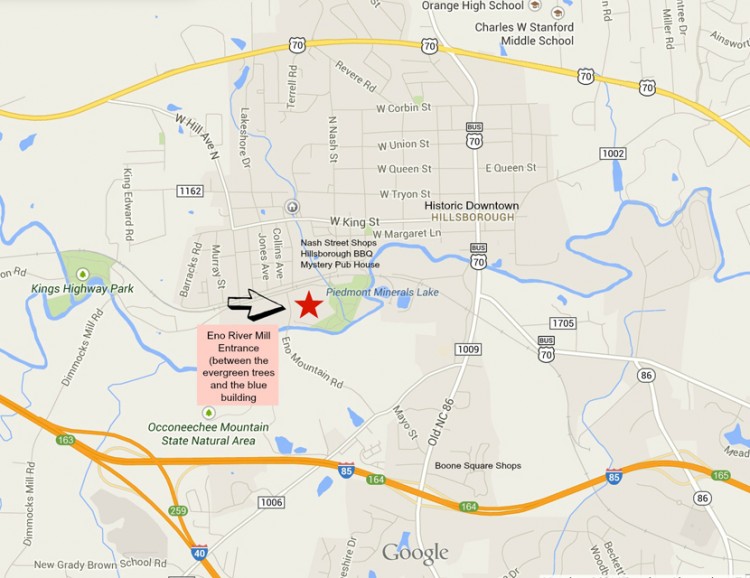 From Historic Downtown Hillsborough, from Churton street (Old NC 86), go West on King Street.  In about one mile, take a left at the stoplight on Nash Street.  Follow Nash past Hillsborough Station (Hillsborough BBQ, Mystery Pub House, etc.) where you'll go around a bend and under the train tracks.  It winds a little bit and you'll start seeing a large brick building on your left.  That's the mill!  Keep driving past it and take a left onto Allison street.  The entrance is the third driveway on your left between the evergreen trees and the blue building.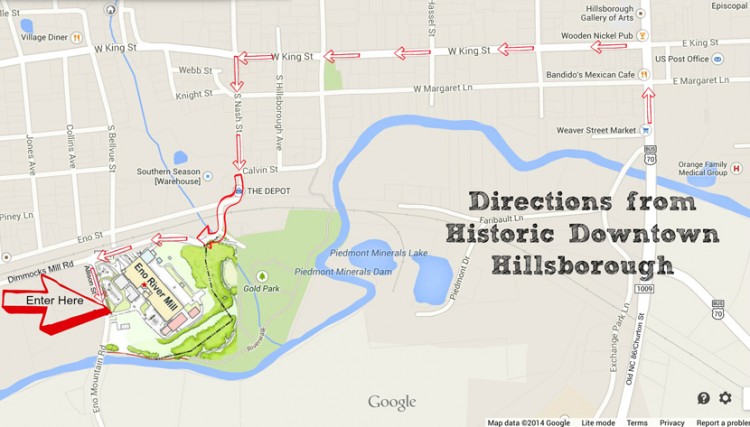 When you pull in you will see a huge smokestack!  There are places to park as you drive in, though you won't quite be able to see my Sewing Room from the parking lot.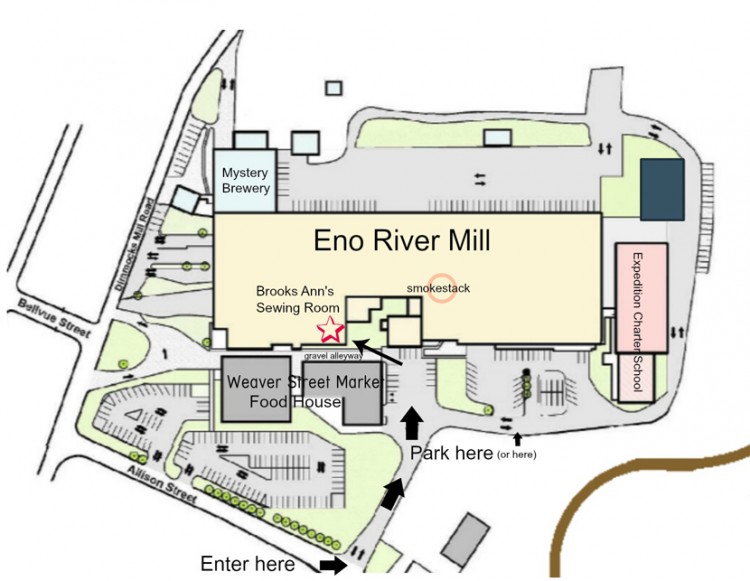 While looking at the huge smokestack, my Sewing Room is just a short walk down a gravel pathway/sidewalk on your left.  There is a sign up high on the building that says 437 Suite 8.  I have a teal door.