Andy
Whimsical    Unexpected    Charming    Joyful    Elegant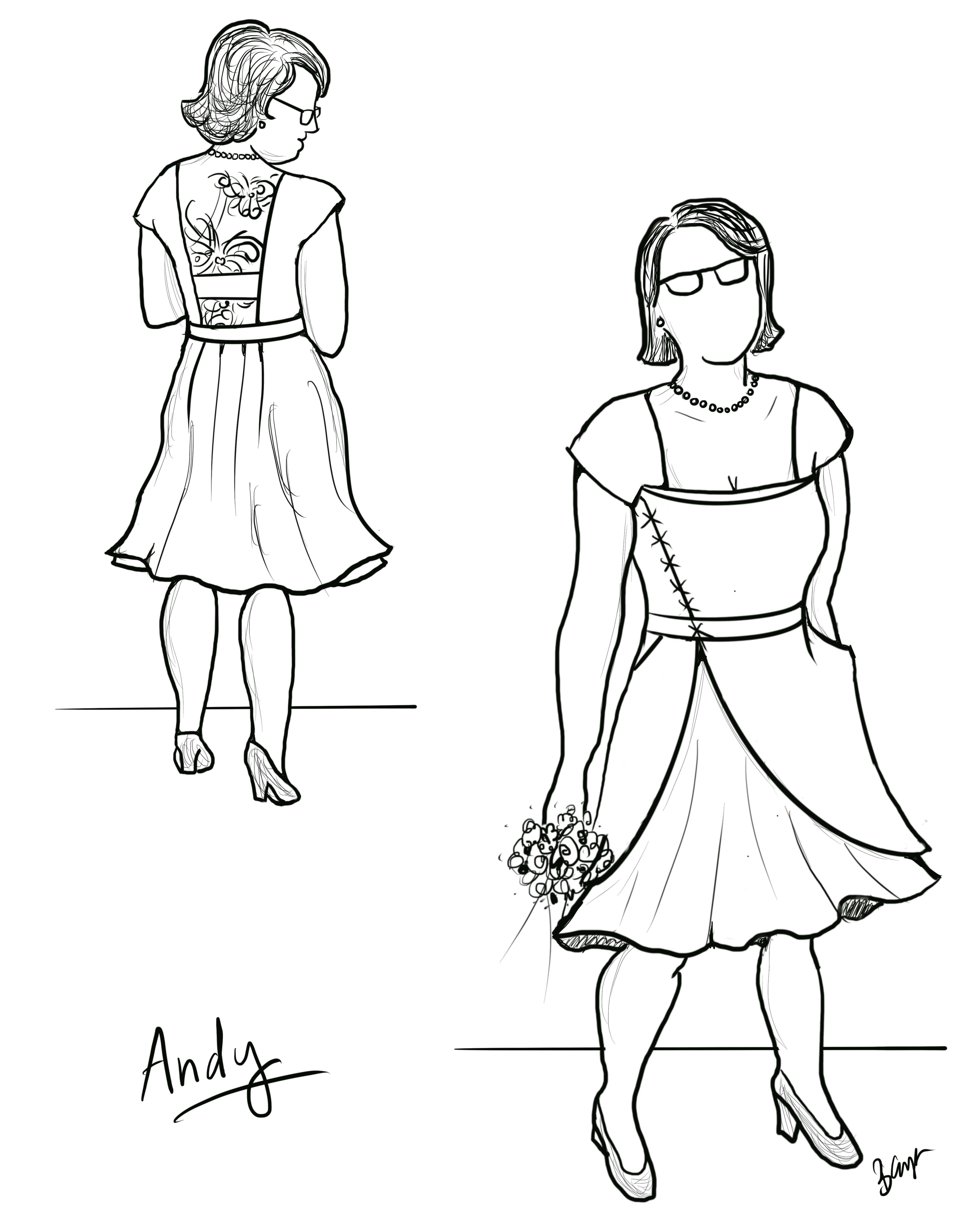 Andy's Colorful Wedding Dress
A fun colorful non-traditional multi-layer wedding dress with a square neckline and asymmetrical details. The belted 'overdress' features pockets, short sleeves, and a square neckline with a rounded neckline peeking out below it. It has asymmetrical front lacing that transitions into an asymmetrical skirt opening. The back of the 'overdress' is open to the waist (showing off the bride's beautiful tattoo) with a squared band across the center to cover the bride's bra and mimic the straight clean design of the belt. The full just-below-the-knee length 'underskirt' will feature a different fabric than the 'overdress' and some secret surprise colors or fabrics underneath. This 'underskirt' could be a separate garment- which may be worn without the overdress for a future occasion.
Design Inspirations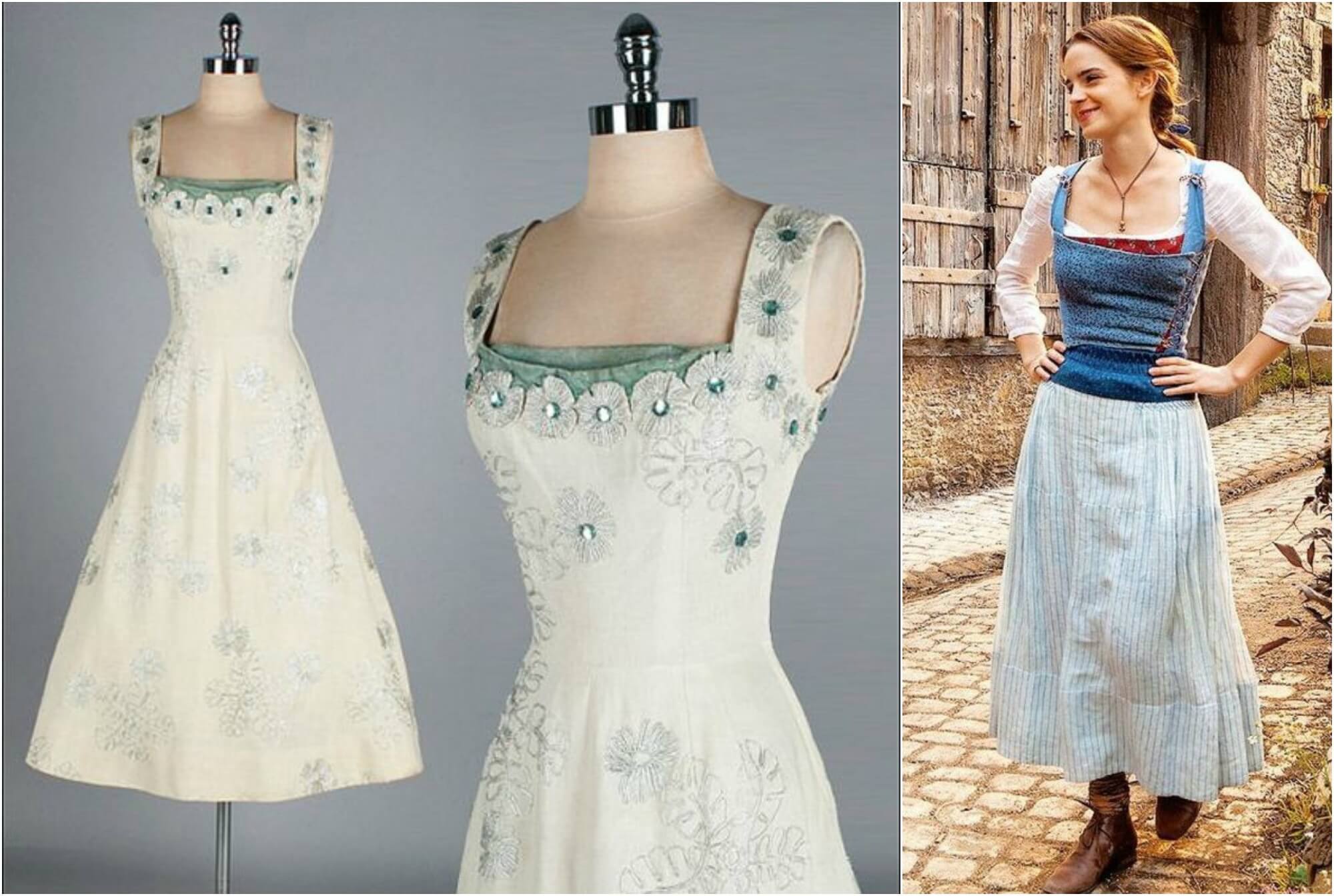 These two images were our main design inspirations showing the general shapes and vibe, the squared double front neckline, mixing of fabrics/colors, and the asymmetrical lacing detail.

These images inspired the open-back and belt detail (without the bows) and the short sleeve shape.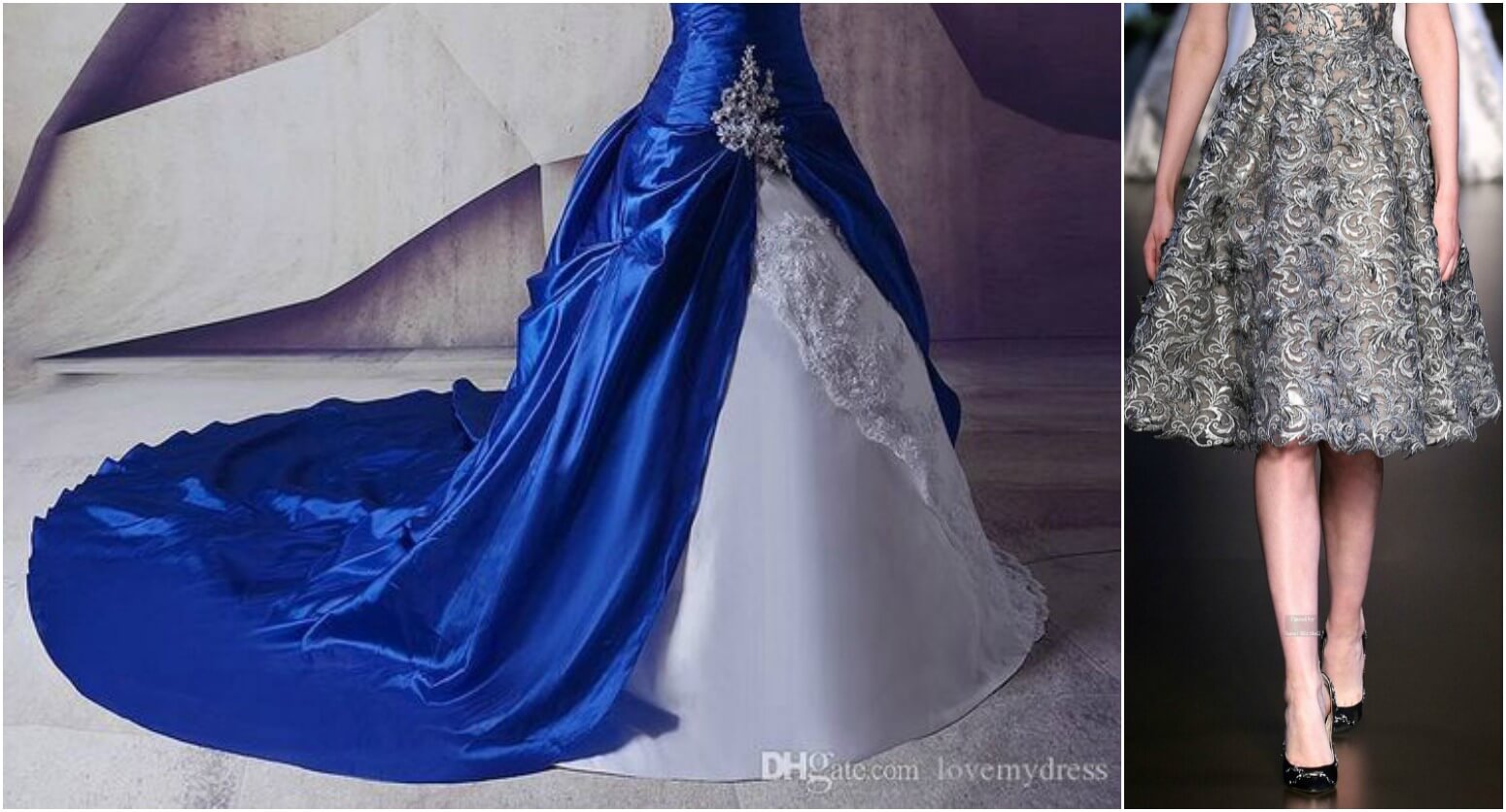 The image on the left inspired the asymmetrical contrasting double/skirt idea. The image on the right shares inspiration for the skirt's length and fullness.
Many more inspirations (and sources) can be found on my Pinterest Board "For Andy":
https://www.pinterest.com/brooksann/for-andy/
[separator2]
Fabric Inspirations
Over the next few months, we will be able to search for the perfect fabric. That said, I got really inspired by the idea of using a metallic brocade (like the 'silver swirl' of Loula's dress), so I ordered a bunch of swatches from New York. Playing around with my new iPad, I can show you (kinda sorta) how your design will look with some of my favorites.
Please Note:
The patterns on the fabric are not 'to scale' in my sketches! They will look different when made into a dress.
These 'metallic' fabrics are not made of 'all-natural fibers', though I'd line and underline them with cotton and/or silk.
The white 'fabrics' on the sketches, don't have to be white.
I can mail you the actual swatches, if you'd like to see/feel them.
I usually book dresses before making fabric choices. This fabric section is an extra bonus because I got so inspired!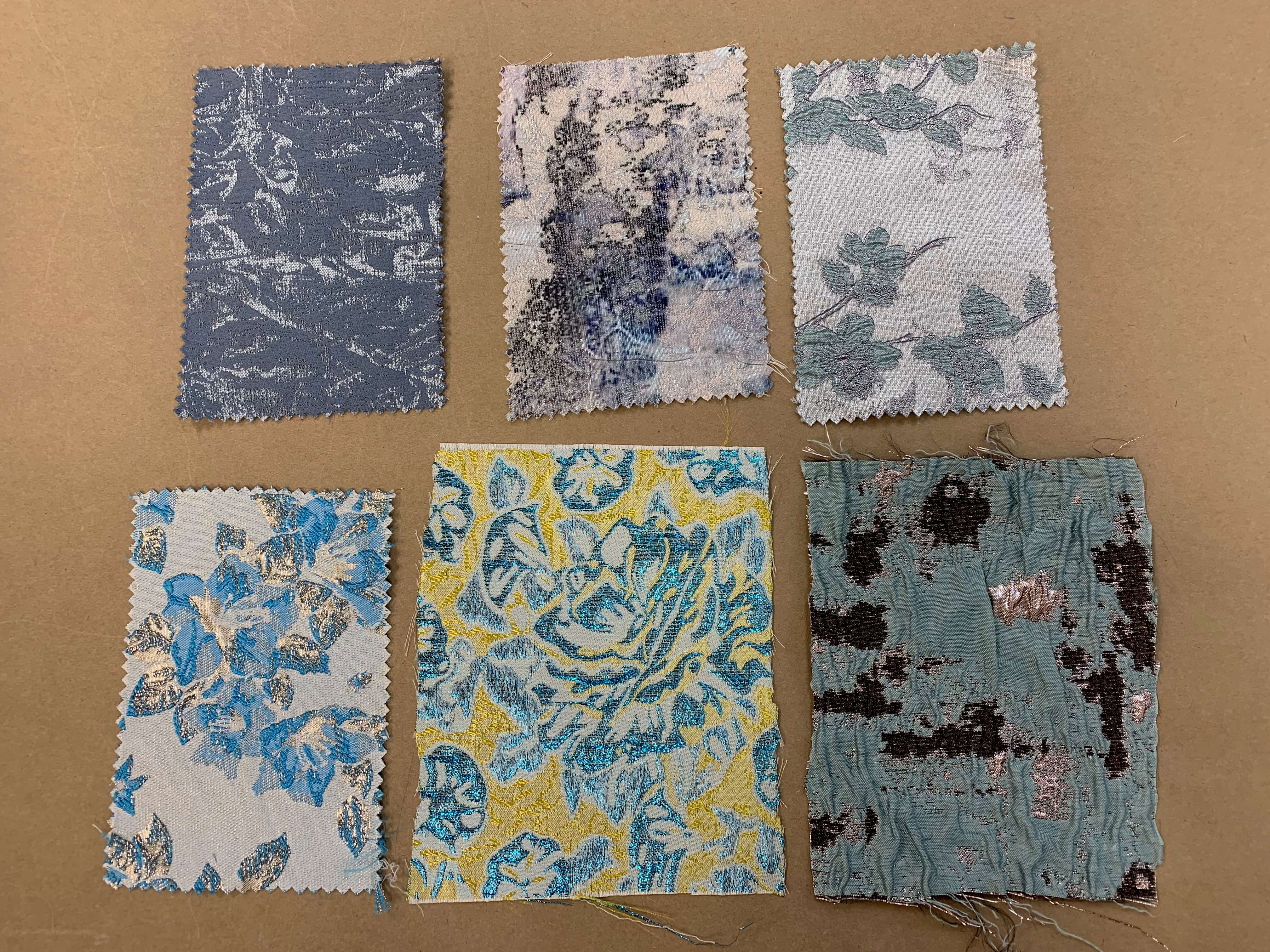 These were my favorites of the swatches I received. For print scale: each swatch is 5-6″ long and 4-5″ wide. Most have an interesting reverse on the backside, that we could possibly use for accents.
1- British Blue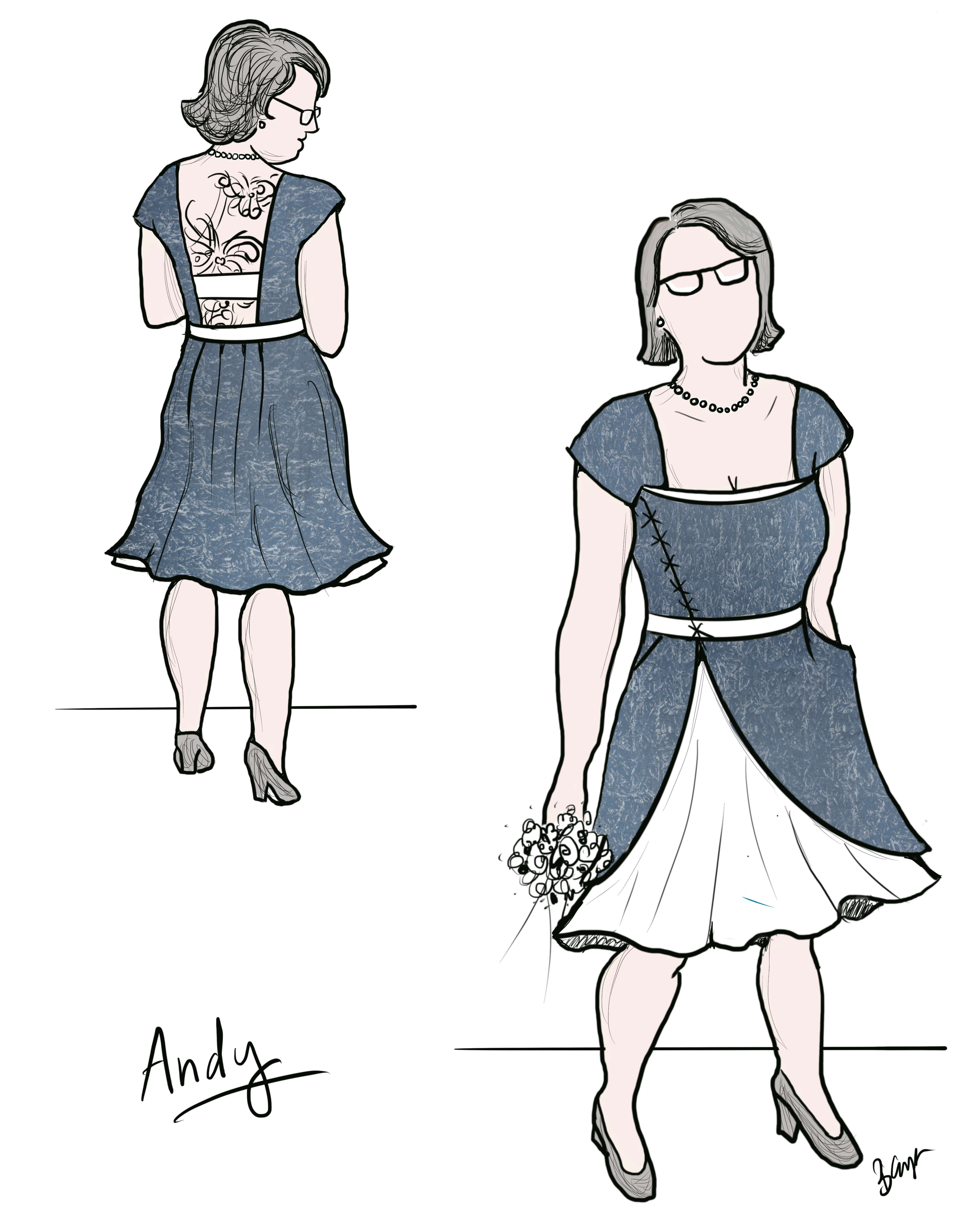 Love this one! The light bits of this fabric are silvery. The backside of the fabric is the reverse (lots of silver with a little blue). Could be fun to play with both sides… More pics can be found here: https://www.moodfabrics.com/british-sky-abstract-brocade-awg130
2- Digital Print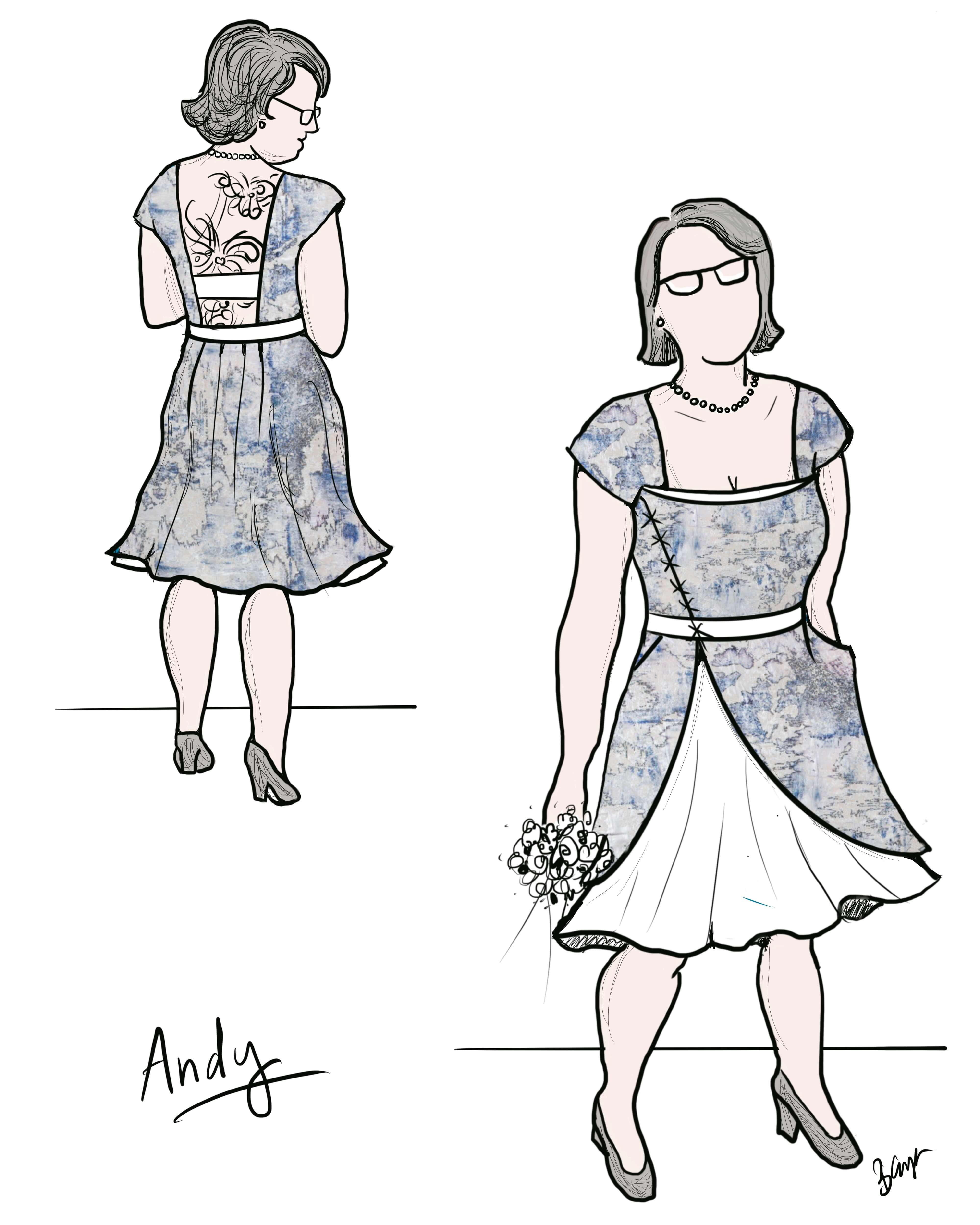 I love this 'digital print'! It's got textured silvery shiny bits and a really cool smattering of various blues and grays. More pics can be found here: https://www.moodfabrics.com/digitally-printed-strong-blue-abstract-jacquard-311078
3- Floral Branches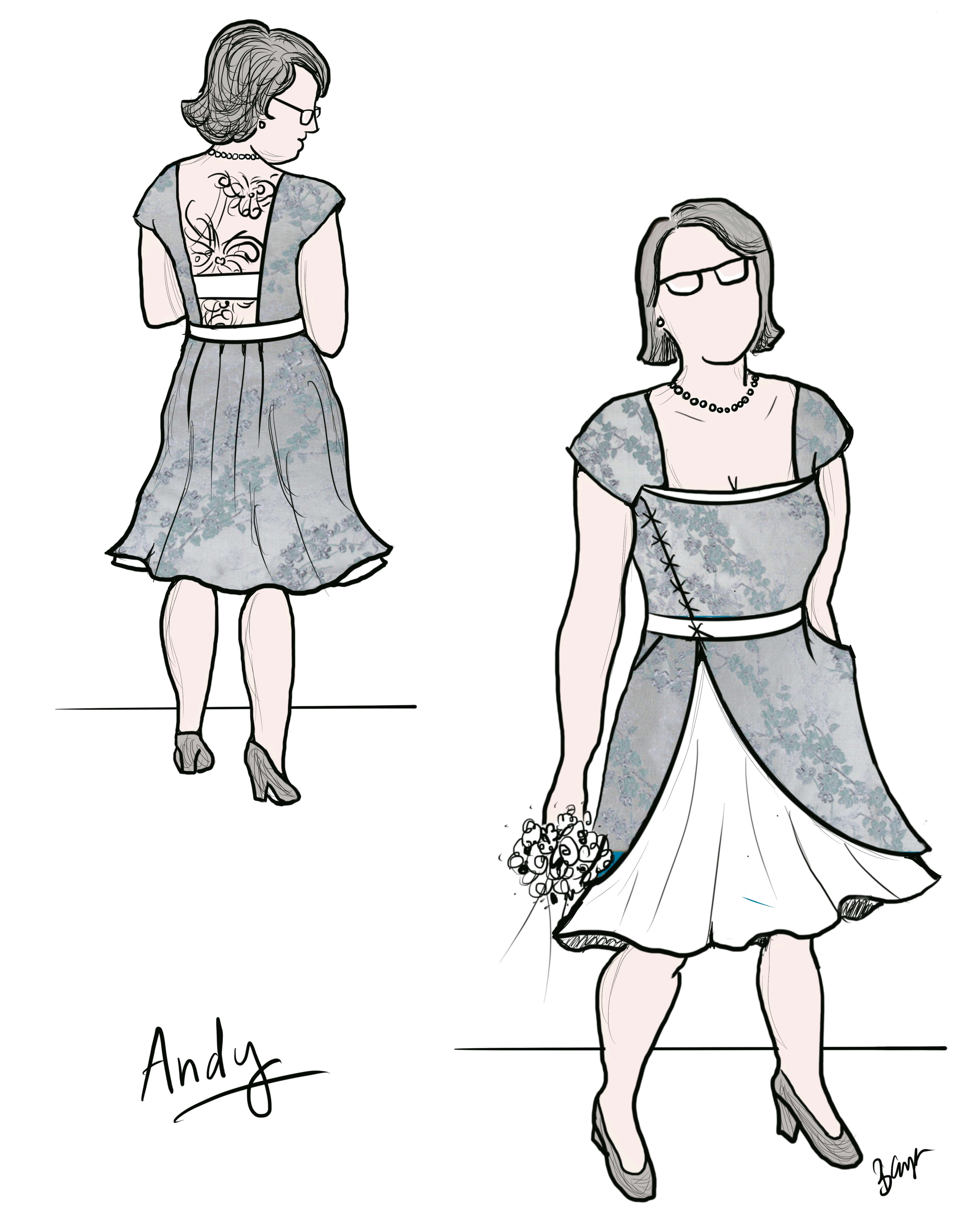 This gorgeous print features blue and silver flowers and branches woven in diagonal lines across the fabric's yardage. Could be really fun to play with in our asymmetrical design! More pics can be found here: https://www.moodfabrics.com/aqua-and-silver-luxury-floral-metallic-brocade-122333
4- Bold Blue and Gold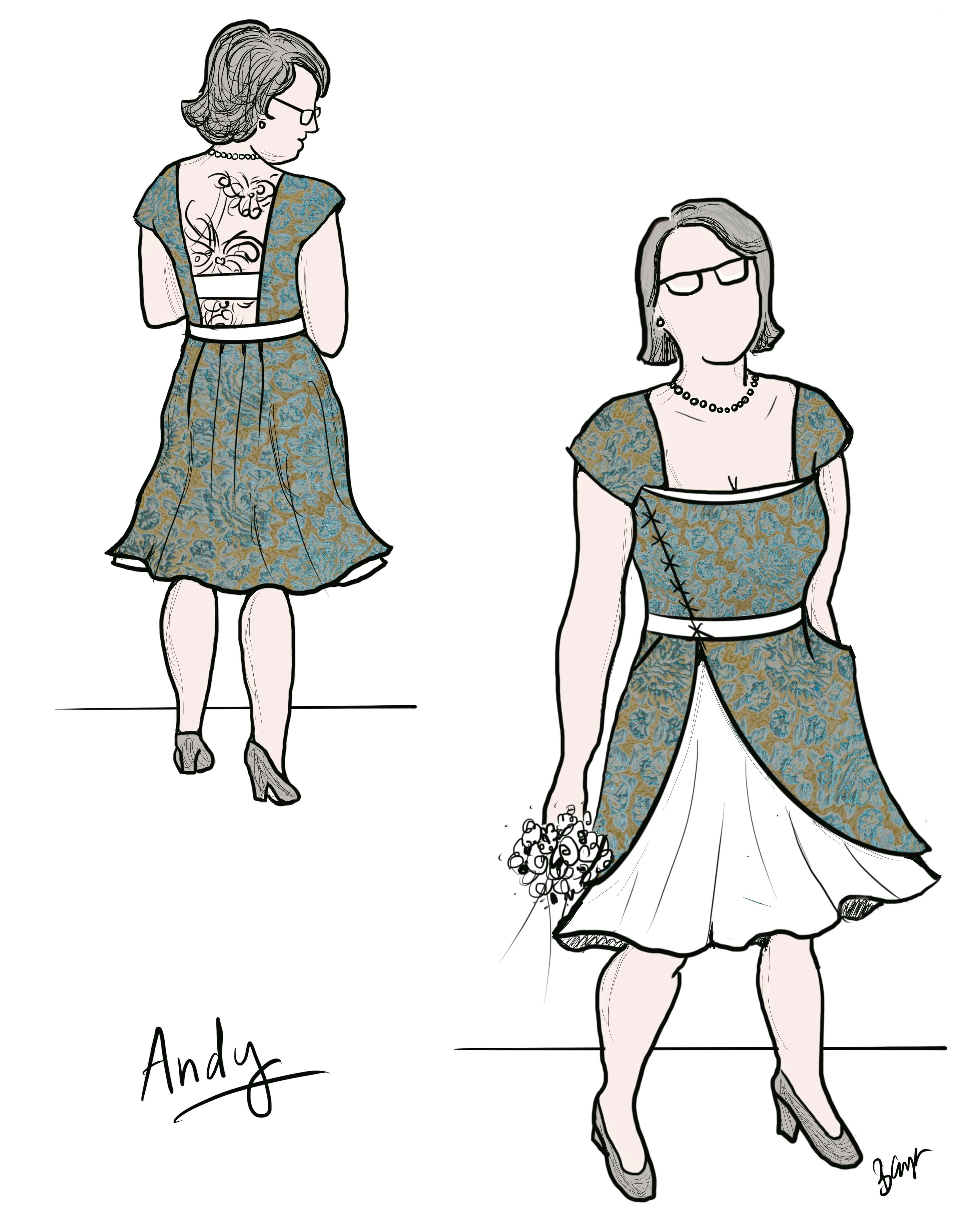 Bold and stunning! This super shiny floral fabric has brighter colors than what appears in this sketch. It seems like a fun and beautiful mash-up of all 3 of our Belle inspiration dresses! More pics can be found here: https://www.moodfabrics.com/metallic-blue-yellow-ivory-floral-brocade-309865
You may have noticed that I showed 2 extra swatches. Of the 18 fabrics swatched, those 2 made my cut of favorites- that is until I did a 'press test' (after taking the photo). Both kinda fell apart when I ironed them (which means they'd be miserable to work with). If you love those patterns or colors, we can keep looking for something similar (with more structural integrity!)
Ok! That's it for now! Again, we don't have to choose fabrics yet, and we don't have to choose from these options, and we don't have to use metallic brocades. This is all just a starting point. I'm excited to find out what you think!