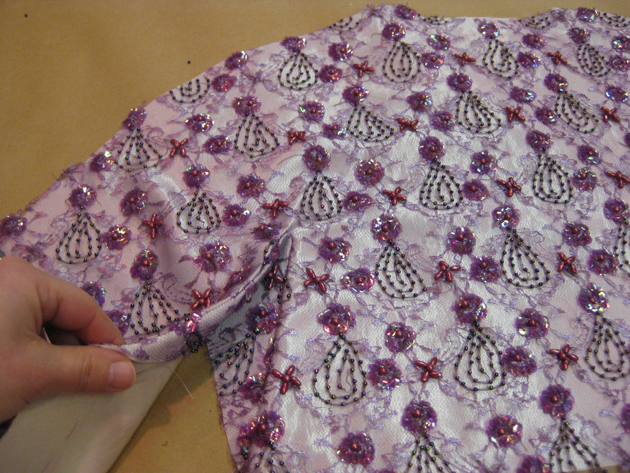 When sewing a beaded garment by machine, it is usually necessary to remove the beads that will be in the seam and the seam allowance so that the machine and iron can accept the fabric.  You can always sew the beads back on after the seams are finished, but you don't want to put in a crummy seam while you are trying to maneuver around the beads.  Using a zipper foot is also recommended.
Luckily there is only one part of the beading on this fabric that is on a chain-stitch.  When beading is done on a chain-stitch, once you cut one bead they all start to unravel, all being beaded on the same thread.  The 'teardrop' part of this fabric with the seed beads is the only part that is chain-stitched.  When removing these beads, I had to be extra careful to tie them off and sew the ends back to the net, so that they don't continue to unravel.
The rest of the beads (the reddish pink ones) are individually stitched, so when you cut off one, it is the only one to come off.  The sequins are actually pretty flat and fine to sew through, so I only cut them off it it was going to look weird aesthetically to be caught in the seams.  So in order to even start sewing, I had a lot of bead removal to do.
Finally, it was time for my triangle gussets to go in, the first part of the assembly process.  In this type of cut-in-one sleeve you add a triangle shaped gusset into a slash in the main garment fabric.  Since you have to cut all the way into the garment, I always reinforce the slash (before cutting) with some interfacing and some very tiny machine stitches.  This needs to be a really strong part of the garment, so extra precautions have to take place in order to make sure the fabric has no chance to unravel.  I hand basted the gussets into their slashes, before going to the machine, since this is a very tricky thing to sew.
Once I got my gussets in, I then went back and re-beaded any beads that were removed from the main part of the jacket.  I may end up removing all the beads from the gussets, for ease of movement (no need to have a bunch of beads in your armpits!) but I decided to seam it all together and see how it actually wears before making that decision.