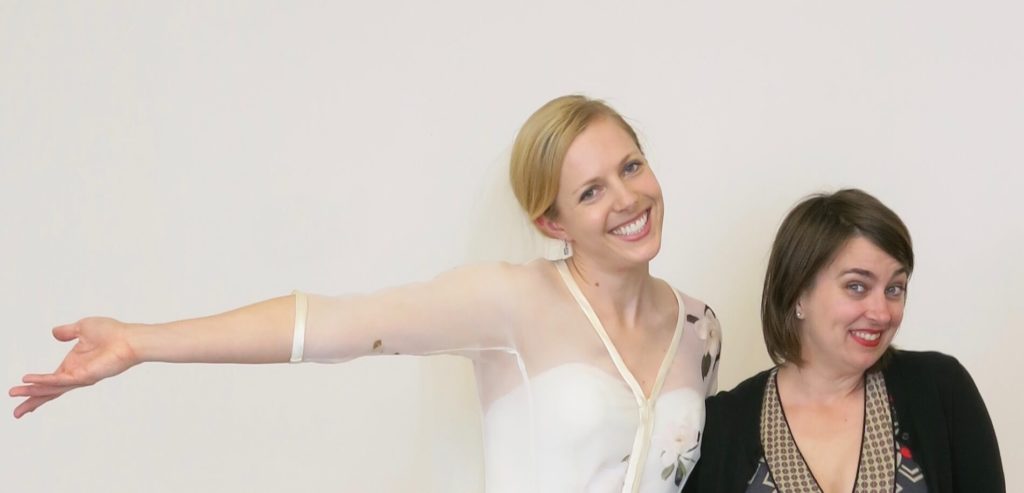 The bridal blog series is back!
In each bridal blog series, I recount the process and share the behind-the-seams story of creating a one-of-a-kind custom couture wedding dress from start to finish. To keep the dress a surprise, I do not begin to tell the story until after the wedding day.
Cameron
A few weeks ago, Cameron (the gorgeous blonde you see with me above) said "I do" in Scotland, but our story began here in North Carolina last August when I received an inquiry via email.
This bride-to-be always loved the wedding gown her grandmother wore when she was married in 1949, but was having trouble finding anything similar in stores. The gown itself was long gone (apparently she shortened it after the wedding and then let her kids play dress up in it!) Cameron attached this gorgeous photo to the email.
I later learned that the future mother-in-law bought this dress and sent it to her without asking! Some brides might be taken aback by such a gesture, but this dress was actually made by Christian Dior (in 1949)! I think a lot of us would say "yes" to a free Dior dress!
What Cameron loved about her grandmother's dress was the sheer sleeves, the bodice, and the way the sheer overlay falls over the skirt. Since her budget was tight, she was considering purchasing a plain strapless gown and then hiring me to create a custom "overdress". She had seen a blog post of mine where I created something similar for a bride named Mary.
The Questionnaire
I was very excited about the possibility of working with Cameron, so I sent her my questionnaire right away! My custom couture process starts with a fun questionnaire letting me know more about the bride, her wedding, and her dress ideas and letting the bride get started brainstorming possibilities for what her custom dress could become. I only create one dress at a time, so the bride's answers help me determine where and if I am able to fit her into my schedule.
In her questionnaire, I learned about the intimate ceremony planned at Greywalls and a reception happening later locally in Durham, NC. She wanted to wear the overdress at both occasions and to feel comfortable and confident without fuss. She planned on doing a lot of dancing!
I also learned that Cameron is a serious Old Hollywood movie buff and the blogger behind The Blonde at The Film. She wondered if she could also incorporate some of the vintage style of Grace Kelly's dresses from High Society. Check out Cameron's full recap of High Society on her blog here. Pay particular attention to Grace Kelly's amazing looks!
Cameron also mentioned possibly using some sort of floral print as the fabric!
With everything looking good with the questionnaire and my mind buzzing with ideas, I invited her to my studio for…
The Initial Consultation
Cameron and her sister Abigail visited my studio for a quick meet and greet. We all hit it off immediately! Cameron loved looking around my studio and that the custom process involved a custom website, Pinterest board, and blog story. She admitted that she had almost given up on wearing the dress she had in her head, but was newly energized and very excited again!
We discussed her idea of purchasing a plain dress she found at a big box bridal store and we started making plans for a Design Consultation!
Also energized and excited, I started making a Pinterest board for Cameron right after our meeting, gathering lots of inspirations based on everything we had discussed.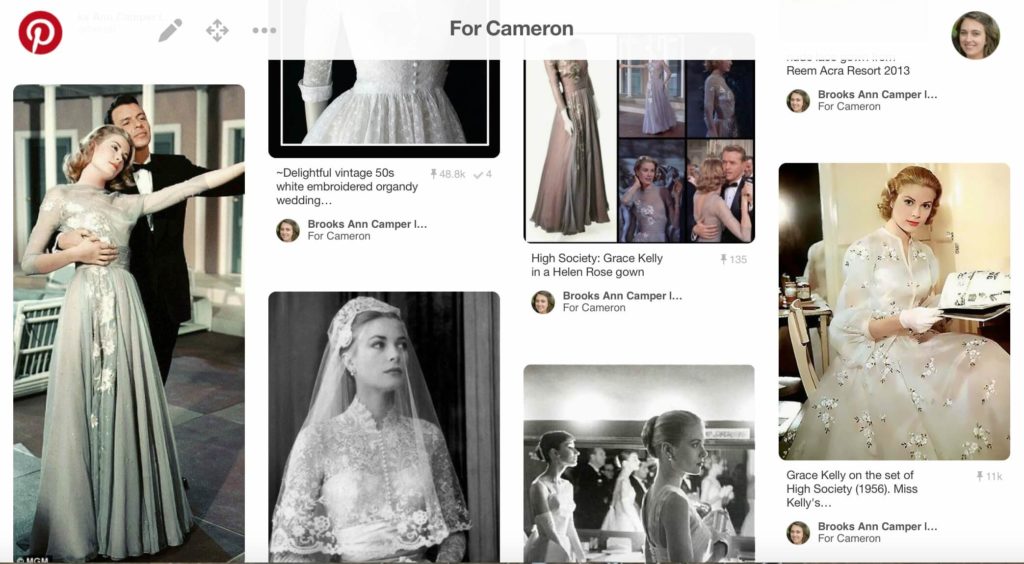 This is going to be another good one, ya'll! Stay tuned for much more!
NEXT POST: Our Design Consultation!
(Don't want to miss a post! Sign up for my fun free email newsletter.)
---
NEW ONLINE COURSE DATES ANNOUNCED!
→ Skirt Skills starts July 3, 2017 and runs for 5 weeks.
→ Registration opens Saturday June 10. Space is limited!
→ This Intro to custom sewing and pattern drafting eCourse will not be offered again in 2017. If you are interested in joining Smarty Pants in the Fall, don't miss this chance to fulfill its prerequisite of Skirt Skills!
Check out www.SkirtSkills.com to learn more! Join the Skirt Skills mailing list to stay informed!