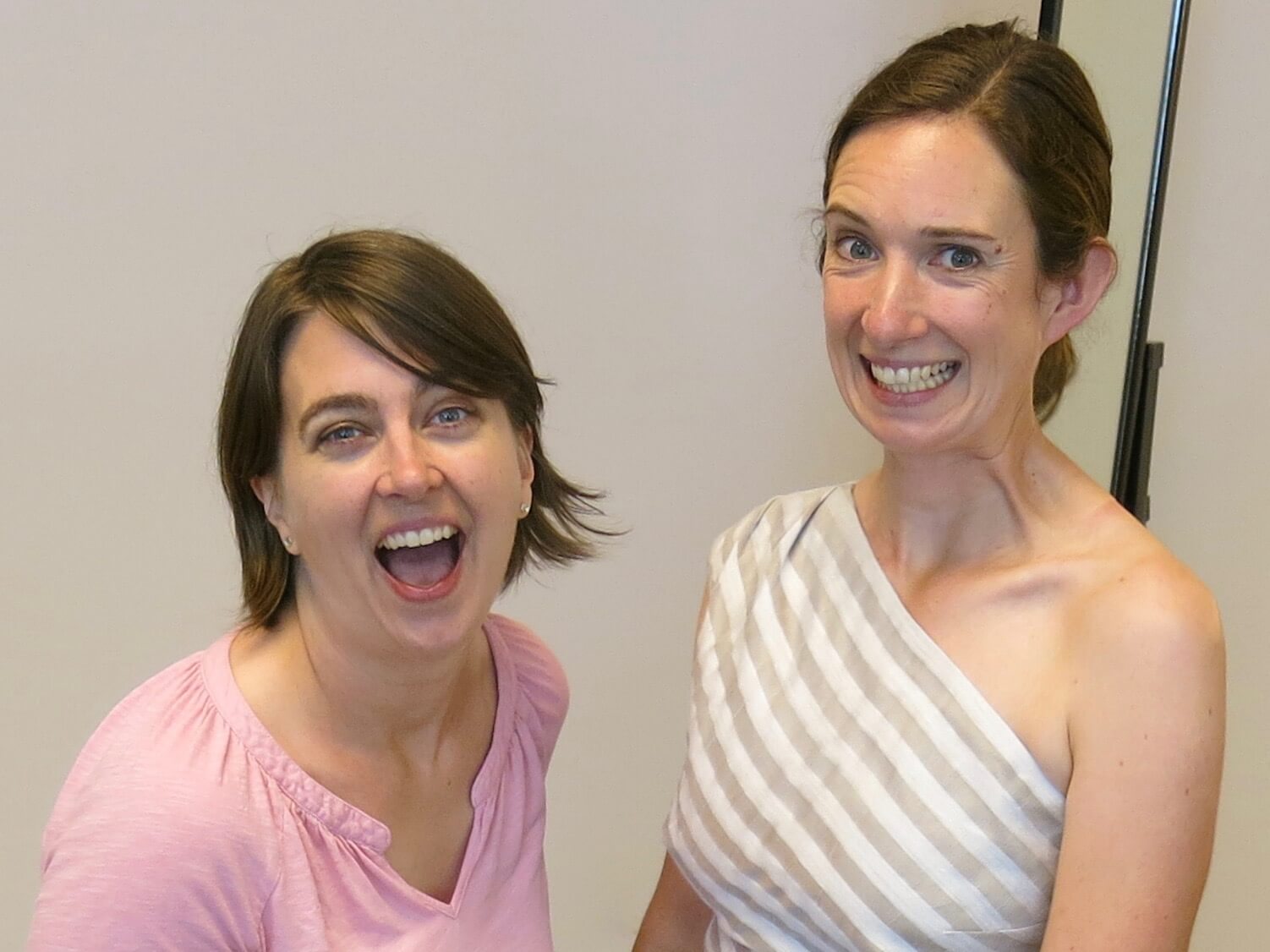 Sally is someone special.
Back in December, I got an email from a dear friend named Sally that I had lost touch with. The subject line: "dear lord i'm getting married…"
I met Sally back when I was getting my Master's Degree in Costume Construction from UNC-Chapel Hill. At the time, Sally was an undergraduate student studying fine arts. We had a mutual friend in common and quickly became friends with each other.
Sally is very artistic and has a wonderful sense of design. When I read her email saying that as soon as she got engaged she thought of how she'd love for me to design and build her dress, I was not only thrilled, my mind started buzzing with possibilities.
Sally is super-gorgeous and has an outstanding sense of style, so I knew we would have a blast dreaming up her unique wedding dress design. That said, Sally is also really shy and doesn't like to be in the spotlight. I couldn't wait to find out what her ideas were!
The Questionnaire
My process starts with a questionnaire. It is designed to get the conversation and collaboration started for the bride-to-be's dress-to-be.
Through this questionnaire, I learned that Sally and her fiancé George had started their own landscape architecture business and lived on a beautiful farm where the wedding would take place. It would be a low-key garden party, with good friends and good food.
She also recognized the conundrum of her personality stating "I'm nervous about the spectacle of being a bride, but love clothing and costumes."
She listed her favorite designers as Tim Burton, Vivienne Tam, Diane von Furstenberg, Alexander McQueen, and Betsy Johnson. She loved their "fun and artful" style and added "but maybe a little simpler."
She also wrote that she'd love for her wedding dress fabric to be stripes!
I was so in love with this project already….
Gathering Inspirations
Since Sally and I already knew each other and she lives about 4 hours from my studio, we skipped the "Initial Consultation". This part of the custom process is where we would meet for the first time, she'd get to see where her dress would be made, see dresses I've made in the past, and we'd go over the dress ideas, policies, and contracts.
Instead, we had a series of email exchanges and phone conversations to get prepared for our Design Consultation, where we'd really delve deep into creating the dress design together. She and her mother, father, and fiancé would travel together to Hillsborough, which is not far from where Sally and I met ~15 years ago (!!!) in Chapel Hill.
Even before we were reunited in person, Sally mentioned loving the design process already. She said it was really close to the design process she and George had come up with for landscape architecture, adding "which makes me feel like we're doing something right".
Extremely inspired, I started gathering inspiration images like crazy!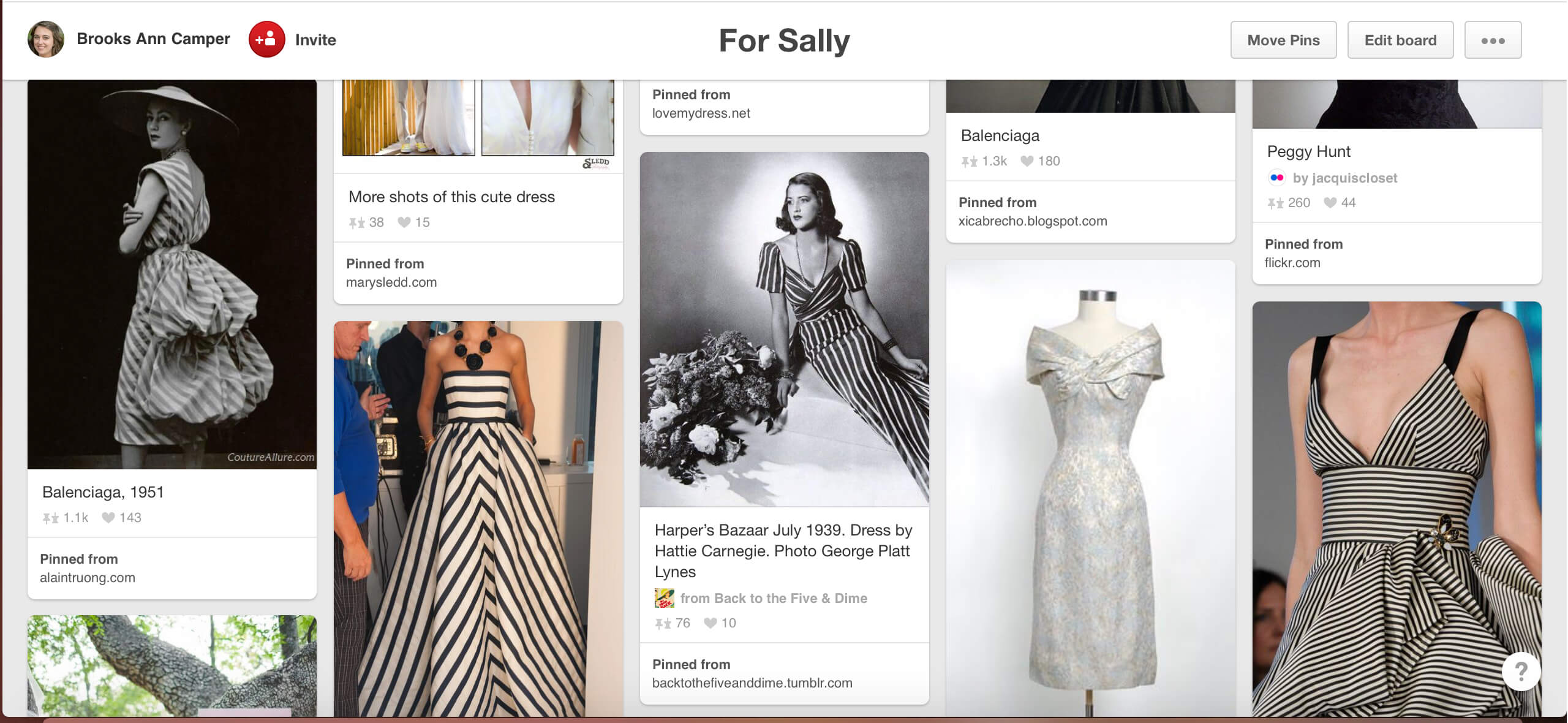 Click here to see my Pinterest Board "For Sally." I started with the images you'll see if you scroll to the bottom, and as the design evolved, so did the inspirations.
As I am writing this post, the dress is now complete and Sally is a happily married woman (I don't start each bride's blog series until after the wedding to avoid "spoilers"), but I still feel so inspired by her design that keep adding more pins!
Sally is truly someone special, ya'll…
NEXT POST: Our Design Consultation!