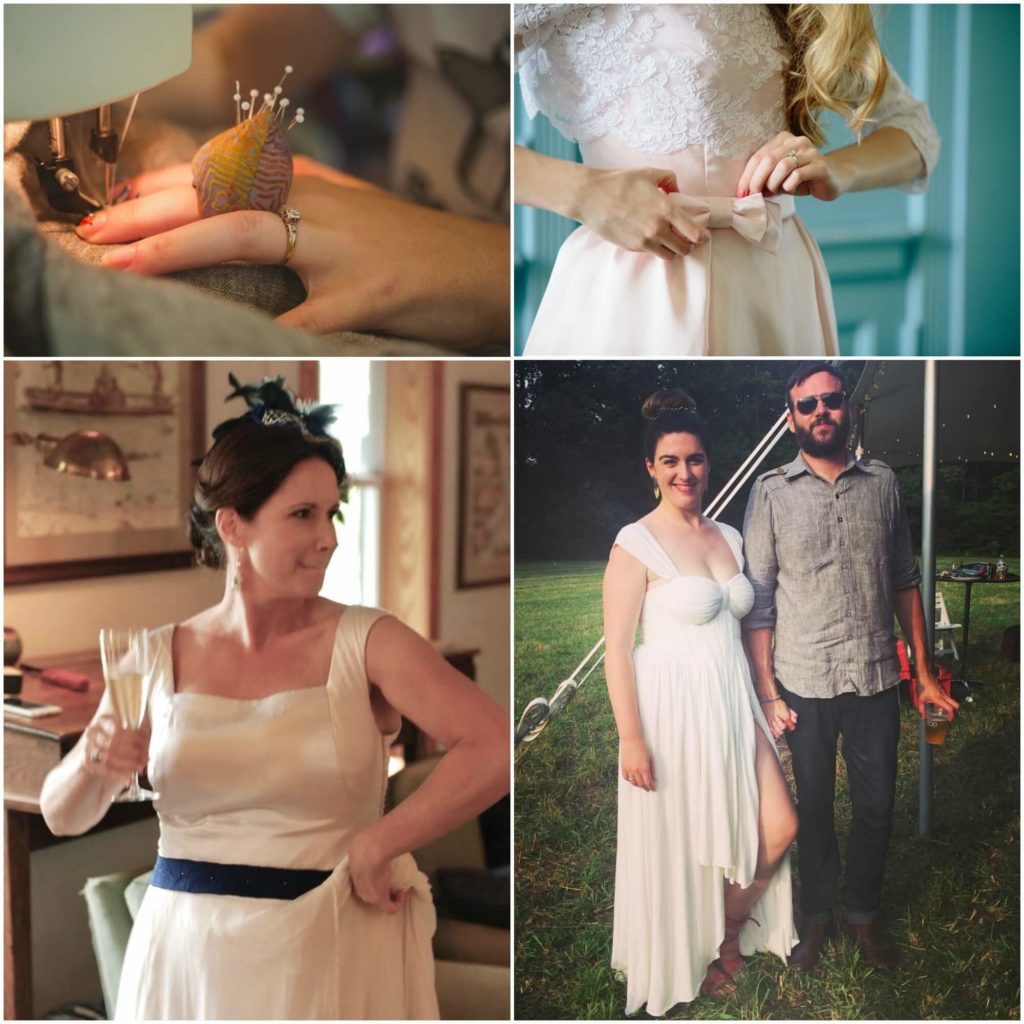 If you follow this blog,  you know by now that I love making wedding dresses for others and I loved making my own wedding dress. You also know I love teaching. So naturally, I love love love helping crafty brides make their own wedding dresses!
In this post, I'll share how I helped three local brides create their own wonderfully unique bridalwear! Allie and Ann were accomplished seamstresses who just needed a little guidance. Rebecca was a beginner, so we worked together through the whole process of designing, pattern drafting, and fancy finishing.
First up: Allie!
Allie is the beautiful sewing enthusiast behind Allie J – Modern Mid-Century Sewing and Style blog.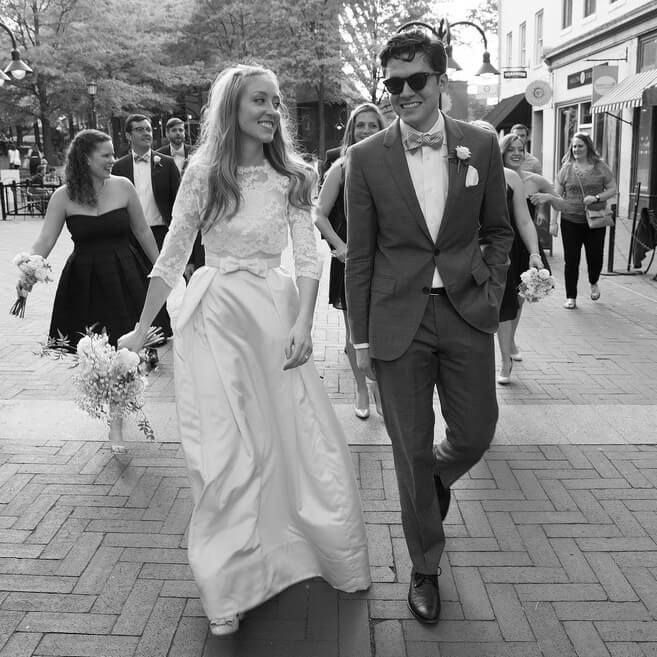 Allie and I met when she came to the opening of my studio in the Eno River Mill. A few months later, she emailed me while making her own wedding dress from a vintage pattern. She said "I've been working diligently but it is very hard to get a good fit when you are trying to do it yourself. I have gotten to the point when I need help!"
Not only was I very excited to work with Allie, but the email was sent on my parents' 50th wedding anniversary and the vintage pattern she was using looked like it might be the same one my grandmother used to make my mom's wedding dress!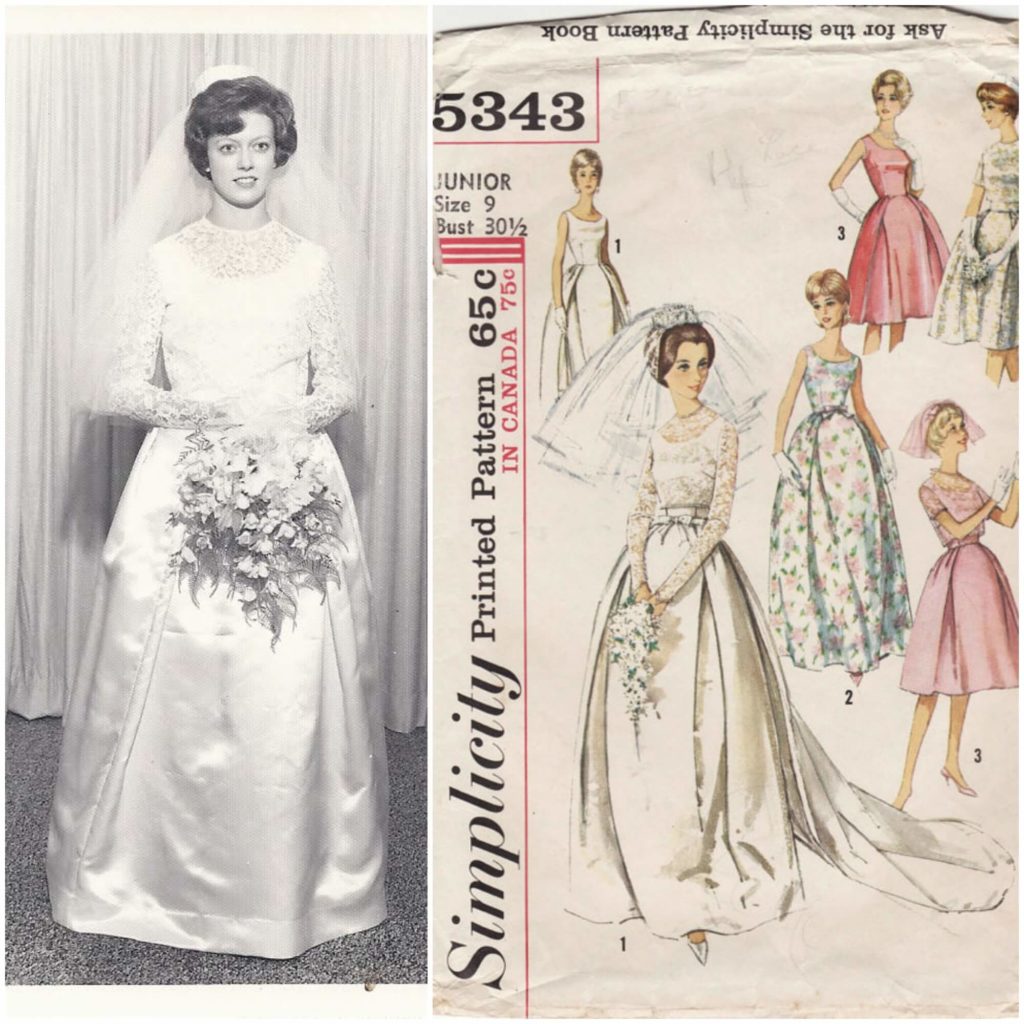 When Allie came to my studio, she was working on a practice bodice using her fashion fabrics but was having trouble with the difference between her mockup (made of muslin) and her dress fabrics (a cotton/silk blend underlined with silk organza).
I've noticed that many sewing experts recommend silk organza as the #1 choice for underlining fabric. Naturally, Allie took their advice. Though I do use it occasionally, organza is rarely ever my first choice for underlining. It has a stiff bouncy quality that is perfect for poofy skirts, but often not so great for bodices. Since Allie liked the fit and feel that she was able to achieve in muslin, we switched the underlining fabric of the bodice to a muslin-like cotton. Together, we were able to get an excellent fit! (Learn more about underlining in this article I wrote for Seamwork Magazine.)
Ultimately, Allie used cotton underlining for the bodice pieces and silk organza underlining for the skirt pieces. She also made a gorgeous lace jacket with invisible hand stitched seams. Just divine!
For more details, do not miss Allie's own blog post "My Handmade Vintage Wedding Dress"! Here's a few shots taken from her photo-filled post with her permission. Photos by Meg Runion Studios.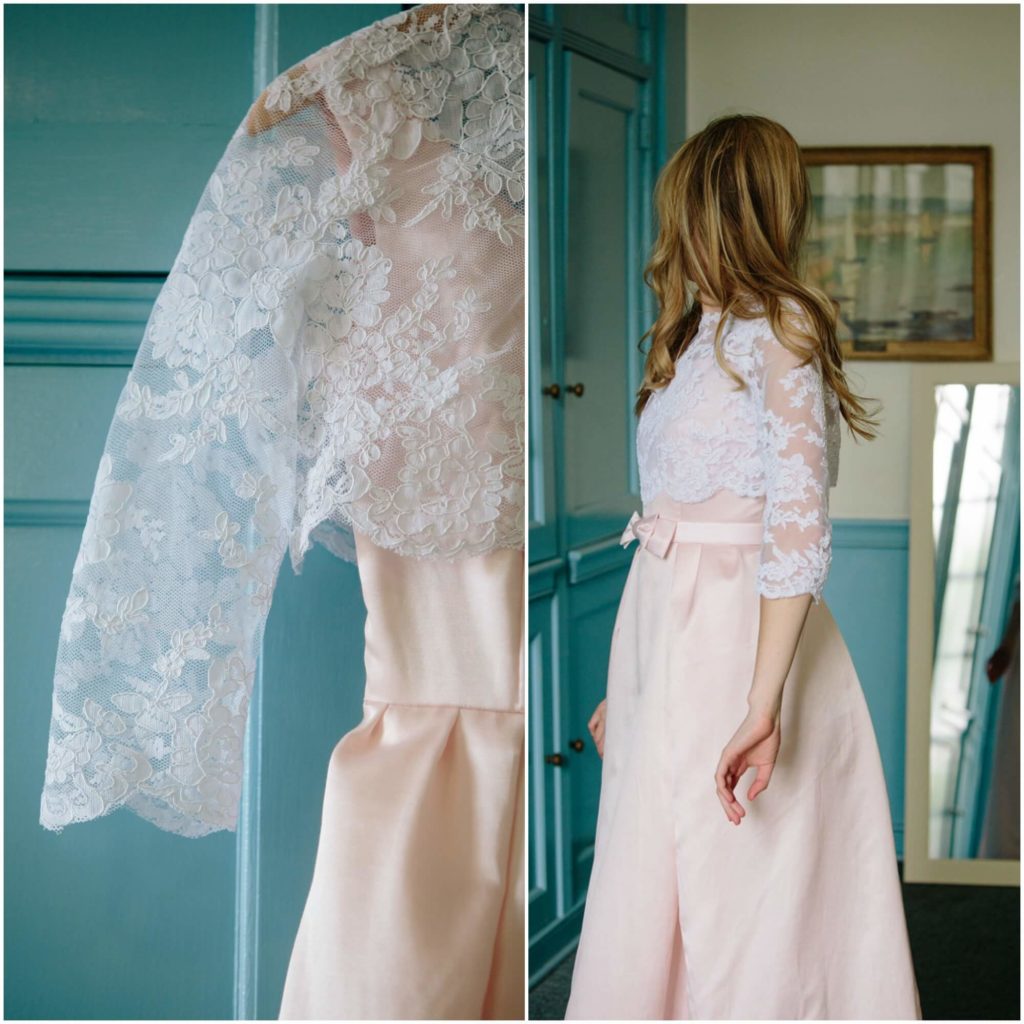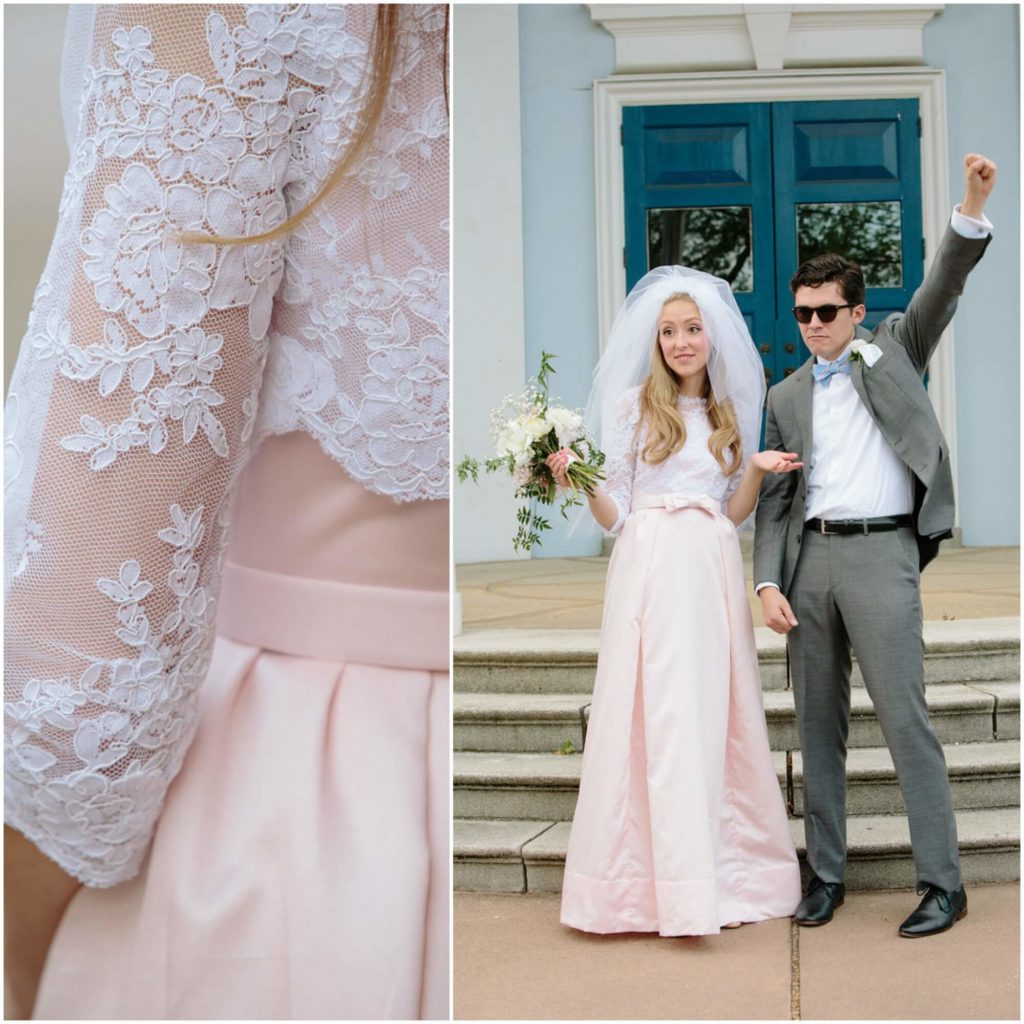 Isn't she breathtaking!? To keep up with all of Allie's fun vintage-inspired makes, be sure to follow her  blog and check her out on Instagram.
Ann
Last year, Ann of Ann Tilley Handmade got engaged and decided to make her own wedding dress. You can read all about it in her own 2-part blog series Making a Wedding Dress pt. 1 and Making a Wedding Dress pt 2.  Some photos featured here are from those posts used with her permission.
Ann starts pt 1 with this: "Let's get one thing straight here, I never intended to make my own wedding dress. But, when you're as particular as I can be, the idea of shopping for a wedding dress already sounded disappointing, and, having spent the last 3 years honing my clothes-making skills, I was feeling confident. I also knew that a nearby sewing ally, Brooks Ann Camper, was available for consultations so I didn't feel so alone in my quest."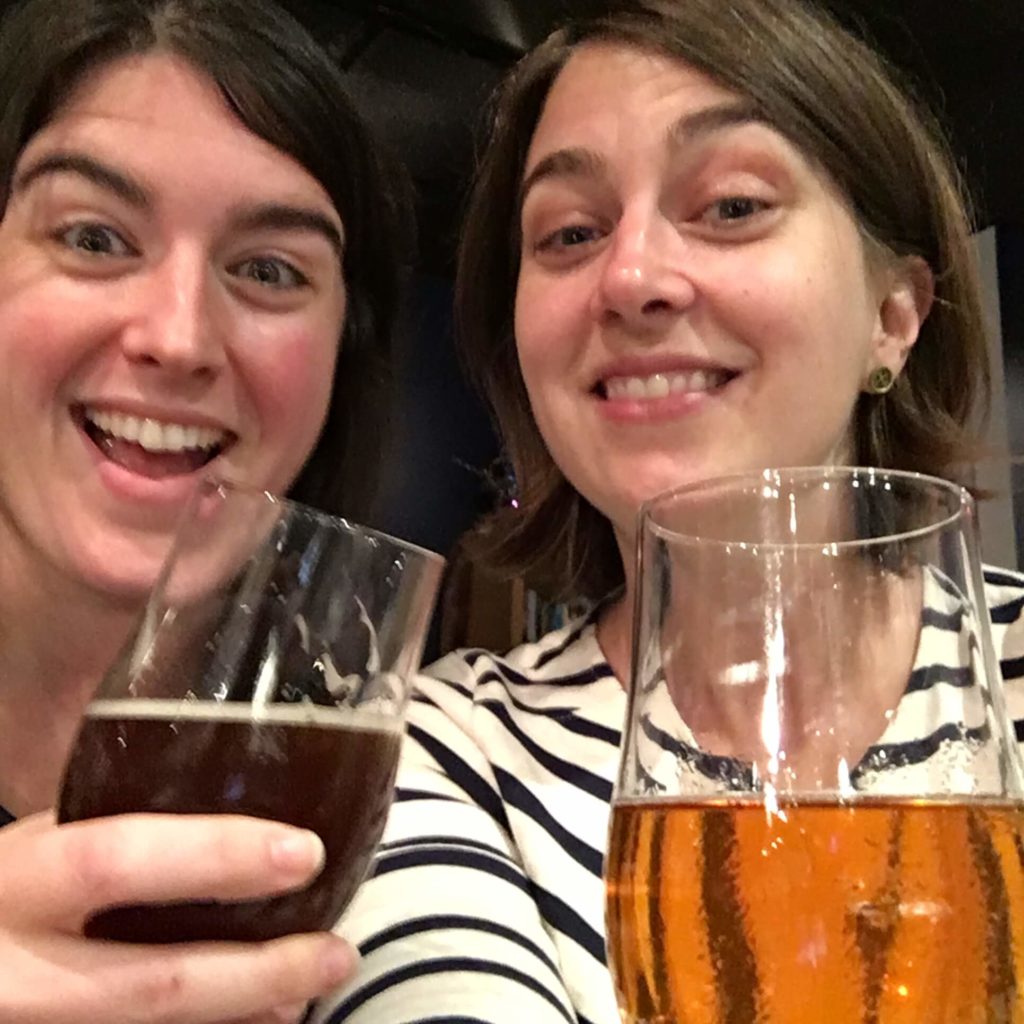 Ann and I first met on Instagram! We started chatting during a #sewphotohop and, living less than an hour away from each other, eventually met up in person becoming fast real-life friends. I was thrilled when she called me in for backup making her greek goddess inspired creation.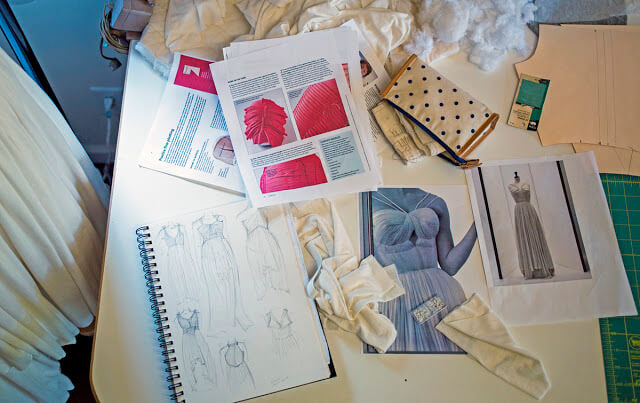 When Ann came to my studio, she had already started making the strapless "corset" that would be the base for the rest of her dress. We worked on fitting, adding a waist stay, and binding the edges.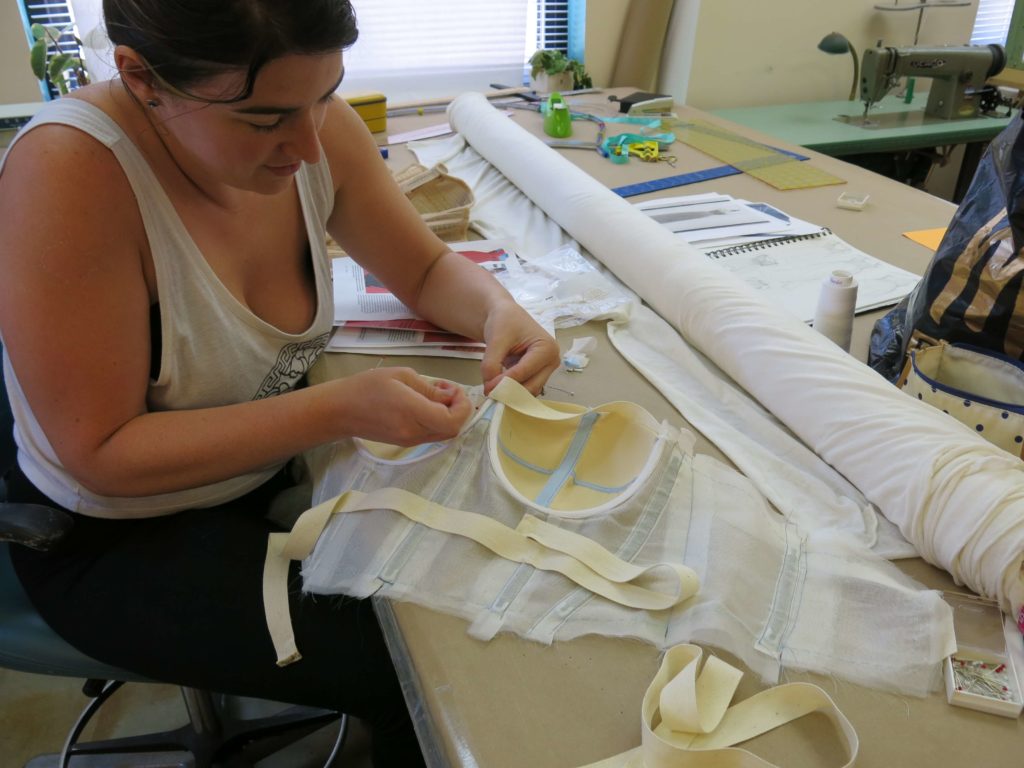 We also made a huge (delightful) mess, and worked on getting her dress form closer to matching her silhouette for future fitting endeavors.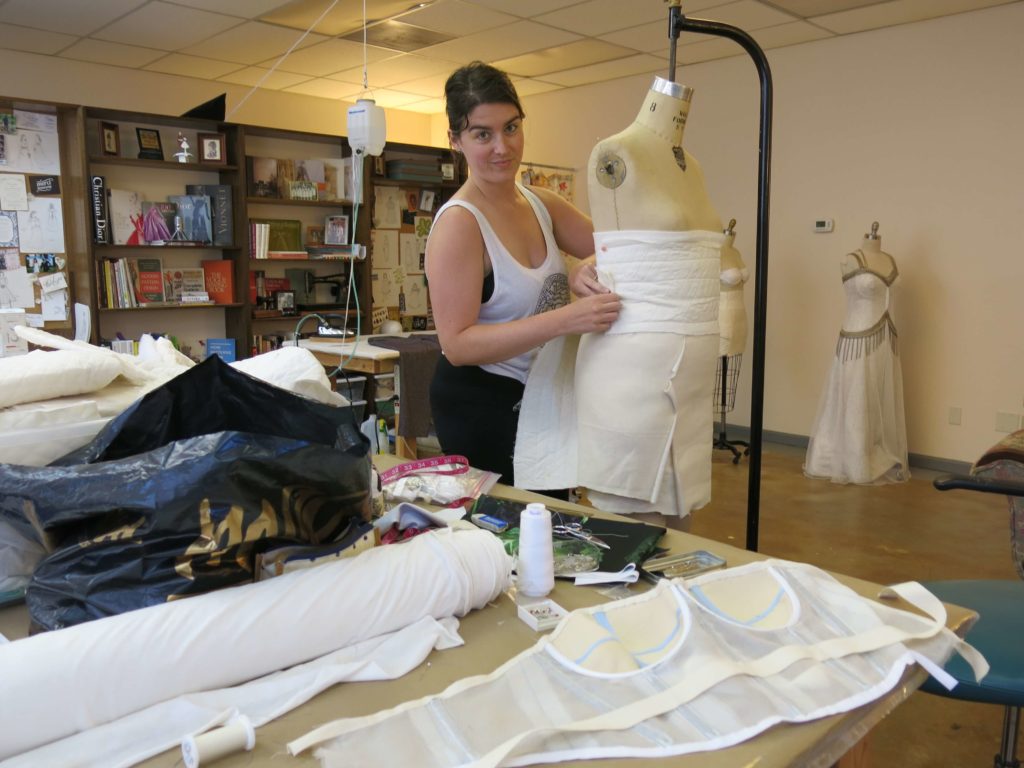 With the "corset" on the Size-Ann dress form, we finalized the dress's design and came up with a plan for the pleating (which she did on her own in her own studio.)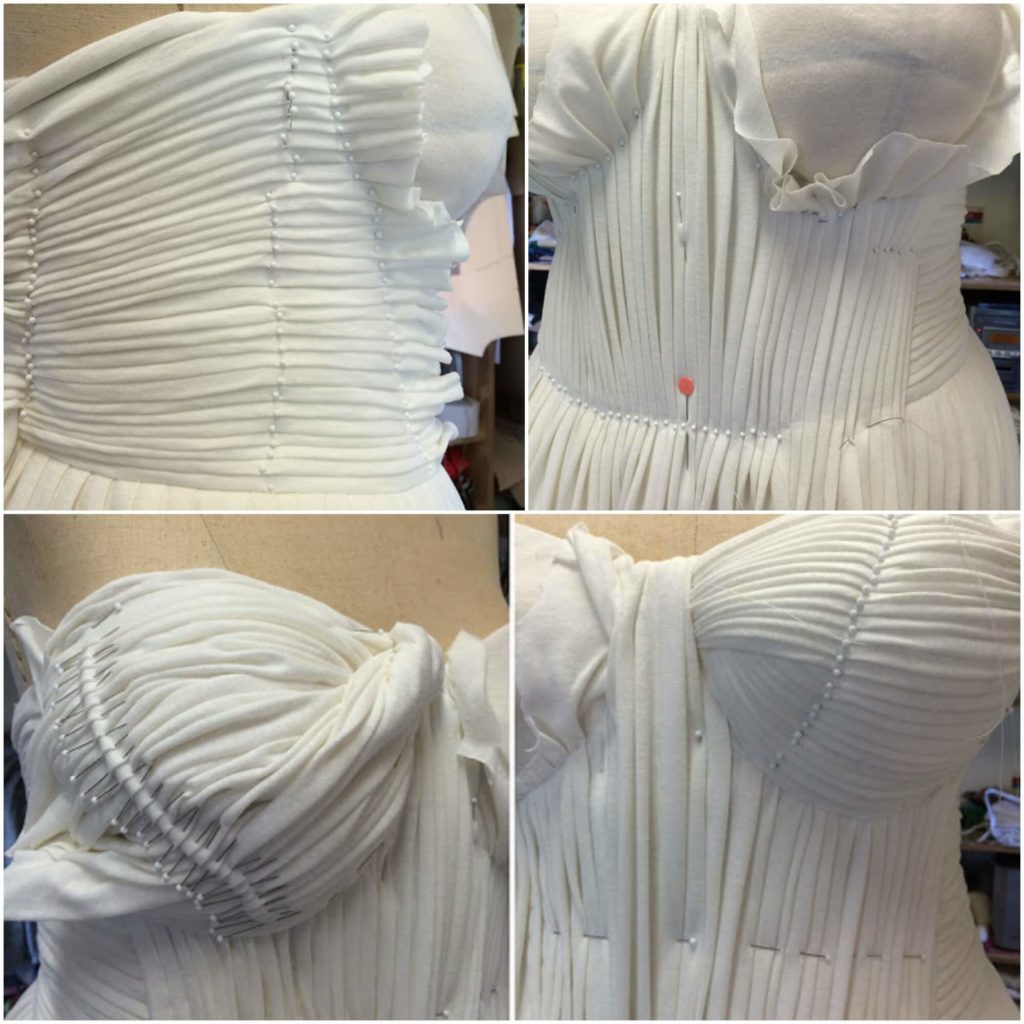 And on her wedding day, Ann definitely looked like a gorgeous goddess!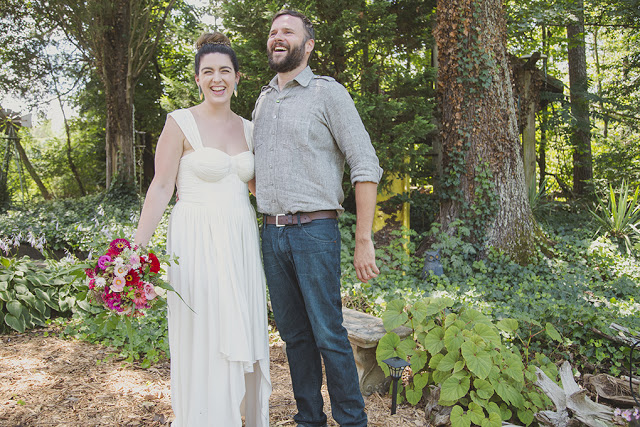 Be sure to check out Ann's two "Making a Wedding Dress" blog posts to learn all about her behind-the-seams process (including using a deer camera to take outdoor photos of herself!) Learn more about Ann on her website and you can also follow her on Instagram.
Rebecca
Rebecca was a sewing "newbie" when she contacted me about private lessons to make her own wedding dress. She found out about me via a review I left on Mulberry Silks Facebook page!
Though very crafty and determined by nature, Rebecca had only ever sewn pillows, Halloween costumes, and other super simple stuff. I imagine most would advise against learning to sew while making a wedding dress, but luckily she came to me. I love teaching beginners and I love skipping "beginner stuff". Helping others jump into epic projects is right up my alley!
Since Rebecca chose me as her teacher, she'd have to learn to sew the way I do. This means instead of altering from standards, she'd be starting from scratch by sketching her own design and drafting her own patterns. She loved it!
Here's her original sketch…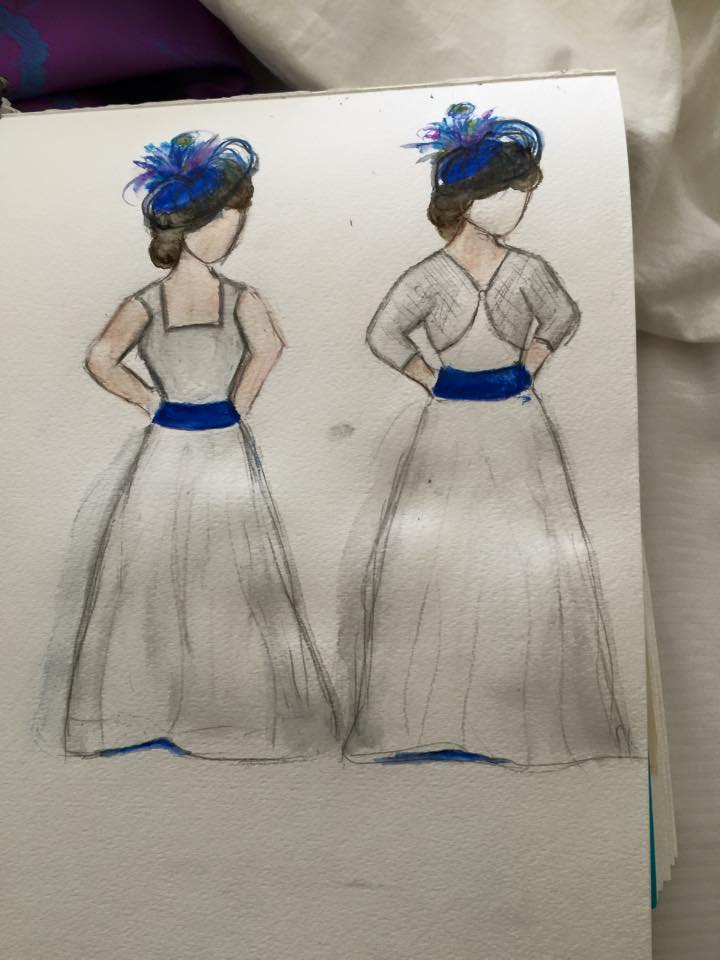 …and her first mockup on the dress form we padded to match her silhouette!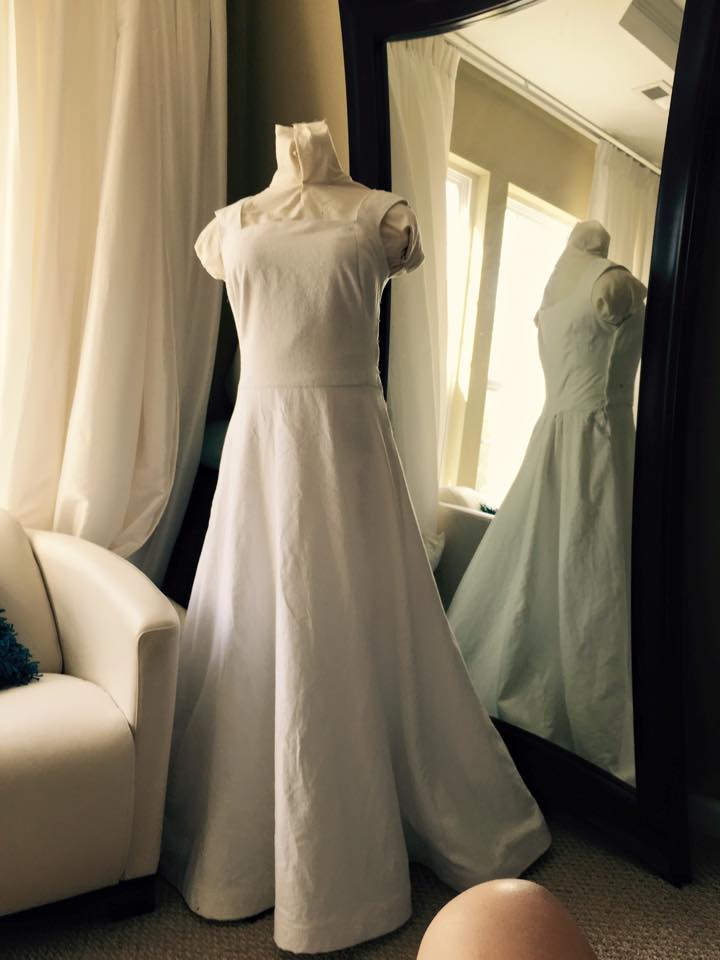 Typically mockups are made of muslin, but for Rebecca's dress, we used cotton flannel. Once the mockup was corrected, we used the flannel mockup pieces as the underlining for the silk charmeuse fabric of the dress. The combo of the flannel and the charmeuse was simply scrumptious!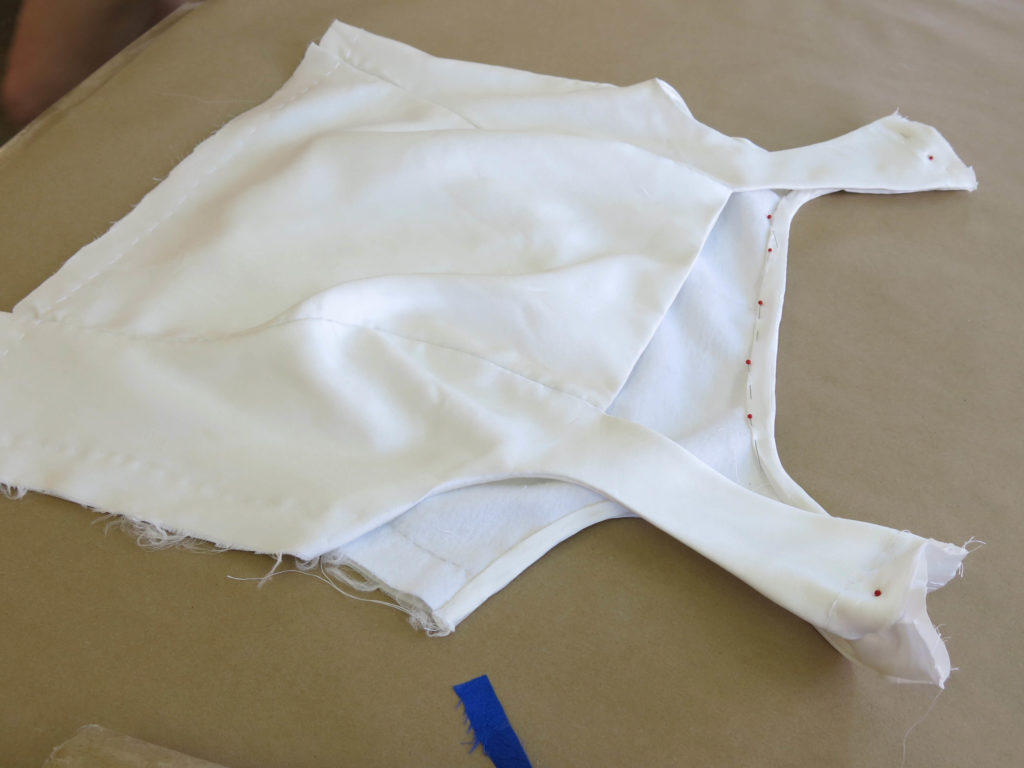 Rebecca did most of the work by herself at home, but we had an absolute blast together when she'd show up at my studio. Her skirt design had flowing layered strips of silk gauze and silk chiffon.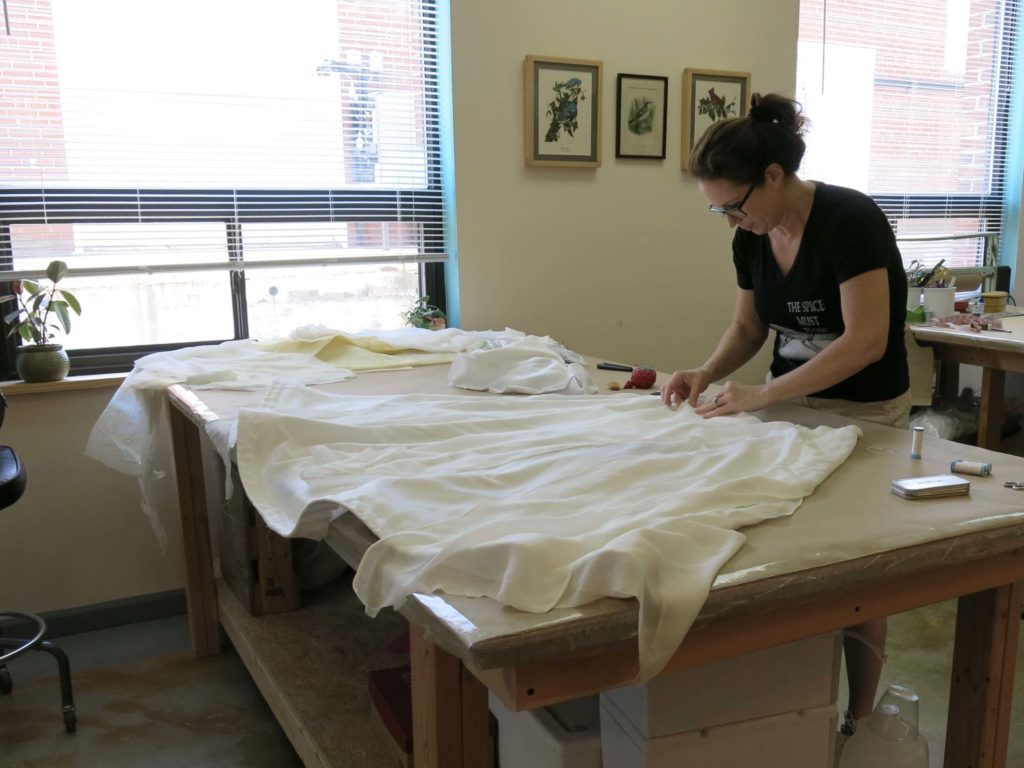 Here's a peek at our basted fitting!
via GIPHY (My first GIF!)
Rebecca also decided to make a hand embroidered belt and a custom hat…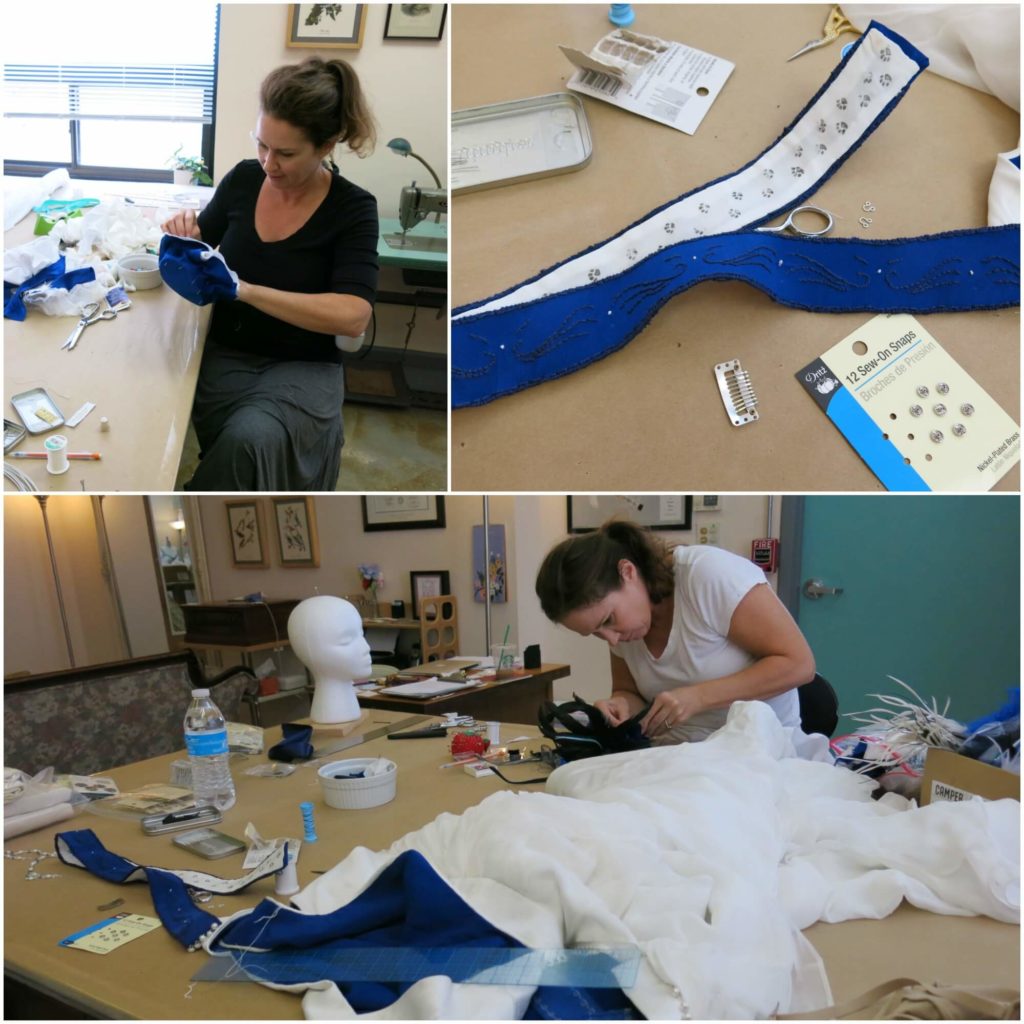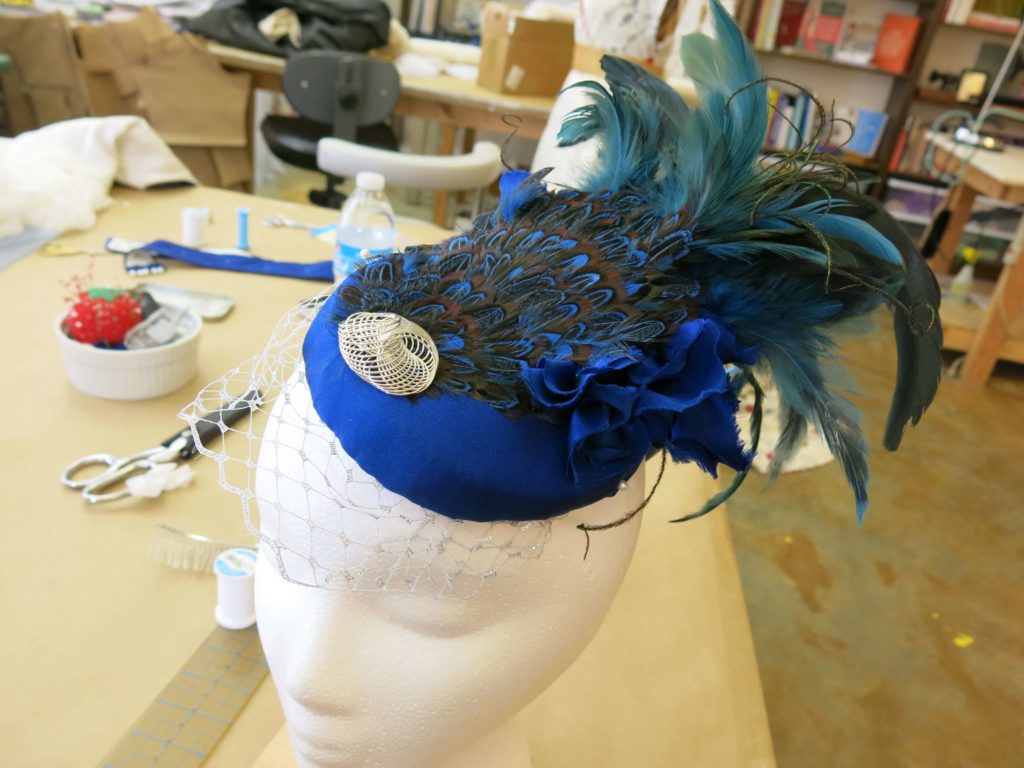 …and she also dyed the lining herself and added lots of gorgeous bridal buttons.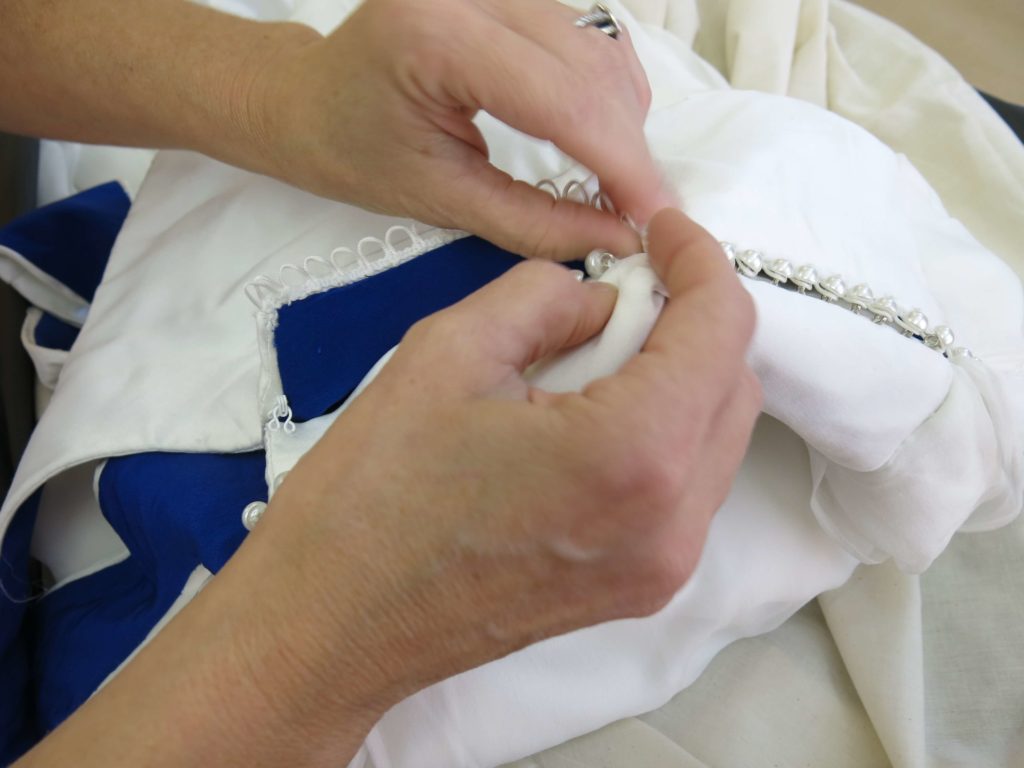 Rebecca's final fitting showed off her amazing sewing journey…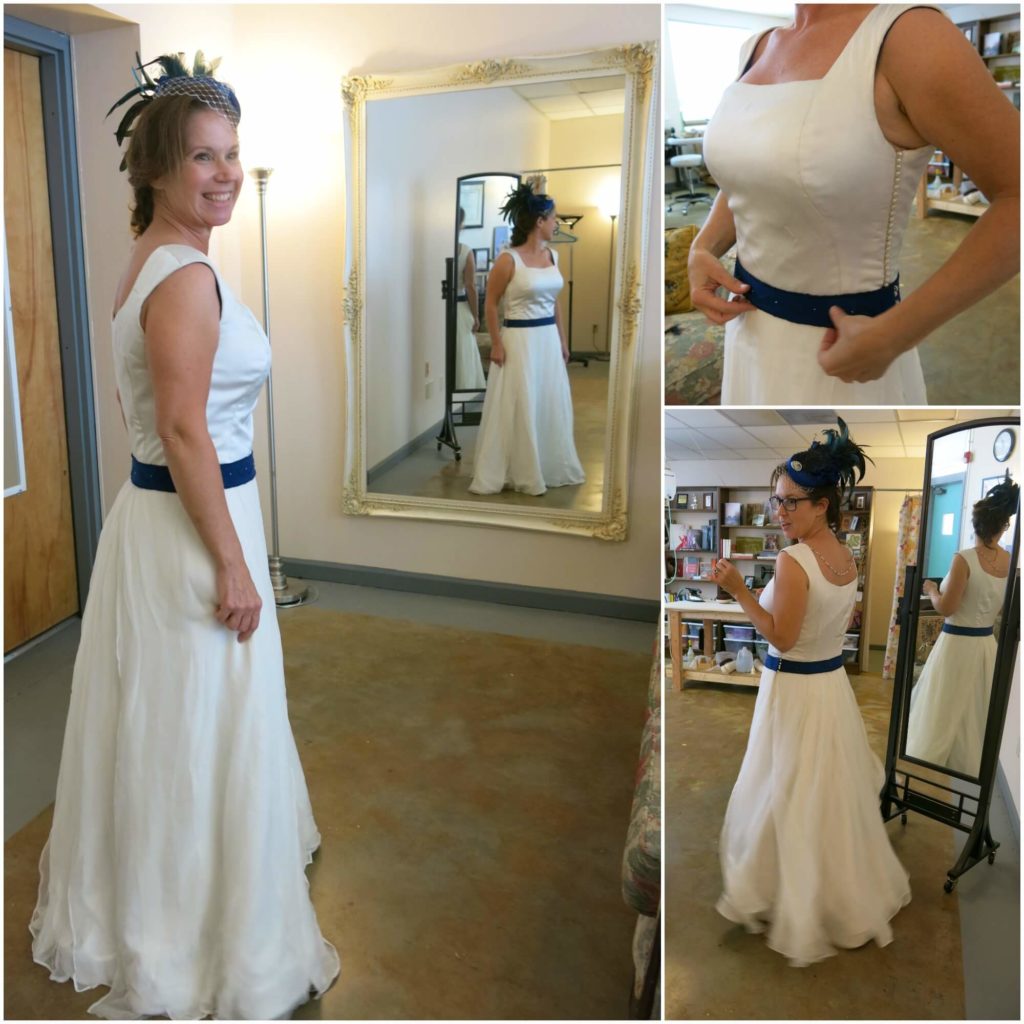 ..and all of her hard work led to a beautiful and fun wedding day!
Jump in!
All three ladies were beautiful brides who jumped into their own wedding dress creation without looking back. I'm honored that they chose me for backup and hope their stories inspire more brides to make their own wedding dresses!
Would you ever consider making a wedding dress?
NEXT POST: ??? While waiting for my current bride to get married (I don't start blogging behind-the-seams until after the wedding to keep the dress a secret), I'll be posting on various topics. If there's something you'd like me to write about, comment below or contact me! I'd love to hear from you.