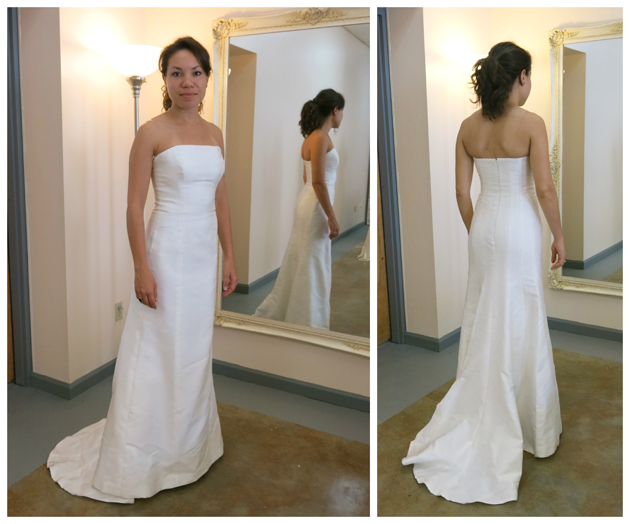 Every once in a while I get an inquiry from a bride who already has a wedding dress. Since most wedding dresses are designed to appeal to an average of their potential purchasers, they often lack personality.
Heather, however, has personality in abundance! She's smart, she's vivacious, she's artsy, she's creative, and she's a small business consultant who focuses on helping artists and creatives. She found a dress in a thrift store that fit her perfectly, but it was very plain.
Heather hoped to work with me to turn this plain dress into something unique using handcrafted custom accessories. I was thrilled to accept the challenge!

My process starts with a questionnaire. Heather's answer to "Tell me a little about yourself" let me know that she would enjoy working with me as much as I would enjoy working with her:
She wrote, "I take pride in being a little different. I admire women who maintain femininity and command respect concurrently. I appreciate objects and food made by people with love. I'm thrifty with a good eye; I know a good piece when I see one and I will spend money on design and experience."

Heather brought armfuls of inspirations to my studio in Hillsborough. The adorable striped dresses her bridesmaids would wear, some beautiful earrings gifted from her late father, a jar of loose pearls she had collected… We also had a lot of fun looking through my various trims and feathers and ribbons and fabrics, mixing and matching, exploring the possibilities…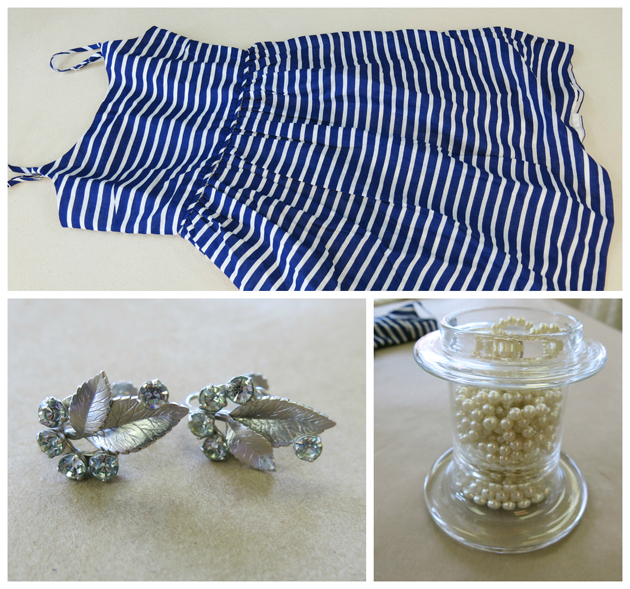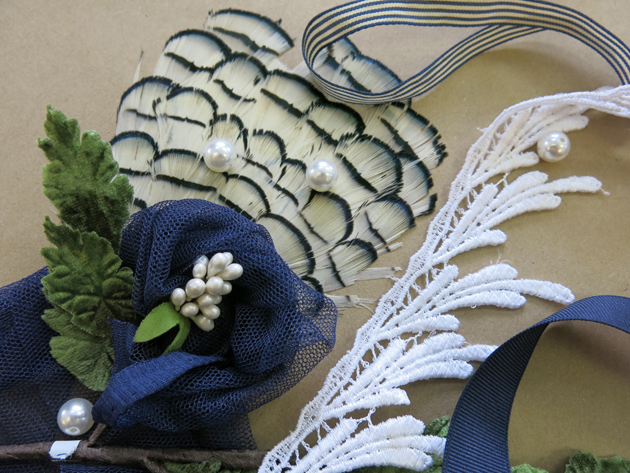 Heather envisioned an elaborate one-shoulder decoration, as well as a matching veilette. She wanted to use a lot of blue in her accessories, but still keep it looking like Springtime for her April wedding. She loves Coco Chanel and Alexander McQueen, and the wedding day would be inspired by France: the place she and her fiancé fell in love.
Heather also hoped to add a custom "brooch" for each bridesmaid: a mini-version of her one-shoulder accessory. Playing around with fabrics, feathers, and other millinery items I had in my Sewing Room, we came up with the combos pictured below.
Heather was in love.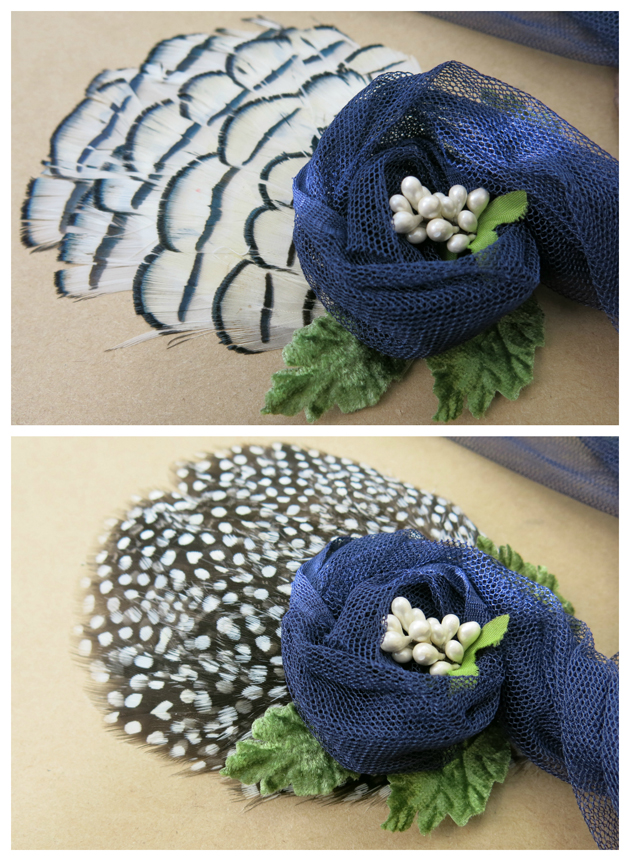 I'd use our inspirations, our experience together, and the information from her questionnaire to come up with an overall accessory design that would transform her plain wedding dress into a look that was uniquely Heather!
NEXT POST: I'll share the sketch for Heather's custom wedding accessories!
(Those of you who have been following the blog might enjoy learning that the blue net fabric that Heather fell in love with was the fabric we ended up editing from Loula's custom wedding dress. Heather and I were both thrilled to put it to good use.)