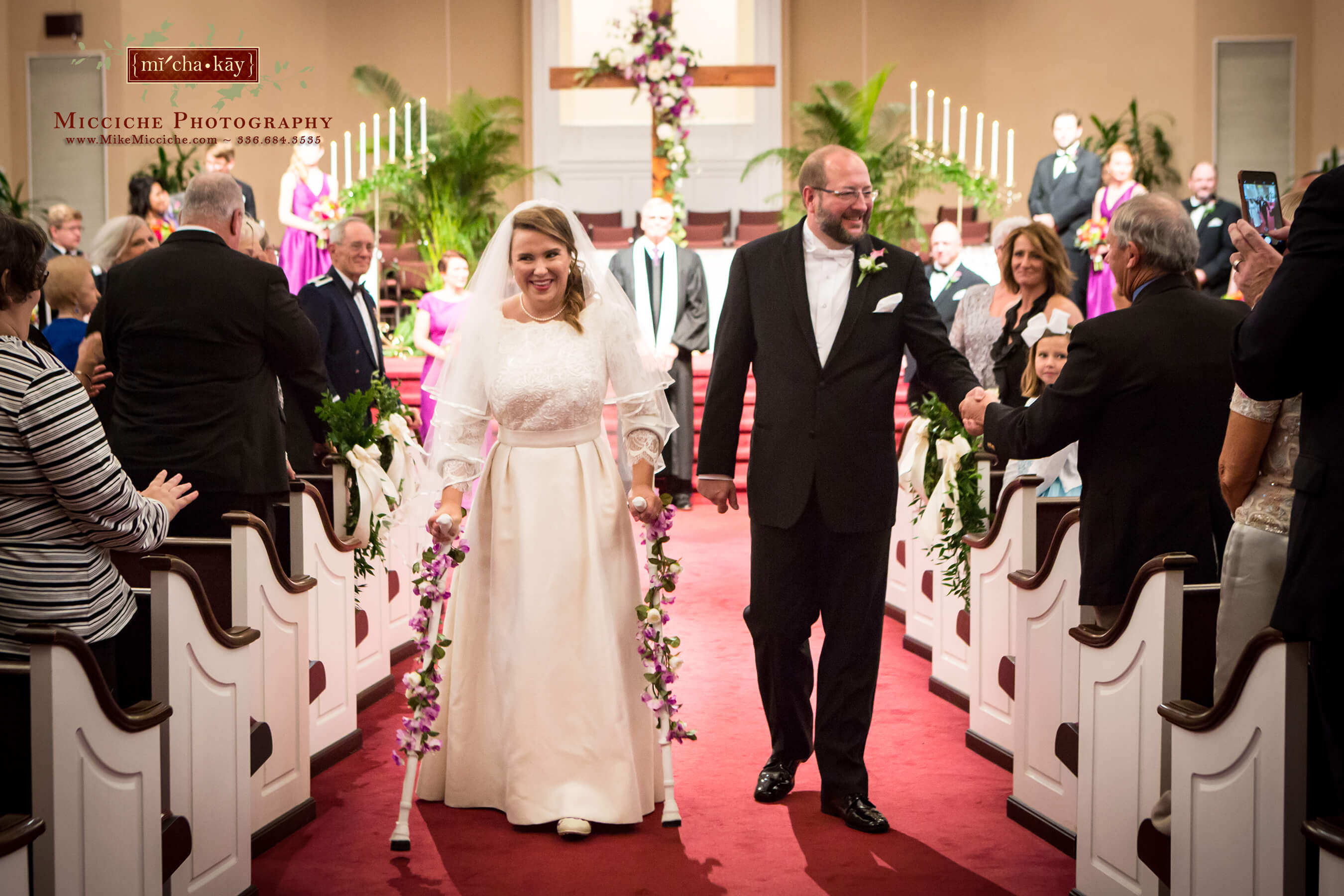 It's finally time to share about Deborah's wedding day! HOORAY!
Deborah and Blake were married in November 2017 at a church in Greensboro, NC with the reception at a nearby resort with a gorgeous ballroom. My husband Charles and I were invited and had a fabulous time! It was such an honor to work with Deborah to create her one-of-a-kind custom wedding dress and a true pleasure to witness the big event and join the party!
The talented Mike Micciche was the wedding day photographer. You may notice that this post is a little less 'photo-filled' than my usual wedding day posts, but Mike limited me to only a few logo-branded images and I respect his wishes. His first offer was to choose 3-5 (How could I ever choose!? These photos were so gorgeous ya'll! And I'm so used to being offered dozens…), but I was eventually able to talk him into allowing me to share the 9 beautiful (branded) shots you'll see in this post! Mike also created an online photo slideshow (which I will share!) and I was also able to fill in with a few photos taken with my phone. After months of following her blog story, I hope this final post will give your Full Wedding Day Fix!
But enough chit chat! Let's get to it!

Getting Ready
I'm totally in love with this shot of Deborah's mom buttoning her up!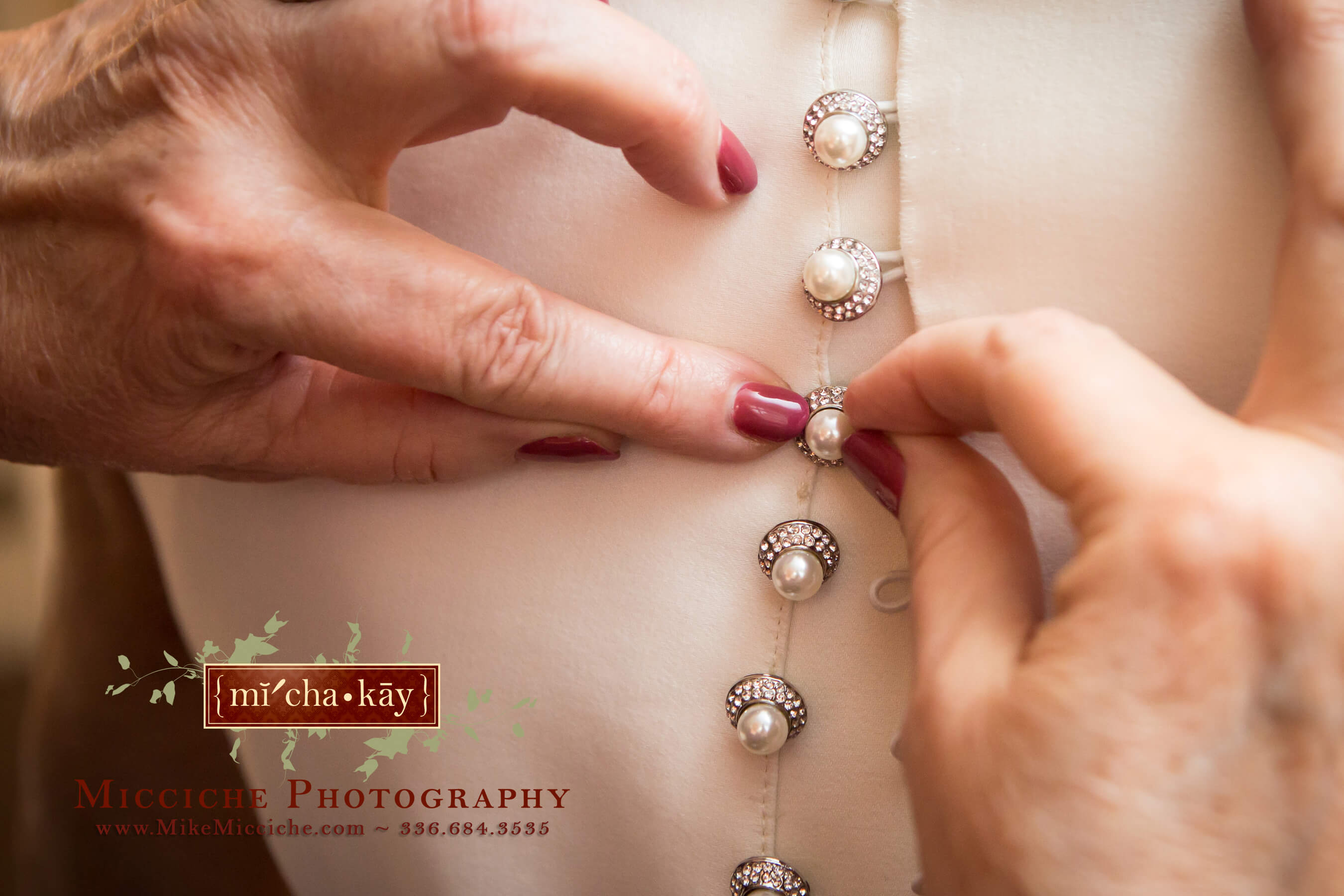 And can we talk about the floral decorations for Deborah's crutches!?!! The white cover and the addition of the purple flowers was so clever and so beautiful!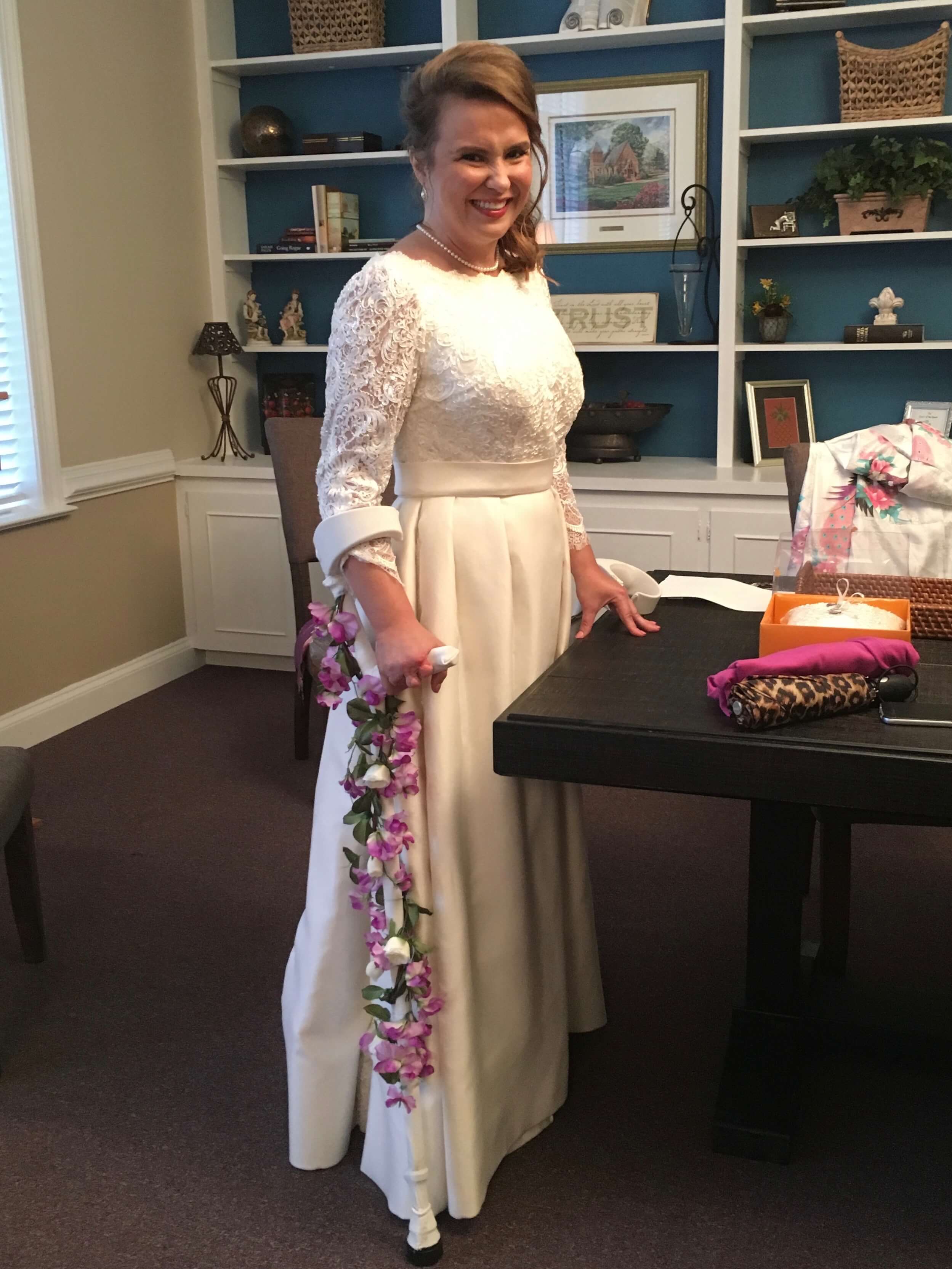 A (stunning) bit of quiet time before ceremony time!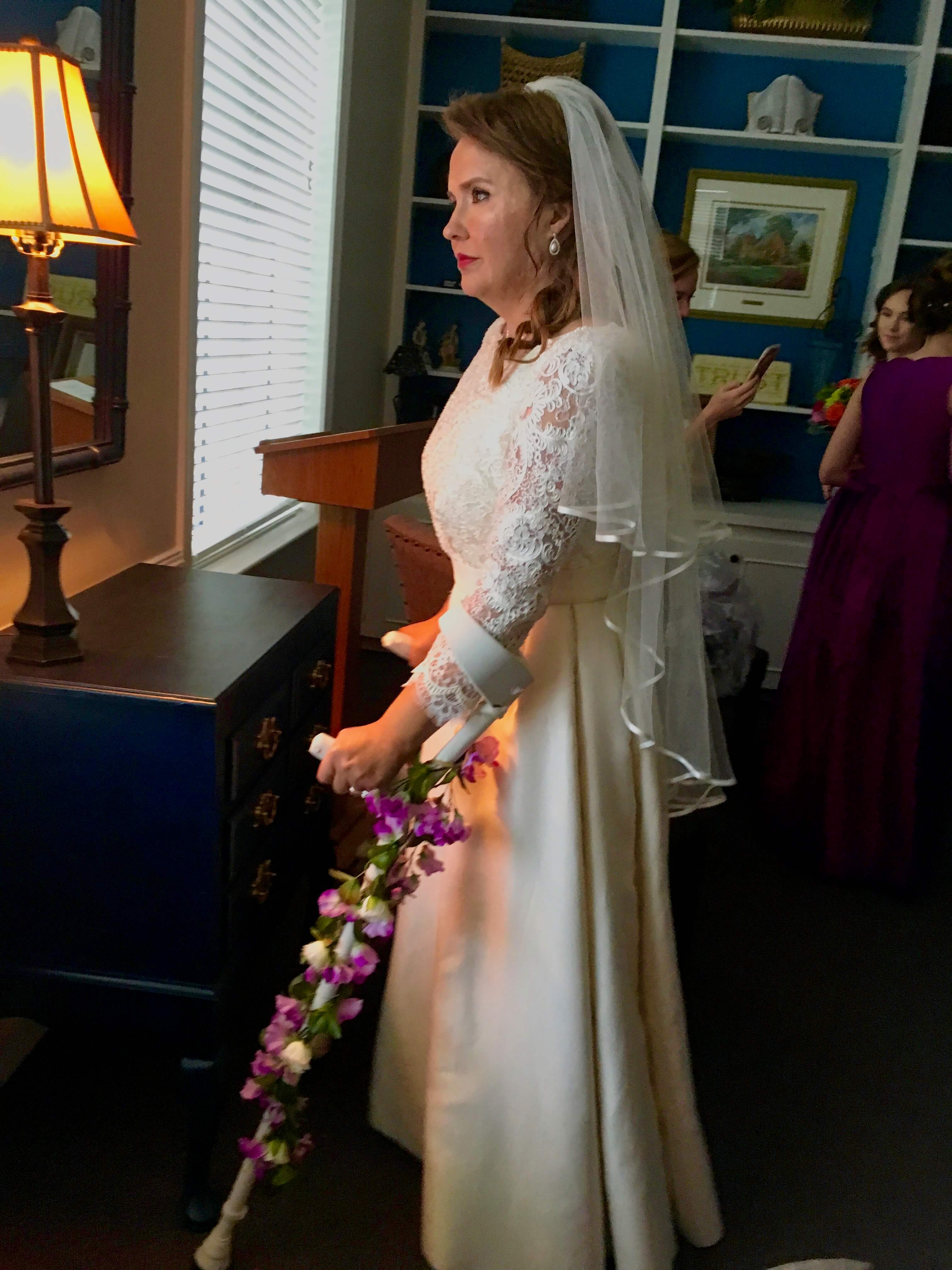 The Ceremony
The ceremony was absolutely gorgeous ya'll. I totally cried as Deborah said "I do" and married her partner for the rest of her life.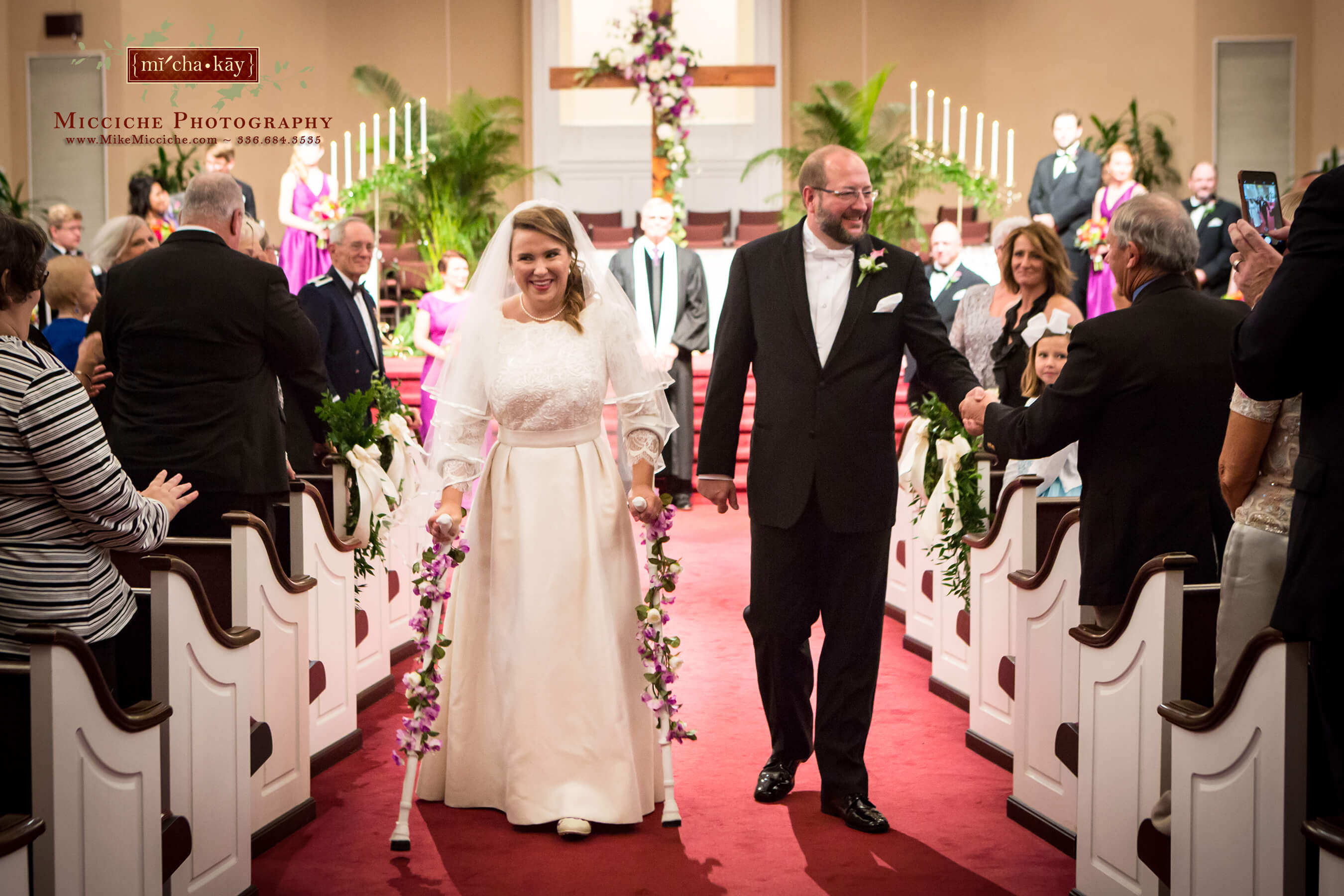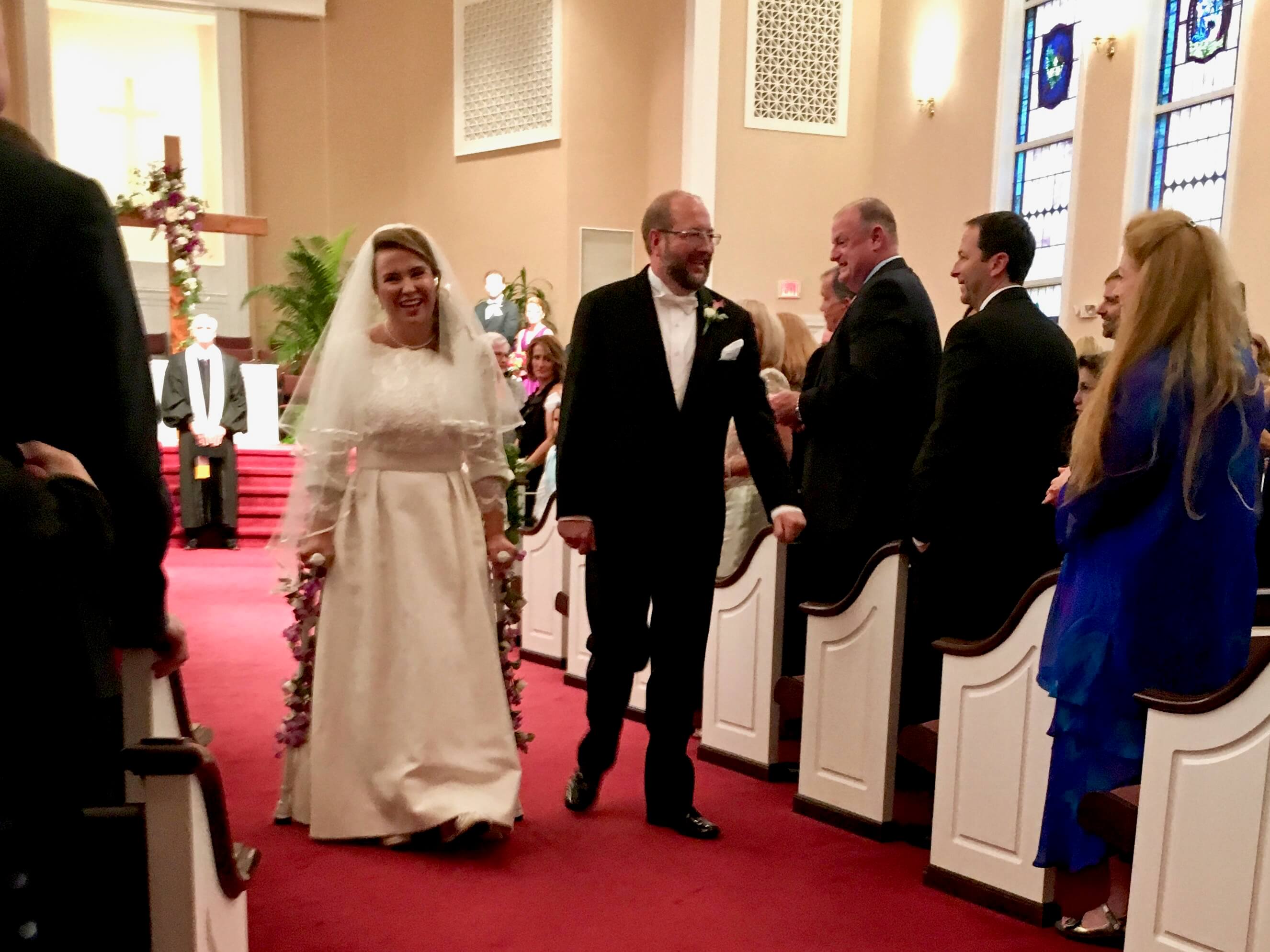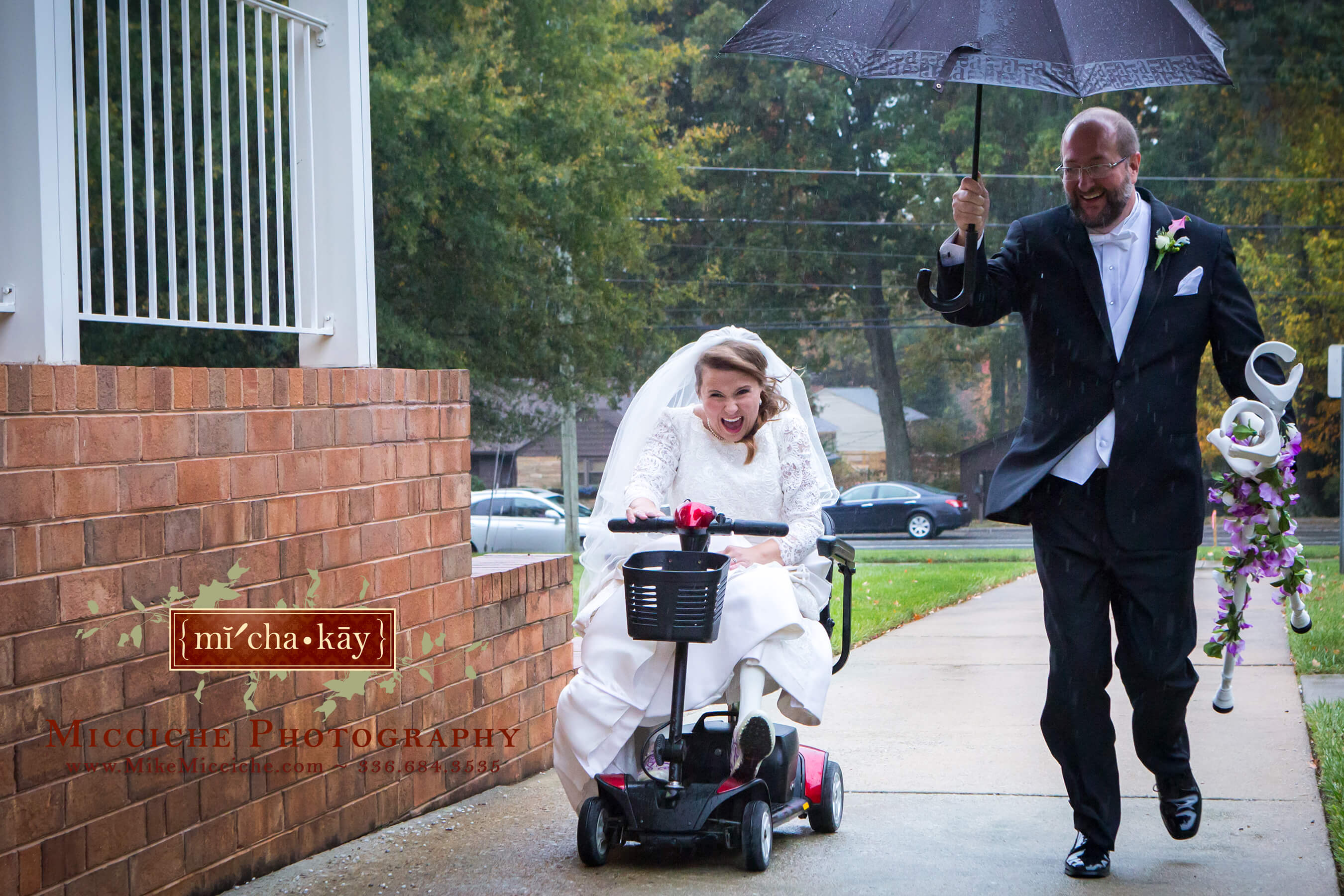 "The dress Brooks Ann created for me was nothing short of a masterpiece, the most beautiful wedding dress I have ever seen.

After trying on many dresses at almost every bridal shop in my area, I became exasperated at how all of the dresses seemed to look alike. I wanted a classic dress and I wanted REAL buttons that actually buttoned! I have always been "unique" and I wanted my wedding dress to reflect that.

I became interested in having a custom dress made because I loved the idea of being able to pick out my own fabrics, since I have always believed that the fabric can make or break a design. I absolutely loved being able to fully participate in the design of my dress and Brooks Ann was so helpful in helping me figure out what I wanted, tweaking and troubleshooting the design constantly.

There were several things that I needed that most people don't: I needed the ability to walk with arm crutches, so the dress had to allow for that; and, since a train would be cumbersome, I needed the back of my dress to make a statement without interfering with my mobility. Brooks Ann looked at my challenges as puzzle-solving exercises, relishing in figuring out how to make my dress be at once beautiful and functional. And, I got pockets out of the deal!

There were so many small details crafted into my dress design that made my life as a bride much easier. For example, she sewed a long ribbon in one of my pockets to tie my engagement ring securely during the wedding ceremony… She also created my dress to move beautifully as I walked and danced… Other examples of how she created a dress design especially for me are too numerous to mention!

It takes a very focused and patient person to put up with all of the craziness involved in wedding planning and Brooks Ann was those things and much more. We spent so much time together creating my dress that she will always hold a special place in my heart. I really felt like I was a part of creating the design, although it was Brooks Ann's sewing mastery that put our vision together."

-Deborah
The Reception
The reception was held at The Grandover Resort in Greensboro and was such a fun party! Charles and I loved meeting so many fun people who loved Deborah (and the food was delicious!)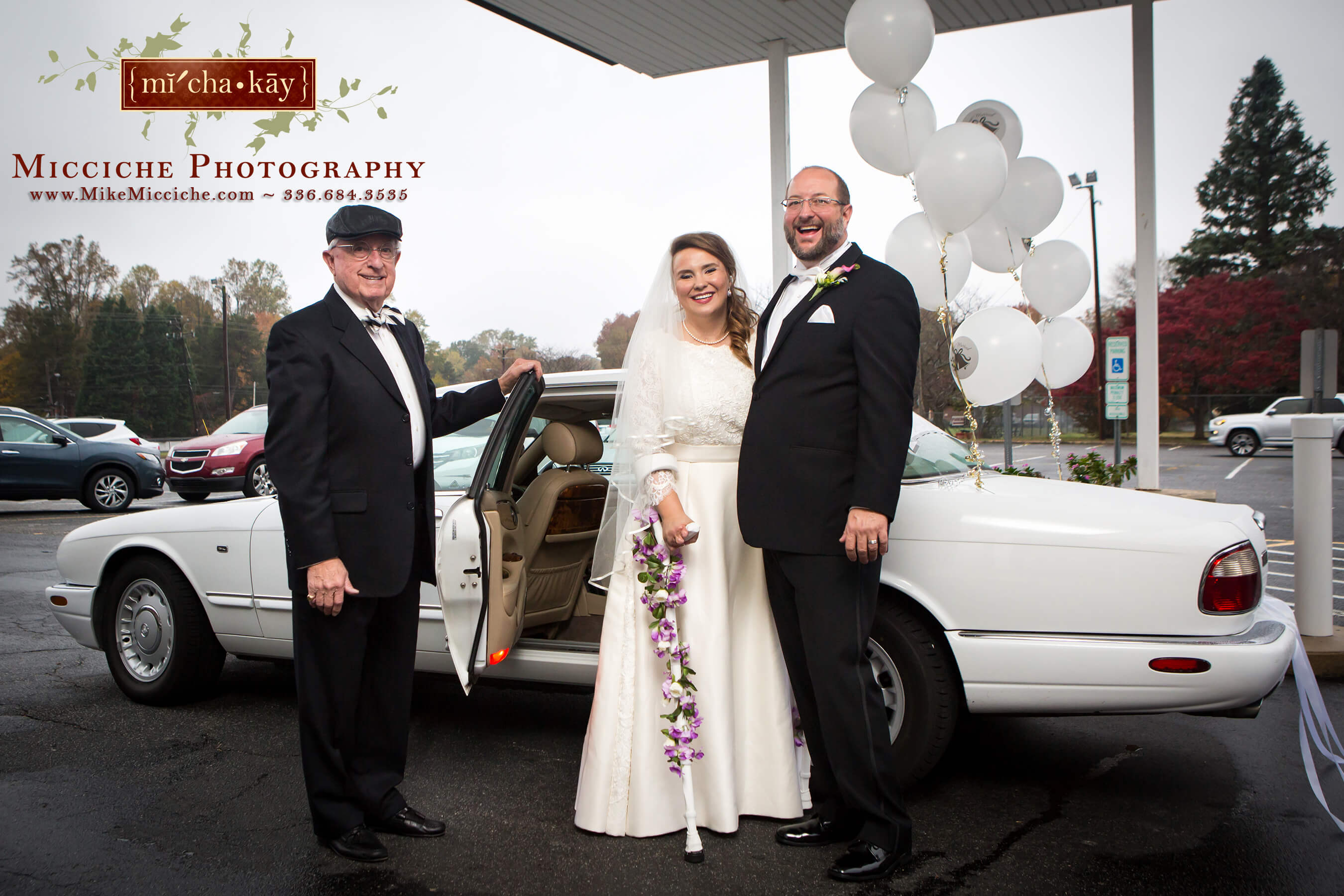 The first dance!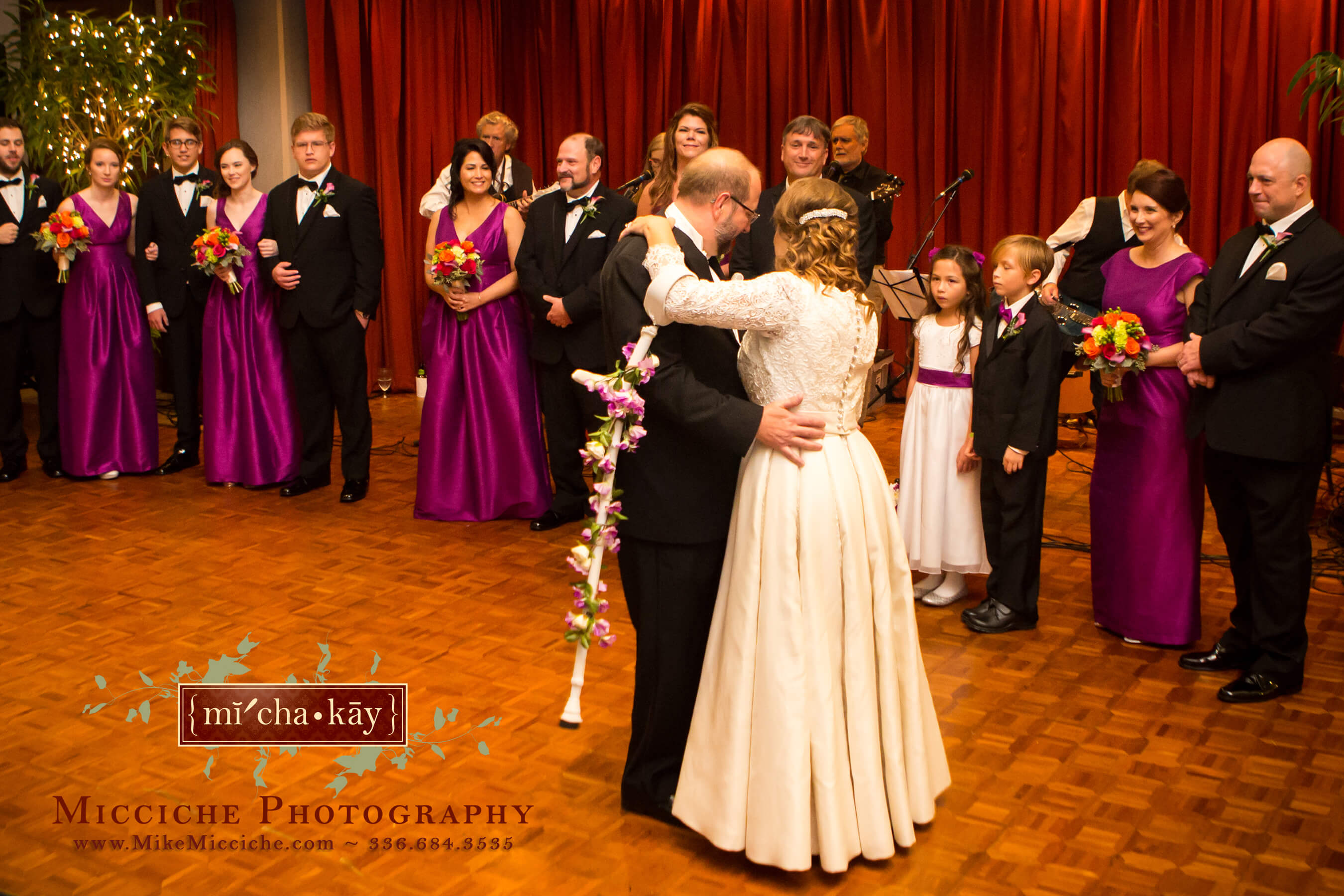 The cake!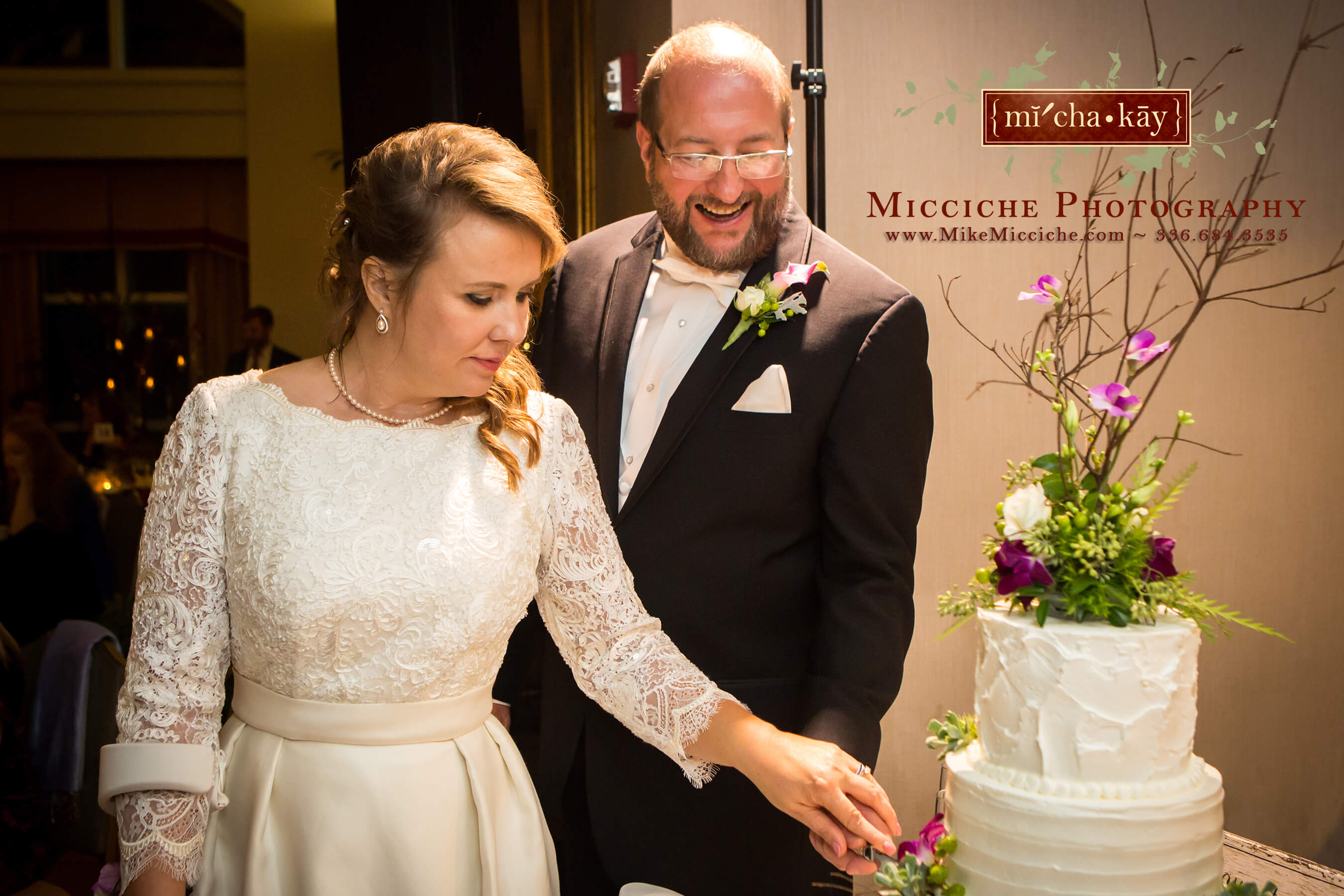 The father/daughter dance!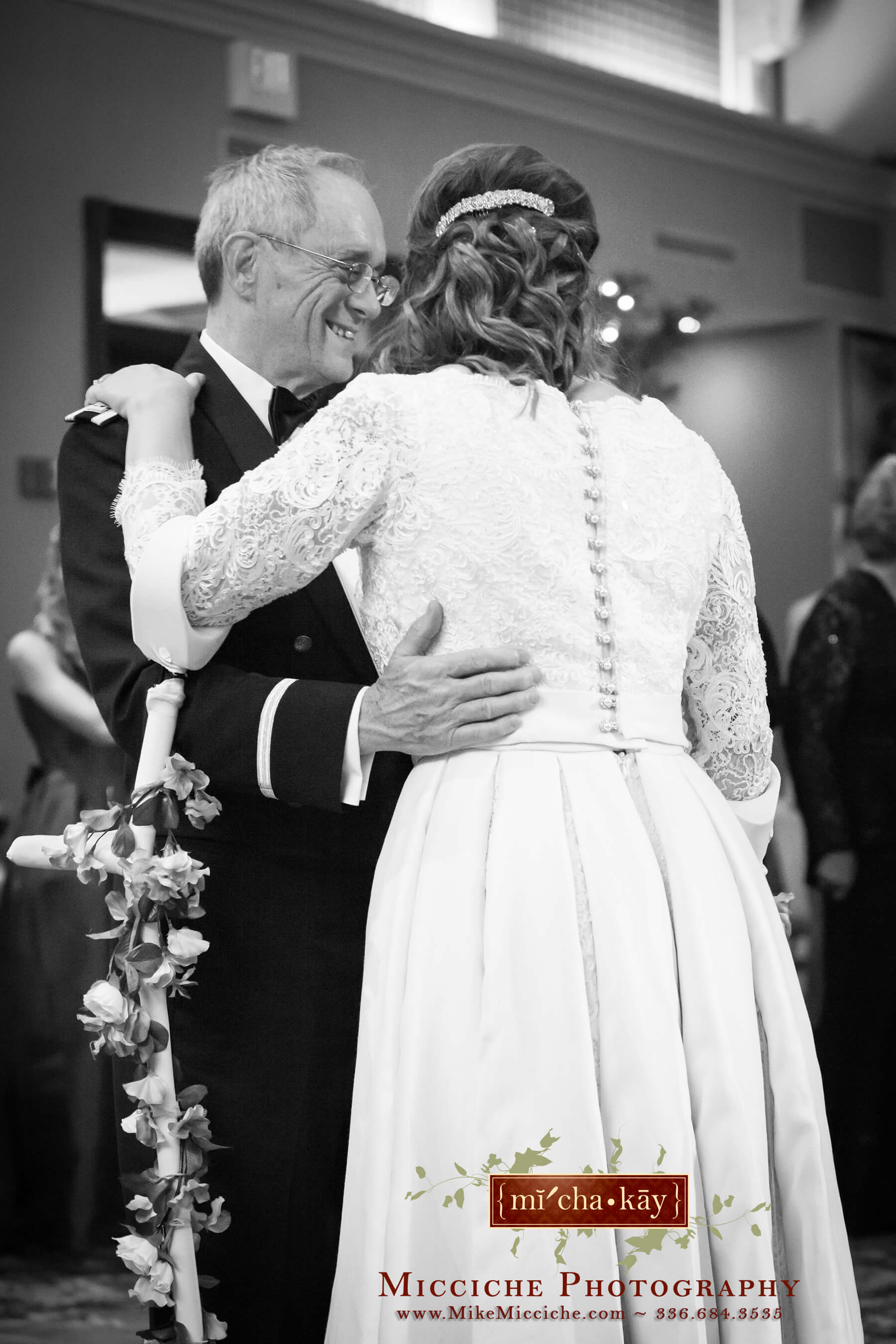 Later in the evening, Deborah removed her lace jacket and added long gloves.
There's a wedding tradition where, during the party, the groom will ceremoniously remove a garter from the bride's leg. Blake made it easier for himself by removing her entire prosthetic leg. These two are hilarious in just the right way, ya'll!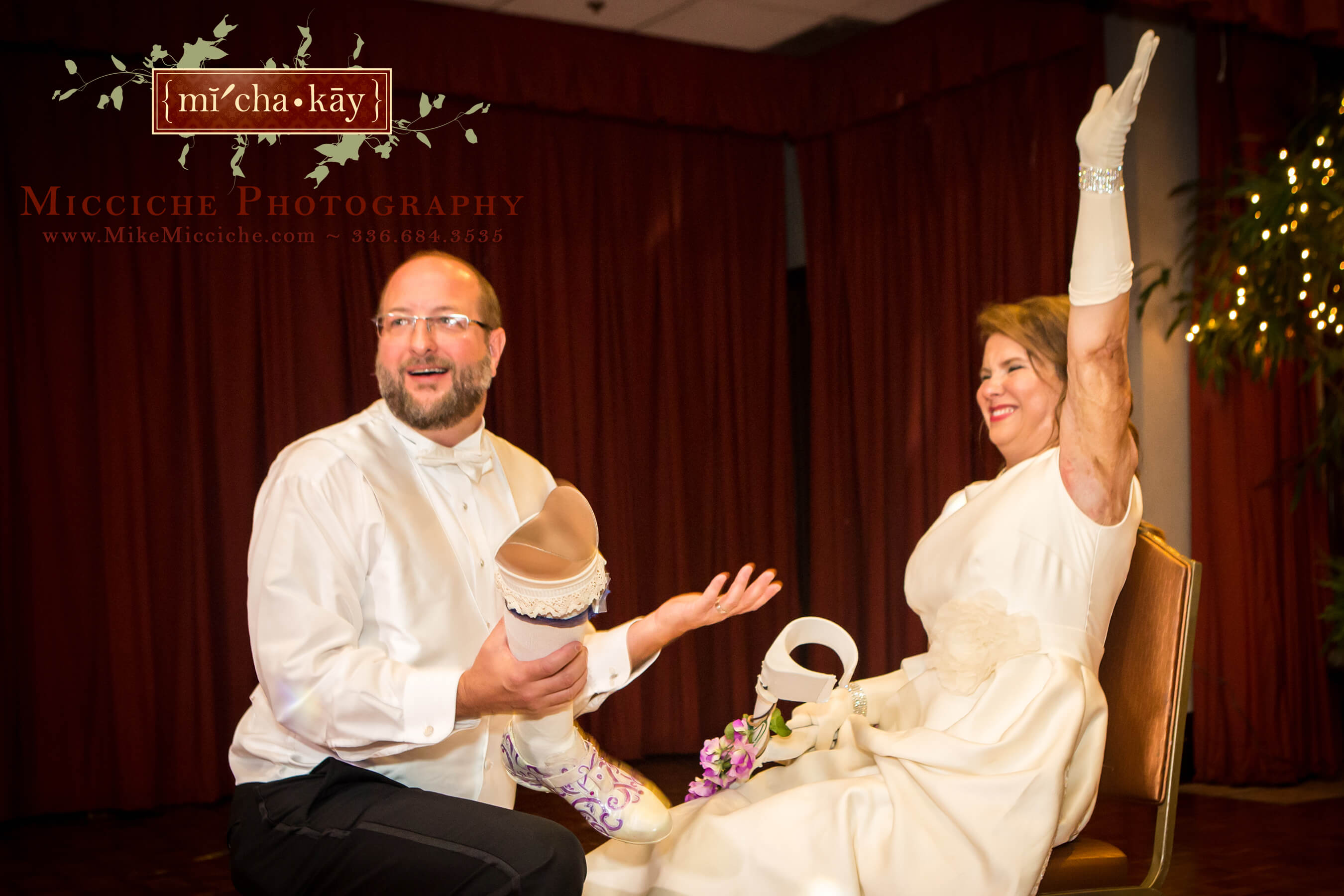 YAYAYAYAY! CONGRATULATIONS!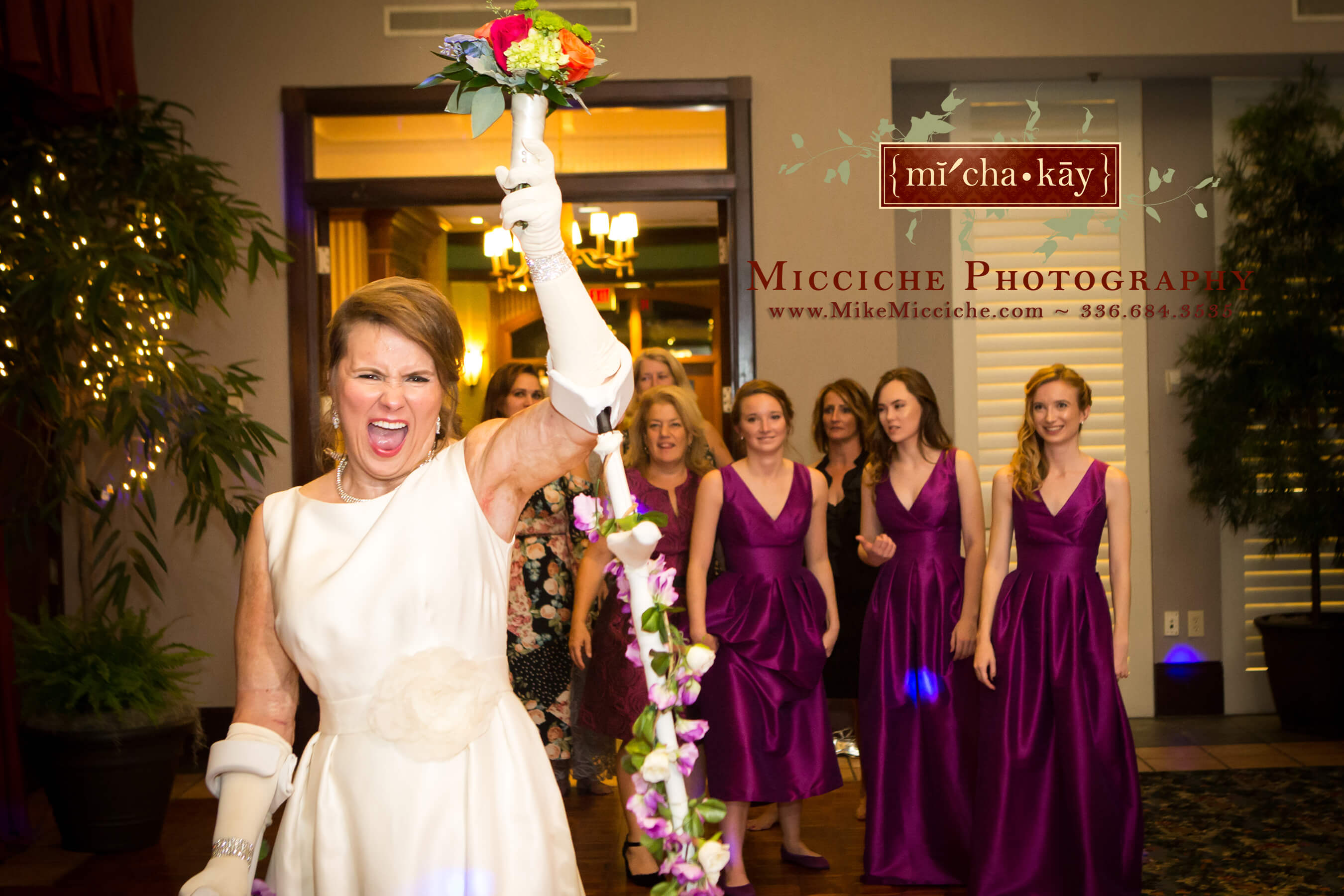 Want more? Me too! Do not miss the photographer's slideshow!
Since he only offered a limited number of photos for me to share, I purposely tried to keep my selections different from those included in his slideshow so that ya'll would get to savor as many gorgeous glances as possible. Check it out! (And grab a tissue!)
Our Journey Together
After working with Deborah for so many months on her custom wedding dress, it was absolutely thrilling to see the bride looking so radiant on her wedding day. I miss spending time with her, but we've vowed to keep in touch…
Here's my original wedding dress sketch- next to what it became!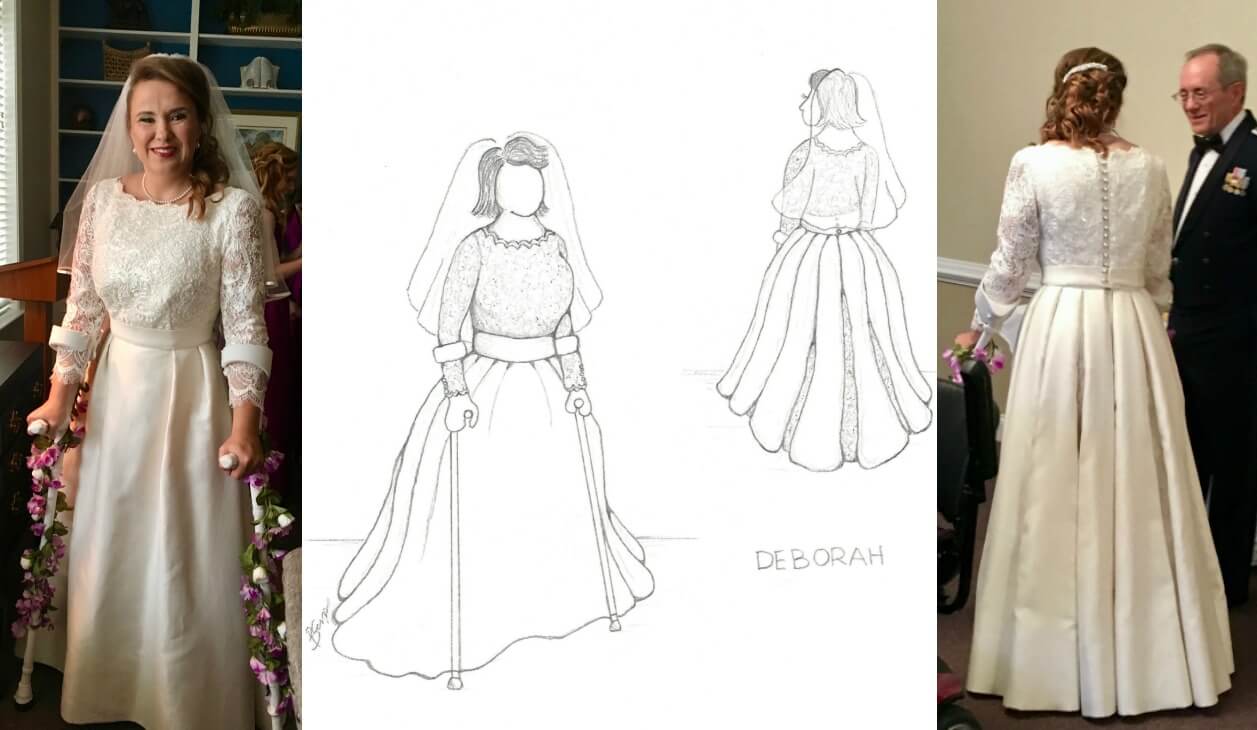 To follow our journey together "behind the seams", check out all the posts that led us from our first introduction to this wedding day post!

New Bridal Blog Series: Designing for Deborah! (which also shares Deborah's incredible TEDx Talk!)

Deborah's Design Consultation and Wedding Dress Sketches

Draping and Drafting Deborah's Patterns

Crafting Deborah's First Mockup

Deborah's First Fitting and Second Mockup

Deborah's Second and Third Mockup Fittings

Choosing and Prepping Deborah's Fabrics

Cutting and Underlining Deborah's Fabrics

Deborah's Lace Top and Final Fitting

Deborah's Photoshoot and Delivery Day

all leading to this Wedding Day post!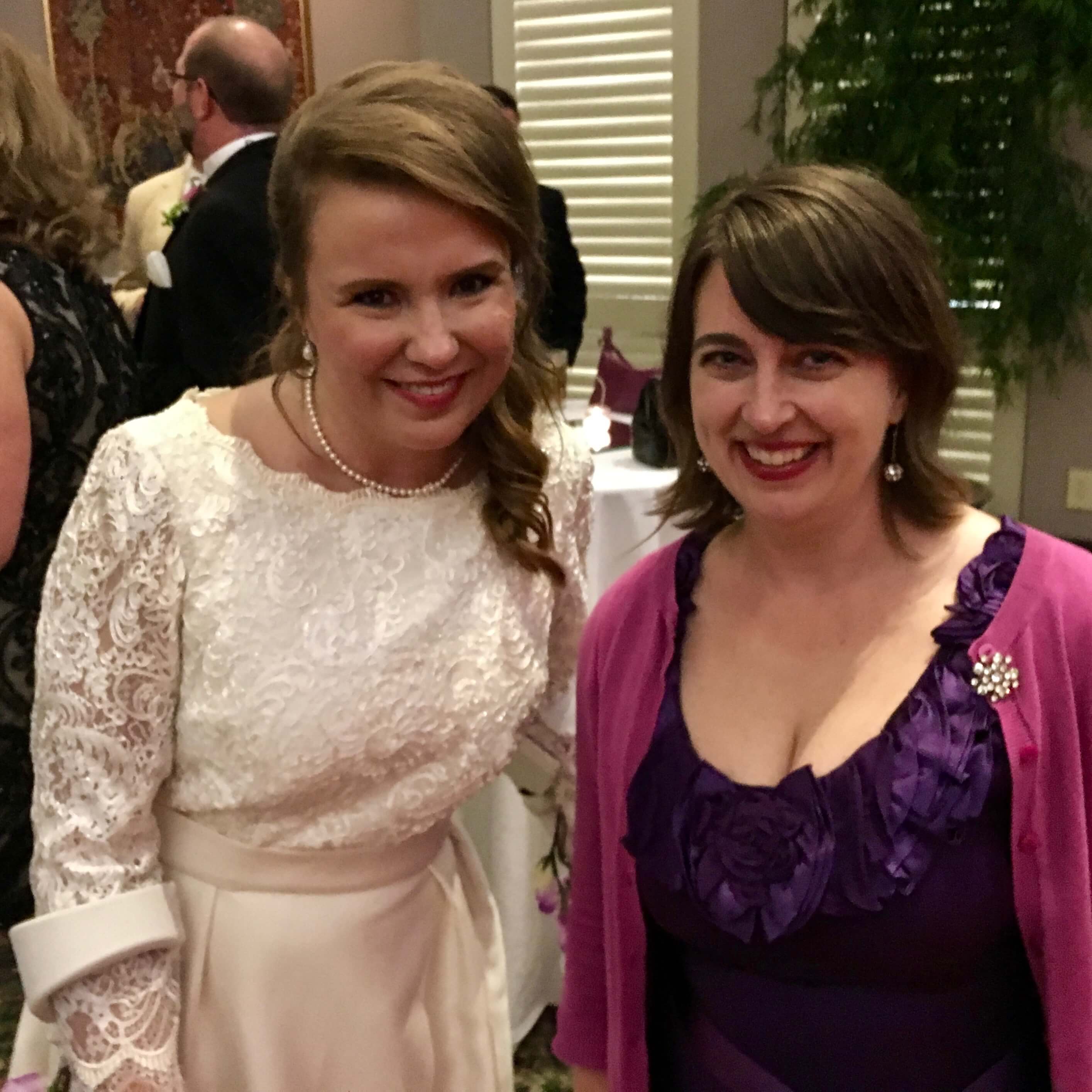 THANK YOU SO MUCH FOR FOLLOWING ALONG! I've really enjoyed sharing my couture process during Deborah's bridal blog series and getting to know a lot of you through your comments, emails, my free newsletter, and on social media. Please keep in touch and let me know what you think! YAY!
And a huge thanks to Mike Micciche for letting me share his fantastic photography!
Congratulations Deborah and Blake!
(And yes, I've got another bridal blog story to tell! After a short break, I'll start this whole process over again with a new custom wedding dress for a beautiful bride named Tiffany!)
NEXT POST: Wild Card! Have ideas for topics you'd like me to write about before I start a new bride series? Let me know!
Here are a few examples of my non-bridal blog posts:
Two Myths of Learning to Make Your Own Sewing Patterns
How To Choose and Use a Thimble
The Making of a Dress, a Blog, and a Business
Sewing Technique Spotlight: Underlining pt.1, (followed by pt.2, & pt.3)
My Sewing Machines
My Years as a Custom Picture Frame Craftsman
DIY Professional Sewing Room Table & DIY Professional Ironing Table
or maybe you'd like to see another post following me making a dress for myself…
My current ideas include writing about my theatre career and/or about gravity fed irons… or maybe you'd rather I start the next bride series already! Let me know!