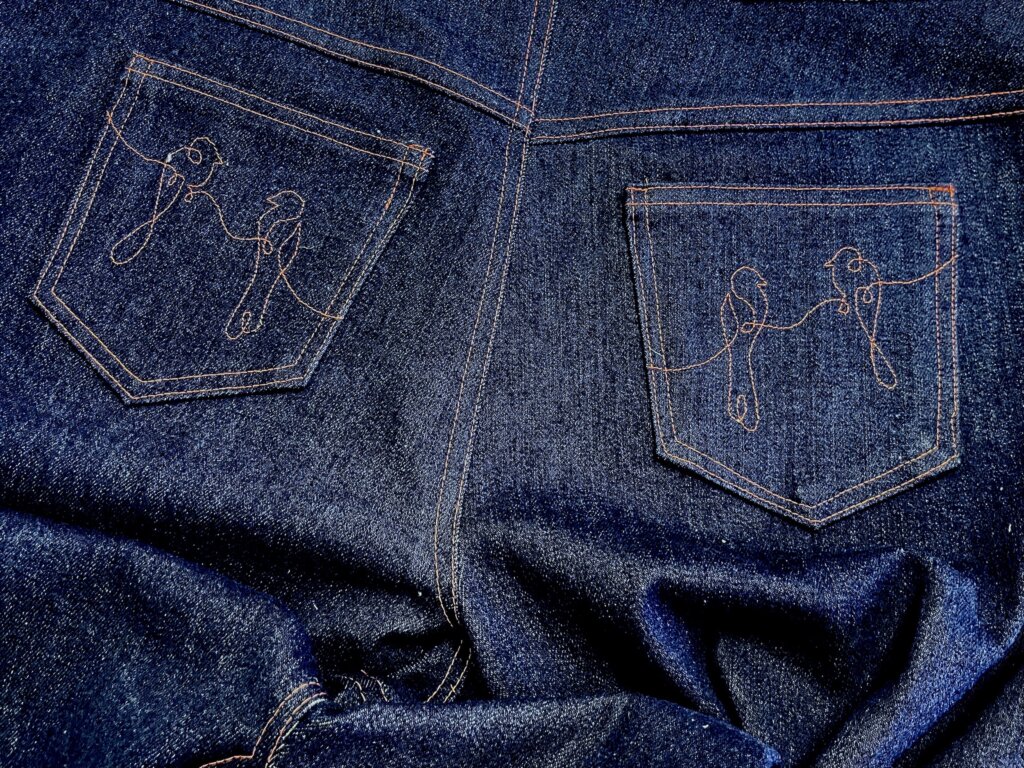 Contrary to what you might think, I don't have a lot of clothes and I tend to wear the same (old) things over and over. 
Almost all of my custom garment making is for others. Even the custom clothes I have made for myself were mostly crafted on-screen while sharing with my students.
But I'm not sad about it. This couturier is a denim and t-shirt kinda gal…
Earlier this year, I quickly and quietly made myself a pair of jeans that I wore pretty much every day since the last stitch- until the hot summer weather had me reaching for skirts instead. I love my skirts, but I'm so ready for jeans weather again! 
My delicious and completely custom jeans are the culmination of about 7 years of hard work! 
RTW is rarely ReadyForMeToWear
Like most of you, I don't fit into most ready-to-wear jeans.
Maybe a dozen years ago, after tedious shopping and searching (the worst!), I found one style and size of Lee jeans that felt really good on my body. I bought three pair and made only minor alterations.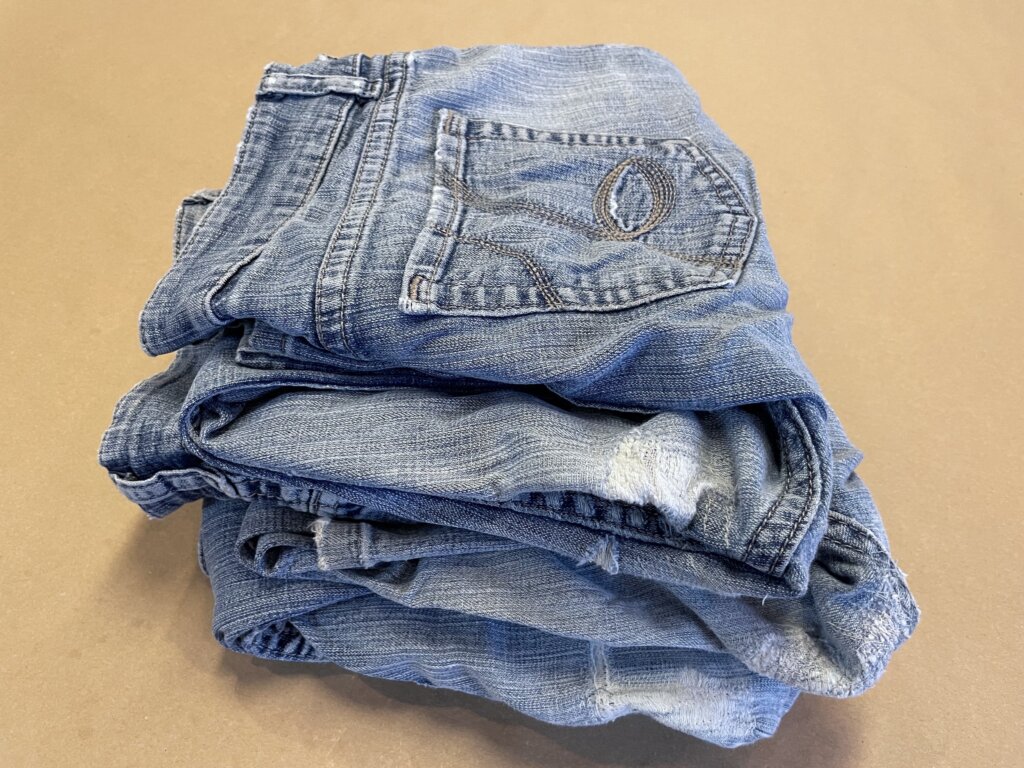 Then, of course, they discontinued these jeans. The fit I'd learned to love was no longer available.
Teaching is Often the Best Way to Learn
For pants, I intended to teach how to use an existing garment as the custom starting point- via a technique I now call Ghost Patterning. (And you bet, I was going to clone those Lee jeans!)
But when I polled those early Skirt Skills alums, the overwhelming response was to stick with Flat Pattern. Everybody loved making and using their custom blocks!
I even received pleas to "avoid having people start with an existing pattern or pair of pants. Some of us don't have pants that fit well (or if we do they are made of stretch) and that is probably why we are taking the class." 
And "Please show us how to make close-fitting jeans too. Most pants classes focus only on loose trousers."
Notes taken.
And as someone who loves jeans and Flat Pattern, I was certainly up for the challenge!
That said, I knew I'd need to invent a whole new way to go about it …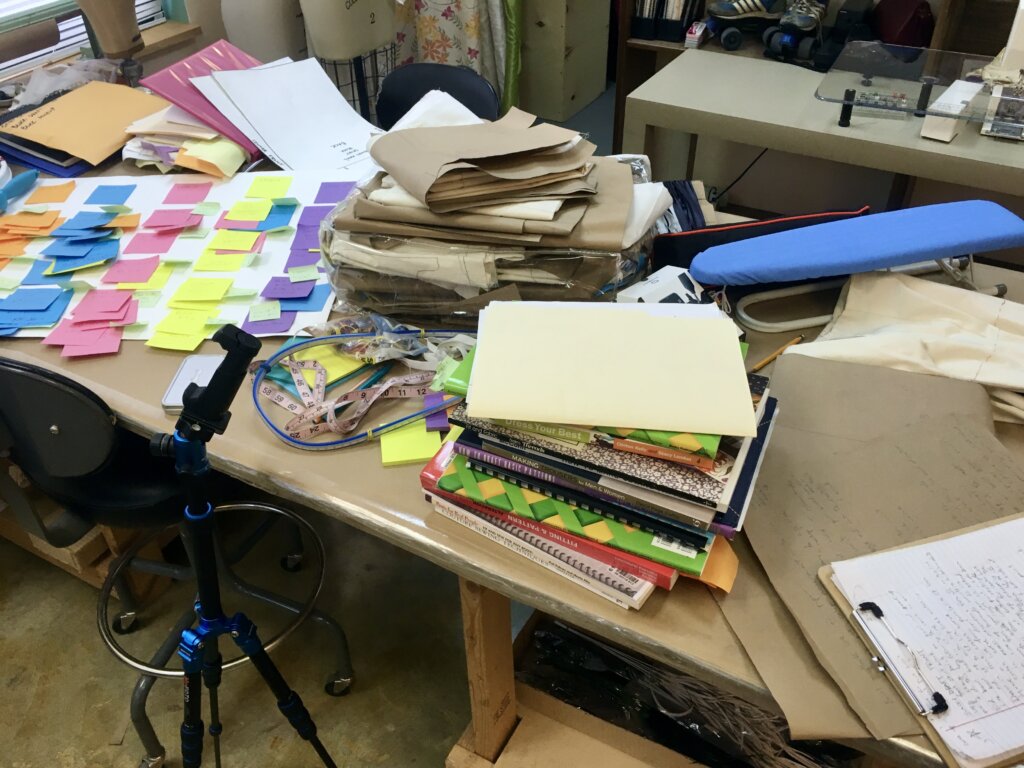 My goal was to create a simple elegant drafting system that could yield various custom pants blocks for any non-standard body by only using information from the one body itself or the wearer's personal preferences.  In all my extensive education and research, I've never seen this. 
A patternmaking block is basically a flat blank no-style template that represents the size and anatomical characteristics of the fit model. When sewing for yourself, the only "fit model" is you!
Most (all?) block/sloper/moulage/making methods are about customizing a standard fashion formula or about adjusting the patternwork of others. This involves tweaking something originally designed for mass-production. Through my research, I had to stay really mindful to figure out if the author's info was foundational and anatomical or if it was a "hack" or a standardized assumption. 
I needed to painstakingly distill all of the "fashion industry" stuff out of the process. Sizes and ranges and averages and standards are irrelevant when you have the one body you are sewing for in front of you.
And bonus: Solo sewing allows you to do all kinds of weird things you can't really offer in a fashion textbook!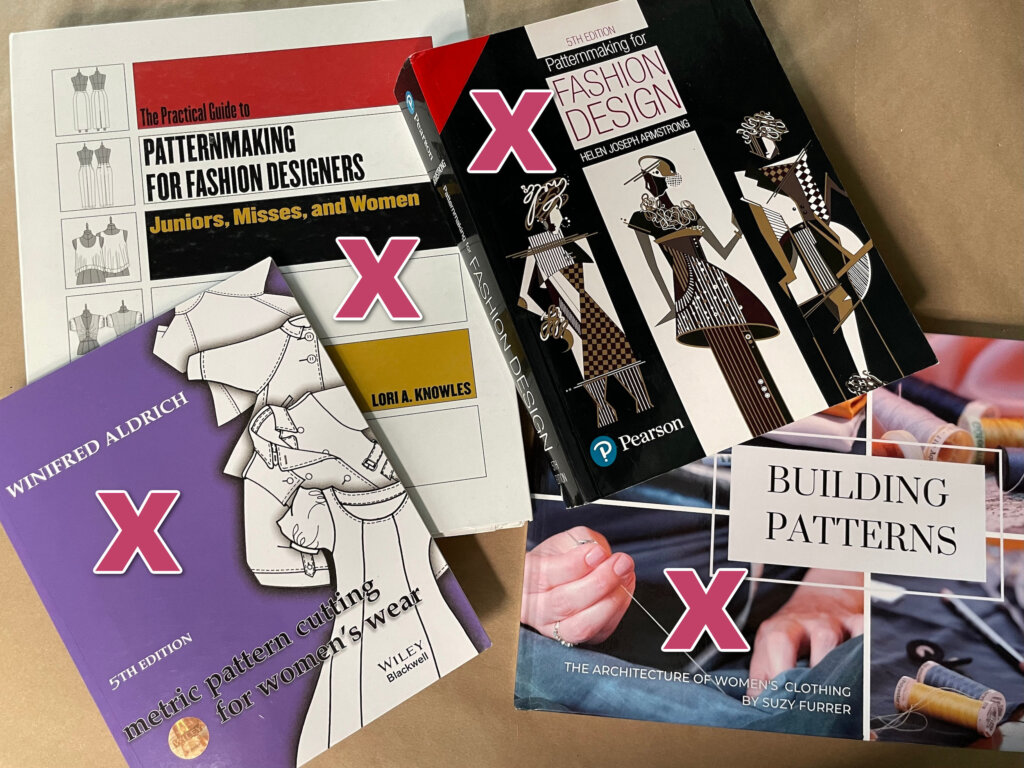 Long story (not so) short, after 6 years of testing, I was able to produce a process I feel proud to present. Learn more in the intro video for Smarty Pants (which starts in 2015 and ends in 2021!)
After all the R&D, it took me about a year to produce my eCourse Smarty Pants. On camera,  I used my custom skirt block from Skirt Skills as the starting point to create my own set of three custom pants blocks: Relaxed, Semi-fit, and Fitted.
I also shared my custom process as I made three different pair of pants from start to finish. The fitted pair was made with delicious hot pink corduroy (and underlined with my muslin mockup)!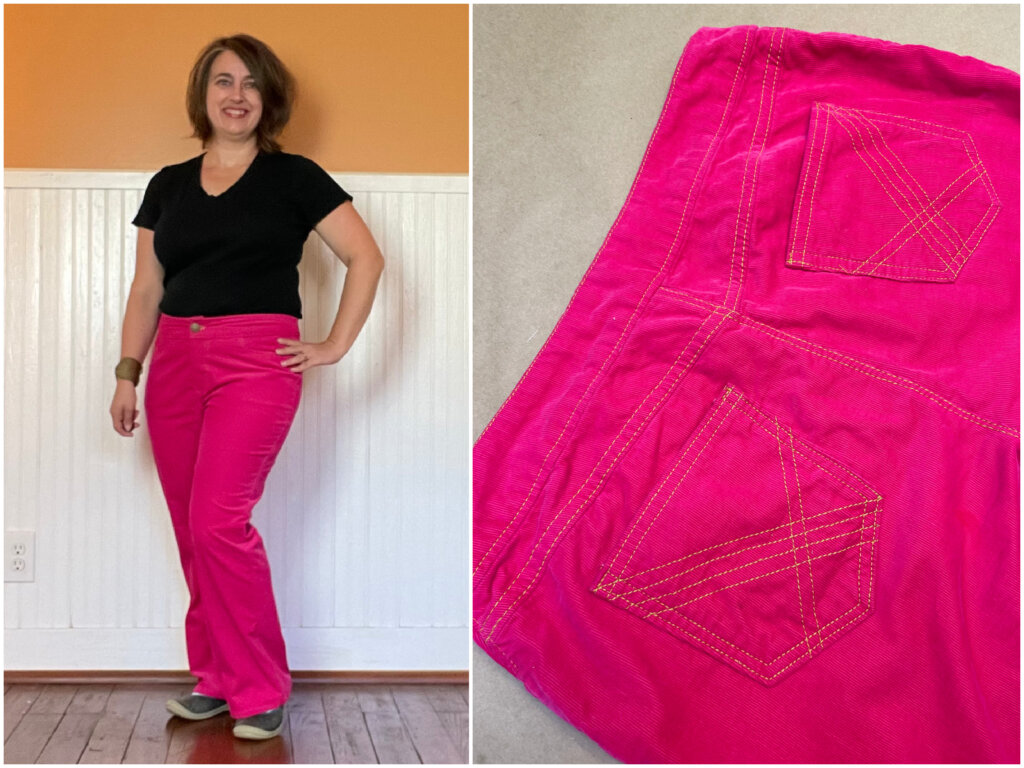 But ya'll, for all those years, I was still wearing those cheap Lee jeans. 
And after at least 10 years of near-daily wear, they were looking embarrassingly ratty. The stretched-out fabric was shredding and full of repairs…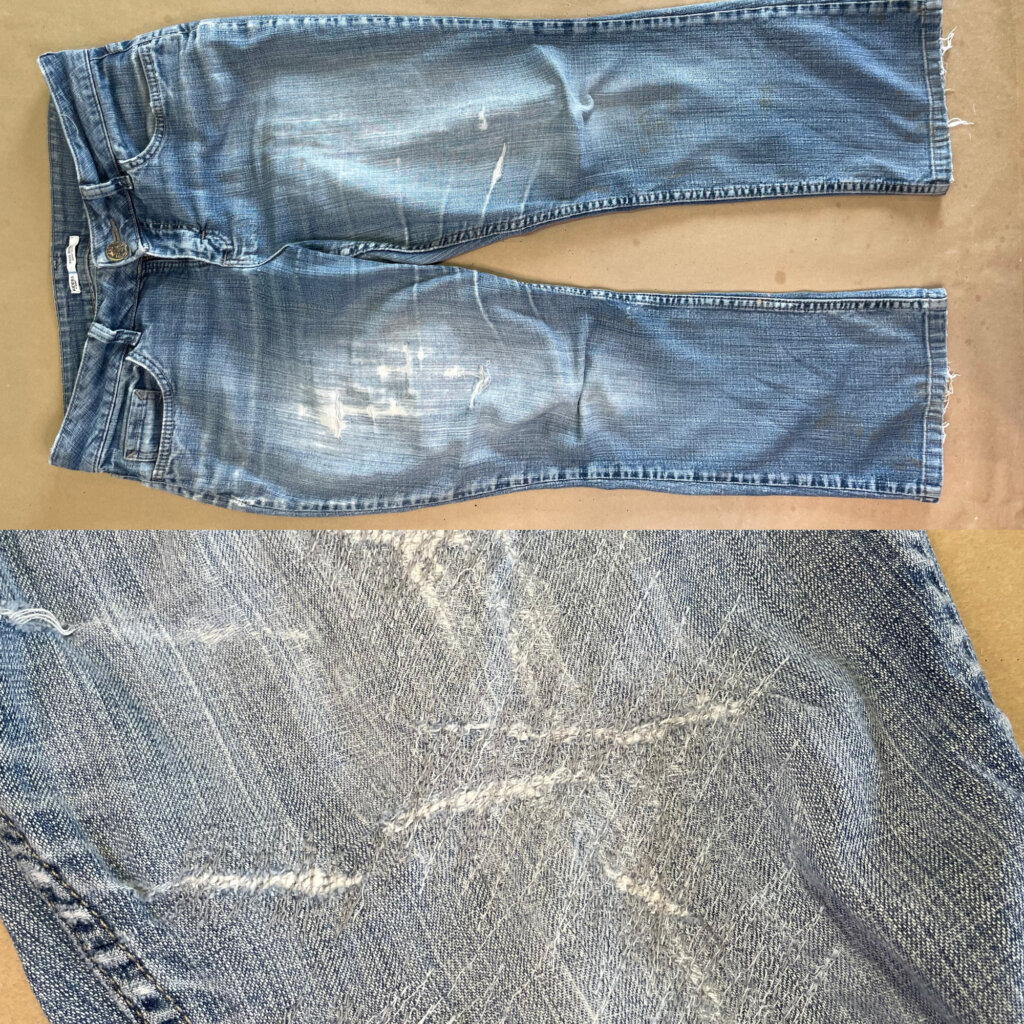 The nature of experimenting is that you think the experiment you are working through might be your last- but it rarely is.
And I never felt inspired to go shopping, since every day I was closer to having a Goldilocks pair of custom jeans from my own self-drafted pattern…. while possibly shaking up the rigid world of fashion sewing in the process!
Well, I can happily say that the day arrived! My hard work and perseverance paid off in a fun quick make of the most comfortable pair of secret-pajama jeans I've ever worn. I am so excited to make more and to banish store-bought jeans forever!
And bonus: My students can cut to the chase! I can now share everything I learned- so that their journey to custom-fit pants won't take them 7 years.
Talk about Win-Win!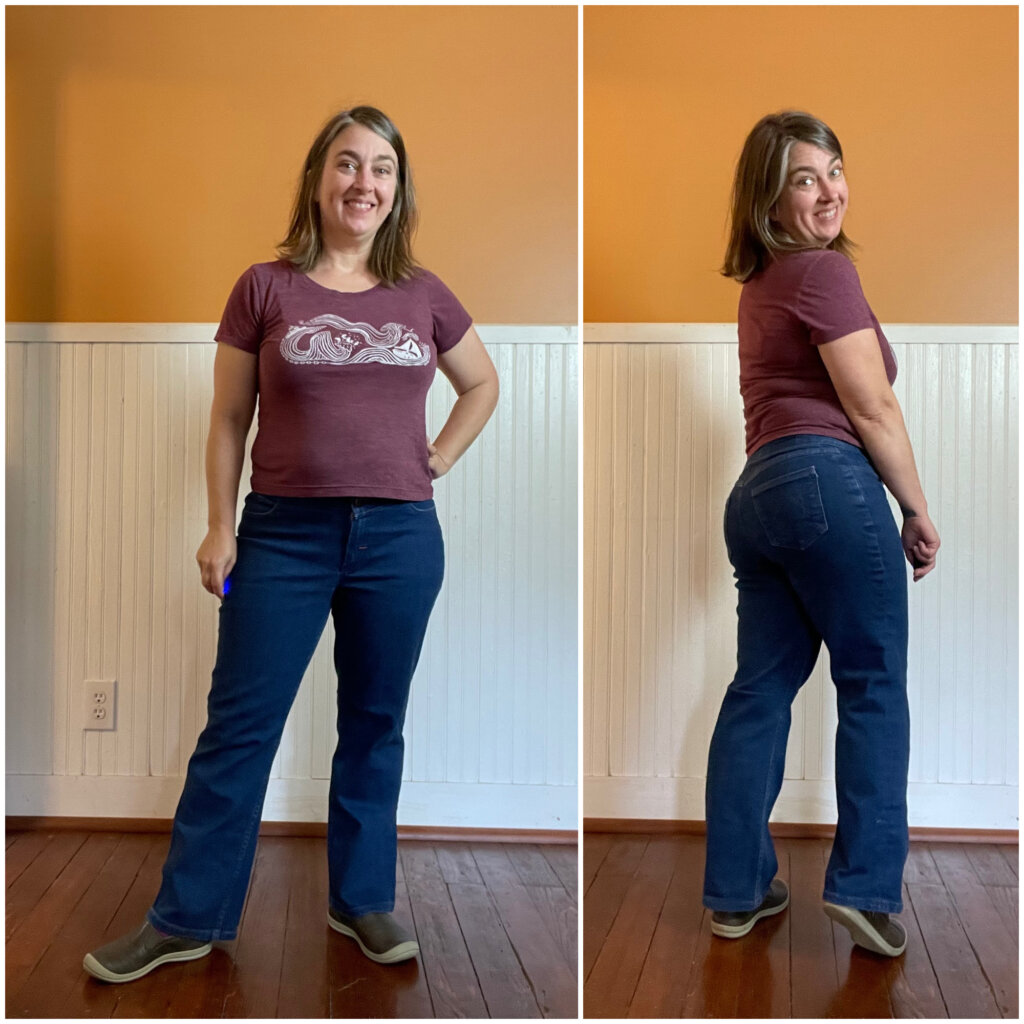 Ya'll, I tried HARD not to take process shots. 
I've gotten so used to documenting every moment of my makes to share with you or with my students, that I'm totally out of practice just making myself something. I really wanted to lean into efficiency and resist the urge to share. After a 7 year wait, I wanted to be wearing this pair of jeans.
But the pocket bird thing was so fun and cool that I couldn't resist snapping some photos- and I'm delighted to share how I made them.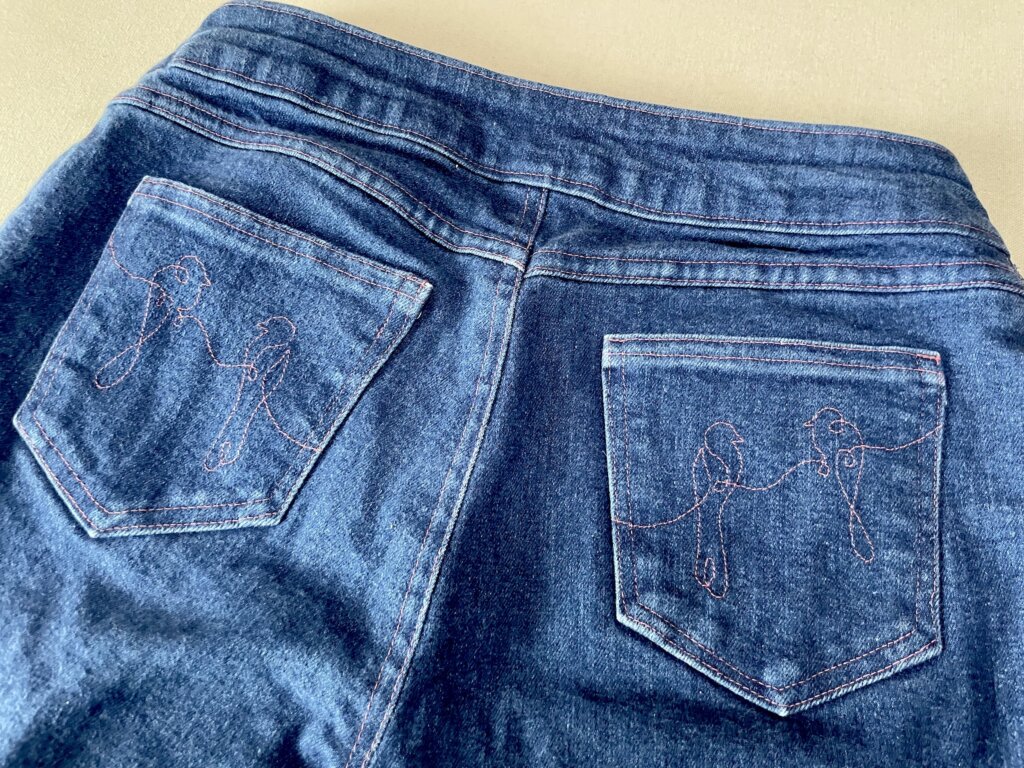 The most fun part of making your own jeans can be designing the back pockets.  You can design pretty much anything and trace it with thread!
I decided I wanted a one-line design. And my husband loves birds. And he's the one who will be looking at my butt the most!
I started with an Adobe Stock photo I found online. I traced my pocket pattern onto piece of paper, including visuals of the future top-stitched construction lines.
With a full-scale visual of my blank pocket, I played around to determine the size I wanted the bird image. I'd do some measuring, scale the image, print out a test, then "try on" the printout with traced pocket.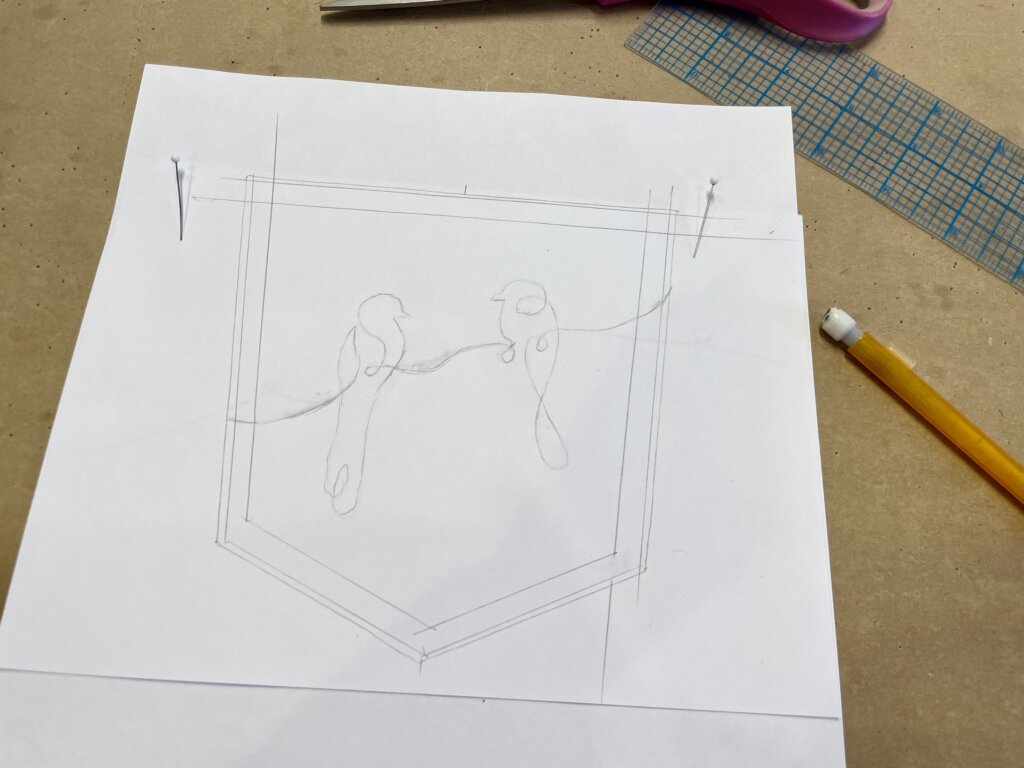 After a few test prints and resizes, I found a "sweet spot" size and placement that made me happy. I traced the image onto the "pocket" while editing the lines to my liking.
Then I noodled around with ideas for how to stitch the design on the pocket. And after some unsuccessful ideas, I came up with a tissue paper idea. 
I traced my design onto the tissue paper, pinned it onto the denim pocket piece, then s-l-o-w-l-y followed the drawn line with my machine stitching, often sewing one stitch at a time.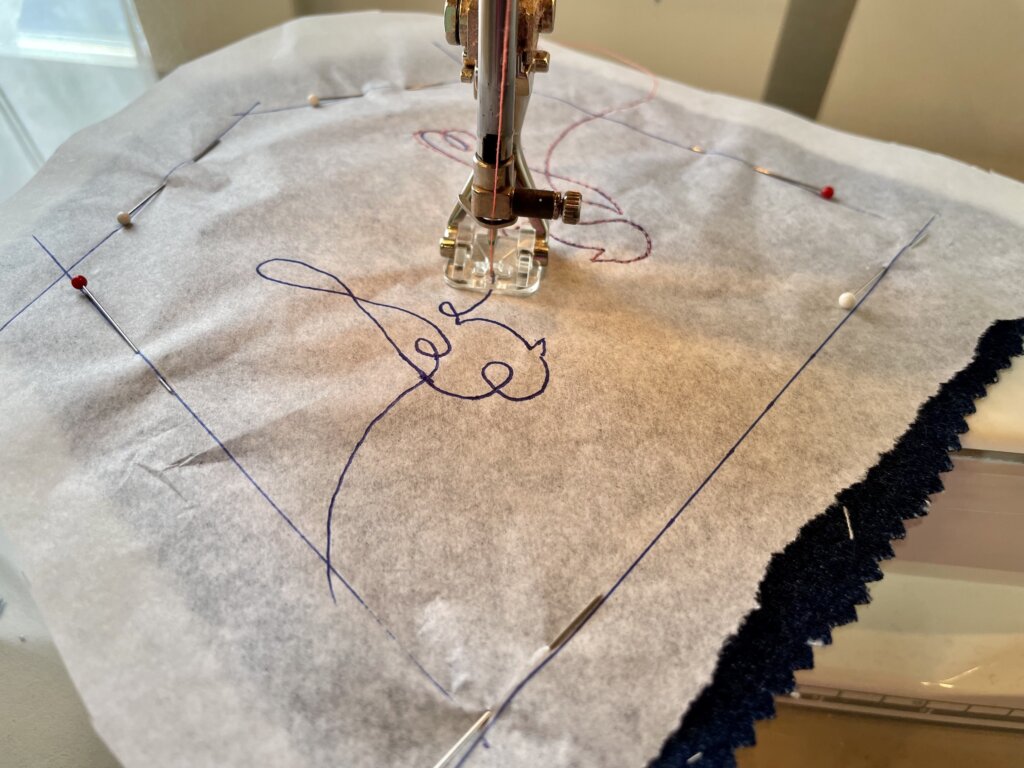 When I'd come to a sharp turn, like the point of bird beak, I'd employ the "needle down" function of my Bernina. I'd stitch to the point of the beak, keep the needle down in the fabric, pull up the presser foot, and pivot the entire pocket on the needle. Then, I'd put the presser foot back down when facing the new desired direction, and start sewing again.
If your machine has a "knee bar" (which mine does not), you can raise and lower the presser foot with your knee, freeing up your hands to concentrate only on maneuvering the pocket.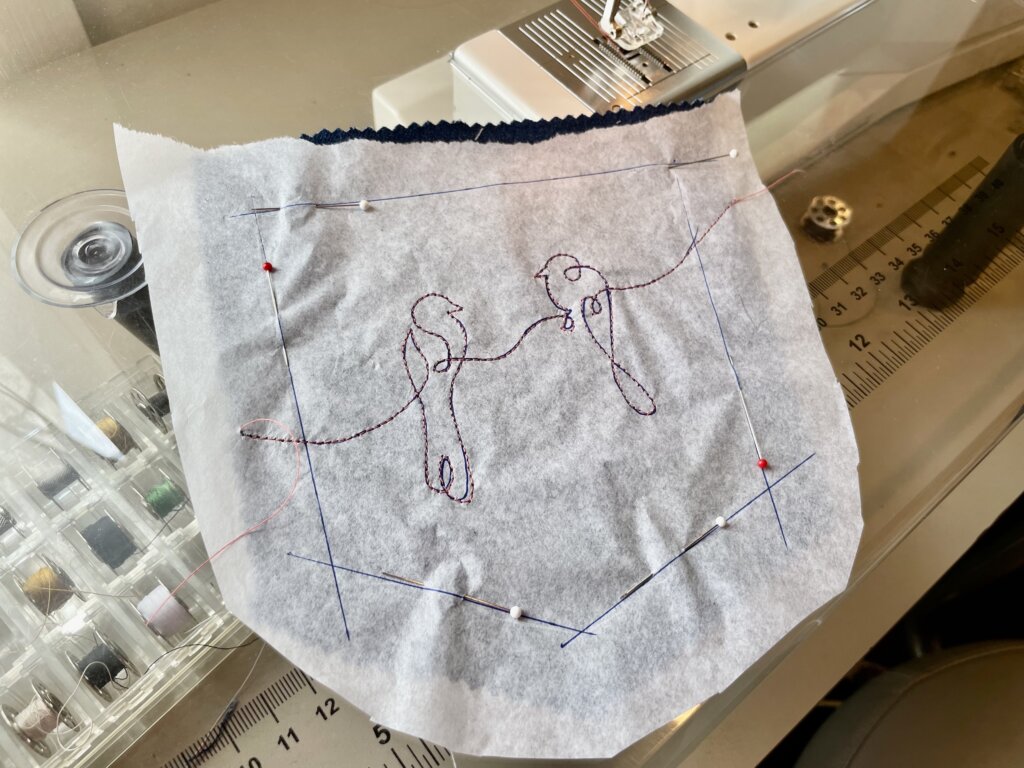 Once I made it all the way across the pocket with my line of birds, I used the perforation created by the needle to gently rip the tissue away from the thread. This part was especially fun.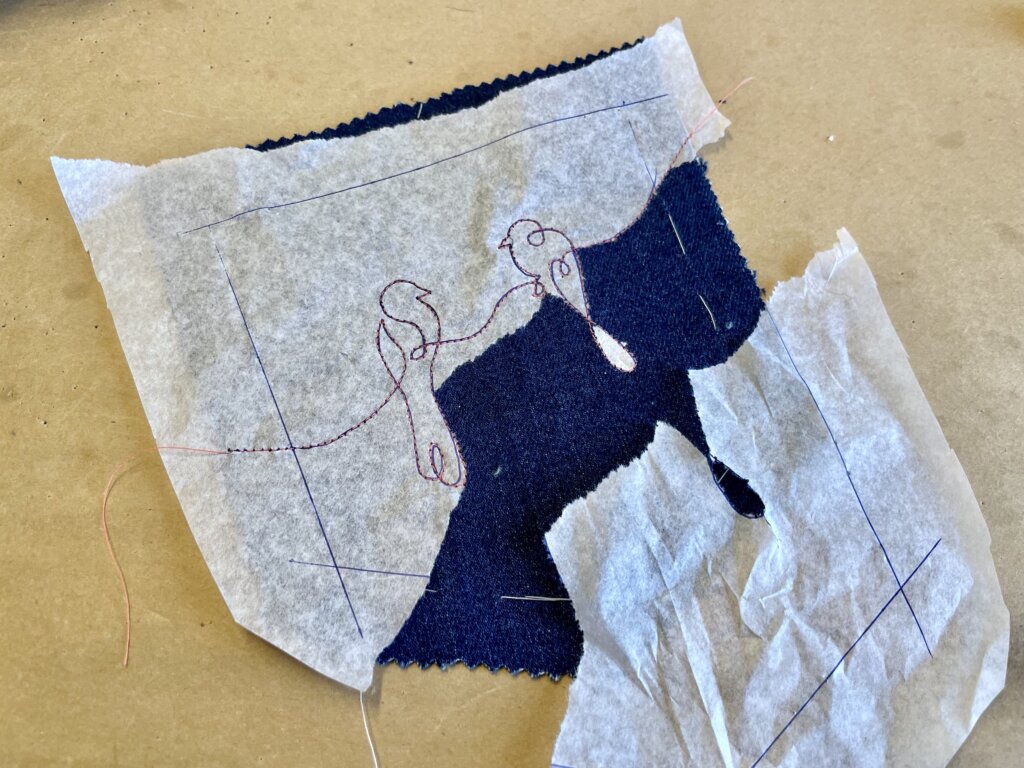 For the other side, I laid the tissue over my image and traced it again in pen. To add it to the pocket, I flipped it. The pen marks were dark enough for me to follow with my careful line of stitching, especially after the practice of the first pocket.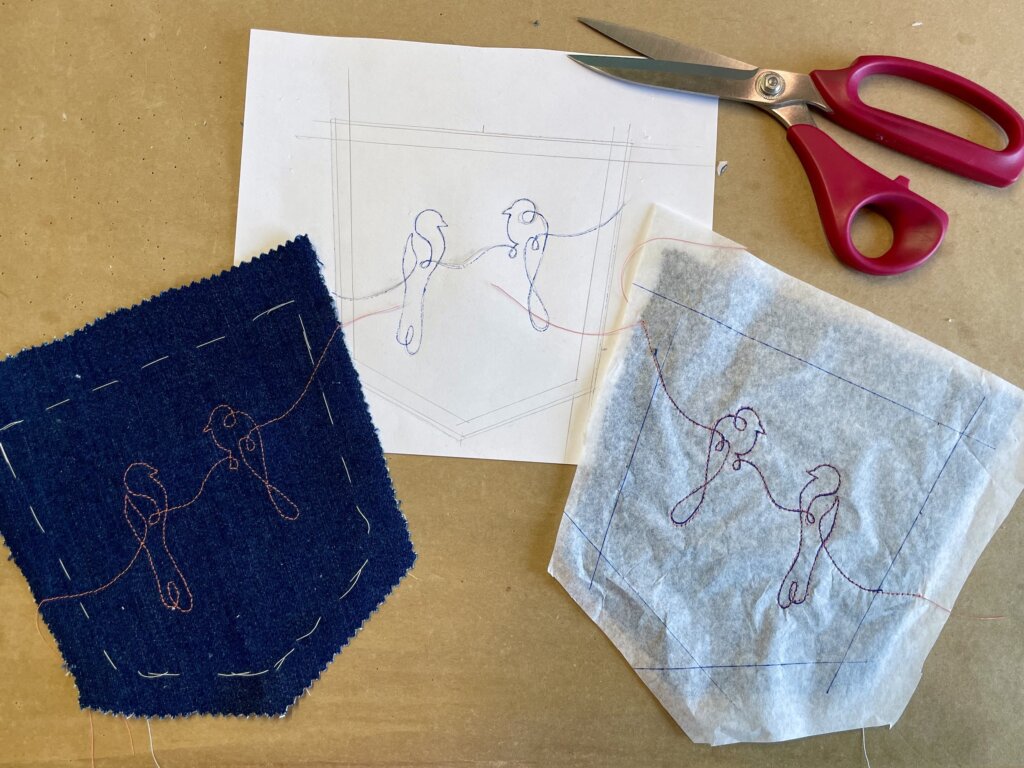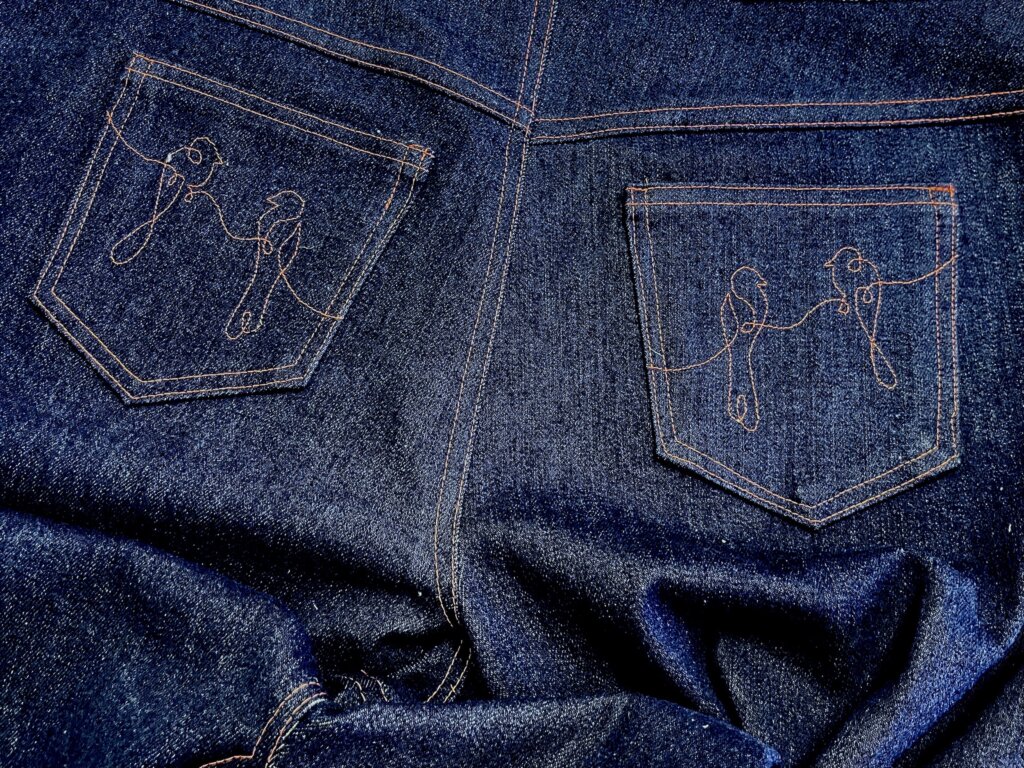 And here they are today- on my butt!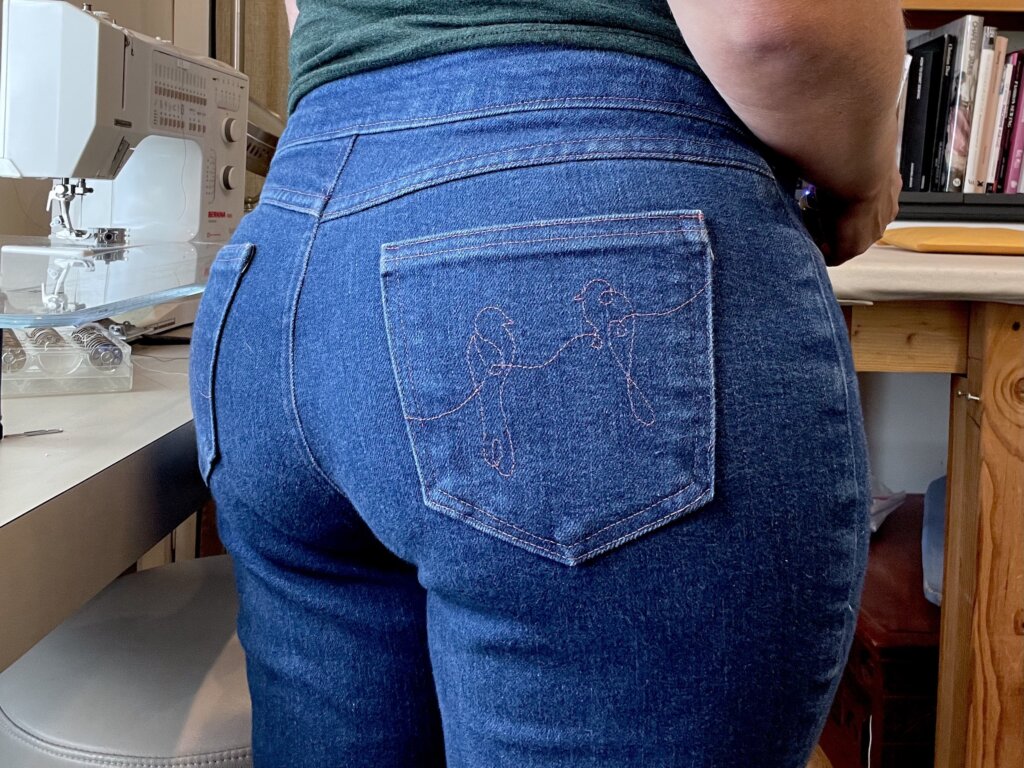 Have you ever had an epic project that took you much longer than you expected? Are you working something now where you feel like you might never reach your goal?
I've been there, y'all! I hope this blog post offers you the inspiration to push through the hard stuff. 
You got this.
Take your time.
And let me know what you think! I'd love for these blog posts to be more of a correspondence than a broadcast. I encourage you to comment below. I'd love to hear from you!
NEXT POST: I plan to share another behind-the-seams personal project (or two) where I used the Procreate App as part of my design process!