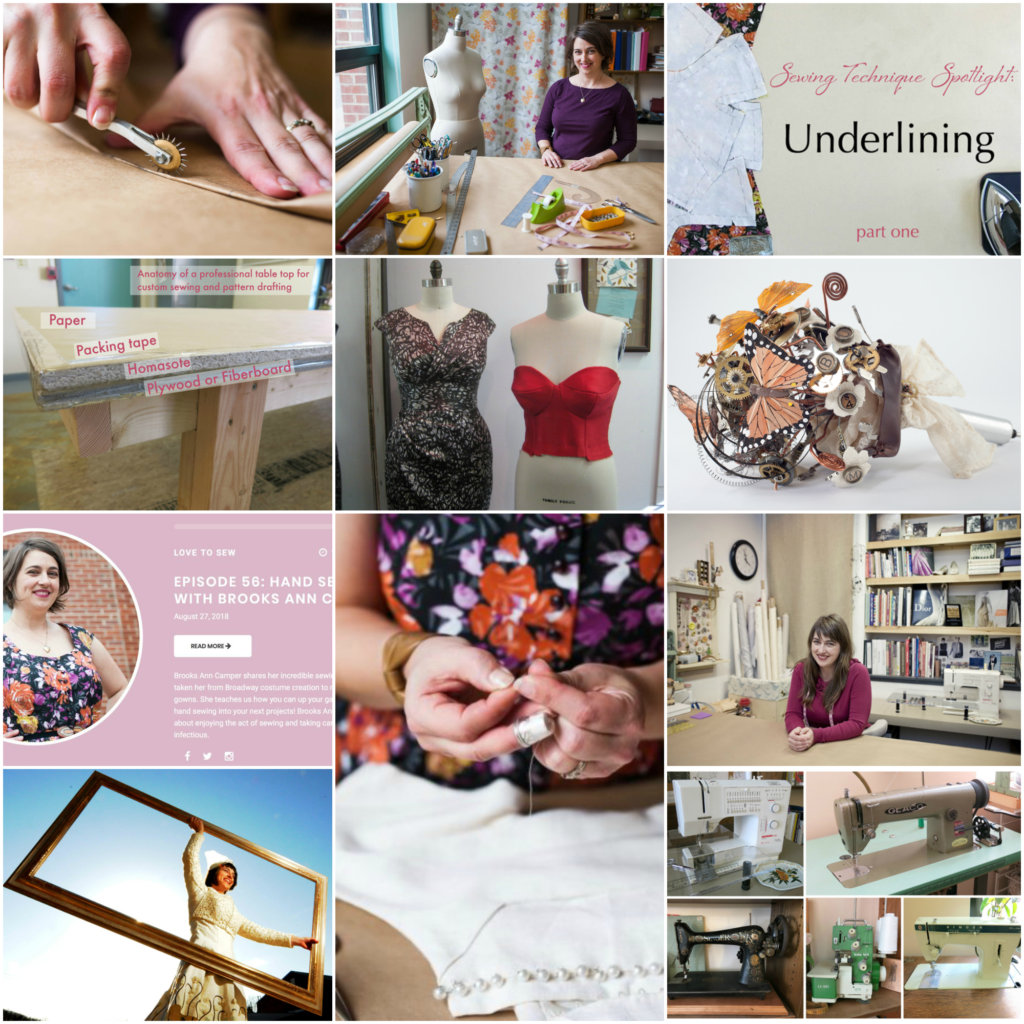 I've been blogging for TEN YEARS now, ya'll!
In "My 10 Year Blogiversary pt. 1", I share links to each bridal blog series that I've created over the past decade. If you follow along in order, you'll see a clear evolution in my business, my skills, my writing, and my photography.
But not all of my blog posts follow a wedding dress's progress, which brings me to pt. 2! In this, my #288th post, I'll share a round-up of my most popular posts on other topics! There are retrospective posts, posts about sewing techniques and tools, posts about clothes I've made for myself, personal posts, and more…  Thanks so much for following along!
Origins and Evolutions
While each bridal blog series is linear and chronological, the other posts on my blog are a little more random. I'll try to loosely thread them together by topic, starting with ones that share a little more about me and what I do.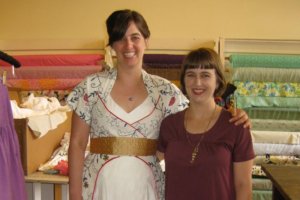 In Retrospective: The Making of a Dress, A Blog, & A Business, I share the origin story of my blog and my bridal business in more detail.
Published November 14, 2012
---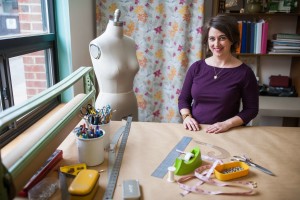 In The Custom Couture Process, I detail the process I follow with each bride, step by step.
Published May 7, 2016
---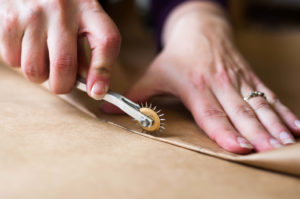 My #1 most popular post is Two Myths of Learning to Make Your Own Sewing Patterns. I explain how the way I sew differs from fashion and home sewing, and I dispel some patternmaking myths for those who don't want to go into fashion and only want to make themselves patterns that fit.
Published January 25, 2017
---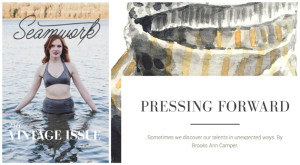 Over the years, I've written several articles for Seamwork Magazine. My first Seamwork feature "Pressing Forward" is a personal essay detailing my unexpected beginner-to-Broadway origin story.
Published August 2015
---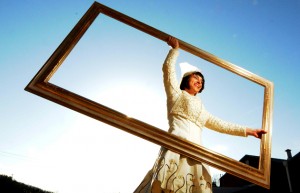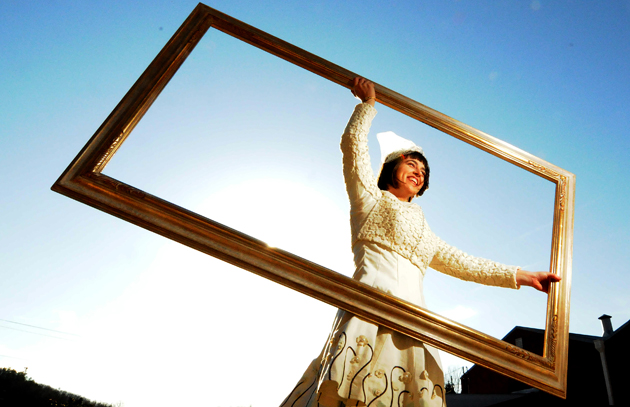 In Retrospective: My Years as a Custom Picture Frame Craftsman, I share a lot about my former creative day job as a custom museum-quality woodworker and gilder while building my own bridal business on the side, including how both jobs are similarly suited to my skills and interests.
Published April 24, 2014
---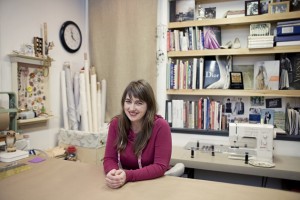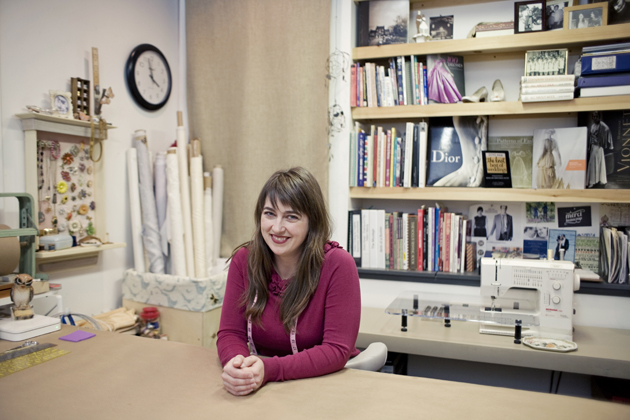 After leaving the aforementioned day job, I shared "Retrospective: My Home Sewing Rooms(s)" where I detail the home sewing spaces I've used over the years (and introduce my commercial studio space).
Published June 6, 2014
---
Tools & Techniques
My next attempt to loosely thread popular posts together, I'll share posts about sewing tools and techniques. Since my blog is mostly about following the story of each wedding dress, I save most of this kind of sharing for my online workshops. That said, these posts are often very popular so I'll consider adding more when I have time!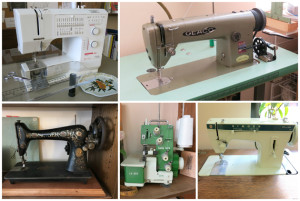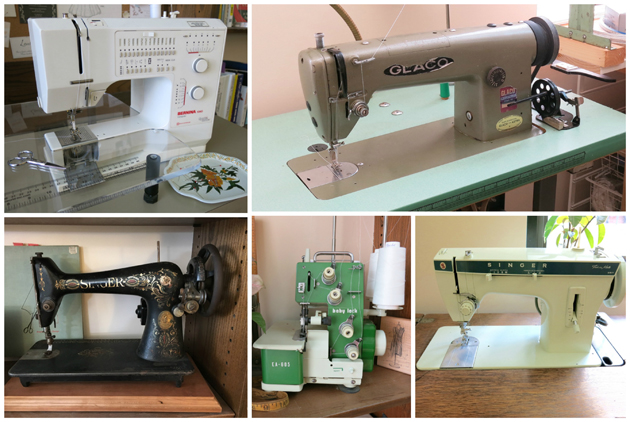 A nice transition from personal posts to those about tools is "My Sewing Machines". I share a lot about my grandmother Agnes, who was a sample dressmaker for JC Penny, and the sewing machines she used and/or gifted to me.
Published October 12, 2015
---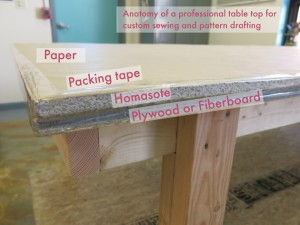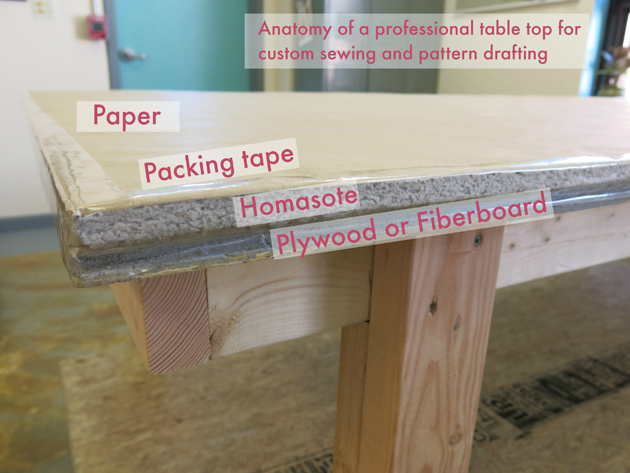 I'm deeply in love with my pinnable-topped custom table for sewing, pattern drafting, fabric cutting, and more. I share how you can make one for your sewing room in my very popular post "DIY Professional Sewing Room Table."
Published June 19, 2014
---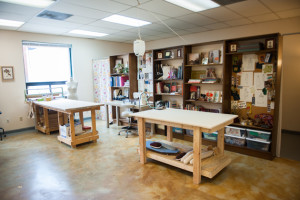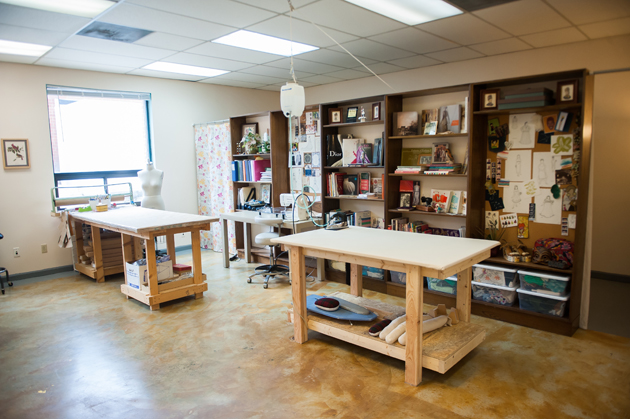 I'm also deeply in love with my custom ironing/pressing table. I detail how my handsome husband and I made it in "DIY Professional Ironing Table".
Published June 24, 2015
---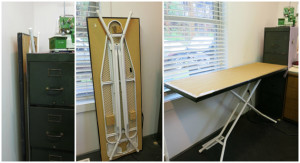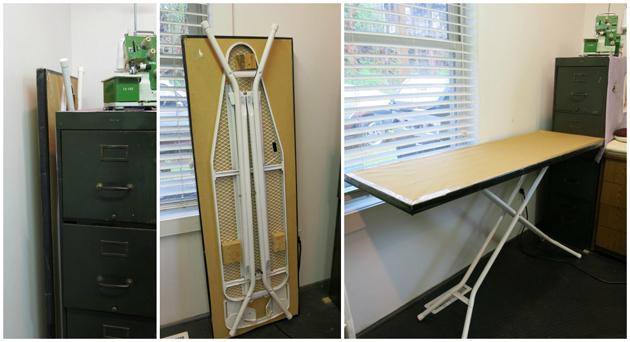 Before I had a big fancy sewing studio, I got creative at home. In "Small Sewing Space Solution: Portable Ironing/Cutting Table", I share how I created a smaller portable mishmash of the tables listed above!
Published June 11, 2015
---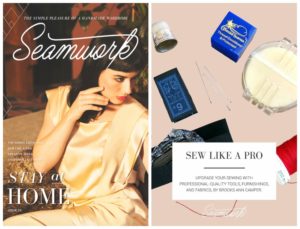 In another Seamwork feature, I share how to upgrade your sewing with professional tools, furnishings, and fabrics. Check out "Sew Like A Pro" in Seamwork Magazine.
Published November 7, 2016
---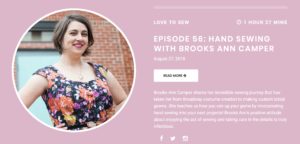 I'm thrilled to have been a guest on my #1 favorite podcast! I discuss hand sewing tools and techniques (and so much more!) at length in "My Love To Sew Podcast Interview!"
Published August 28, 2018
---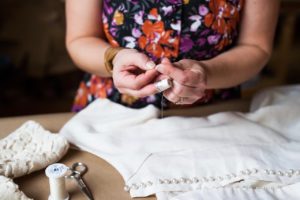 "How to Choose and Use a Thimble" is a lengthy love letter (disguised as a tutorial) to my #1 favorite sewing tool. (PS. I just signed a contract with Threads Magazine for a 6-page spread inspired by this post!)
Published February 9, 2017
---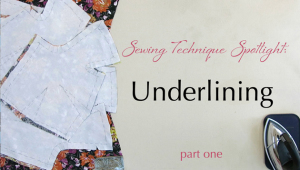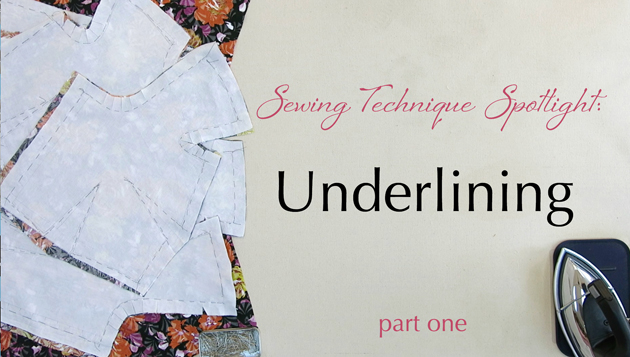 My #1 favorite sewing technique is underlining. Check out my popular 3-part blog series (with video!) in "Sewing Technique Spotlight: Underlining pt. 1" & (2) & (3)
Published December 5-14, 2014
---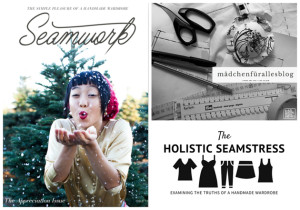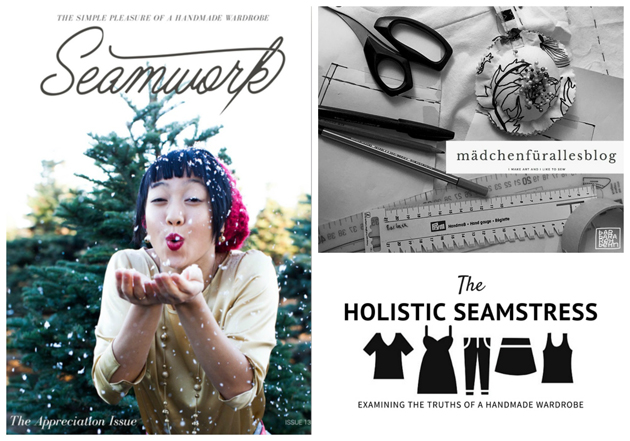 In "Underlining Feature in Seamwork (and two students blog about Skirt Skills)" I share my Seamwork Magazine article about underlining, along with two blog posts from students about their experiences in my intro eCourse.
Published December 7, 2015
---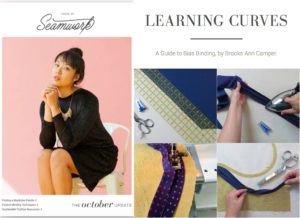 In another magazine collaboration, I wrote a detailed guide to bias binding (with a focus on curved edges) which I share about in "'Learning Curves' for Seamwork Magazine".
Published October 10, 2017
---
Personal Projects
Continuing to loosely thread blog topics together, I'll share posts about making things for myself! My passion is helping others look great. Unless I'm heading to a wedding where I made the bride's dress or I'm creating for myself on-camera for one of my online classes, I'm firmly in the camp of 'the dressmaker has no clothes'.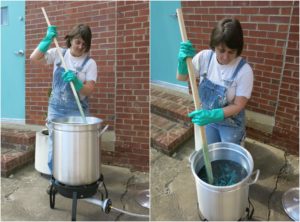 A post with a little tools & techniques and a little personal sewing is "Dyeing for a Change". I share about my new dye setup as I change the color of some silk faille for a top I was creating for myself from start-to-finish on-camera in my eCourse Top Class.
Published July 5, 2018
---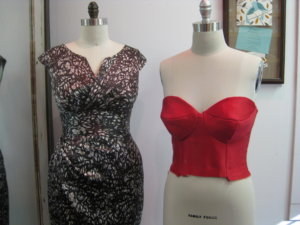 In "Loosely Threaded pt. 1" and "pt. 2", I share a couple of personal makes, a bit about where and how I made them, where I wore them, (and where I didn't.)
Published January 9-15, 2012
---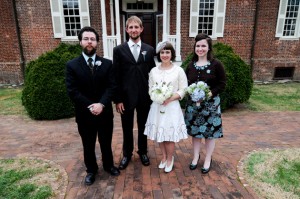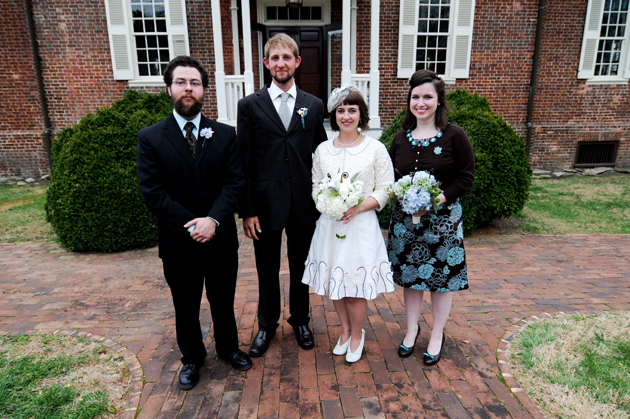 In the post above, I referenced "Two Weddings and a Funeral". It mentions my own custom wedding dress and custom wedding rings, but is mostly a personal post about the loss of a dear friend.
Published September 24, 2011
---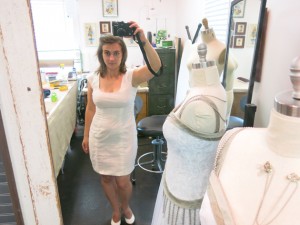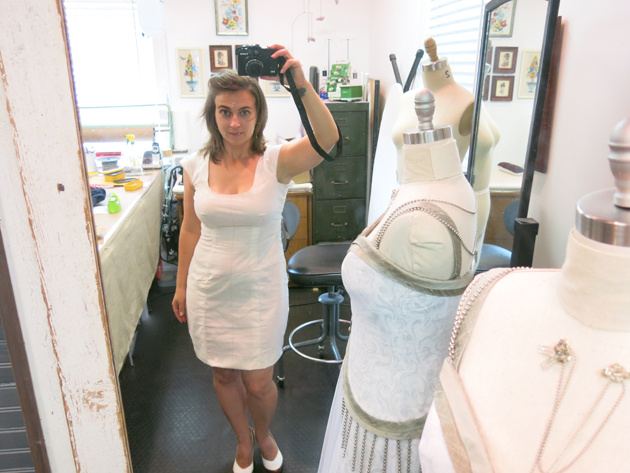 In "My Dress for Loula's Wedding pt. 1- (Design and Draft)" and "pt. 2- (Draft to Dancefloor)", I share my start-to-finish process of creating the dress I wore to my best friend's wedding (after making her wedding dress.)
Published Feb 19- March 4, 2014
---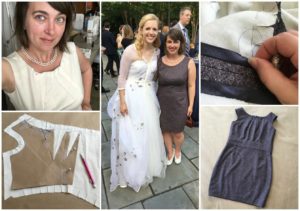 Sharing the process of "Creating My Own Dress For Cameron's Wedding Reception" became wildly popular on Instagram. The full blog post shares all the nerdy sewing details from inspiration through the final creation.
Published June 13, 2018
---
Hanging by a Thread
These fun posts seem to be a little bit bridal blog, a little bit personal post, and a little bit unique.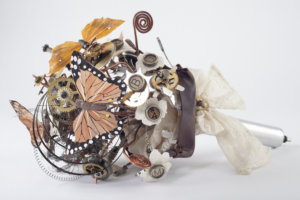 I share the process of creating this Steampunk Bridal Bouquet with the help of my husband (which involved taking apart a typewriter) for a bride named Erin in "A Very Unique Accessory".
Published December 19, 2010
---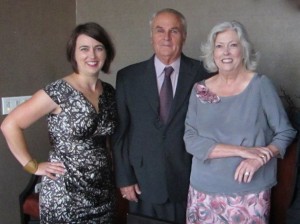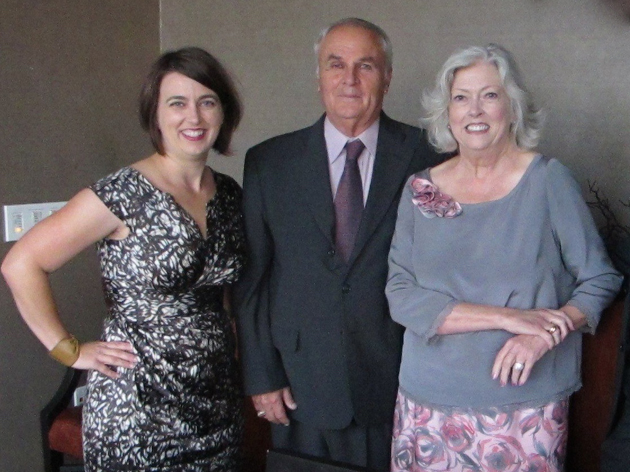 I share the dressmaking process of working with my adorable mother in "The Making of My Mom's 50th Anniversary Dress".
Published January 15, 2015
---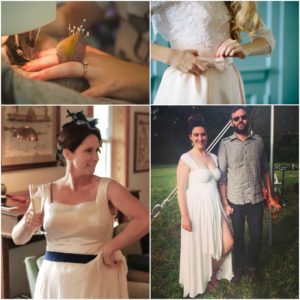 In "Helping Brides Make Their Own Wedding Dresses", I share how I helped three local brides create their own wonderfully unique bridalwear! Two were accomplished seamstresses who just needed a little guidance. One was a beginner, so we worked together through the whole process of designing, pattern drafting, and fancy finishing.
Published March 31, 2017
---
Whew!
Hidden in between ten years of bridal blog series, there are also random posts about business growth, and press, and teaching… but I hope you enjoy these loosely threaded highlights as much as I enjoyed creating and sharing them! Binge em all or pick your favorites!
And none of this would have happened without all of you! THANK YOU SO MUCH for following along and for all your support in these first 10 years of blogging.
Cheers to 10 more!
NEXT POST: I made myself a dress! And I documented the process! And I'll share it with you!
Then (unless ya'll express a burning desire for another topic), I'll likely jump right into sharing my next bridal blog series following Tiffany!
ALSO: The last 2019 session of Skirt Skills, my intro to custom sewing online workshop, opens for registration very soon! Learn more at SkirtSkills.com.