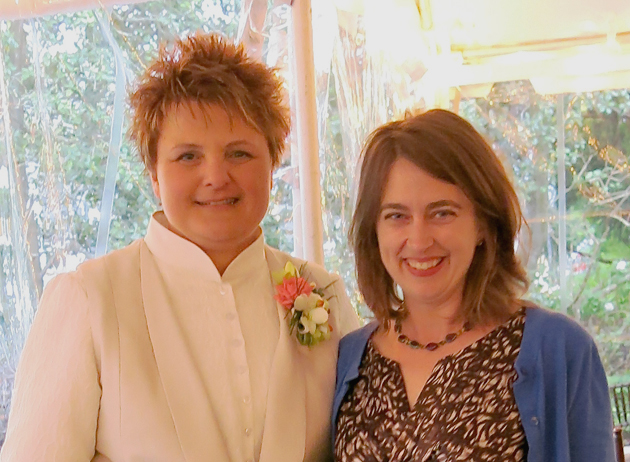 Before I made the transition to full-time, before the move to my new studio, before I started teaching and launching my e-course, and before I started working with my current bride Caitlin, I had the distinct pleasure of working with a fantastic bride named Diane.  Almost every bride who comes to me for something custom for their wedding day has a unique reason for doing so.  Most often, it is because they have a unique style, a unique figure, or a unique challenge.  Diane had it all!  At 50 years of age, Diane would be marrying her partner of 24 years and had a handful of factors that made shopping for her wedding attire a real challenge.
Diane's unique style:  First of all, Diane was not looking for a dress.  She's just not a dress person.  She wanted to feel comfortable and beautiful on her wedding day, and a dress just wouldn't feel right.  That said, she also didn't want to "look like a dude".  Diane contacted me looking for a custom "fancy outfit with pants".
Diane's unique figure challenge:  Diane was a plus-sized bride who informed me that she was in the final stages of approval before having weight loss surgery.  Between our first meeting and her wedding day, she would be losing anywhere from 40-80 pounds!  
Was I intrigued?  Yes.  A little scared?  You bet.  But I was also confident that I could take care of Diane.  She needed me and I was up for the challenge.
You see, creating custom clothing is a new learning experience every time.  Sure, I've never made a bridal pants ensemble.  Sure, I've never worked with someone who was going through weight loss surgery.  But then again, for every bride who has ever hired me, there was always a new challenge that I had never encountered before.  I had never made a maternity wedding dress before I worked with Melissa.  I had never made a "space bustle" until I worked with Lila Rose.  With custom, it's just part of the job to figure it out as you go.
Weddings can be a chaotic time for any bride and the stress of what to wear can often be overwhelming, especially if you've got compounding non-traditional circumstances.   I pride myself on creating a comfortable and inclusive experience for all types of brides in addition to creating beautiful clothing for them.  Diane deserved to look and feel good about herself, especially on her wedding day, and she might not have found that in a bridal salon or at a tailor.  Working together with Diane to create her "fancy outfit with pants" would prove to be an uplifting, memorable, fun, and rewarding experience for both of us!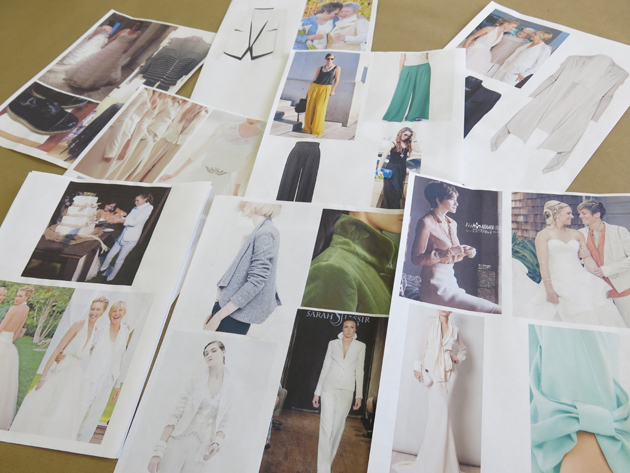 We met for the first time at my home studio and hit if off right away.  Diane's was a bit shy at first, but her more extroverted fiancé also came to the meeting.  It was really great to see these two work together as a team.  I could instantly see why they were a couple, supporting and bringing out the best in each other.  We had a blast getting to know each other and it was clear that we wanted to work together.
In Diane's questionnaire, she wanted something comfortable, fun, sophisticated, elegant, simple, and a little different.  She shared some pics she'd found of brides in pants.  I also gathered some inspirations and we scheduled our Design Consultation to hash out the details.
You can see a lot of our favorite images on my Pinterest board "For Diane".
Next post:  I'll share a bit about Diane's Design Consultation, including sketches and fabric choices.
In the meantime, don't forget to check out the sneak peek and get on the mailing list for my e-course: Skirt Skills.  I'm getting really close to updating this page with lots of detailed information, FAQs, dates, and registration!