The bridal blog series is back!
In each bridal blog series, you meet a new bride and I slowly post-by-post recount the process and share the behind-the-seams story of creating her one-of-a-kind custom couture wedding dress from start-to-finish. To keep the dress a surprise for the groom and guests, I do not begin to tell the story until after her wedding day (and to tell the story as it happened, the cropped photo above is the only early peek you'll get of part of her dress!)
Hello Deborah!
Last November, Deborah (the gorgeous and very funny woman you see with me above) said "I do!" to the love of her life, but our story began much earlier when I first received an email. Deborah had signed up for my email newsletter and wanted to introduce herself. She had just gotten engaged!
She planned on going wedding dress shopping but wanted to know if I'd be available to make a custom dress, if she didn't find anything she loved. She really liked the idea of being able to pick out her fabrics since "that is what makes the dress". She wanted real silk and beautiful lace…
In her email, she also mentioned "I was particularly drawn to you when I read that you want buttons to really button and not be decorative covers for a hidden zipper. ME TOO (it really drives me a little too crazy)!"
A woman after my own heart… Team Real Closures for Real People!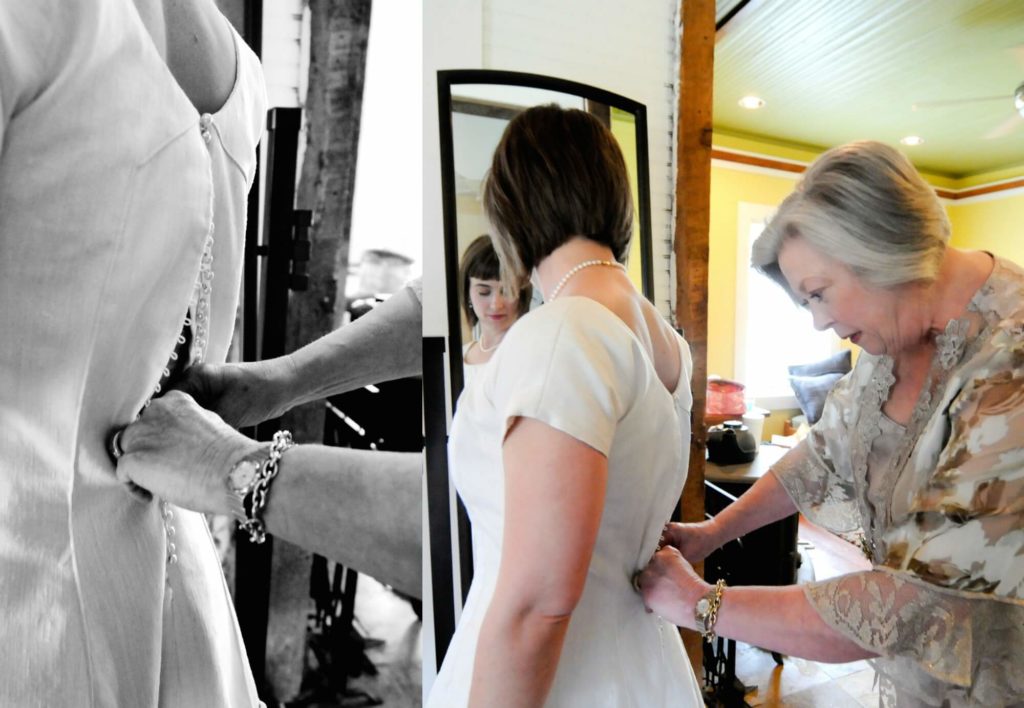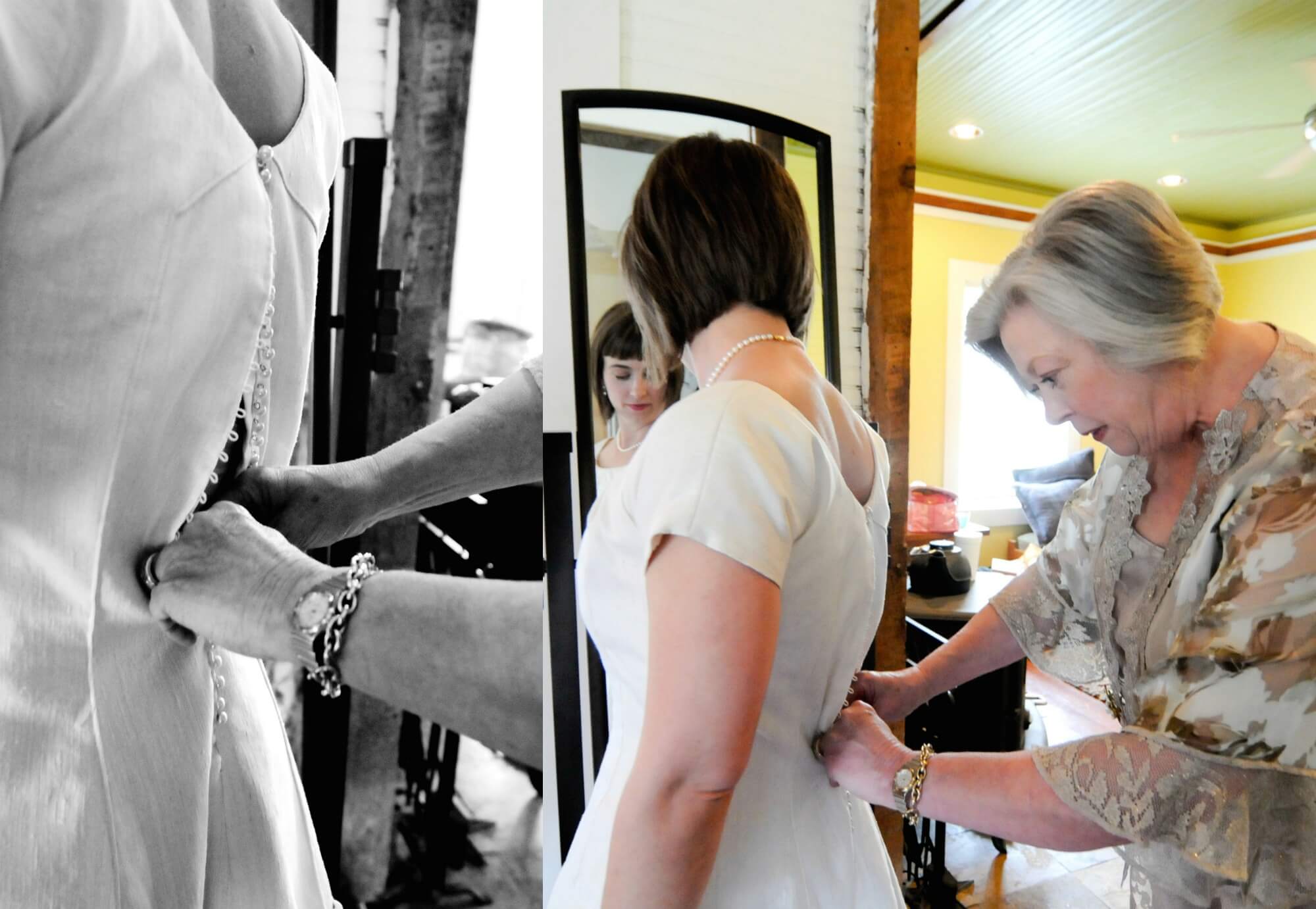 I, of course, was excited about getting to know Deborah a little better and sent her my questionnaire, which is the first step in my custom process.
She filled it out quickly sending it back the very same day!
The Questionnaire and More…
In the questionnaire, I learned that Deborah had waited a long time to find the man of her dreams. She refused to marry someone until it was perfect. It was finally perfect!
She would be married in a church and was still on the hunt for a reception space. She wanted a classic timeless dress: not something trendy or "sexy" (or strapless). She was attracted to beautiful buttons and lace and silk. She anticipated that the fabrics and styles found in stores would "get on her nerves."
The same year that she got engaged, she also graduated from law school, passed the bar, and would be moving after the wedding! She also mentioned that she walks with arm crutches on two prosthetics. She did not want her disability to get in the way of wearing her dream dress.
Looking into Deborah further (yeah, I google my potential brides…), I came across several articles and video clips online which gave me my first real taste of how incredibly inspiring this woman is. Her TEDx Talk, which was heart-wrenching, was also motivating, uplifting, and encouraged a lust for life. I knew I really wanted to meet and work with her!
I highly encourage you to watch Deborah's TEDx Talk too (and to grab a tissue first)!


To learn more about Deborah's personal story, check out these articles:
The Initial Consultation
I invited Deborah and her mother Ola to visit my studio for our free meet-and-greet. We all had a really fun time getting know each other! This initial consultation is when we interview each other and go over my contracts, as well as start the ball rolling to gather wedding dress design ideas.
Like Cameron, Deborah was a big fan of Grace Kelly's wedding dress (so gorgeous…) and classic styles. She wanted to wear two looks: a sleeveless reception dress under a removable sleeved lace top for the ceremony. She wanted her dress to have a full floor-length skirt created to accentuate her small waist and add fullness to her hips.
Along with the Grace Kelly inspiration, she shared some gorgeous images of Camilla Alves, Princess Kate of Cambridge, and Princess Stephanie of Luxembourg. We enjoyed working (playing?) together so much that we went ahead and scheduled our Design Consultation!
Apart from Caitlin, this was kinda the first time a bride has ever asked me to create a classic traditional white wedding dress. I was so excited that I started a Pinterest board of inspirations immediately after my sewing room door closed behind my new friends!
You can check it out here: https://www.pinterest.com/brooksann/for-deborah/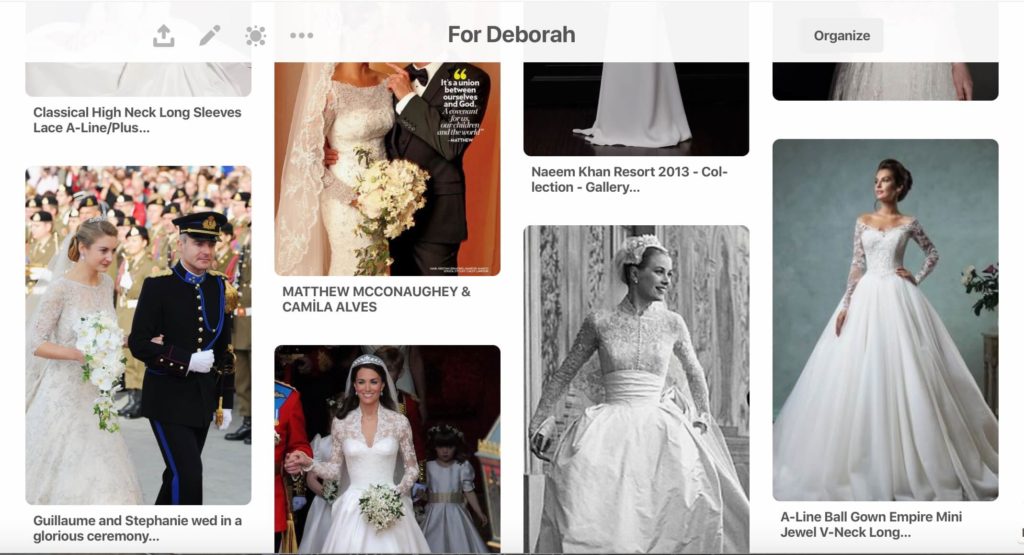 This is going to be another fun bridal blog series, ya'll! Keep following along for much more!
NEXT POST: Our Design Consultation!
(Don't want to miss a post! Sign up for my fun free email newsletter.)
SaveSave
SaveSave
SaveSave
SaveSave
SaveSave
SaveSave
SaveSave
SaveSave
SaveSave
SaveSave
SaveSave
SaveSave
SaveSave
SaveSave