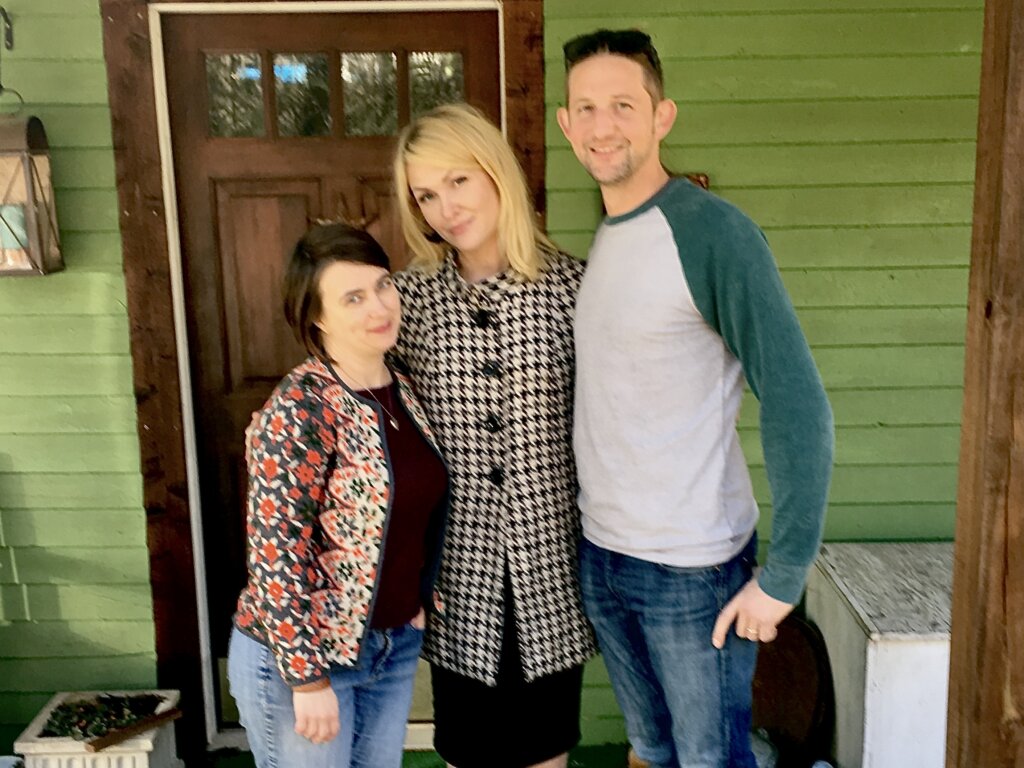 To begin my next bridal blog series, let's head into the Way-Back Machine. And we'll head farther back than this bride's October 2019 wedding, and even farther back than her January 2017 inquiry about transforming her mom's 1970 wedding dress. This beautiful bride and I actually go way back…
I first met the loveliness that is Jenn Lyon back in 2003. We both lived in the same Queens neighborhood and, though she was in NYC to have a go at acting, Jenn worked at an ice cream shop with my (now) husband Charles. They became fast friends- both originally from North Carolina.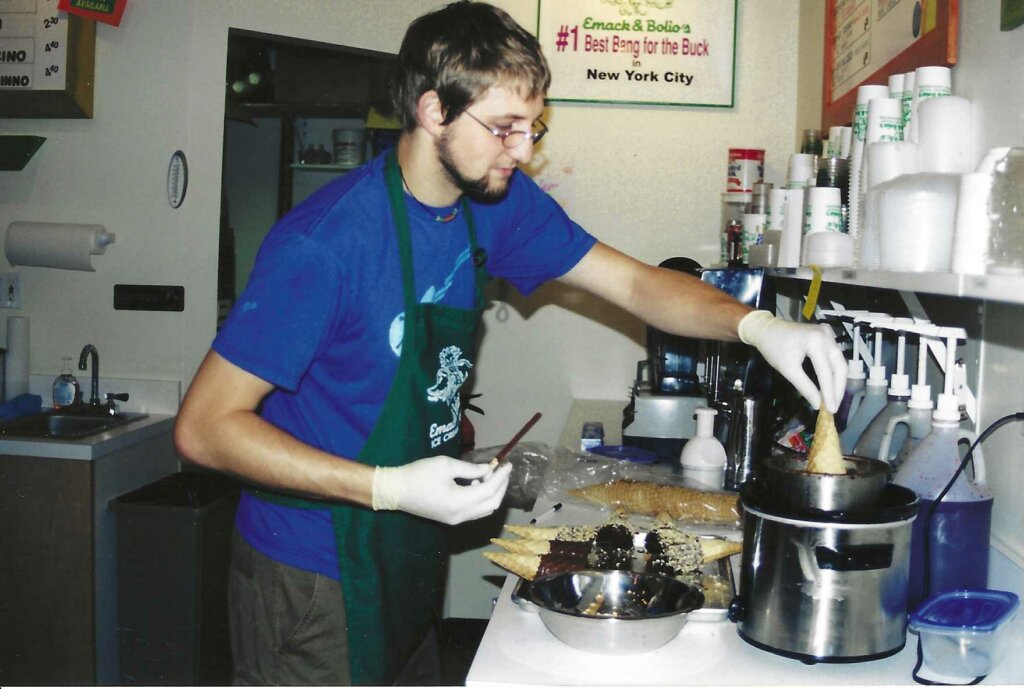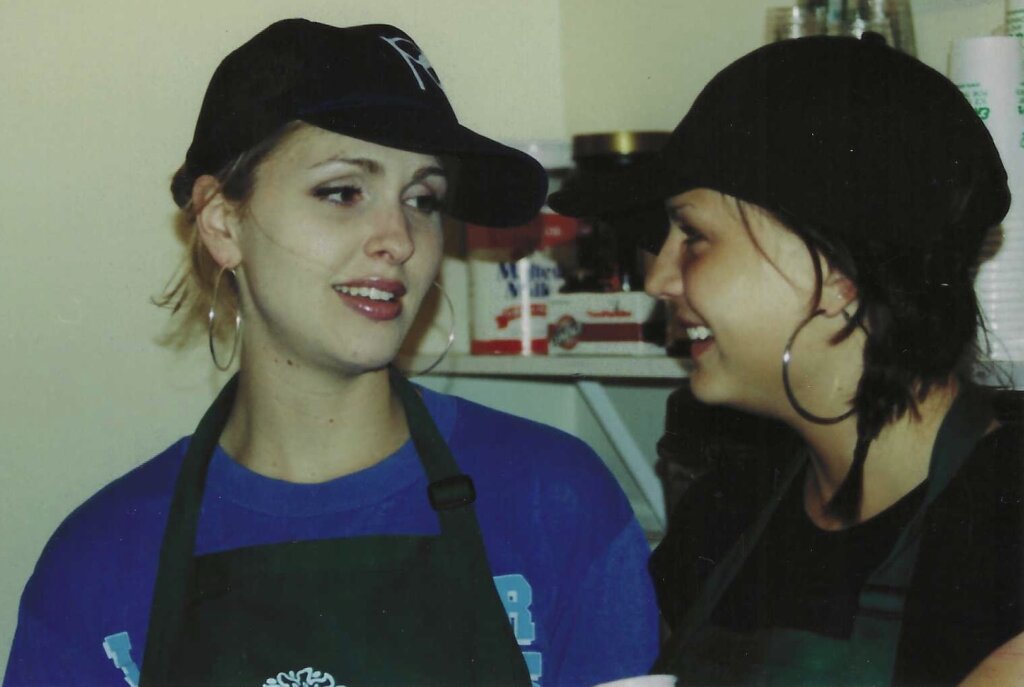 This was a time before digital cameras, and though everything I own was recently upheaved (I just moved my home and studio!), I was able to find these old paper pics from those days. I was sad that I couldn't find a shot where Jenn was in the same frame with me or Charles, but these were all from Emack & Bolio's near the Ditmars subway stop in Astoria, Queens.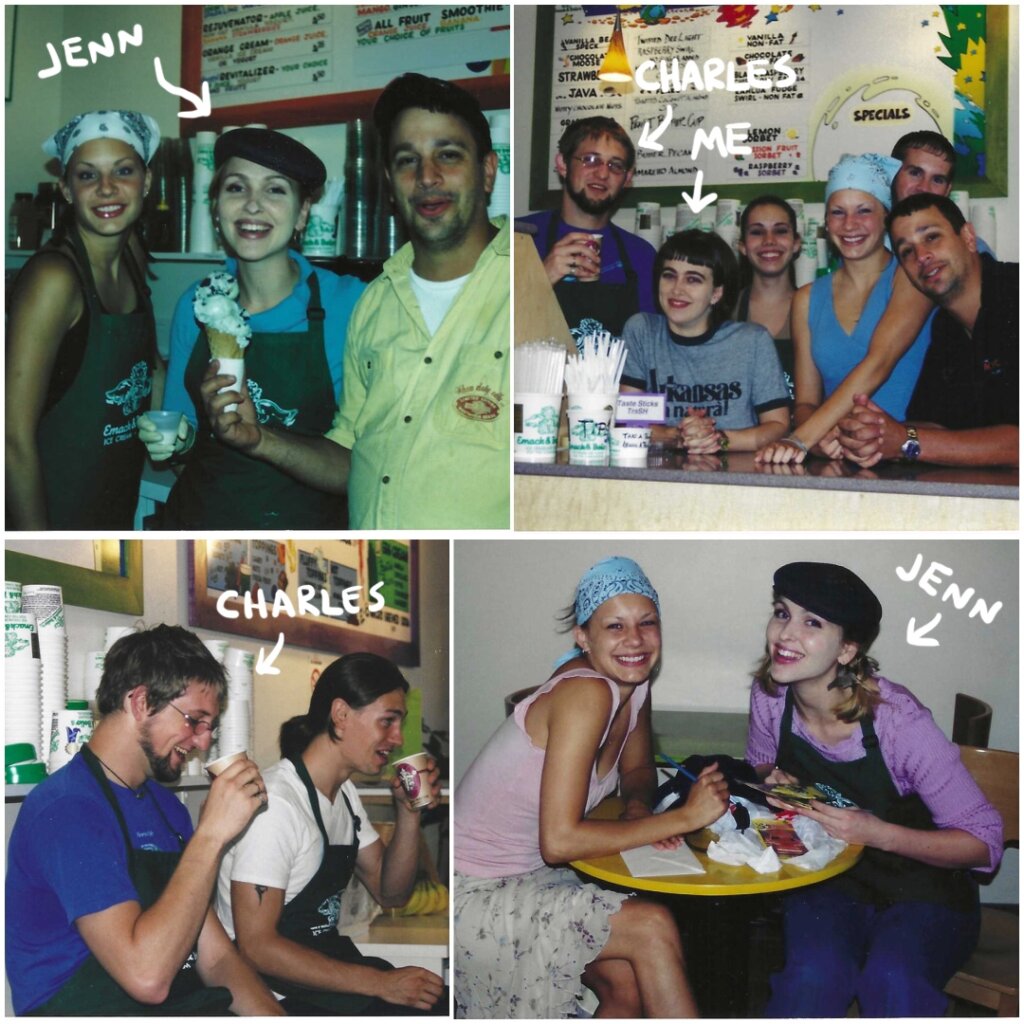 After Charles and I left New York for North Carolina, we continued to keep in touch with Jenn from afar. We would even occasionally get back together in-person when she'd return to NC to visit family or we'd head up to visit NYC!
Jenn falls in love- and gets kinda famous!
I met Jenn's (now) husband Taige in 2004 when the two were in an internet sketch comedy group called POYKPAC (which produced videos that now have over 100 million views). It was all very stupid comedy. Don't believe me? Here's the trailer for the You-Tube channel of the (now-retired) group.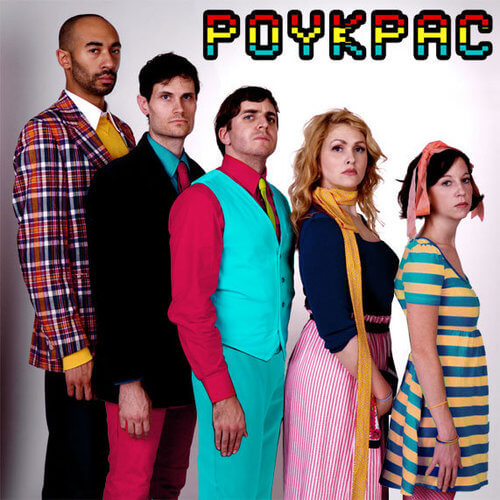 Over the years, Jenn and Taige both got kinda famous!
Taige became a writer and editor for fancy publications like Slate and the New York Times, and won an Emmy for his work on the NYT documentary "The Forger" (though this NYT piece he edited is a personal favorite.)
Jenn's theatre highlights include appearing on Broadway in the American premieres of Tom Stoppard's (11-time Tony-winning) "The Coast of Utopia" trilogy and Larry David's hit comedy "Fish in the Dark". She's got a lot of off-Broadway credits too!
For two seasons, it was literally Jenn's job to make out with Timothy Olyphant as his love interest in FX's "Justified". (She also appeared with Olyphant in off-Broadway's "Hold On To Me Darling"- which I didn't see, but let's assume they were make-out partners again…) She starred opposite George Lopez and Danny Trejo in the sitcom "Saint George"… You may have seen her on TV in "Army Wives", "Suburgatory", "Louie", and "Crashing"… or in the movie "Blaze" directed by Ethan Hawke… Or in the TV movie "The Neighbor in the Window" where Jenn's character IS the neighbor in the window!
But, if you know Jenn, it's likely because she currently stars as "Jennifer" in the TNT hit series "CLAWS" opposite Niecy Nash! The final season will begin airing this Fall. Catch up on Claws here!
"I want audiences to see women that aren't aspirational because they are a size 2, but inspirational because they are whatever size they are and still kicking ass." –JENN LYON in this article.
In January of 2017, Jenn had plans for a North Carolina trip to visit family and requested a special bridal consult with me! Though she didn't have wedding date set yet, she wanted to bring me her mom's wedding dress in anticipation for turning it into something new for her own wedding celebration. Jenn's grandmother personally stitched together her mother Lydia's wedding dress in 1970. 
Jenn's interest in incorporating this vintage dress into her own future wedding look was sentimental, rather than a love for the dress itself- which Jenn jokingly called a "nightmare". She also emphasized that the polyester dress was super-small because her mom was "a peanut".
Here are some photos she texted me: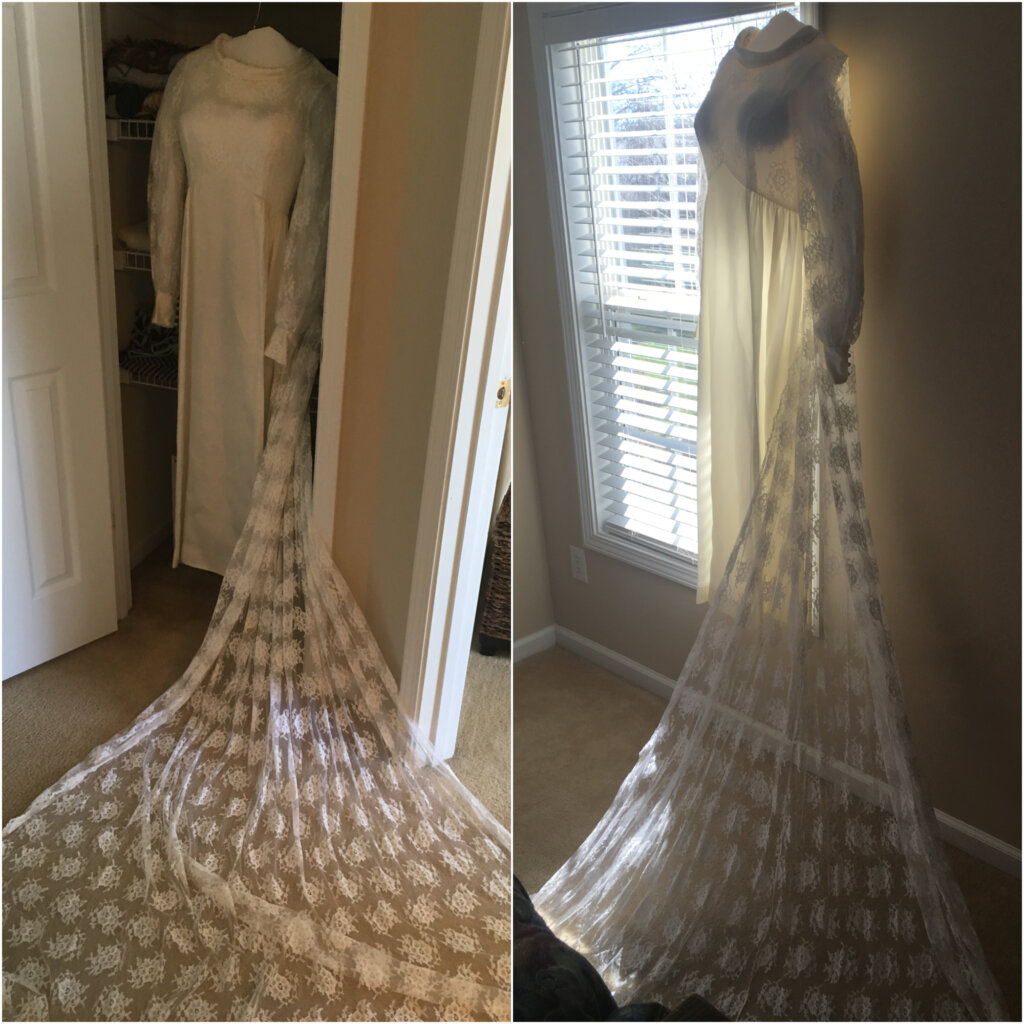 Though the dress was not Jenn's style, it did look lovely on her mom Lydia back in 1970. Isn't she the cutest?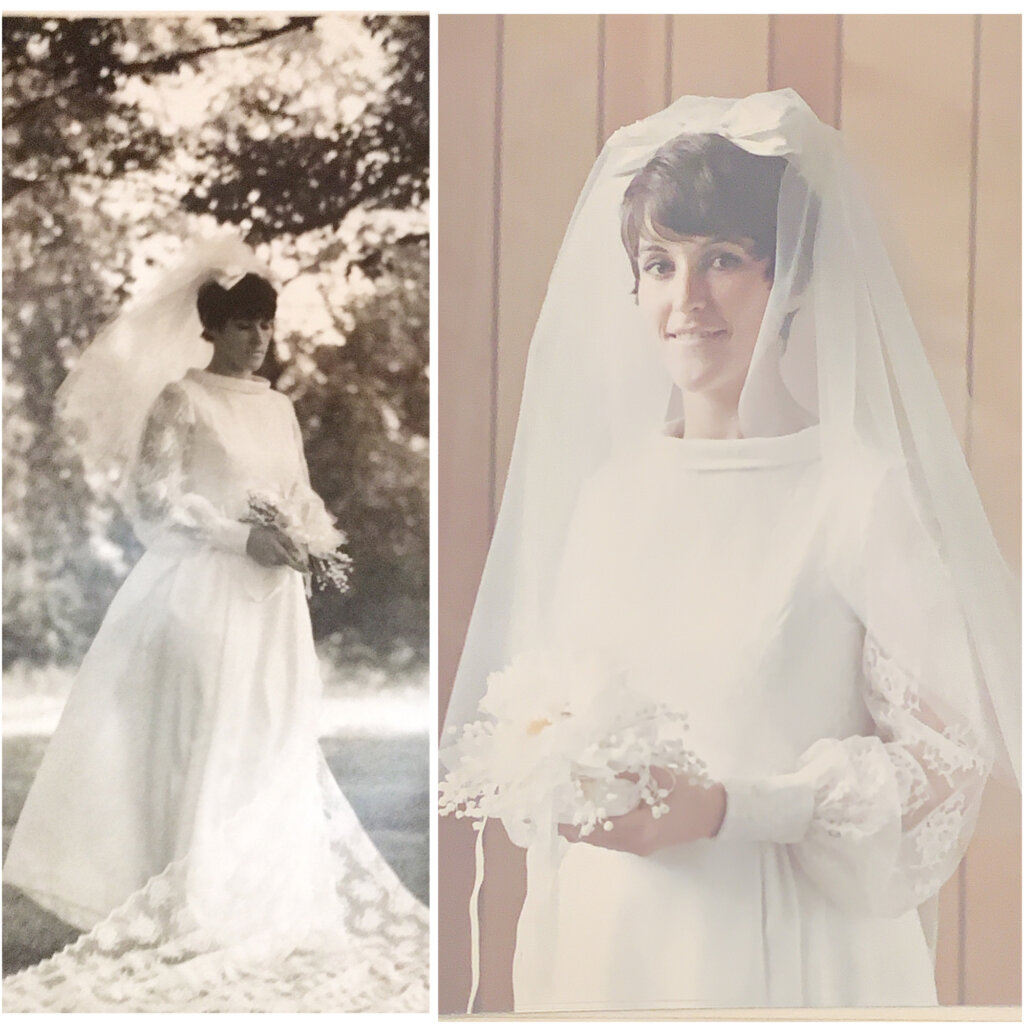 During that visit, I got to meet Lydia for the first time (she took the kinda blurry photo of us at the top of this post) and Jenn tried on the dress in my studio (with Leah's custom wedding dress on display in the background).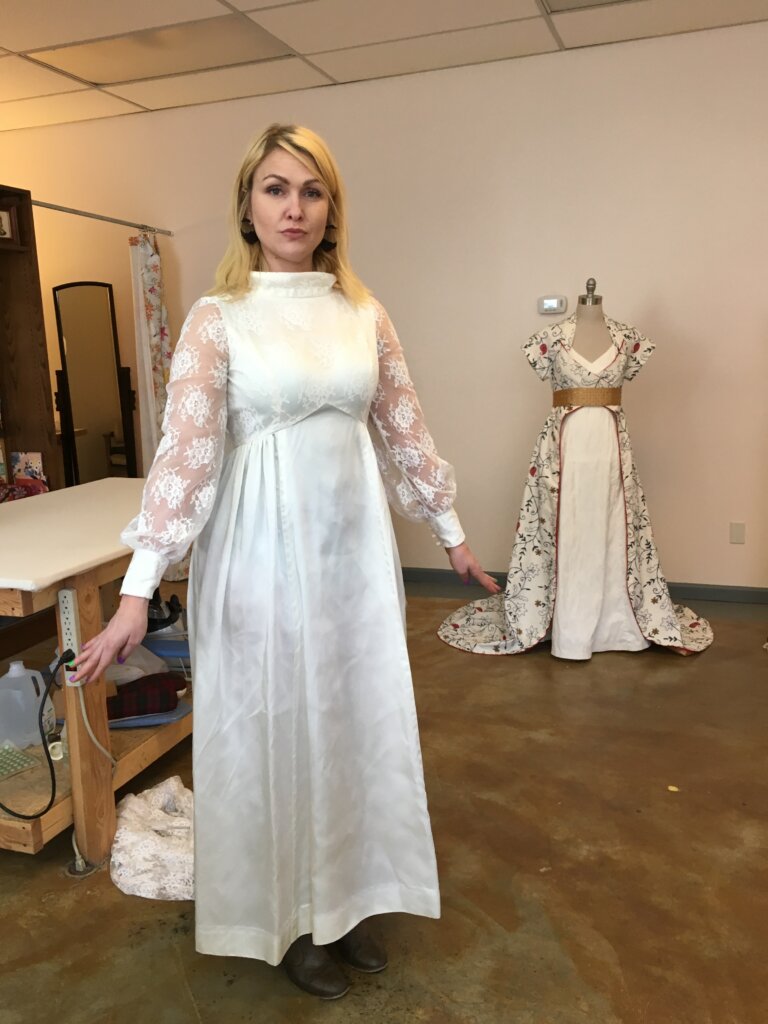 Though the fit looked kinda passable from the front, the back was not even close to zipping up.
No worries! Our intentions were never to alter this dress's current styling to better fit Jenn – but to use it as inspiration and materials for something completely different (sort of like in Caitlin's bridal story). With no actual wedding plans, Jenn and Lydia mostly just handed off the dress- so that it would be with me when/if needed in the future.
We meet again... on the set of Claws!
Later (but still in 2017) Charles and I travelled to New Orleans to visit my college BFF Loula (yes, I made her wedding dress too) and to see Jenn on the set of Claws. (Though the series is set in Palmetto Florida, it was filmed just outside New Orleans Louisiana.) We got to meet the cast, go inside the infamous nail salon, and watched them shoot few scenes for the show!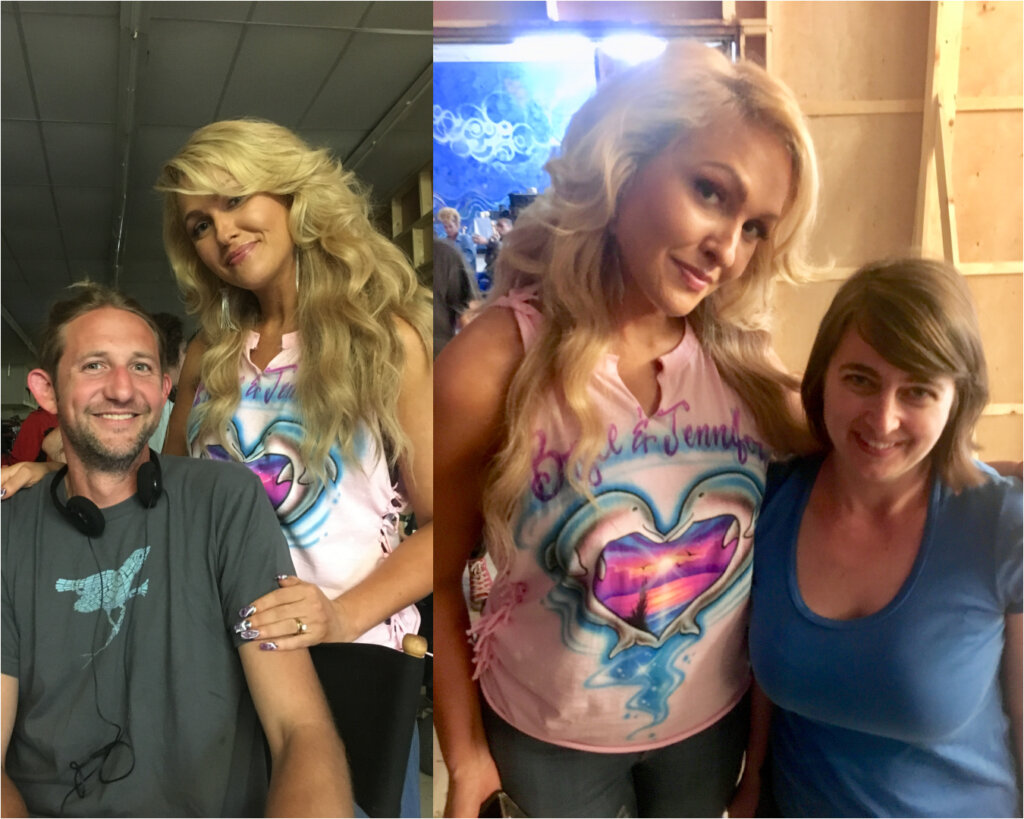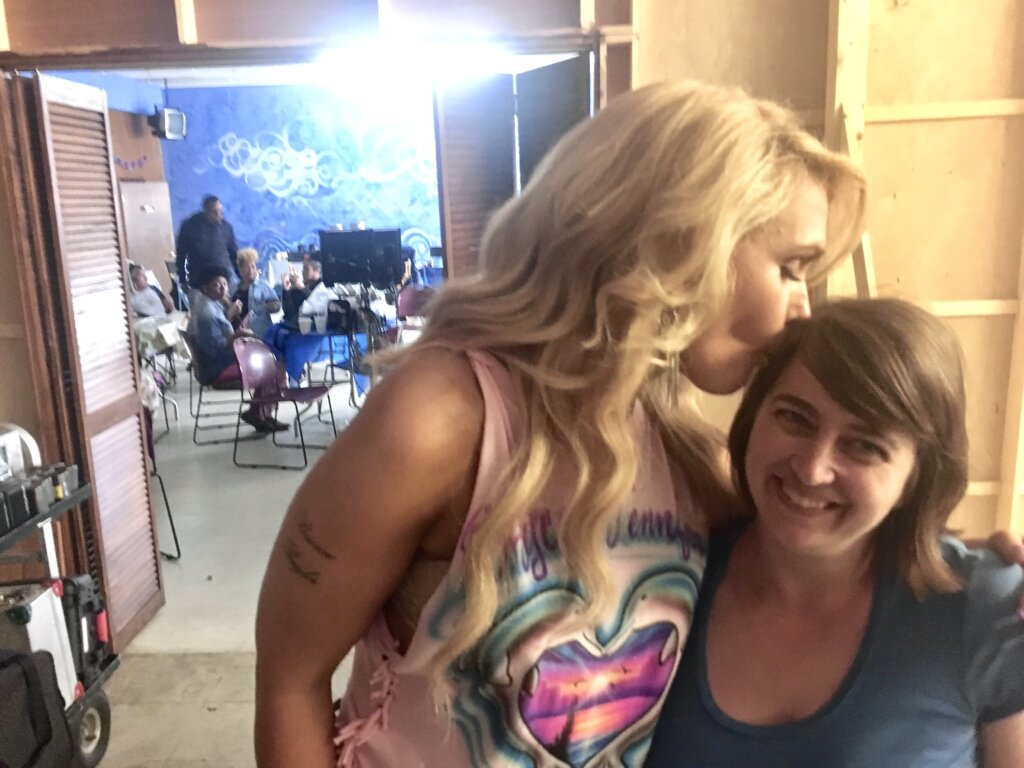 Within the whirlwind of changing schedules, Jenn and I predicted that we'd need to create her transform-moms-dress-into-a-new-bridalwear-something-or-other dependent on minimal in-person meetings.
Through a bit of brainstorming, we decided on a plan we were both really excited about. I'd refashion her mom's wedding dress into a custom Rehearsal Dinner top and that I would make Jenn's Wedding Day millinery (aka some kind of veil or hat or headpiece…)!
But no rush, because Jenn let me know that they'd decided to hold off on the wedding until the following year.
Approximately 2 years later...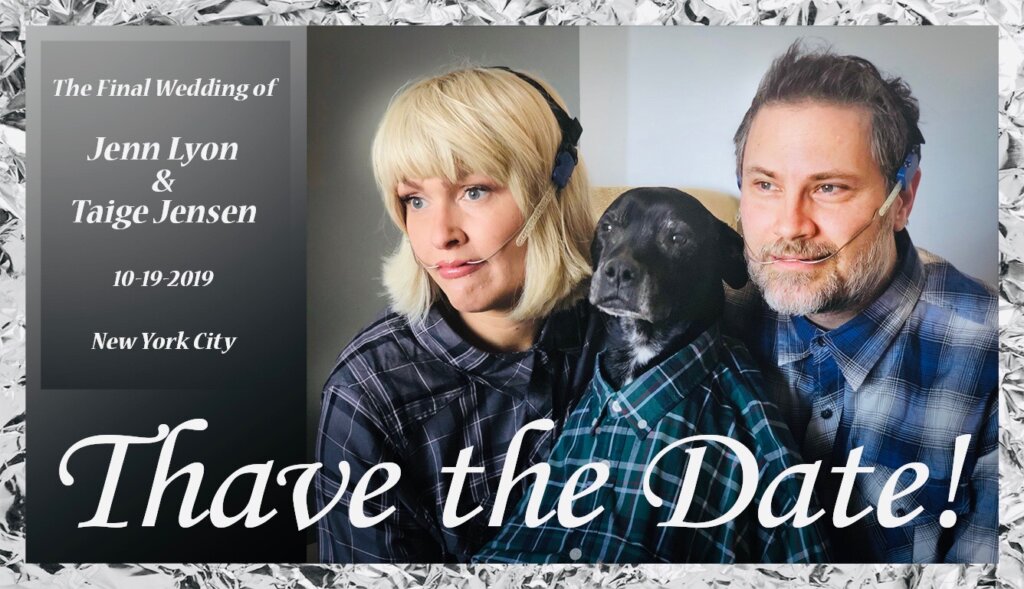 I was so happy that these two dummies finally had a wedding date AND that it was far enough in the future that I'd have time to create the aforementioned custom pieces, but…
…though I mostly work in my studio alone and never go anywhere…
…this was the one weekend that I was not only booked- but double booked! I was already working with a bride on a custom dress for a wedding that same weekend (Andy's bridal blog series will follow Jenn's!) AND it was the weekend of Camp Workroom Social 2019! I had just received contracts to teach my Couture Hand Sewing Intensive!!!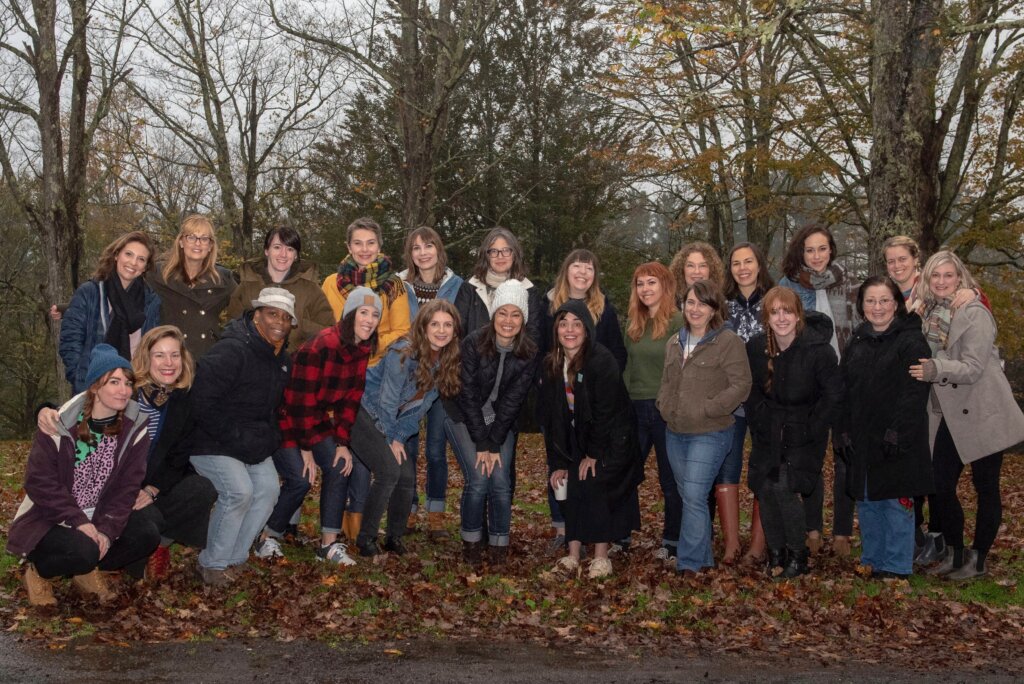 After a lot of soul searching, I decided to accept the invitation to Jenn's wedding instead teaching at Camp (for the 4th year in a row), with the comforting thought that I'd be back at Camp Workroom Social the following year in October 2020.
Back then, I had no idea there would be a global pandemic and Jenn's wedding would be the last event I'd attend to date- going on a year and a half now…
Sewing Stuff Coming Soon!
So that's my intro post sharing the backstory on the bride and the custom creations that this new bridal blog series will follow. Coming up next, I'll pick this story back up in June 2019 to start sharing the sewing and patternmaking journey!
NEXT POST: I'll share the process of how I "took a pattern" from the vintage dress to create a mockup top for Jenn to try on!