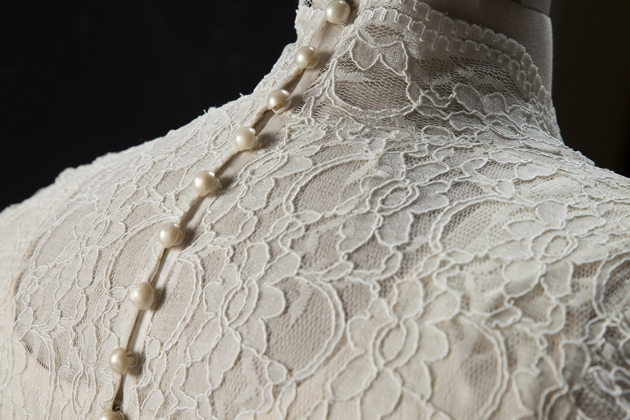 In the Spring of last year, just when I was finishing up Diane's bridal ensemble and moving into my new Sewing Room, I was contacted by a bride-to-be named Caitlin.
My process starts with a questionnaire and that is where I learned that Caitlin and her fiancé had been together for nearly a decade.  They were not into the "big show" of a wedding, but wanted a special event to share with friends and family.  They really wanted the details of their wedding to have personal meaning.
For her wedding dress, Caitlin wanted to use the fabric from her mother's wedding dress to create a new heirloom.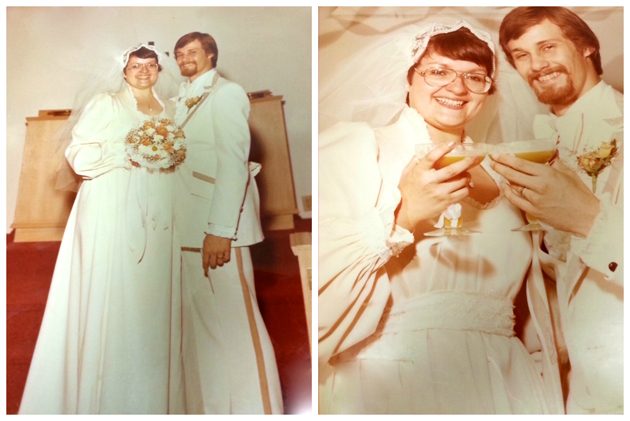 Caitlin's mother made her own wedding dress (I love this so much!) back in 1969 out of polyester candlelight satin. The dress had held up, but it had lots of stains on the back.  Caitlin laughed as she told me they were "from where my father had saved her from my uncles throwing whole bags of rice at them, by dragging her through bushes and brambles."
Caitlin didn't love the style of her mom's dress, but rather the story.  On her wedding day, Caitlin wanted to wear more of a Grace Kelly inspired dress.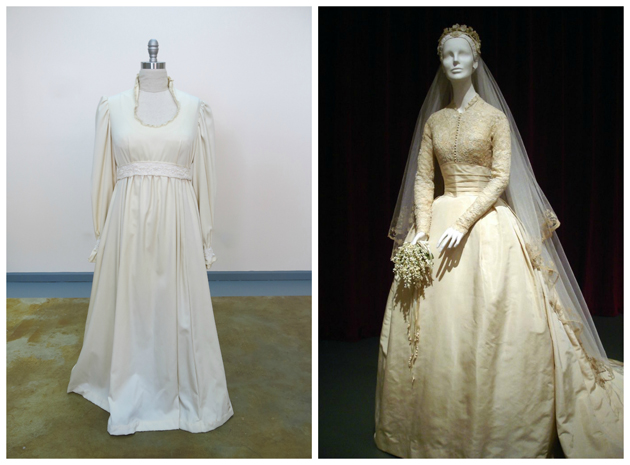 I learned later that Caitlin had approached SEVEN other dressmakers before finding me, and no one wanted to tackle the project.  Whether it was the stains, or the ambitious design changes, or the fact that Caitlin was not the same size as her mother or Grace Kelly, they had all left her in the point of desperation when she found me.
And I'm so happy she found me.
You know me, I love a story and a challenge.  I totally got what she was going for.
While I prefer to work only with natural fibers, this project was a worthy exception.  This dress wasn't about the fabrics, it was about the story.  Even the stains were part of what would make this unique dress beautiful.
I felt honored to be trusted to take something that her mother had handcrafted and transform it into something that Caitlin could pass down to a future child or relative.  I couldn't wait to continue the story of Caitlin's Mom's Something Old into Caitlin's Something New!
NEXT POST:  I'll share our inspirations and the Sketch!