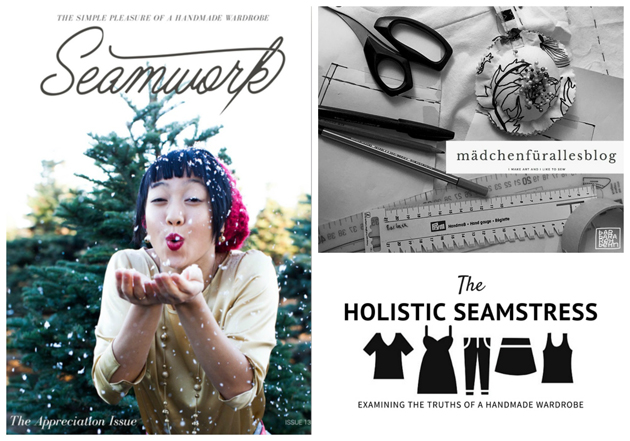 The internet sure has been speaking my name this week! Not only am I featured in a kick-ass online sewing magazine, two bloggers published posts about working with me in my custom sewing eCourse!
First, I wrote a new article for Seamwork Magazine that was published in the December issue! If you recall my previous feature, I shared the story of my unusual start in custom sewing. This month, it's a guide to underlining, the same technique I blogged about in last week's post about Erin's custom wedding dress and many other posts on my blog.
Check it out:
by Brooks Ann Camper for Seamwork Magazine

"My favorite couture sewing technique is underlining, and there is no reason why a beginner can't master this skill. In fact, I think underlining makes everything about the rest of the sewing process easier, while creating longer lasting and more professional looking results. Win-win!"


(The article is a summary of this 3-part blog series and how-to-video on underlining originally published on my blog.)
Also…
Did you know that in addition to making custom wedding dresses, I also teach custom sewing both in-person and online? My interactive indie eCourse Skirt Skills is having its 5th run in January! If you'd like to approach learning to sew in a way that is different from "fashion industry standards" and "home sewing methods", I think you'll really love learning the process of "custom sewing" in Skirt Skills!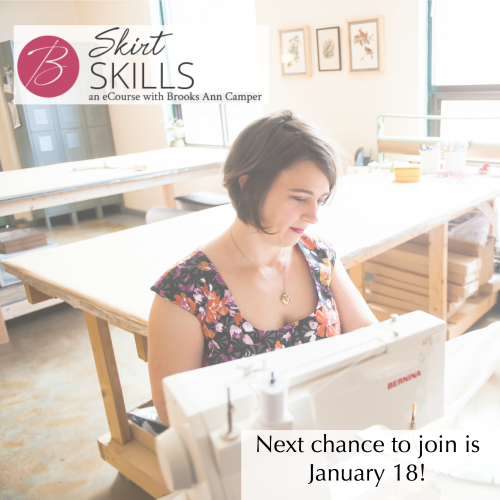 Since Skirt Skills has a limited class size and I've only run it a few times, there haven't been a huge amount of enrollees, much less ones who are also inclined to share their whole story in a public way. The 25+ testimonials on my website come from a very large portion of a very small group. These beautiful women loved the course so much that they were willing to share a couple of sentences about their experience, even if it's not their personality to share publicly.
Finally a couple of bloggers joined the group and this week both of them wrote about their experiences in my eCourse!
Barbara Rehbehn joined the class from Germany this Fall. She was such a pleasure to work with and I absolutely loved reading how her experience in my class changed how she sews and how she views her body…
a blog post by Babs Reh of mädchenfürallesblog

"Brooks Ann teaches a sewing class that offers the exact methodical approach that I had been looking for for ages: Skirt Skills. I have to confess that at first I thought: How cool! But wait, skirts? My closet until now has not featured a lot of skirts and if so they definitely were of the rather voluminous dirndl variety. Well, I told myself, if you want to really master something, you'll just have to start at the beginning, no matter if it fits your personal style portfolio or not (yet)…"
Also this week, blogger Najah Carroll wrote a beautiful post about her quest to find clothes that fit. She sent me a note saying "My belated love letter to you and your course is embedded in the latest installment of The Holistic Seamstress series on my blog. Thank you for changing my life."…
a blog post by Najah Carroll of Wanna Be Sewing Something

"I am now living with the epic level of satisfaction that comes from investing time and money to learn a skill that has systematically blown my mind into a million tiny pieces of creative possibility."…
How awesome is all that?!!?
I expected to write only about the Seamwork article this week, but as Skirt Skills is rapidly gaining buzz and registration opens next week on December 15, I had an abundance to share!
To learn more about my Intro to Custom Sewing eCourse, visit the info-packed new-and-improved www.SkirtSkills.com and be sure to sign up for the mailing list.
And be sure to check out all of the excellent offerings in the current and previous issues of Seamwork Magazine. It has been a joy to work with them this year!
And also check out other works by Barbara Rehbehn and Najah Carroll. (We all met on Instagram!) These two beautiful women were inspiring to work with in class and I get tears in my eyes (is someone cutting onions in here?) when I read the kind words that Skirt Skills students have written about their experience working together with me.
I have a lot to be thankful for this holiday season!
NEXT POST: I should be back to blogging about Erin's custom wedding dress…
SaveSave