Have you ever wondered if there is an easy way to make your handmade garments look professional instead of home-made?
A sewing technique called underlining might be the answer.  It is often an ah-ha moment when someone finally grasps the concept and value of underlining, which is quite possibly my all-time-favorite go-to technique.
Underlining is a method that many seem to think is saved for "advanced" makers or "couture" garments.  Yet, there is no reason why you can't use this technique as a beginner or on a casual garment.  If quality is your goal, I think underlining is the secret step that actually makes everything else about sewing easier.
In researching this lesson, I weeded through a lot of conflicting and bad information.   This inspired me to share the details of the way I was taught while working in professional and Broadway workrooms and why I absolutely love this technique.
Through a series of three posts and a video, I hope to solve the mystery as to exactly what underlining is, what it does, and how to do it.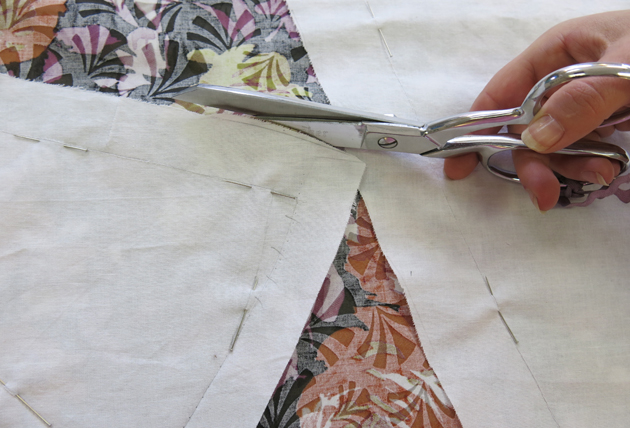 First things first, what is underlining?  Is it different from a lining?
So you probably know what a lining is.  Adding a lining to a garment is basically adding another version of the garment, that is sewn together separately, turned inside-out, and then attached to the inside of the garment.  Much of a lining hangs freely and it encases the inner construction of the garment for a clean finish inside.
Underlining is different.  While underlining is a layer of fabric that is added to the inside of the garment, it is not made separately, does not hang freely, and does not encase any inner construction.
Underlining is simply joining each piece of your fashion fabric with a "backing" fabric while it is still flat, so that the two fabrics act as one throughout the construction process and throughout the life of the garment. 
Underlining does not encase or hide the construction details, since the two fabrics end up working together as if they were just one.  If you would like a clean enclosed finish inside of something that has been underlined, you would still have to add a lining, just like you would to any other garment.
Almost all of my custom garments are both underlined and lined.  It's very luxurious, but not hard to achieve!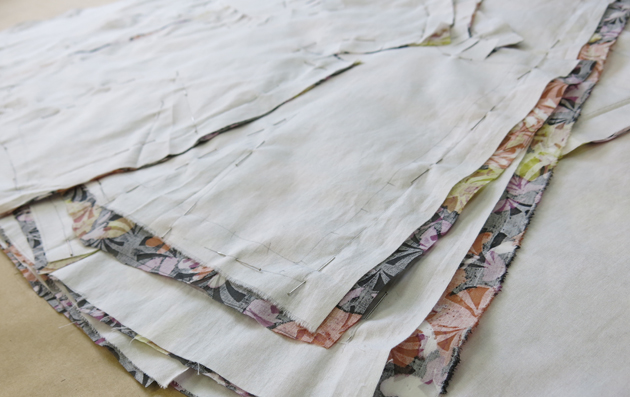 So the most important question is: Why underline?
There are so many reasons to underline a garment, that it is harder for me to find a reason not to!  It takes almost any fabric from fair to fab.
* Have you ever had a fabric that you just loved, but it was too <flimsy/ lightweight/ drapey/ unstable/ sheer/ delicate/ thin> for the garment you wanted to make?
For me, the answer is yes, almost 100% of the time.  I almost always want to give my fabrics a little more oomph and strength, and underlining is a great way to achieve this.
* Have you ever wanted to hide <markings/ bone casings/ facings/ interfacings/ hand stitches/ hems/ pockets/ seam shadows> from being seen on the public side of the garment?
Underlining is also a great way to achieve this!
* Have you ever wanted to change the character of a fabric?
* Or even the color tint of a fabric?
* Or improve the quality or prolong the life of a garment?
Honestly I could go on and on…
Underlining helps absorb perspiration, reduces wrinkling, can add strength, can add warmth, prevents fabrics from being over-handled during construction, can make a so-so fabric look and sew like an expensive fabric…
Underlining allows you to give your fabric more of the characteristics of fabrics that you love, while making the garment more comfortable, more professional-looking, and longer lasting. 
It's really a winning technique!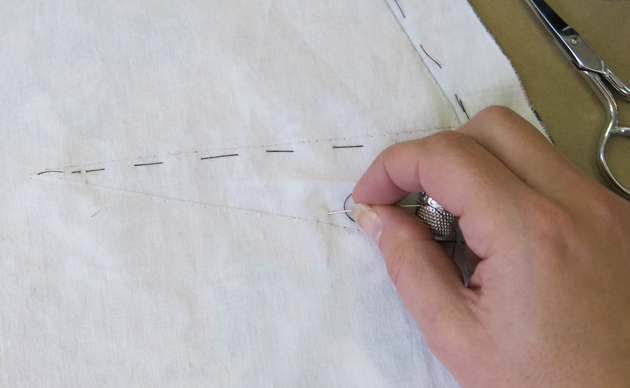 What fabrics are good underlining fabrics?
You get to choose!  While you think of lining fabrics as thin and slippery, underlining fabrics can really be anything.  Take a sample of your fashion fabric and drape it over your hand paired with other fabrics.  See how the two work together, use a little critical thinking, experiment and choose what works best for your particular project.
Want your fashion fabric to be stiffer and have a lot of body?  Try a layer of silk organza.
Want to add a little strength while keeping softness?  Try cotton flannel or batiste.
Want to beef up a drapey fabric?  Try silk crepe de chine.
Do you love the hand of the fabric, but just wish it were thicker?  Underline it with a layer of itself!
Ready to learn more?
In my next post,  Sewing Technique Spotlight: Underlining (pt. 2):
I'll discuss the benefits of using my favorite underlining fabric (plain ol' muslin!) and then I'll demonstrate (in a video!) exactly how to do this valuable technique.
A condensed version of this series can be found in my Seamwork Magazine article "Under Construction."
Visit my Classes Page for info on online courses and more!  https://brooksann.com/classes/