The Design Consultation
After meeting for our initial consultation and combing over Cameron's questionnaire, I did a lot of prep for our Design Consultation. The Design Consultation is the meeting where the bride and I (and in this case, also her mom and sister!) collaborate to determine the design of her soon-to-be wedding dress.
During the Design Consultation, we look at (and draw all over) lots of inspiration images. When you are searching for inspirations instead of shopping for a dress, you have a lot of freedom! You can play around with bits and pieces of many dresses rather than searching in stores for "the one".
Getting to know the bride and learning about her personality and style is imperative to my design process. Rather than making her a "wedding dress", I want to showcase the beauty of who she is as a person. I love uncovering individual style and creating garments that are perfect only for the one specific woman who will be wearing it.
Consulting with Cam and her Fam
A list of adjectives guided our process as we looked through images we collected. Before discussing specifics like hemlines and necklines, I asked Cameron for adjectives of how she'd like to look and feel on her wedding day. She chose Elegant, Light, Simple, Sleek, and Joyful.
The venue (a gorgeous hotel in Scotland), the time of year (Spring), and the bride's vintage Hollywood style also helped determine what her custom dress might look like.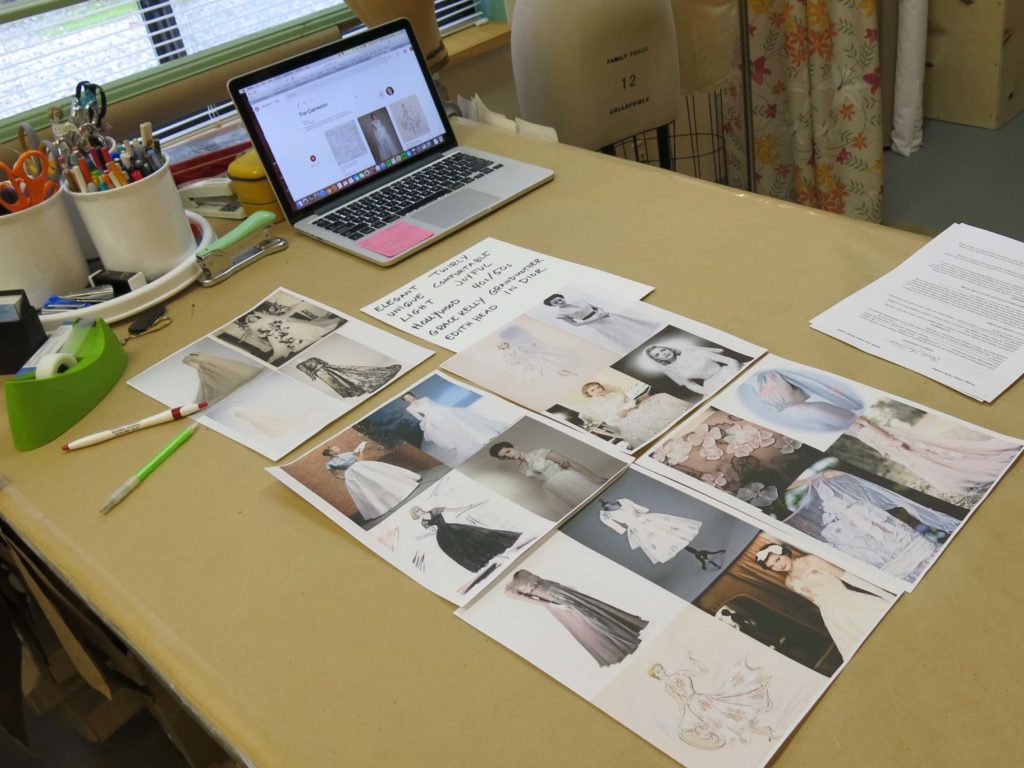 We all had a blast brainstorming together! "I like a sleeve kinda like this…", "This neckline, but without the collar…", "Maybe a floral print…", "Maybe gardenias!"…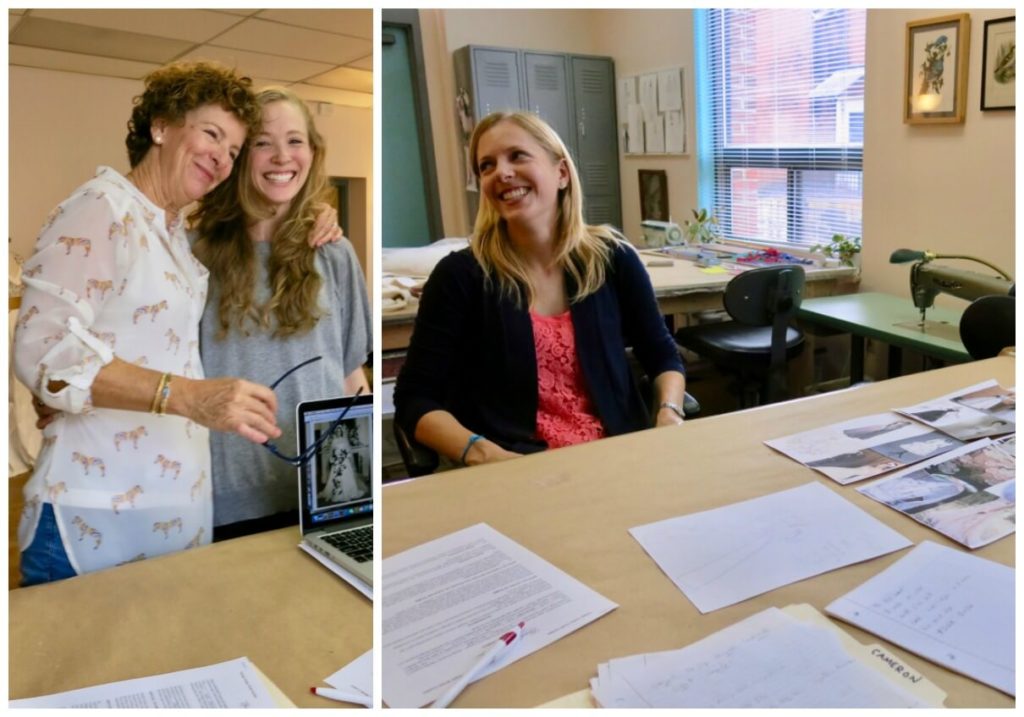 The Underdress for the Overdress
Also to be considered in the design- Cameron already had a wedding dress!
What Cameron loved most about her grandmother's long-gone 1949 Dior dress was the beautiful sheer layer with fitted waist and sleeves that was worn over a plain dress with a sweetheart neckline. Since her budget was tight, Cameron bought a plain strapless dress at a big box bridal store and our consultation was to design and create a unique custom "overdress" to almost completely cover it up.
So in order to draw my custom sketches (and take measurements), I'd need to work with Cameron in the underdress!
Her mom and sister were happy to help her get into it. The smiles were contagious!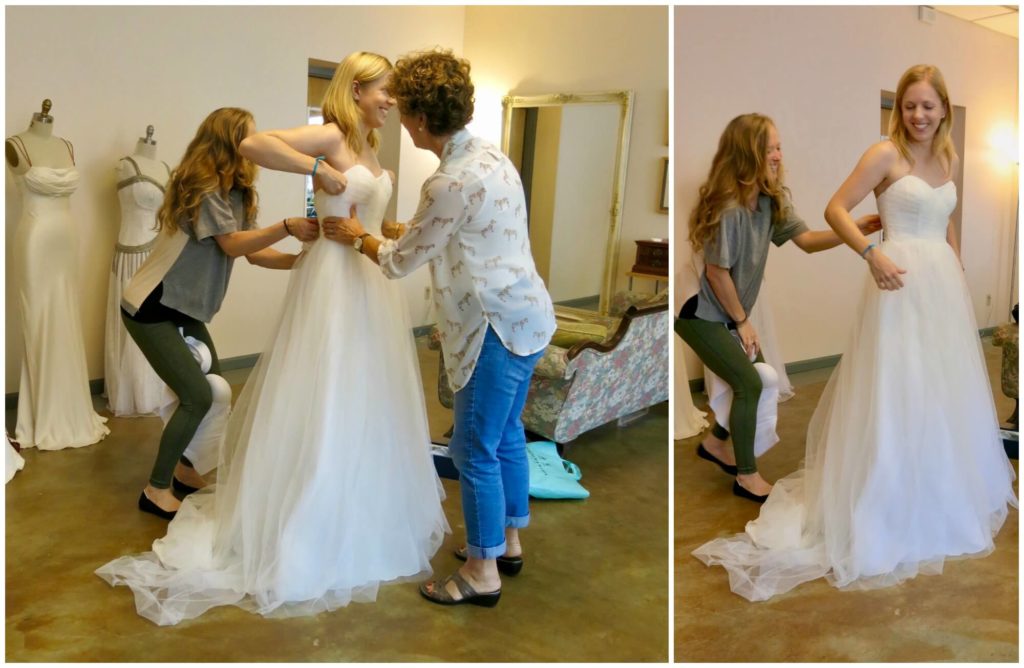 Before we all left for a fun fabric inspiration trip to Mulberry Silks (which I forgot to photograph), I snapped these gorgeous shots of Cameron to use for her custom wedding (over)dress sketch!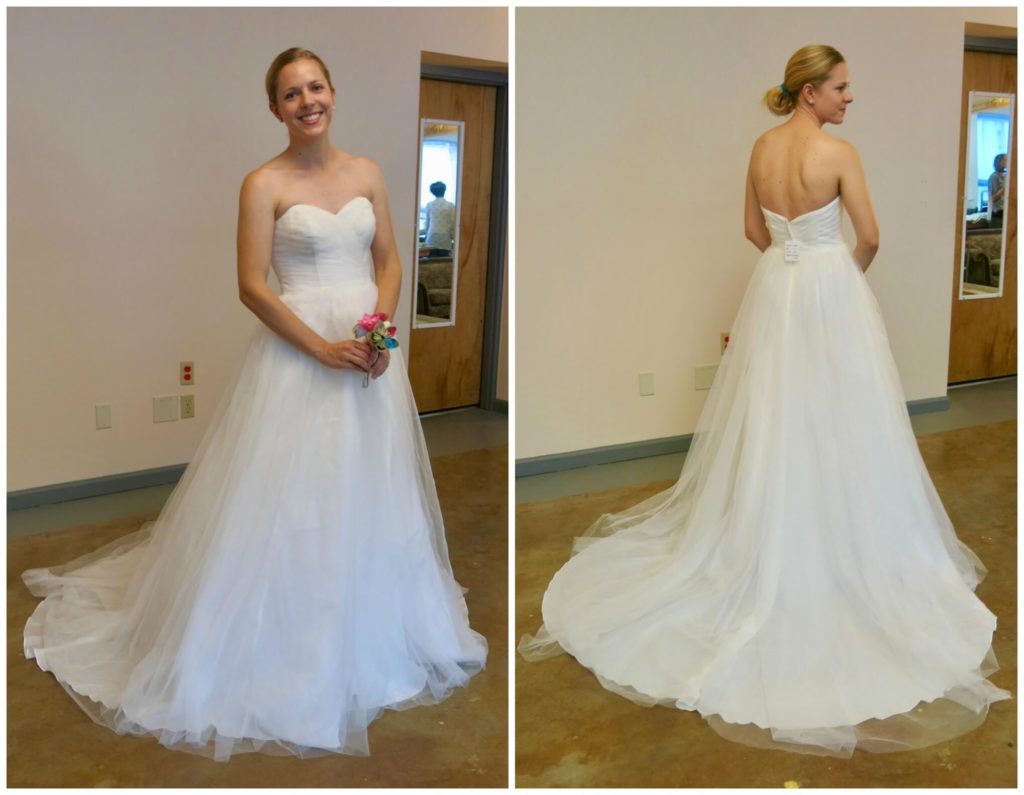 Sketching for Cameron
Once the studio was quiet and I was all alone again, I spent a lot of time thinking about everything we discussed together. I was now feeling pretty confident about what would fit Cameron's style and personality, so it was time to take those ideas and see what would fit Cameron's body.
Since I am a custom dressmaker and not a fashion designer, my sketches begin with my bride's silhouette instead of a stylized model coqui. I took the posed photos of Cameron and printed them out on a sheet of plain paper.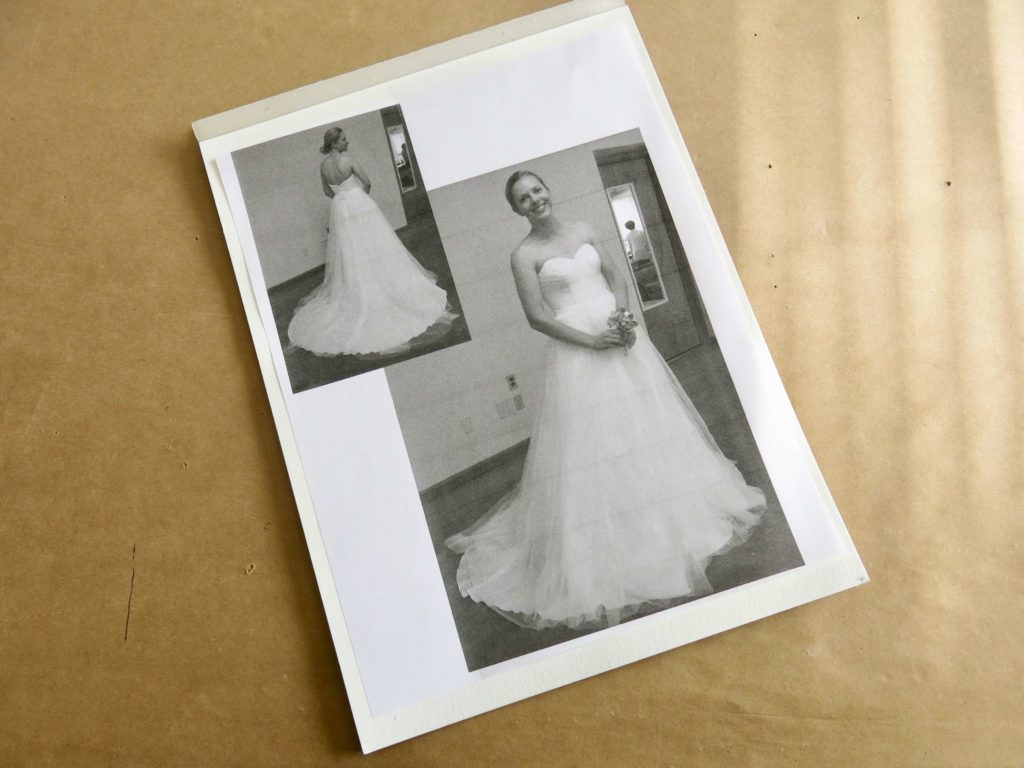 I then scribbled all over the back of the printout, taped it scribble-side-down to some watercolor paper, and traced around Cameron's outline. This leaves very faint pencil lines on the watercolor paper that become my basis for the brand new sketch.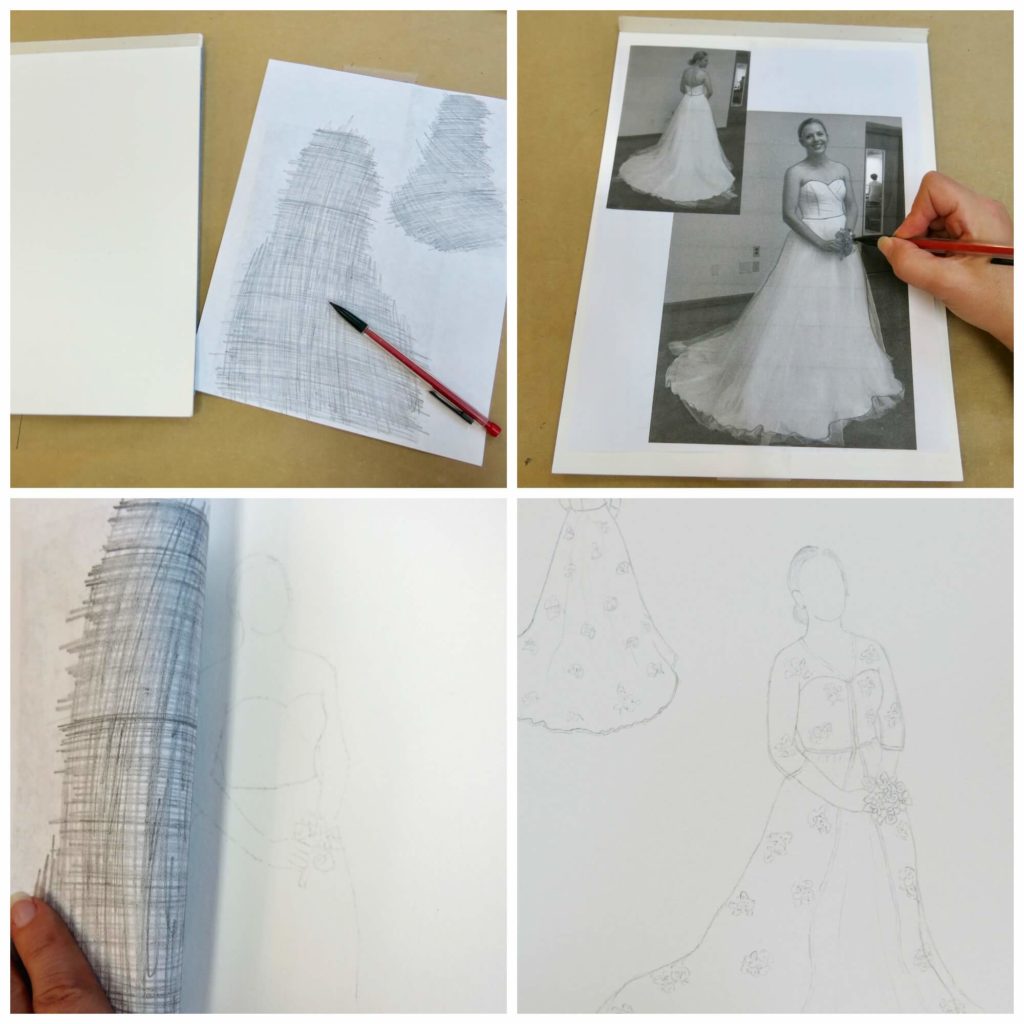 I love this part of the process, playing around with ideas and proportions. As I make decisions, I gradually erase or darken my lines until a new design slowly emerges…
Sketching while using the individual's actual silhouette is an excellent way to "try something on" that doesn't exist yet!
Cameron's Sketch and Design Proposal
Here's a peek at the Design Proposal I sent to Cameron with her custom sketch and many of the inspirations that led me to create it…
Cameron

Elegant    Light    Simple    Sleek    Joyful

Cameron's Custom Wedding Dress Sketch by Brooks Ann Camper Bridal Couture ©2017

Cameron's Hollywood-inspired Wedding Overdress

A soft sheer custom overdress inspired by her grandmother's Dior wedding dress and Grace Kelly. The overdress features a V-neck with simple front closure and 3/4 sleeves. Edges are finished with a sleek 1/2″ bias binding. The custom overdress will feature a floral design, either in the fabric itself or with custom-made flowers or appliqués added to a plain fabric.

Design Inspirations

Design Inspirations include the Dior dress worn by Cameron's grandmother featured in the bottom middle and two dresses worn by Grace Kelly in "High Society". One "High Society" dress inspired the fabric and simple bound edges, the other the slimmer sleeves. The grandmother's dress inspired the overall feel and shape. The modern bride shows a hint of the V-neck style and the open front of the overdress.

Fabric Inspirations

Over the next few months, we will be searching for the perfect fabric. We'll be looking for floral motifs that are spread out (not densely packed) across a soft sheer fabric. Preferably the flowers will be white with hints of green and gold.

If the perfect fabric can't be found, the flowers can be handmade (or cut from another source) and applied to a sheer fabric. These images show some inspirations for making fabric flowers or applying bits of trims. Preferably a gardenia-shaped flower. We can play around with placement by creating a regular pattern or having some areas more dense than others.

Many more inspirations (and the sources for those featured here) can be found on my Pinterest Board "For Cameron":
https://www.pinterest.com/brooksann/for-cameron/
I guess there is no real spoiler that Cameron said "yes!" to the proposal and the dress! We were both thrilled to add her custom overdress into my calendar and to get started making the sketch a reality.
NEXT POST: Hand drafting the custom pattern!
SaveSave