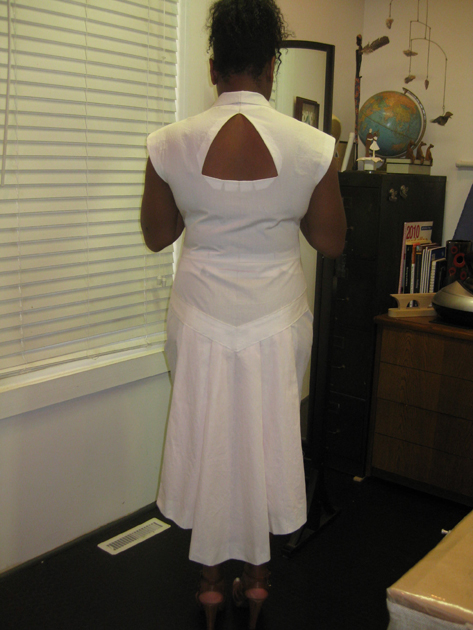 The second mockup fitting was quick and decisive.  The new pattern corrections looked great on Michelle!  Changes I had made to the closures made the dress easier to get on and off and she loved the new collar design.  There were still a few little fit issues to work out (see above), but for the most part the dress looked stunning on her even in the cheap unfinished fabric!  Once again, I'll take the changes that we made in this fitting and translate them back into pattern corrections.  The difference is: the next time I cut the patterns, I'll be cutting the fabric of her actual wedding dress!
Immediately after the fitting, Michelle and I headed back to Mulberry Silks to look at fabrics again.
With the style and fit of the dress fresh on her mind, we can get really serious about making our final fabric choices.  Originally we had liked a gorgeous, but somewhat slinky, cotton/silk blend for the main dress fabric.  It had a beautiful sheen and color, but now that the dress is taking its shape, we were both a bit concerned that it might not have enough structure for this very architectural dress.  If this fabric ended up being our final choice, I would use a technique called flat-lining, (where I attach every piece of fabric to a more structured under-fabric that is never seen) changing the fabric into something that works perfectly.  This fabric shopping trip was to see if we could find a fabric that would actually be perfect, rather than something that had to be manipulated into perfection.  It's always nice to work with a fabric's natural qualities.
We decided to look at everything we possibly could with an open mind.  One idea that I was really stoked about was looking at wools.  Michelle is having and outdoor wedding in October and she is a professional woman who loves the look of tailored suits, so I thought this choice could be totally appropriate and amazing for her unique wedding dress.  The natural qualities of wool would absolutely be suited (no pun intended) for this style and it is a dream to sew.  We looked through pretty much everything Mulberry Silks had in stock as well as their special order books and our absolute favorite choice did end up being a gorgeous cashmere blended wool sateen.  The sateen weave gave it a formal look, the weight gave it an beautiful drape and the cashmere gave it an amazing softness.  They had a bolt of Ivory in the store, but we found out that it can be special ordered in Winter White.
This immediately became my absolute favorite choice for Michelle's wedding dress.  Since this was a totally new idea and a big decision that we wanted to make absolutely sure was the right one, I wanted Michelle to sleep on it.
We got some swatches of the Ivory to take home and she actually gave herself a deadline to make the decision.  It was hard for her to visualize what this dress would look like in this fabric (or any fabric, which is totally understandable), so I started doing a little research for her.  I wanted to see what the Roland Mouret dresses that she loved the most were actually made of.  In my research, I found out that he often uses wool.  Not only that, but at least one of our favorite dresses that made it into Michelle's Design Proposal was made of 100% wool! (see below)
I sent Michelle an email with links to beautiful wool dresses.  This new fabric was significantly more expensive and luxurious than the original fabric we had chosen, so I also sent her a new estimate.  She came by later that week and said that she was totally confident that the wool sateen was the right choice!  I was so excited!  I went to Mulberry Silks the next morning and placed our special order.  I also special ordered an amazing silk twill lining that will feel so good next to Michelle's skin, negating any slight itchiness that the wool might have.
I'm confident that Michelle will be completely comfortable and totally gorgeous on her wedding day and I can't wait for the fabrics to arrive!