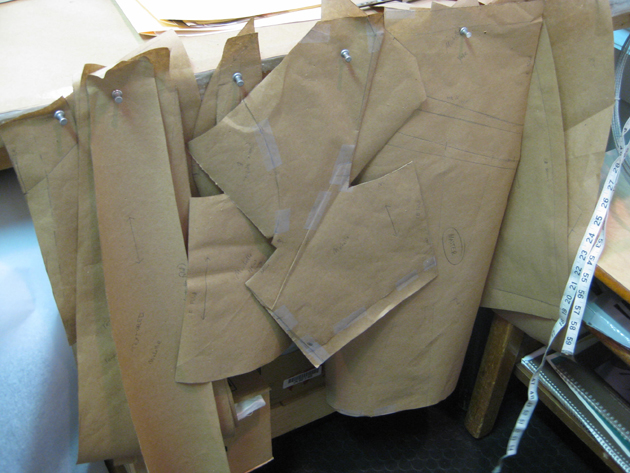 My patterns are now corrected and pinned to the side of my table.  I've talked about this before, but I love to do pattern corrections! The problem-solver within me really enjoys getting down to business with a ruler, french curve and pencil to figure out the incredible puzzle of how to make flat pieces of paper into the exact shapes that will create a perfect 3-D version of a very specific design to fit a very specific set of measurements.  Sigh.

The next step is to take apart the dress that Michelle tried on in the first mockup fitting to see what can be used again with the new and improved patterns and what has to be totally recut for the second mockup fitting.  I was able to use the entire back of the skirt as is. All the pleats were just beautiful on her and hung pretty much perfectly!
Below you can see that I've taken the front of the skirt apart and am redrawing the new pattern onto the old fabric, lowering the waistline and hip decoration as well as pegging in the skirt at the knees.  Eliminating the need to make an entirely new dress, I reuse as much of the old drawn-on fabric as I can to save time and  money on the mockup process.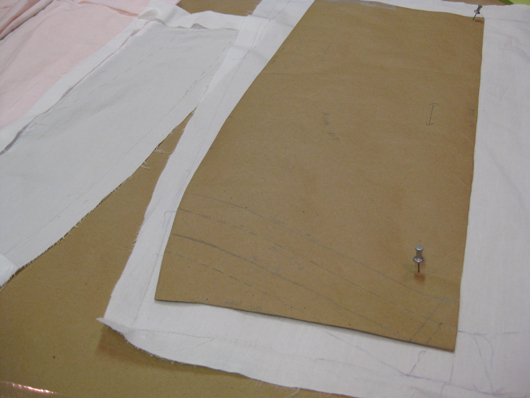 The bodice of the dress was recut from new fabric because the changes were more extensive, as is usually the case.  As you can imagine, the back, shoulders and bust of a woman are the most complicated parts to fit perfectly.  We decided to go with the cut-in-one sleeve, so the new mockup sports this new look.  Once this whole garment is basted, threadmarked and put back together with all the changes from the first fitting, Michelle was called in for a second mockup fitting.  I feel confident enough in the pattern corrections that this will more than likely be the last time she tries something on that isn't in the real fabric.
The dress is really starting to take its shape!