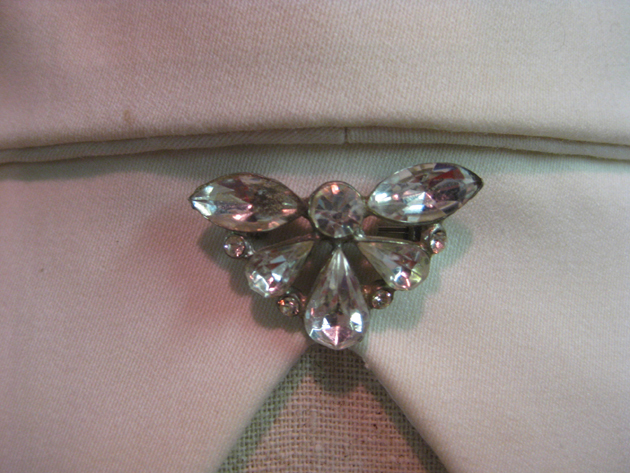 Our final fitting went perfectly (so much so that I forgot to take any photos) and I was finally able to start the couture finishing and final touches of the dress.  Michelle's dress has a sleek and architectural design, but I wanted to add a little bling for her wedding day.  In the sketch, I had drawn a fancy button at the center back neckline.  Originally I thought it would be a functional closure, but during our process we ended up changing the collar and eliminating the need for a button.  Since I was really happy with the vintage brooch that I used for Jill's jacket last April , I searched for the perfect vintage brooch for Michelle's wedding dress.
I searched local antique shops, eBay and Etsy and finally decided on the beautiful brooch shown in the photo above.  To me, this pin was just the right size, just the right shape and just the right amount of sparkle for Michelle's one-of-a-kind dress.
With all the design decisions and fitting notes taken, I was able to permanently finish and line the dress.  I even got to pull out my treasured curved needle to apply the hip detail.  When I used to work as a milliner, I often used curved surgical needles for making hats.   Unfortunately for sewists (but not so unfortunate for surgeons), surgical needles have begun to be manufactured pre-threaded with surgical thread so that doctors don't have to thread needles.  The old style surgical needles that can be threaded with any type of thread are very scarce, as all of the old supply houses have either gone out of business or moved toward the new technology.  The last time I was able to purchase these needles was 6 years ago, and I currently am down to my very last needle.  I try to use it only when necessary, because once I lose this one, I more than likely will not ever find another.  (Side note: if you drop one, it bounces unpredictably making it very difficult to find!)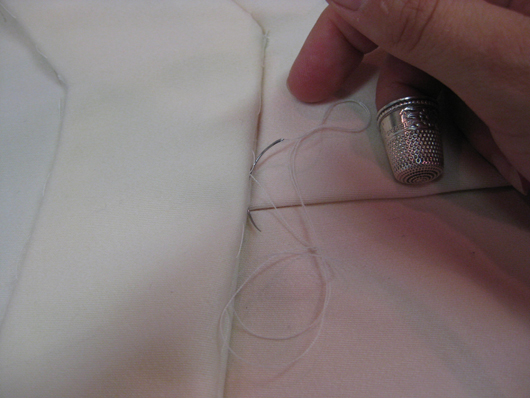 Fortunately, I did not drop it and I still have my precious needle for at least one more job!
Many hours and lots of love later, I finally finished Michelle's wedding dress!  A finishing touch I add to all my dresses is a hand embroidered label tag made especially for the bride.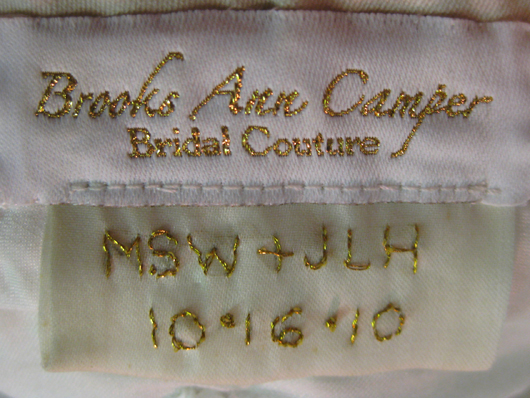 I have truly enjoyed this project and Michelle has been a dream bride to work with.  I was really excited to prep for our  Kent Corley photo shoot.  This time the shoot would not only include the dress on the dress form, but Michelle would be our fashion model for a full fashion shoot!