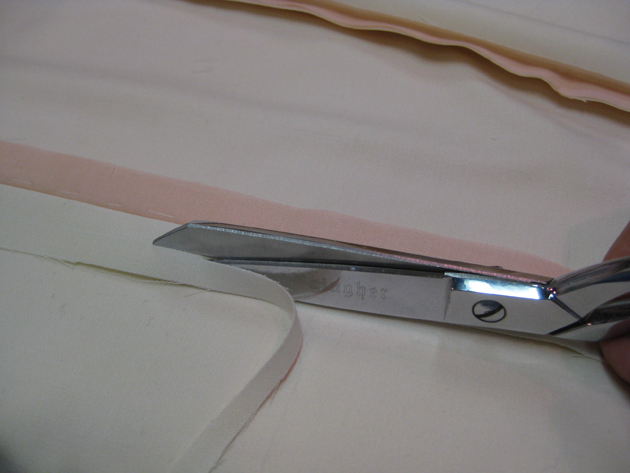 As you know by now, every Brooks Ann Camper dress has never been made before and will never be made again.  The design and construction choices are unique and unprecedented.  It is an organic, improvisational process that evolves at each step; constantly perfecting along the way.  It is important for me that, no matter how we get there, the end result is a perfectly beautiful dress in fit, design and construction.  A lot of thought goes into the decisions made at every part of the process.
One of the reasons I was so excited when we decided on the wool cashmere fabric for Michelle's dress was because wool has amazing properties that make it a dream to sew.
The back of Michelle's "train", while laid flat, has a very long, very curved, hem.  When you have a curved hem, the cut edge (that will be turned up) is actually longer than the hem edge.  This means there is extra fabric that you have to deal with for the hem to look perfect.  My plan was to do an "eased hem" and shrink out the excess fabric utilizing the unique shrinking properties of wool.
I did all the prep involved for the eased hem:  threadmark the hemline, hand baste the hem up 1/4" toward the dress, and hand baste a running stitch at the cut edge.  Once I got this all set up for the steam iron to shrink out the wool, I realized that this particular wool was not budging.  The excess fabric would not shrink out at all!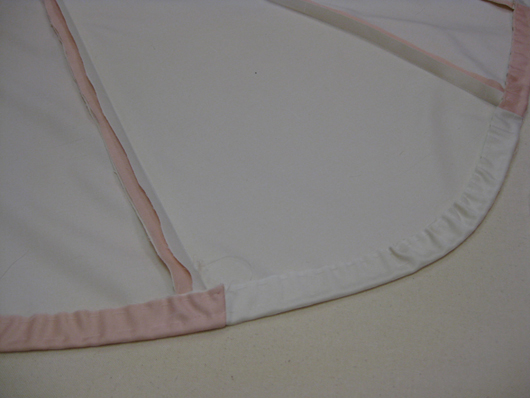 It seems that the sateen weave is so tightly woven that it negated the normal "shrink-abliliy" of the wool.  I hung the hem and realized that I could still make it look okay with the eased hem.  I also knew that 'okay' would not do.  I need a flawless hem!  I took out all the prep work and decided on a different type of hem altogether.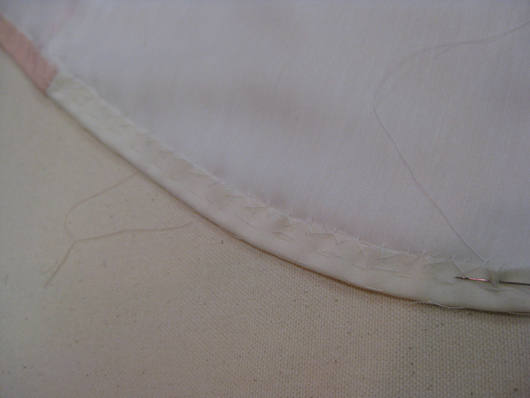 When something unexpected like this happens, I make sure that I do not charge the labor time for the hours it took me to do the technique that was incorrect for the dress.  I use it as a personal learning experience and only charge for the techniques that are actually used in the final product.
Which must be perfect, or it won't do.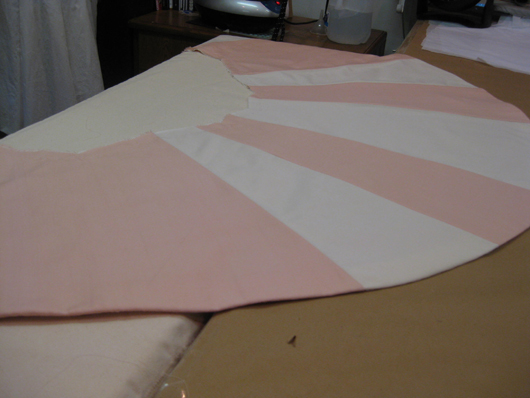 Once the hem was perfect, the "train" was then lined (only the train is lined in the pink silk twill) and swing-tacked (a thread chain that keeps the free lining in place, shown below)…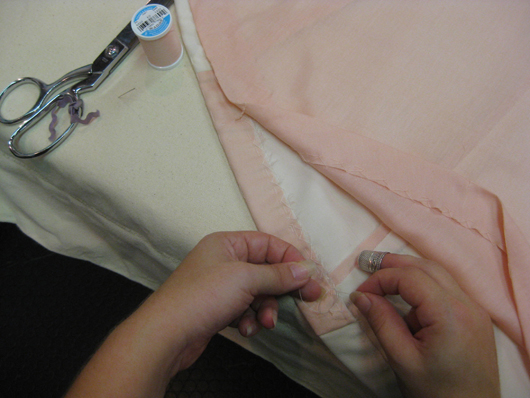 …and finally folded and attached to the yoke! (Shown below from the inside of the dress)
There's still some perfecting to do, but I was finally able to wrap the entire skirt back in tissue paper and put it aside.  I then was able to begin to mark, cut, prep and start basting the rest of the dress together for our upcoming Fabric Fitting!