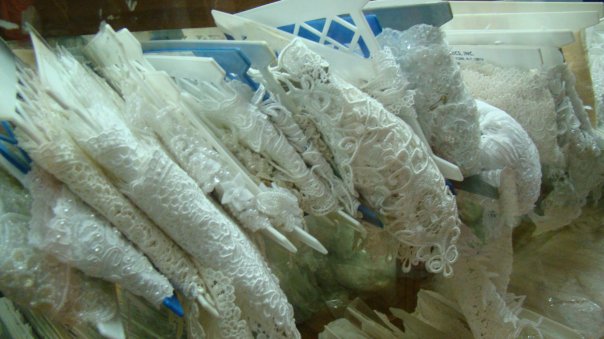 The Design Consultation is one of my very favorite parts of the whole bespoke process.  Greta came back to my studio and we talked a lot about all of our ideas for her wedding-dress-to-be.
We sorted through lots of inspiration images making 'no', 'maybe' and 'favorite' piles.  We had some clear favorites!  There were even a few images that we both picked out independently and brought to the meeting!  I knew we were definitely on the same page as to where her design was headed. 
Several images really stood out.  Most notably this collar and skirt: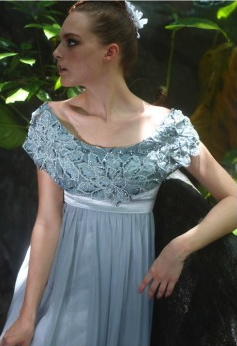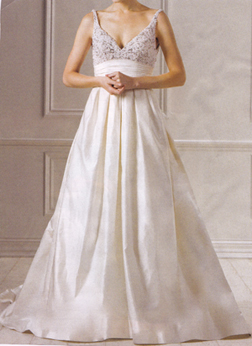 Greta was also very good at choosing images that I also thought would look good on her.  Often there is a style that a bride will love (that looks perfect on the model), but isn't really suited for her specific body type.  When I choose images to show the bride, I only include images that I truly like, that am confident that I can create, and that I know will be flattering on her unique silhouette.
Once we sorted though the images, we took a trip to Mulberry Silks Fine Fabric Store for further inspiration.  Mulberry Silks is a small boutique fabric store that curates the best of the best fabrics and provides amazing customer service for me and for my bride.  The entire staff (and customers within earshot) ooooohed and ahhhhhhed over our ideas.  Greta and I had an absolute blast going through bolts of fabrics and trims, mixing and matching our favorites.
We came across an amazing piece of lace that could be stunning for Greta's custom wedding dress.  It was a Sposabella lace, which is a type of very complicated lace that has embroidery and cut-outs of satin and organza.  This particular Sposabella had a tulip design.  Greta and I were both in love.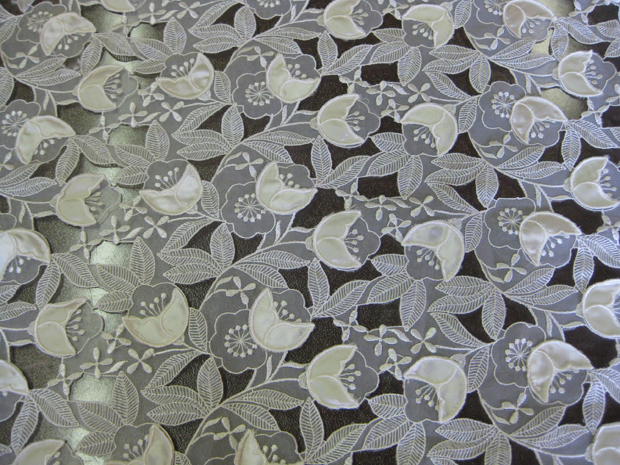 The Sposabella was only a remnant of less than a yard.  It had apparently been in their glass case of special bridal laces for quite some time.  Many people were interested in it, but the piece was too small for them to use.  Lucky for us, we were only interested in using it for perhaps a collar like the one pictured above!  It's like it was waiting patiently to frame Greta's pretty face.  I was really getting excited about this dress and ready to get sketching!
After our super-fun consultation came to a close, I took all my new information and inspirations and began to work on Greta's Design Proposal.   More on that: next post!