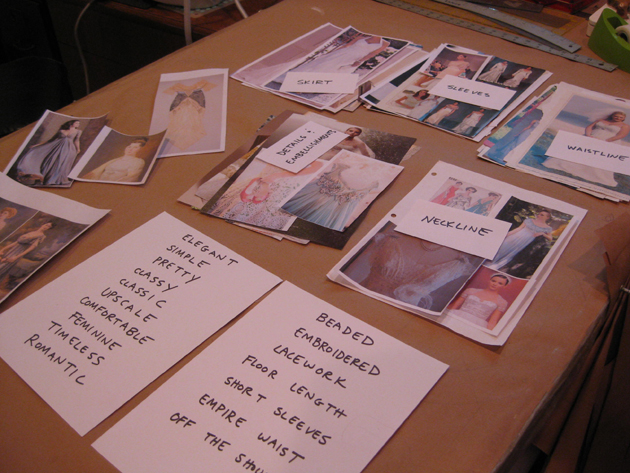 Greta and I met for the first time at my studio for our Initial Consultation.  This is a free meeting where the new bride and I get to know each other a little better.  It's really important that we communicate well and genuinely like each other.  If the dress is booked, we will be working together for several months! 
During this very first meeting, I make sure that all my policies and contracts are explained and that each of us have a chance to ask and answer questions.  I also get a better idea of what the bride is looking for in a dress design, if the bride wants to book a Design Consultation.
Which she did!  We hit it off instantly.  She booked our next meeting right then and there, we marked our calendars, and I was able to get straight to work pulling inspiration images!
Greta was looking for an empire waist dress with a floor length full skirt.  She was hoping that it could also have a open shoulder neckline with some short-ish sleeves.  She liked the idea of lace and beading, and also was open to a little color.  She was not looking for anything "over the top", but she did want it to be something special and unique.
The synagogue where she will be married is incredibly gorgeous and, though they are an interfaith couple, they are both inspired by the structure of the traditional Jewish wedding ceremony.  Her ceremony will be in the evening, so an evening gown is appropriate.
I always ask my brides to pick out some adjectives that describe the way they'd like to look or feel on their wedding day.  These words are always very helpful to me when I am working on a new design.
Among others, Greta chose:  Elegant, Simple, Upscale, Comfortable, Feminine and Romantic.  Sigh…
By this time, Greta had sent me several images that were inspiring to her and I used all her information to go through my resources.  I love collecting potential dress design elements for future brides-to-be!  I've got lots of amazing books, as well as curated pages from magazines, and images collected from the internet.  Some of my online dress design collections can be viewed on Pinterest.  Some of the images that I selected for Greta's dress can be seen on this pinboard.
When I choose images, I am never looking to find an image of The Dress.  I do not directly reproduce other designers' work, but I do use design images to inspire details for each new design.  I may find a sleeve or waistline that I think will look particularly good on my bride, or an embellishment detail that I find inspiring.  To me, the more inspirations the better!
I love organizing all my favorite images into piles and preparing to show them to the bride.  Meanwhile, I encourage my brides to make collections of their own to bring to the meeting.  We always have so much fun together picking and choosing our favorites and editing out the pieces that don't quite fit into our exciting design puzzle!