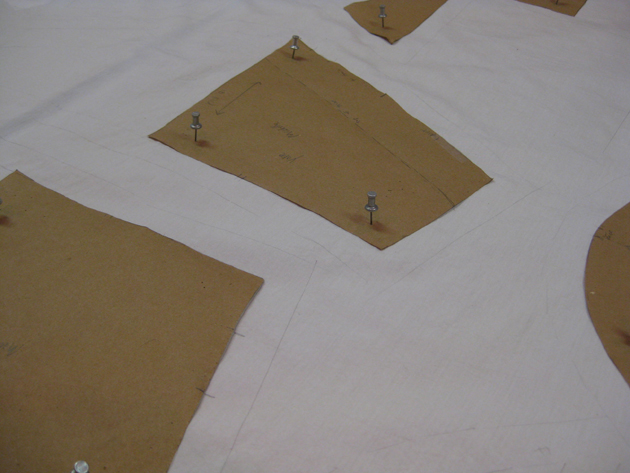 Now that my pattern is ready, it's time to make a mockup.  When creating a custom garment, it is always important to do a "test-dress" first to work out all the kinks before you ever touch the real fabric.  I usually call this test dress a mockup, but it is also often known as a muslin (which too often annoyingly gets called a Muslim) or a toile (which I find a little too Frenchy Fancypants for me).
I used to always call this dress a muslin, but I find that in bridal I rarely actually use muslin- which is the name of the inexpensive cotton fabric that is often used for this test-dress.
For example Katie's wedding dress was made of bias-cut silk charmeuse.  If I had made her mockup in actual muslin, we would have been doing ourselves a disservice, as muslin has none of the same qualities as charmeuse.  In her case, I used an inexpensive slinky polyester fabric for her mockup.
Here's a photo of Katie at a mockup fitting, and another in her finished silk charmeuse wedding dress.


As you can see, the mockup never works exactly right the first time. An ill-fitting mockup is a totally normal part of the process.  During mockup fittings, adjustments are made to this test garment while on the bride's unique body (which are then translated back to the paper pattern) until it is close enough in design and fit to cut the bride's real fabric.  There are usually at least two mockup fittings.
In Michelle's case, her dress is ultimately going to be made out of a Cotton/Silk blend, so the fabric for her mockup actually is a type of cotton muslin.  The Cotton/Silk fabric that Michelle chose is really soft, so I took her mockup fabrics and washed and pressed them to give as much softness as I could- to get close to the characteristics of her actual dress fabrics.
I always press my fabrics onto a roll and I mark my pattern pieces directly onto the fabric in a single layer.  I mark stitch lines (which are the actual edges of my pattern pieces) as well as add seam allowances to each piece individually using a clear ruler.  This cutting/marking method (seen in the top photo above) is not for every dressmaker, but I find that its accuracy and ease always makes up for the bit of extra time it takes to mark and cut.  It also saves a little on fabric yardage since you can create less waste by nesting each piece individually rather than "on the fold".
There's no need to buy fancy expensive gridded patterning papers, tracing papers, or tracing wheels and it requires minimal setup and clean up.  I also like that I can mark a whole garment while it is still on the roll before cutting it.  This way I can tell exactly how much yardage I used, so that I know exactly how much fashion fabric to purchase when this pattern is ultimately used for Michelle's wedding dress.  For the mockup, I use pushpins to hold my patterns in place and make all my markings with a regular pencil.  When marking her real dress fabric, I'll use more delicate techniques.
To see more photos of Katie's finished dress, check out her Album in my website's Portfolio: https://brooksann.com/the-portfolio/#5154