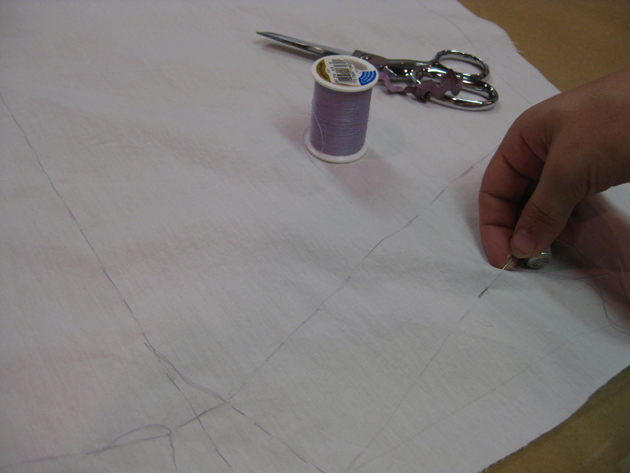 A mockup is not put together like a real garment.  All of its seams, trims, edges and closures are temporary and assembled in a way that makes it easy to make changes during a fitting.  After I cut out all of my pieces and before I can start assembling the garment,  I do a lot of threadmarking (seen above).  This is done by hand with a long stitch and is most often used to show where my center lines are, where trims are to be applied, and to outline edges and hems.  These lines of thread can be easily pulled out if they need to be moved during the fitting.

Now I'm not a very superstitious person, but sewing has been around long enough that there are always little old sayings about how things should and shouldn't be done.  Threadmarking is usually done in a colored thread so that it can easily be seen in the fitting.  The color you use is a personal preference, but I know at least two old sayings that advise against certain colors.  "Baste in green: It will never be seen" (meaning the dress will never be seen in public) and "Baste in black: It will always come back" (meaning that the customer will return it for corrections again and again.)  So no green, no black….  and I am sure there are other sayings advising against other colors.  The way I get around this is that I almost always baste in either purple or orange.  The reason I choose these colors is simply because they don't rhyme with anything and therefore can't be used in an ominous couplet!
Once everything is threadmarked, I machine baste the garment together using a long stitch on the machine and hand baste all closures, collars, sleeves and edges in place.  The back of Michelle's mockup was especially fun to put together.  Shown below, I have the pleated back pinned together for assembly.  If you look closely, you can see the hidden pale pink panels in between the white ones.  Once sewn,  this will get folded up and stitched into the yoke on the back of Michelle's skirt, to create the fun, flirty "train" we designed for her wedding dress.