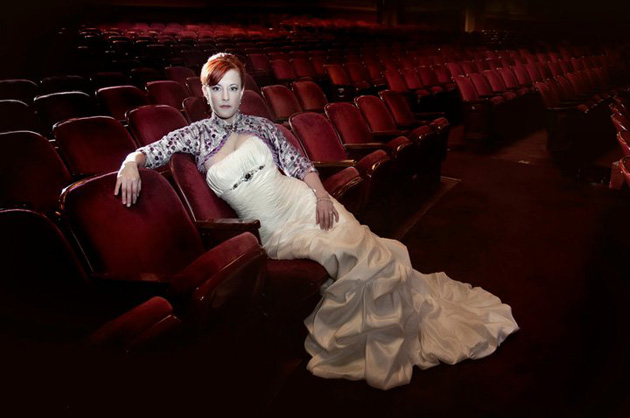 I am over-the-moon excited about the bridal portraits by Greg Pearson Photography !!!  Jill is STUNNING and I truly feel that this look turned out perfect for her and her personality!  Remember, that due to the distance between us, this is also the first time that I am seeing the jacket on her!  I am so happy with the fit and the colors….  and so happy for Jill!  Her wedding is only two weeks away!
The dress is by Alfred Angelo which Jill purchased and had alterations done at Alfred Angelo Bridal in Shreveport, La.  The dress had some large plastic jewels at the band under the bust, which I covered with purple beads when we had our fitting over Christmas.
You will notice that Jill is not wearing the heirloom veil that I refurbished.  Though she loved the work that I did on it, once Jill tried it on with the whole outfit, she thought it was way to big for her head.  She actually had never tried it on before because prior to sending it to me, it was crushed.  I had also never seen it on her, and am glad that she edited it out.  She is so tiny and I can imagine that it might have been overpowering.  She looks so beautiful in these photos that it is clear she doesn't need the veil!
Oh, and I also made the butterfly bouquet which I think worked out really well!!!
Ok!  Ok!  I know you just wanna see the pictures!!!  Me too!!  Here's a sneak peek of a few featuring the jacket.  You can view a larger selection of Jill's bridal portraits by viewing Greg Pearson's blog at:  http://pearsoneyecandy.com/blog/?p=2039