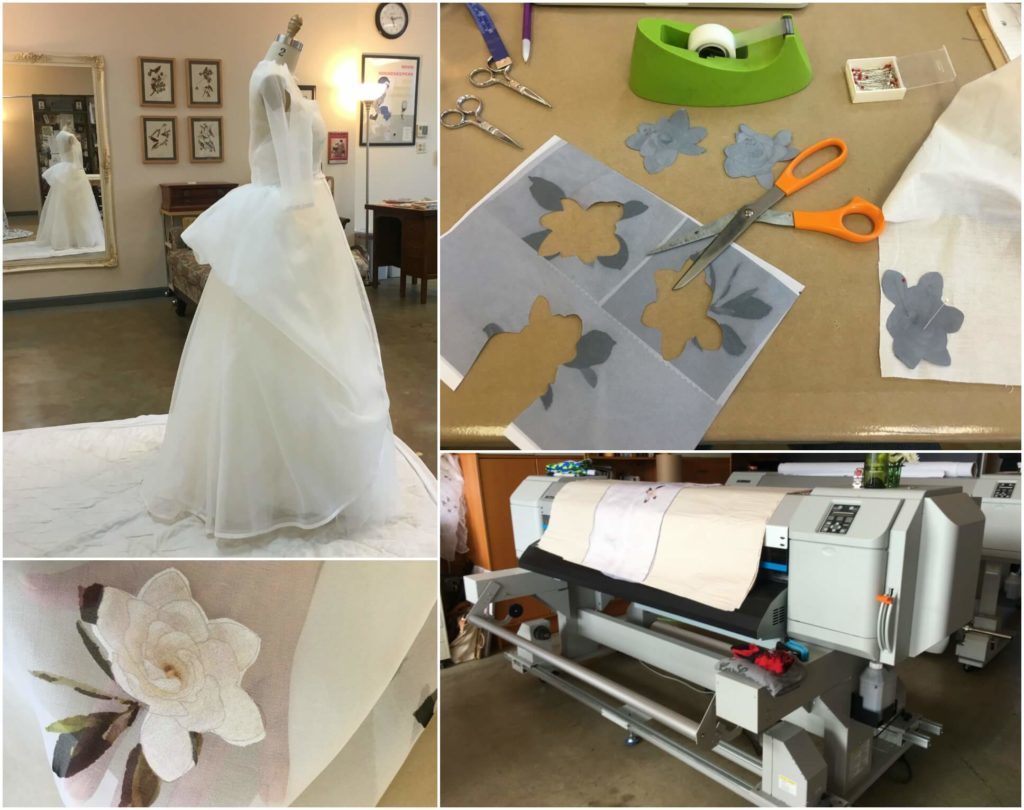 After our second mockup fitting, Cameron and I finally decided on the images and layout for the custom printed fabric for her custom made wedding overdress. Based on digital and printed samples from Red Canary Fabric Print Studio, I placed the order for our sheer silk gardenia fabric! So exciting!
While our fabric order was processing, I had a little time in the studio to experiment with aspects of the dress that I hadn't quite figured out yet. Custom sewing is always filled with experimenting, problem solving, and decision making. I welcomed the little "intermission" between the mockup stage and the dressmaking stage to delve deeper into the currently unresolved bits of my custom plan.
Sheer Gardenias
The gardenia image we chose for the print was actually a trio! Anne from Red Canary found lots of gorgeous options but Cameron choose this trio of three gardenias. We'd break them up and sprinkle each flower randomly across the fabric yardage. So gorgeous!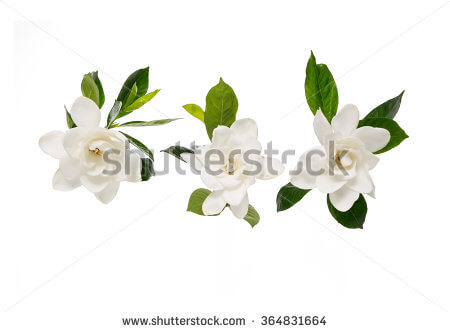 Anne also altered this photo-realistic choice to be more painterly for Cameron, giving each flower a beautiful watercolor-ish effect. Though we made a few more slight changes before placing the final order, you can see our final sample below. Cameron loved the floaty dreamy quality of the faded flowers sprinkled around her dress!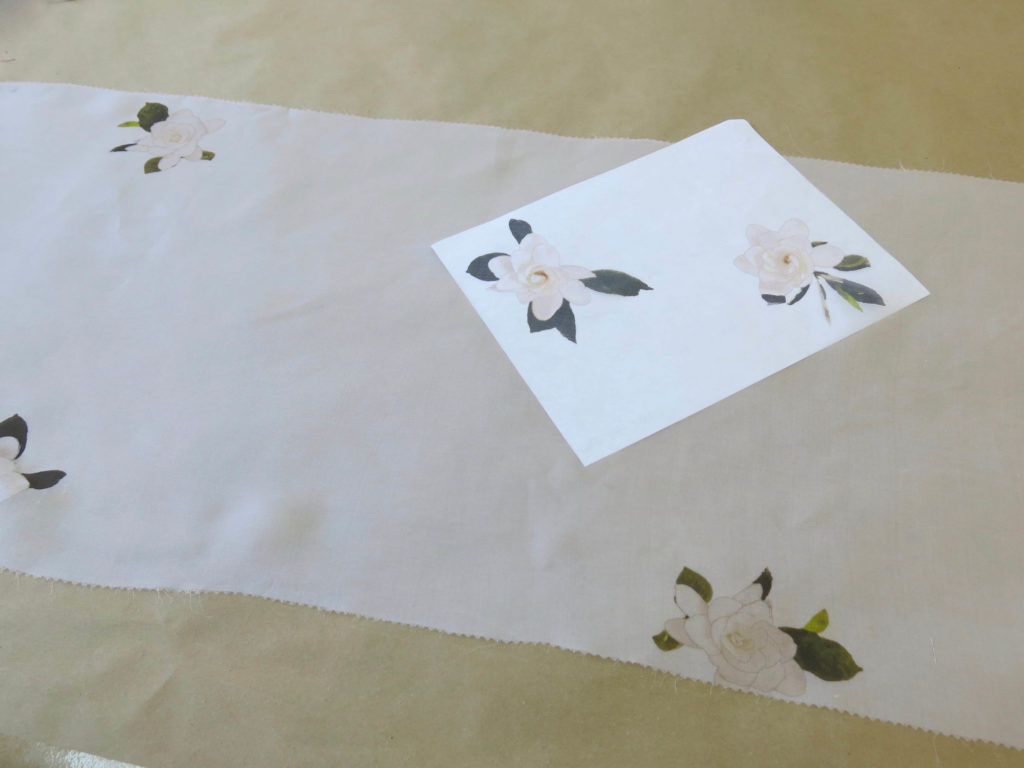 You'll notice in the sample how the sheer flowers really pop when laid over something white. Since Cameron's underdress is white, most of the flowers will be viewed this way as she's wearing the dress.
The exception to this effect is the areas above her strapless bodice. Cameron's overdress covers her back, shoulders, and arms similar to her grandmother's Dior dress. I wanted to brainstorm ways for the flowers themselves to pop in the areas where her skin shows. Could I come up with a way to make these gardenias look more opaque (instead of looking like tattoos)?
With printing on the brain, I took our fabric sample to my little printer for a little experimenting…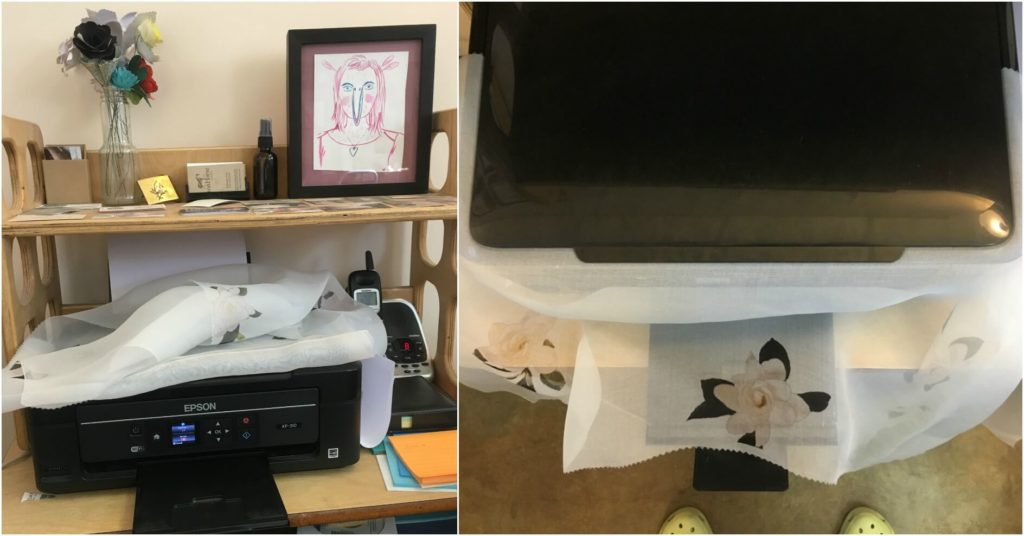 I had an idea to use actual-size print outs of each flower to cut out some sort of opaque backing. If it worked, it could keep the flowers of the fabric from looking faded or strange where Cameron's skin shows through.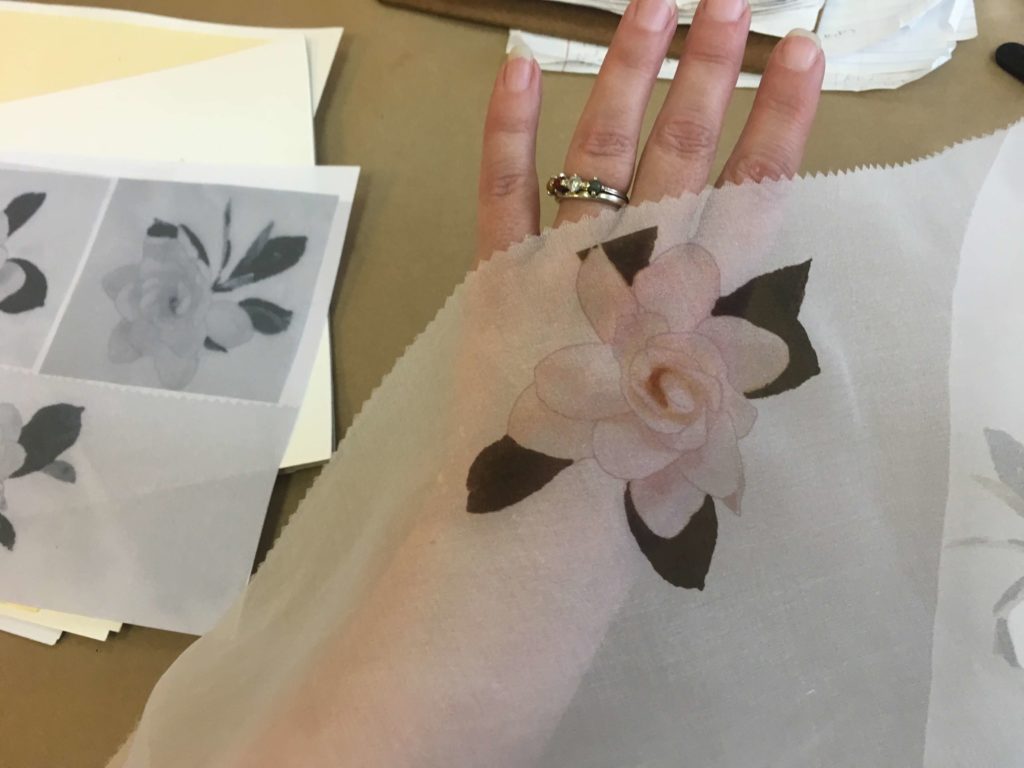 To keep everything as smooth as possible, I first experimented with fabrics that could be fused to our sheer silk without stitching. I cut out exact templates of each flower and then used them to cut lightweight fabrics to exactly match each flower's shape.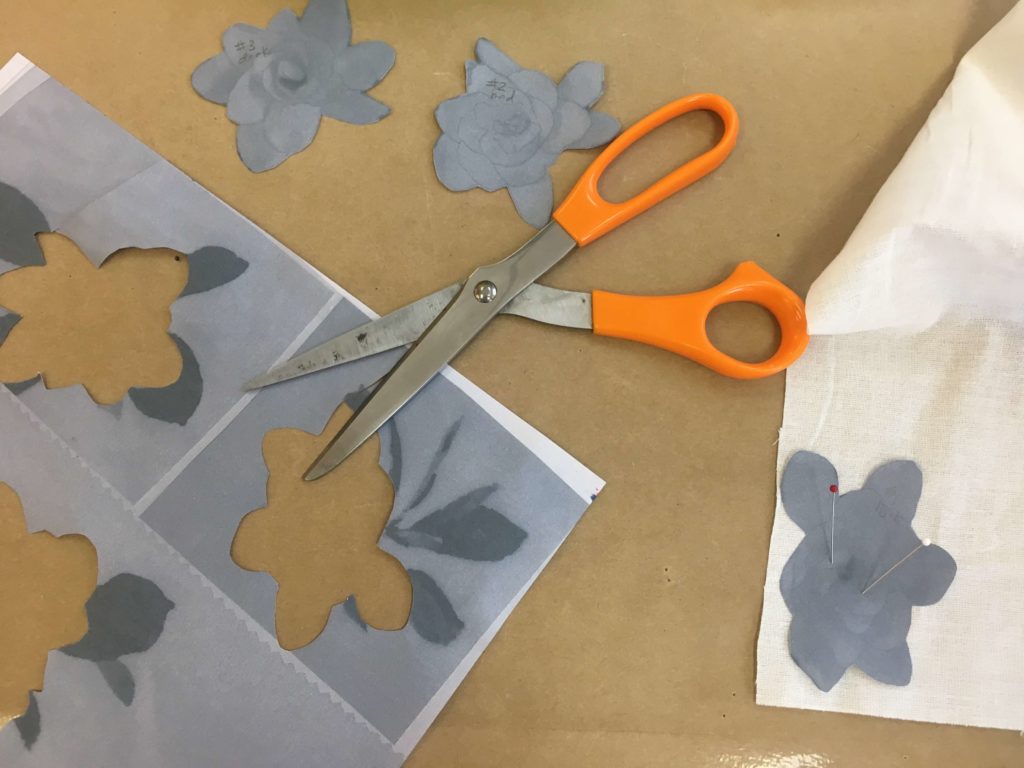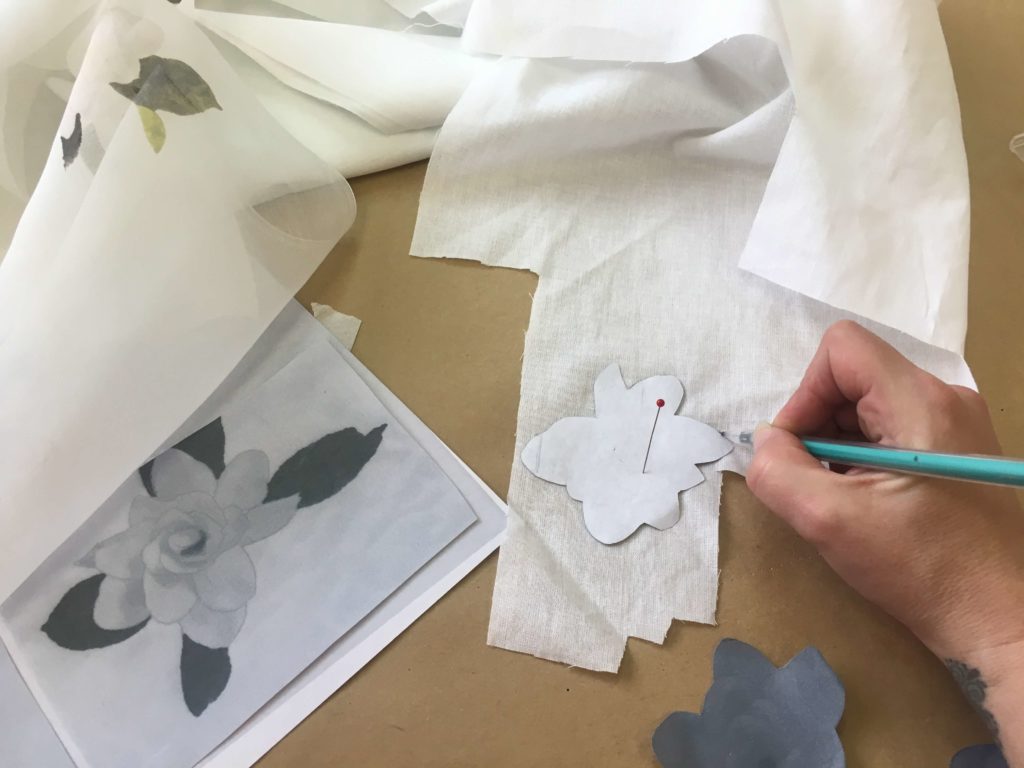 It worked! After testing a few methods and fabric combos, the woven fabric I chose as a backing was a lightweight fusible interfacing. This means the fabric itself has a layer of glue that can be melted with the iron. Check it out!
With a little more practice and a little more experimenting, this technique seemed like a perfect approach to beautifully give our gardenias the definition and opaqueness I was looking for! Hooray!
I'm bustlin'… bustlin'…
Also while waiting for the fabric to arrive, there was another part of Cameron's dress I had yet to figure out: her bustle. I've never really done a bridal bustle before, so I just started playing around!
Both her dress and overdress had long trains, but they'd need to be "bustled" for the less dramatic parts of the wedding day so that Cameron could move around more easily (and guests could get close enough to hug her!) Her store-bought dress had a bustling system that I didn't find very attractive. Since it would be totally covered up by the custom overdress, I chose not to repeat it. I wanted to create something to fit Cameron's fun personal style in a totally new bustle.
Since she's got such a vintage flair, I researched and created a bustle that reminded me of the mid-century couture masters. I played around with Cameron's mockup dress until I was pleased with the results.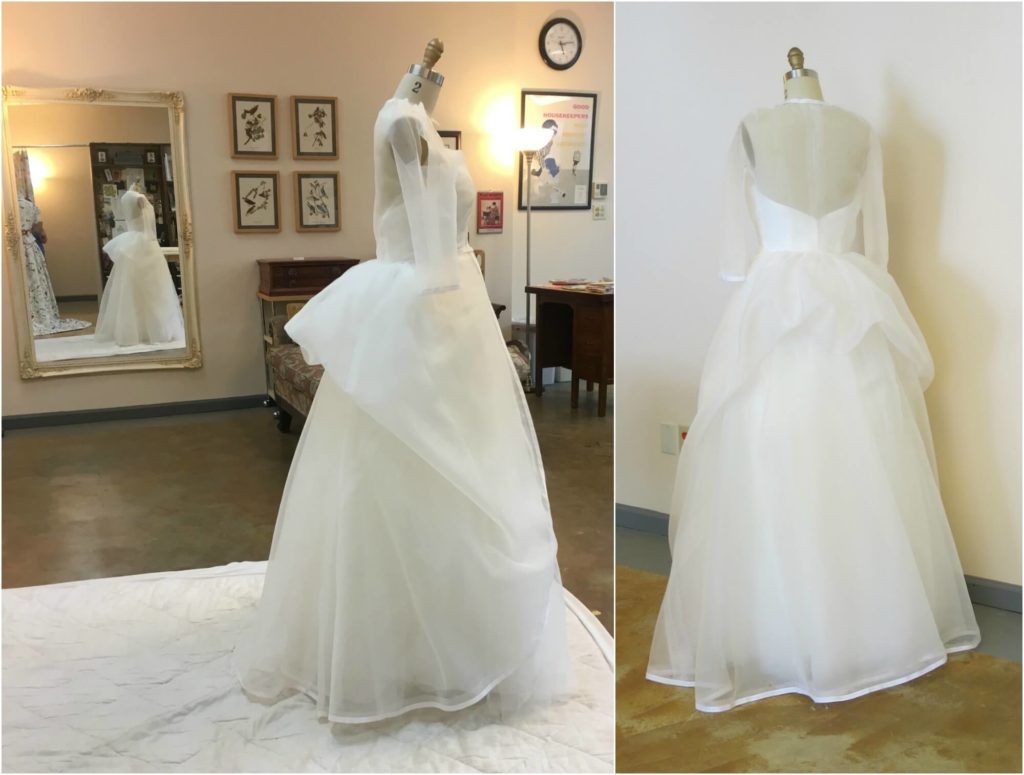 Boom. To me, this looked so Cameron! I was excited to see if she agreed!
Custom Fabric Pickup!
As soon as Anne said our custom printed fabric was ready, I drove to downtown Greensboro to pick it up!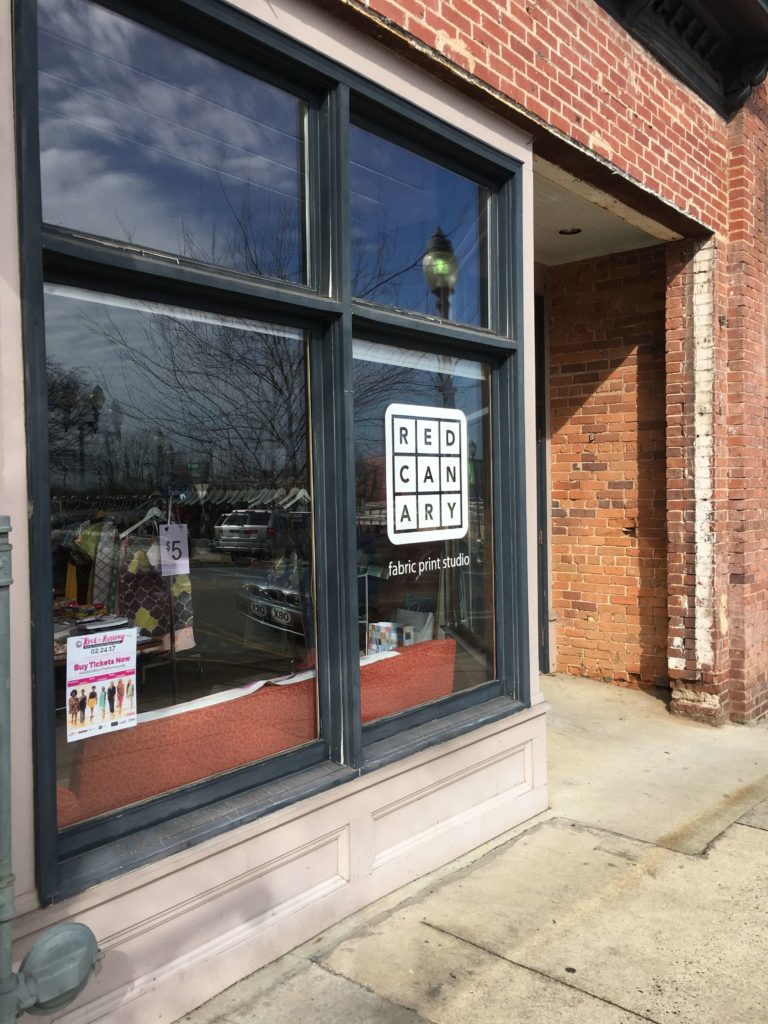 Eight+ yards of custom printed sheer silk fabric was created on these cool printers and then steamed in these cool canisters!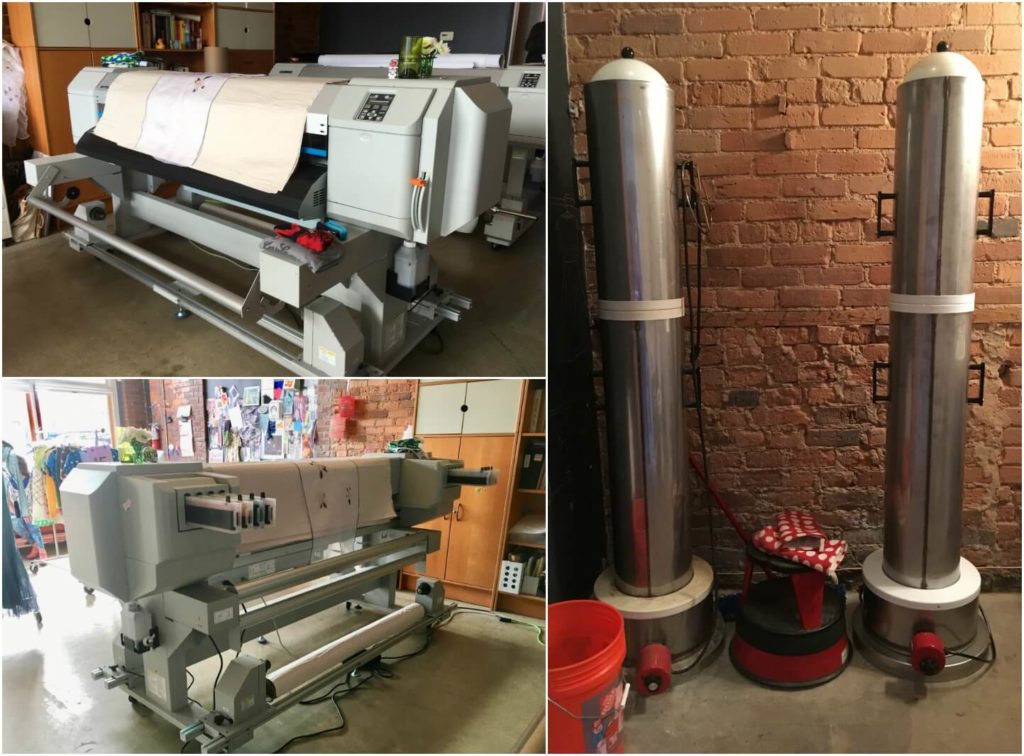 I had such a great experience working with Anne and Red Canary that I had to get a quick selfie before heading home! Thanks Anne!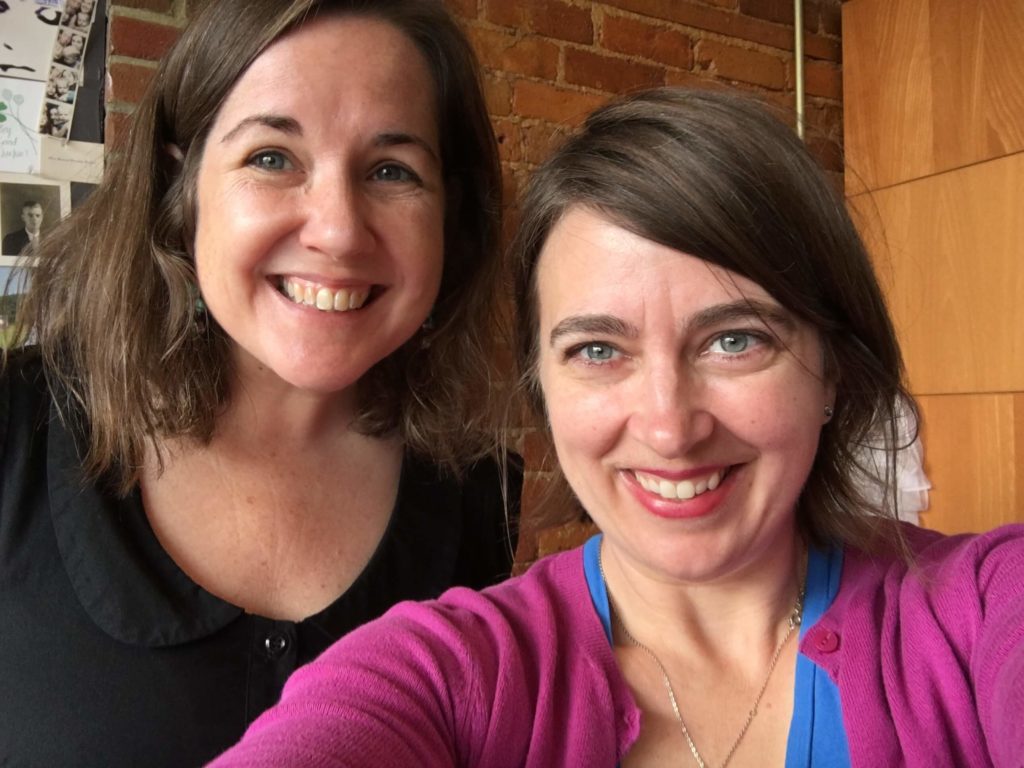 Once back in the studio, I pressed and rolled the gorgeous yardage!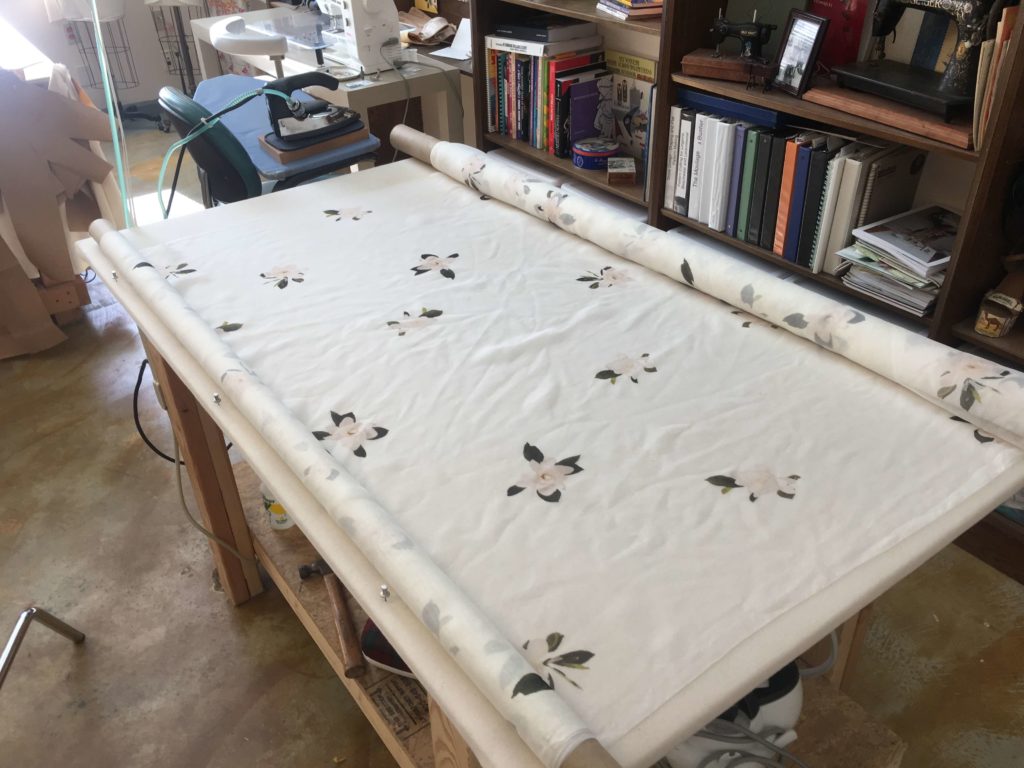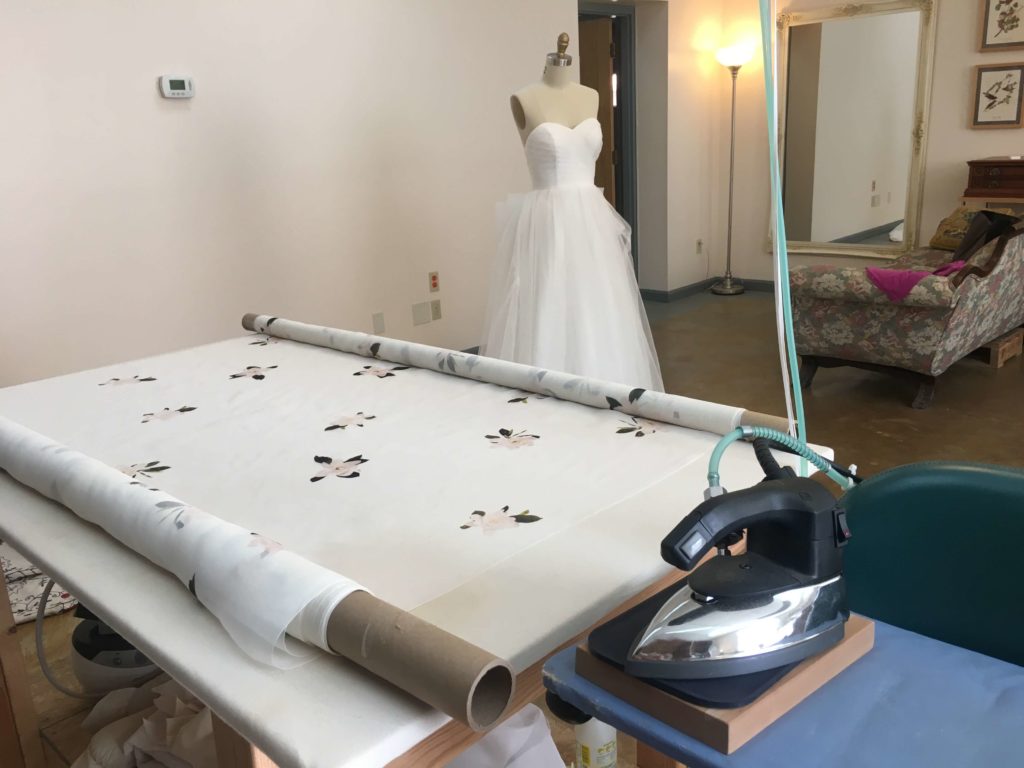 I was super excited to get started making Cameron's dream dress out of this gorgeous custom print… So dreamy!
NEXT POST: I start making THE DRESS!
SaveSave
SaveSave
SaveSave
SaveSave
SaveSave
SaveSave
SaveSaveSaveSave
SaveSave
SaveSave
SaveSave
SaveSave