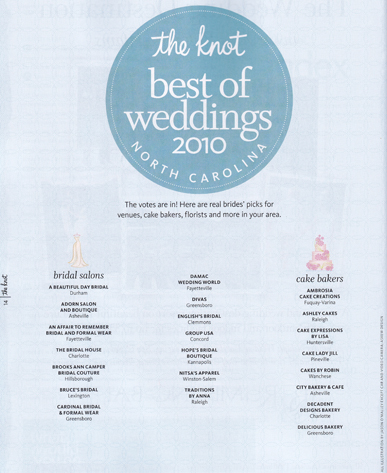 My newest bride is Michelle and I see why her fiancé is in love with her.  She is a really fun easy-going person who has great style.  I am in love with the ideas we've come up with for her dress and I am so excited that she's decided to book with me.  Oh, and did I mention? She's gorgeous.
But I guess I am getting a little ahead of myself.
Two months ago, I got a questionnaire from Michelle who had found me on The Knot.com, where I was rated by local brides and voted The Knot North Carolina Best of Weddings 2010 Pick.  I only create one dress at a time, so I am really picky about who I will accept as a client, but Michelle's questionnaire seemed to have all the right answers.  She seemed like someone I'd really like to meet and possibly work with.
She works at the Courthouse and is planning an October garden wedding with a reception at a chic restaurant in Durham.  Being a young professional in her early 30's, Michelle is very stylish but often has a hard time finding clothes to fit her apple shape (she has small hips and a large bust.)  Her figure is actually gorgeous, but not the type that designers design for 'off-the-rack'.  She was nervous about even going to try on wedding dresses because she knew she'd either have to find something to fit her bust having it swim everywhere else, or find something to fit her 'everywhere else' and not be able to cover her bust.
To me, she seemed like a perfect candidate for a custom dress, so I invited her over to my studio/home in Hillsborough for a free initial consultation.