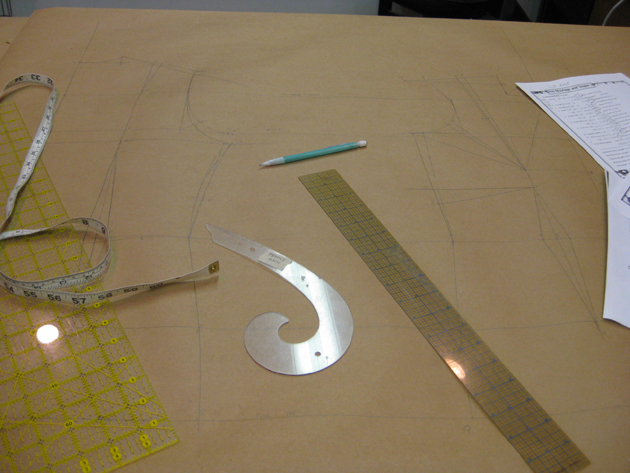 Have I mentioned that I love pattern drafting?
The first thing that a patternmaker needs to do after taking a full set of measurements is to use them to create a body double.  There are two ways to pattern: draping and flat pattern.  In draping, you are physically manipulating fabrics in three dimensions on a properly sized dress form to create the desired design.  In flat pattern, you are using drafting formulas to apply the measurements directly onto the paper to create the desired design while flat.  I usually do a little bit of both types of patterning.
Back in October I attended a class taught by Susan Khalje and Kenneth D. King.  On the first day, several of the students who had taken the class before were talking about their "moulage".  Having never heard the word before, I asked Kenneth what it was.  Once he explained it to me, it sounded like exactly what I had been trying to do on my own for years.  Kenneth had written a drafting book and teaches courses on this method.  I couldn't wait to buy the book and try it out in my studio!
From Kenneth's D. King's website:  "The moulage is the foundation of the couture pattern drafting system taught by the Ecole Guerre-Lavigne in Paris. This is a system of measuring the figure, calculating, and drafting a pattern that will fit the torso like a second skin, incorporating any of the infinite variations of shape the human figure can take."
The book takes you step by step using special measurements to create a flat version of your exact figure.  You can see some of my draft in progress for Lila Rose's moulage (front and back) above and a closeup (of the front draft) below.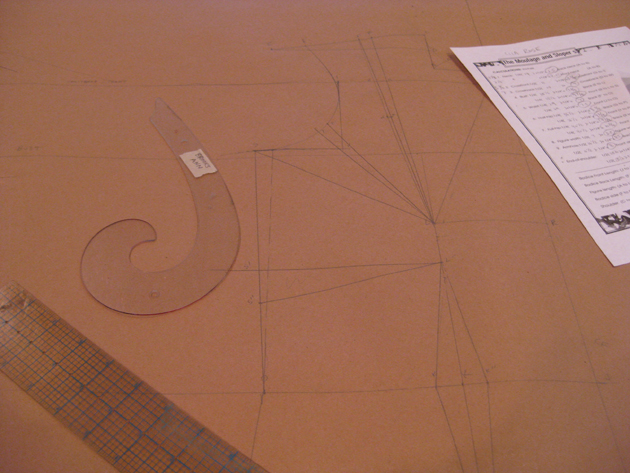 It's basically a precise sloper, or basic pattern that has no design to it, that you can use to create designs (or alter patterns) so that they fit perfectly.  If you want to learn more or try it yourself, you can buy Kenneth's books here.
I really enjoy drafting, so this method was right up my alley.  It was an especially valuable tool for Lila Rose's dress since it was very easy to translate the sloper/moulage into the dress that we designed.
In addition to the moulage, I made the standard padded dress form that I always do for my brides.  It not only serves as a draping tool, but it allows for fitting and showcasing the dress.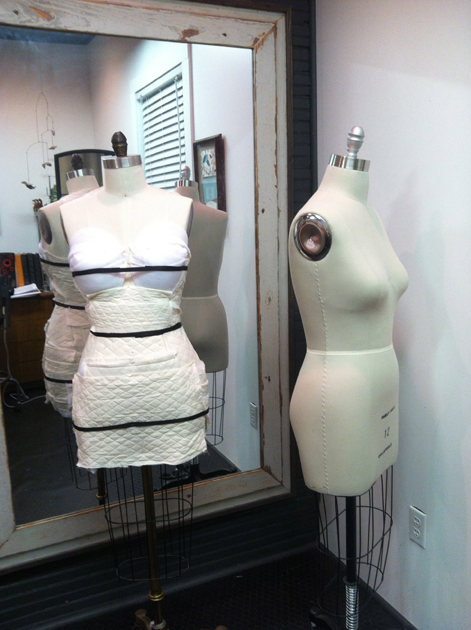 I used the original set of measurements and some photos that I took of Lila Rose to recreate a 3D version of her.  I always start with a dress form that is a little smaller than the person I want to fit, and then add padding to create her unique shape.  The padding will eventually be covered in a neutral fabric for a seamless look.  In the photo above, you can see a glimpse into my process of recreating Lila Rose's unique figure.
Once I was satisfied with the shape I had created, I made a fabric version of my moulage to try onto the dress form.  It fit really well, but not perfect.
Since I have not used a moulage before, I decided to split the difference between my dressform measurements and my moulage measurements, adjusting each.  I think this should give me a very good start to creating a pattern for a mockup dress that will be easy to fit once Lila Rose is in town!
More on patterning and mockups next post!
Never miss a post! Sign up for my email newsletter.