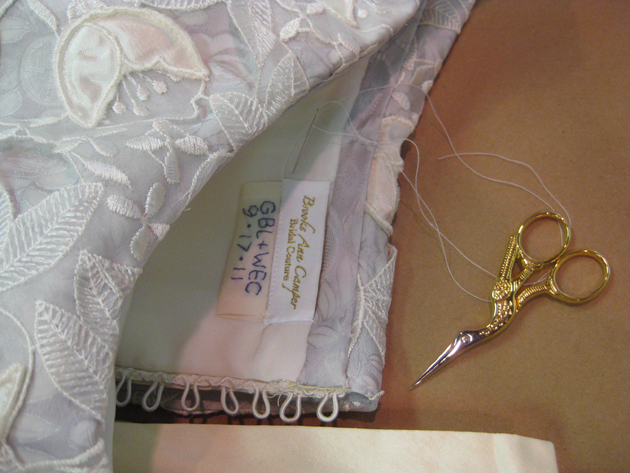 Hooray!  By this time, Greta and I were nearing the finish line for the completion of her custom creation!
This will be just a quick blog post about some of the little hidden final details that often go into a Brooks Ann Camper Bridal Couture dress.
One thing I always like to do is to add the couple's initials and the wedding date into the dress!  I usually just add it to the label as a finishing touch.
An inner waist stay is also added to the inside of the dress.  This is usually a piece of grosgrain ribbon or elastic that is fastened loosely inside the dress at the waistline.  It keeps the dress sitting snugly and securely anchored at the smallest part of the body.  A waist stay ensures that the dress will stay exactly where it is supposed to so the bride feels completely confident dancing the night away!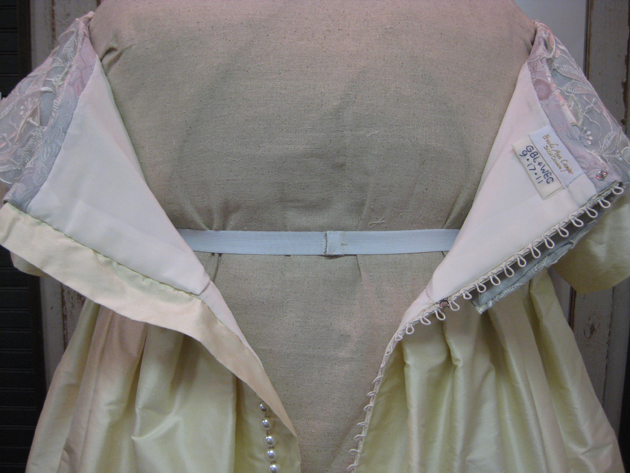 Time to button up!  Secret hooks and/or snaps make getting dressed easy and adds support to the closure.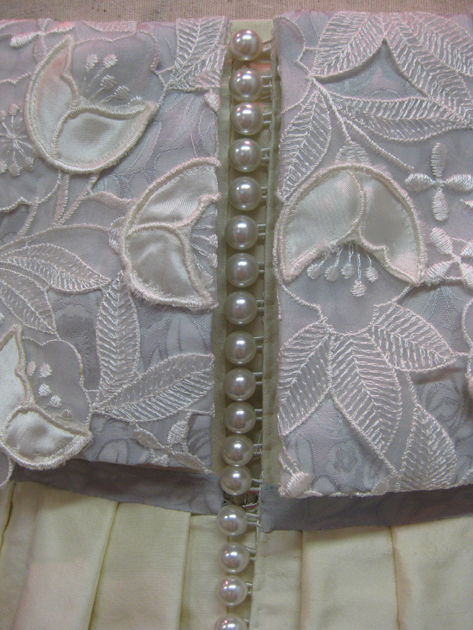 Lastly, I created a custom garment bag and hanger for this unique dress.
A teacher of mine used to always say that the dress wasn't finished until you had a way to hang it.  This was definitely the case for Greta's dress.  She is a very tall woman and this is a full length dress.  A custom garment bag was a necessity.
I made a simple bag out of cotton muslin for Greta's dress to travel and be stored in.  Breathable natural fiber fabrics are a must when it comes to caring for a couture garment.
Many people think that plastic is a good way to keep fabrics clean/safe.  I disagree.  If the dress is placed in plastic, the bag can transfer unwanted static to your dress.  Most plastic also gives off chemical fumes that cause the yellowing of bridal gowns.  Each of my dresses are carefully created using the finest of fabrics.  Seems silly to then throw it into a plastic bag.  Cotton is a much better choice.
For Greta's dress I still had one last challenge:  the hanger!  I usually provide a really nice store-bought hanger for the bride to use to transport/store her dress.  In Greta's case, her dress has a very wide open-shoulder design.  I placed hanger tapes at her empire waistline, but I still could not find a hanger that was wide enough take any of the weight from the shoulders.
That's when I called in the carpenter husband!
My amazing husband Charles cut, sanded, and finished a custom hanger from a piece of cedar!  It was surprisingly large (about 27″ inches at its widest), but worked absolutely perfectly for Greta's dress!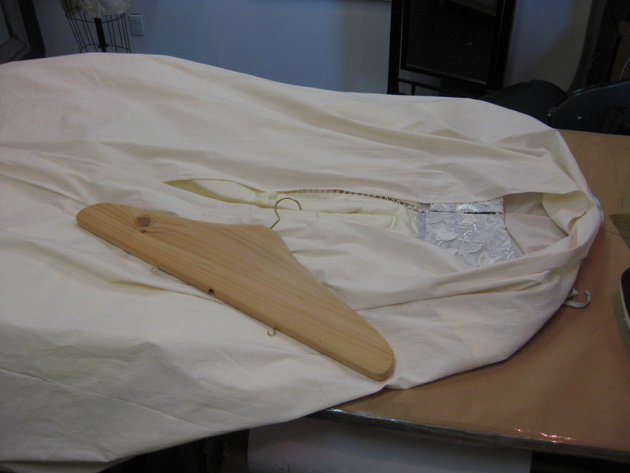 The dress was now ready to travel to two photoshoots!  One studio shoot with Kent Corely Photography featuring the dress on the dressform, and the other a fun fashion shoot with Greta at the Final Delivery!
The finished dress at the amazing Kent Corley shoot will be featured in the next blog post!