I love it when my bride brings her Mom to the fitting!  Especially when she is as fun as Greta's Mom.  (I love it so much and have so much fun that I often forget to take photos for blog posts.  I must get better about that!)
Greta and her Mom came to my studio last weekend for our final mockup fitting and subsequent fabric shopping excursion.
A fun fact that I learned about Greta's Mom is that she also had her wedding dress custom made.  Even more interesting is that it had a similar style to Greta's dress!  Featured above, she wore an open-shouldered lace top dress with short sleeves.  I love this photo!
Greta's Mom's dress was hand crafted by her future sister-in-law Janet.  The muslin fitting brought back memories of when she had her own muslin fitting!  During our fitting, she made a phone call to "Aunt Janet" in Upstate New York to invite her into the process.  It was a play-by-play relay:  "Now she's got the dress over her head.  Now she's zipping it up!".  It was really fun and I think we all had a blast!
Until this experience, Greta had no idea that her Mom wore a custom wedding dress or that her Aunt Janet was quite an accomplished dressmaker having studied at Parsons!
This type of discovery has happened more than once!  My bride Michelle told me that the dressforms in my studio reminded her of when she used to play with her Grandmother's professional dressform as a little girl.  Michelle asked her Mom about the memory and found out that her Grandmother had also attended design school and was a talented dressmaker, which was quite uncommon for a Jamaican immigrant in the fifties!
My process always seems to dig up some old family memories and treasures.  All while making new family memories and treasures!
AND Greta's mockup dress fit great!  I added boning and crinoline to this mockup and we all felt that they improved the overall structure and design.  All of our edits from the last fitting paid off and only minor tweaks were noted to fine tune the pattern for cutting the real dress.
The major tweaks were to the neckline, collar and sleeves. Here's the mockup when she first tried it on:  (With the gorgeous real jewelry!!)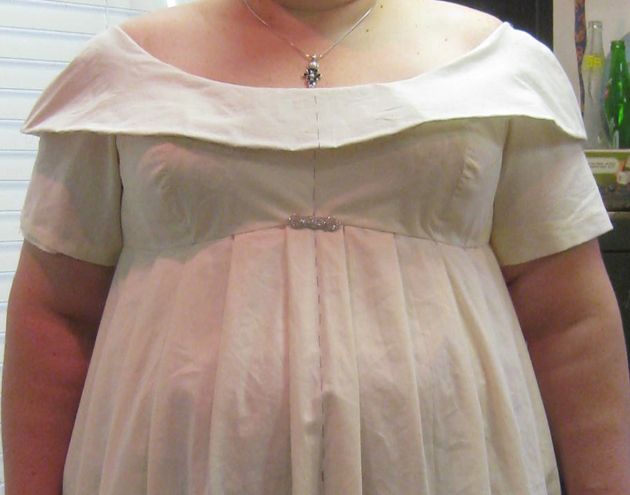 Followed by some of our minor edits: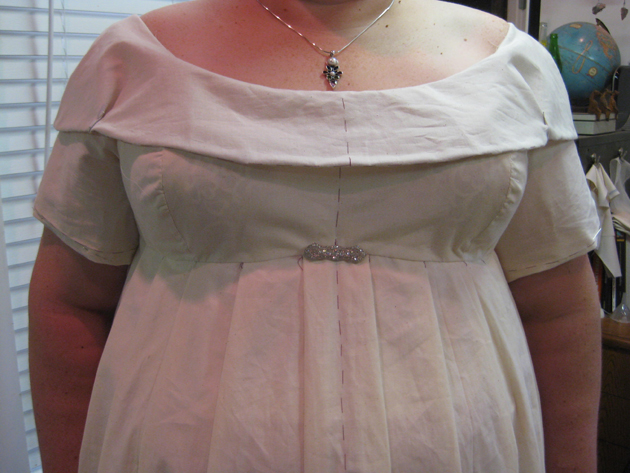 The tuck in the collar will be taken out in the pattern so that it is smooth like in the first photo, but has less fabric at its edge like in the second photo.  Her bra was sticking out a bit at the top of the dress so that will also be edited into the pattern.  We lengthened the sleeves and took in the back just a bit for our most flattering fit.
Then, we were off to Mulberry Silks Fine Fabrics in Carrboro.  We had so much fun together looking at bolts of fabric, special order catalogs, and veiling.  (Did I mention that I am also making her veil?!? More on that soon!)
Being the decisive person that Greta is, we were able to nail down all of our final fabric choices. We chose a gorgeous warm-toned ivory silk shantung as the main dress fabric!  We chose to use the Iceberg Blue Silk Jaquard just underneath the Sposabella lace on the collar, as well as for the trim.
We also decided to replace the invisible zipper with a row of functioning pearl buttons.  My theory on closures is to hide them or feature them.  We are going to make Greta's dress closure a beautiful feature on the back of her dress.
Everything is now ordered and I'm able to start preparing the underlinings for Greta's actual wedding dress!  There's a lot of work to do before our next fun fitting…