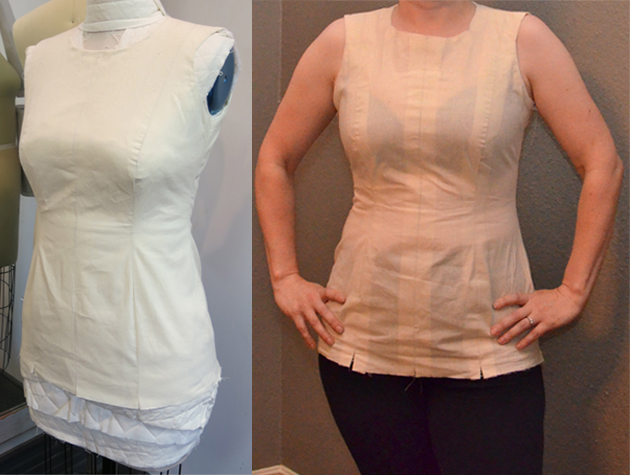 Loula lives in New Orleans and I live in North Carolina, and since she is my best friend, I tried some new ways to handle long-distance fittings for her custom wedding dress.  I started out creating a basic no-design draft of Loula's measurements, whipping it up in muslin with a big zipper up the back, and sending it to her in the mail.  She tried it on at home and emailed me some photographs so that I could observe the fit.  And as you can see from the photo above, the fit was not bad at all for a first try!
The interesting thing was that the photographs showed very similar fit problems as I observed when I tried it on the "size Loula" dress form.  See how the main wrinkles you see on the form are also seen on Loula?  This tells me that the problems were in the pattern, not necessarily in the way I padded her form.  Without having the bride's body or the mockup, I looked at the photos and adjusted the pattern to solve the problems I saw.  It was actually a really fun challenge!
Once my pattern was corrected, I used Kenneth D. King's companion book to the Moulage called "Birth of a Bustier", to change the pattern into a form-fitting boned bodice draft.  Though Loula's dress would not be strapless, I wanted it to fit as if it was, and I was hoping Kenneth's system would give me the result I was looking for.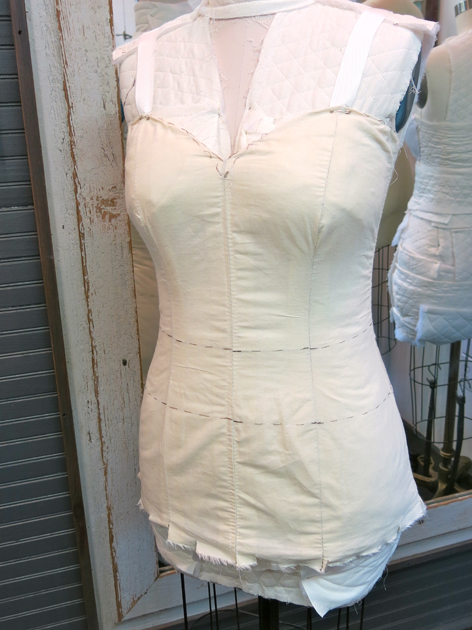 I made this new "Loulage Bustier" in muslin, this time adding the sweetheart neckline and some boning, and sent it to Loula in the mail for our second quick fitting.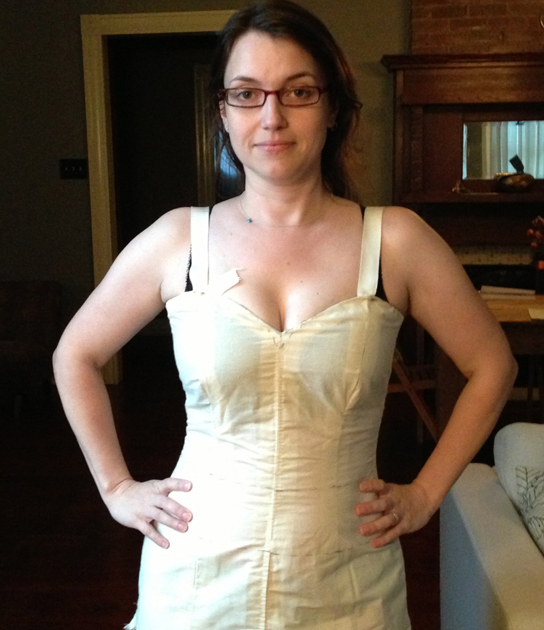 Yay!  Again there were a few small problems for me to fix before moving on the the next step, but Loula felt comfortable and looked great in this test version of her wedding dress's understructure.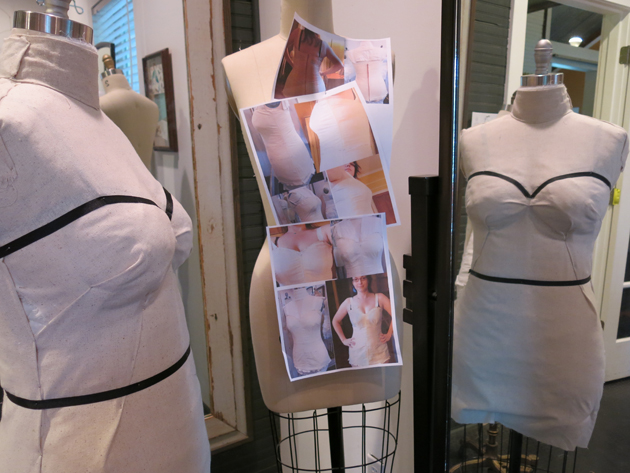 I once again, took the photos that Loula sent me and adjusted my pattern and the dressform to get as close to her shape as possible to ensure excellent fit.  Once the dressform was correct, I covered its padding with fabric and marked some significant lines with twill tape.
I would use the corrected bustier pattern to create a custom undergarment to go inside of Loula's custom wedding dress.  It would be a lightweight boned bodice that shares the same sweetheart neckline and corset back as the dress itself.  Once this complicated undergarment was perfected, the dress itself would be a breeze to pattern and fit.  Hopefully!
Next post:  Creating the custom undergarment!
Never miss a post! Sign up for my email newsletter.