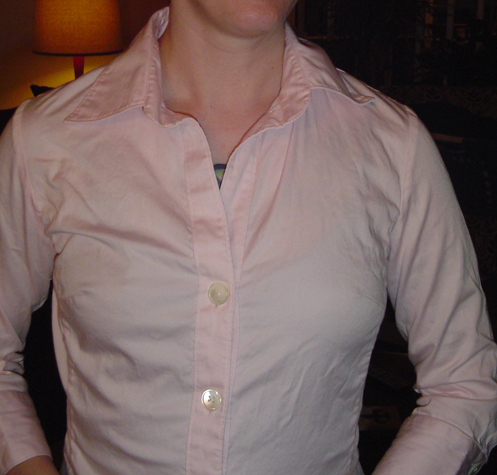 As you know, I am making this shrug for my cousin Jill at a great distance.  One of the biggest challenges I had to try to overcome is the measurements process.  Normally for a dress, I take about 40 measurements.  I insist that I personally take these measurements.  I know exactly where I place the tape and exactly what I am measuring.  This is crucial to the accuracy of the fit and the ease of patterning.  For my cousin Jill in Louisiana, I do not have this luxury.
Since this is only a shrug and I only need an accurate fit for her neck, shoulders, arms, upper chest and upper back, I came up with some ideas of how we may be able to solve this dilemma. 
One option was that she could have a friend measure her in front of me via Skype.  I could have a dressform, and show the friend exactly where to measure.  Via the live computer feed, I could watch closely as he/she measures to make sure I know exactly what is being recorded.  Even an experienced tailor could be taking measurements differently that I would.  Unfortunately, Jill does not have a webcam.
The other idea was for Jill to mail me a garment that fits her upper body, and I could draft a pattern off of it.  I am able to make a duplicate pattern of an existing garment without scarring or damaging the original garment.  This was the option that we ended up using, and this weekend I'm putting the theory to the test.
First, it was crucial that we get the right type of garment.  Initially I wasn't clear enough about what I needed, and Jill sent me a shrug that was very similar in style and shape to the one we are making for her wedding.  Unfortunately, I was not able to use it because it was made of knit.
A knit garment (t-shirts, sweaters, athletic wear) stretches to fit the wearer and is the most common type of clothes that we wear today for that reason.  The pattern for a knit garment doesn't have to be exact.  It will stretch here or there and can fit a variety of people.  Occasionally, you will see a wedding dress made of knit, but usually your wedding is a time when you really want a great fit out of a stable woven fabric to enhance your natural silhouette.
I then explained to Jill that the style and shape of the garment that she should send me really doesn't matter.  I can change the shape to anything we want while I am patterning.  Most importantly, what she sends should be a patterned garment (with seams or darts) made of a stable fabric.  I told her that a cowboy shirt or something similar would be perfect.  She then sent me the shirt you see above as well as some photos of her wearing it so that I could see exactly how it fits her.  This is what I am using instead of measurements.
Using the garment and the photos, I was able to draft a Jill-sized sloper.  A sloper, the basis for flat patterning, is a blank paper pattern that is just the size of the bride.  From this, I can start designing the garment in the correct proportions directly onto the paper.  I can draw a new collar, or change the darts, or do anything I want, using the principles of flat patterning.
I do feel like the using the shirt is cheating a bit, but it could potentially save me hours of patterning and re-patterning from incorrect measurements.  In the case of Jill's jacket, it seems to be the perfect solution for the challenge of creating couture from across the country!