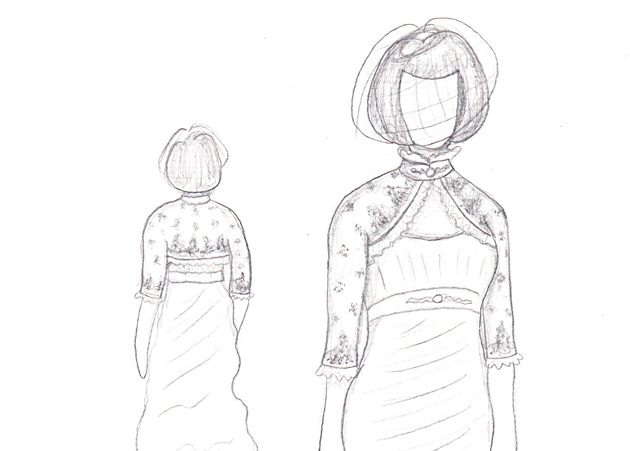 I worked up a couple of sketches for Jill to see based on all our previous conversations, questionnaire and swatches.  I snail mailed her samples of three choices for the main jacket fabric, a beaded overlay fabric, and two trim choices that I thought she would like.  I labeled each of her swatches with a letter, (so that it was easy for us to identify while talking on the phone), as well as the price per yard and what each swatch made out of. 
I added a new page to the website that I made especially for her, to show her the sketches and explain a little bit about what is going on in them.  You can see this by clicking here.
I gave Jill a week to think about it and then she gave me a call to tell me her decisions.  She chose the softest silkiest main fabric (a rayon blend) in a pale lavender color.  I thought this would be the one she might choose since one of the words that she chose from the questionnaire was "soft".
She fell in love with the beaded overlay fabric, which is a deep purple net beaded with a floral design and a distinct heavily beaded border.  When I saw this fabric in the store, I wasn't sure if I liked it or not, but I knew I should get a swatch and think about it.  By the time I got it home, I was pretty much sold on it.  I really couldn't imagine the jacket without it!  I was not surprised when she also thought it was perfect for her custom wedding shrug.
Jill decided that she liked the collar style of the first sketch, but pretty much everything else from the second sketch.  She's not sure about the lace edges, so for her mock-up fitting I am going to have both options for her to try on and she can decide while seeing it (with and without the ruffled edge) on her body.
We are both so excited that we have a really good start for the design!  Now it is finally time for me to start patterning the mock-up to try on her next month…