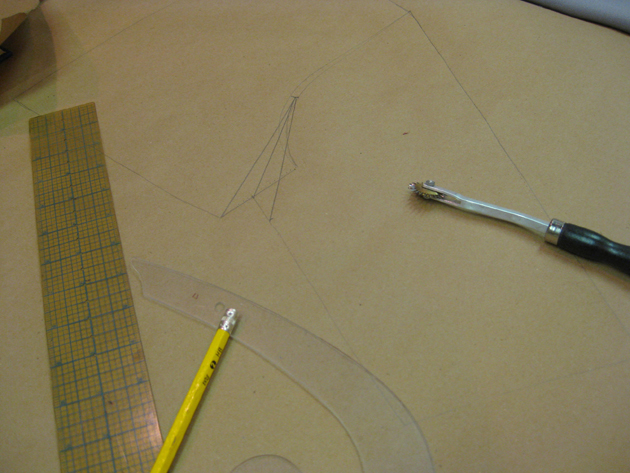 For custom garments, there are two methods to create a pattern:  draping and flat patterning.
Basically, draping is when the patternmaker pads a dressform to the measurements of the wearer and uses a inexpensive fabric to "sculpt" the design directly onto the form, pinning, cutting and drawing as needed.  This fabric "pattern" can then be translated to paper and "trued up" so that all the pieces fit with each other perfectly.
Flat Patterning is much more technical.  A flat pattern is created directly onto the paper using measurements and pattern theory to create a "blueprint" of what the garment will become once it is 3D on the body.

Most garments require a little of both, but sometimes a particular sketch begs for one type or another.  I couldn't imagine crafting Jill's jacket any other way than the flat patterning method.
I love flat patterning.  I love taking a set of measurements and a roll of brown paper and turning it into a perfect draft using pencils, clear rulers, french and hip curves, pins, spiky wheels and measuring tapes.  I really love the elements that you can create using flat pattern that you'd never dream of draping.  For Jill's jacket, this is her cut-in-one sleeves.
Cut-in-one sleeves don't have an arm hole.  The sleeves are created as part of the bodice.  These are always my favorite types of sleeves to pattern and to see on garments.  They are complicated to pattern and therefore you don't see them very often in ready to wear garments.
For Jill, I am actually making two mock-ups with two different types of cut-in-one sleeves:  The kimono sleeve and the gusset sleeve.  The advantage of the kimono sleeve is that the entire garment is cut in one.  There will be no break in the pattern of the fabric due to seams of the sleeves.  It was really fun to pattern this garment!  It's a challenging pattern, so it was really satisfying to create an entire jacket in one piece with only two seams.  How is this possible?  Imagine that the center of the garment while flat is the tops of the sleeves and the neck hole is the middle.  In order to turn it into a 3D garment, it gets folded in half and has two underarm seams.  Pretty cool!
This kimono silhouette actually has a sort of 1940's look to it, which is what Jill was looking for.  It also has a "asian" feel to it which Jill had also expressed interest in.  She stated in her questionnaire that the garden that she is getting married in is "almost asian-looking".  This is one of the reasons why she chose the 'mandarin collar', which I added to each sketch and mock-up.
But just because you say you like a 1940's/asian silhouette, it is not a style we are used to seeing on ourselves.  I decided that just in case it was "too weird" for her, I'd do another mock-up with a different cut-in-one sleeve for her to try.  This is the gusset sleeve.
The gusset sleeve is my favorite sleeve.  I used it in my wedding jacket.  It still has the vintage feel, but has a little more "modern" fit.  It is made by tilting the sleeve down from the kimono sloper and then slashing into the underarms.  In the slash, a diamond-shaped "gusset" is added so that the wearer can move their arms.  There are also seams running the length of the top of the arm.  I'm not sure who invented this sleeve, but I think of it as being very Dior (my favorite designer).  You can see the back of the jacket patterned with the gusset sleeve in the photo above.  It is also a challenging and fun pattern to create.
I'm almost sad that the patterning process is over.  I always forget how much I love flat patterning.