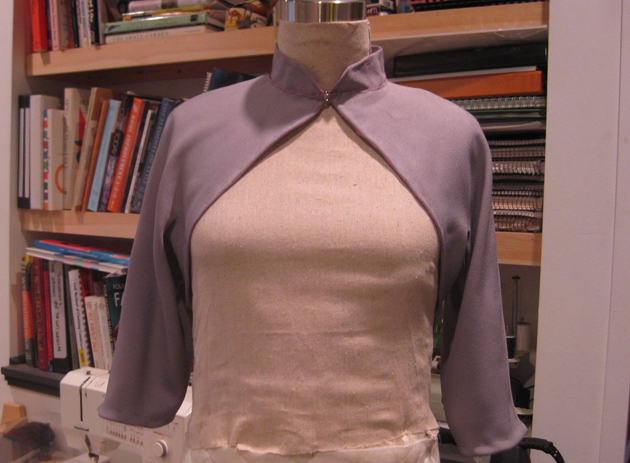 I've taken my paper patterns and made two sample jackets, or mock-ups, for Jill to try on when I see her for her fitting over the Christmas break.  For the mock-ups I used an inexpensive fabric that had a similar weight to that of the real fabric we will be using.  The mock-up fabric that I chose didn't come in a color that was similar enough to the purples we are using to not be distracting, so I chose a neutral gray.
The few seams that are in this small garment are machine-sewn with a long stitch so that it is easy to remove if we need to change it in the fitting.  I hand basted the collar on so that it will be very easy to remove and move if we need to for fit.  All the edges are hand basted with extra seam allowance.
I do not press the edges on a mock-up because if we do decide to lengthen a sleeve or lengthen the jacket opening, I don't want a distracting hard line to keep us from seeing our changes.  I have guidelines and grainlines threadmarked so that we can see if they are hanging on her body exactly in the direction that I thought they would on paper.  I can't wait to get these on her body and tweek it to fit her unique figure perfectly!