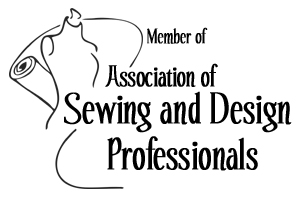 I'm so excited to tell you about my new bride, Greta!  Greta contacted me via email about 2 months ago and since then we have been having a blast together!
I'm a member of the Association for Sewing and Design Professionals (ASDP) and Greta found me via my link from their website.  She contacted me only two weeks after her engagement!  That is one of the things I really like about Greta.  She knows what she wants and quickly figures out what she needs to do to make things happen.
Greta was in search of a "high quality dressmaker in the area".  She stated that "I do strongly prefer a custom dress, since I am a 6ft 1/2 inch tall, very plus sized bride who will likely have a tough time finding something off the rack, particularly if I am looking for something special".
After reading her email, I thought Greta sounded like a perfect custom client and I sent her my Questionnaire right away.  Custom is not for everyone and the projects I like to book are for brides who would otherwise have a hard time fulfilling their vision in an off-the-rack dress.  My brides usually have a very unique style or a very unique figure (or both)!
Greta sent back her completed Questionnaire the very same day and I learned a lot of fantastic details about her and her upcoming wedding.
She's having a traditional Jewish wedding in a gorgeous synagogue this fall.  She's a history-buff, a travel-addict, and she has a career where she "spends a lot of time working or thinking about work."
She also could not be more starry-eyed/head-over-heels in love with her husband-to-be.
Greta was thrilled to be engaged to an absolutely wonderful man and equally excited about every aspect of their upcoming wedding.  That is, except for the dress.  The dress was the only part of the wedding planning that she truly dreaded.
Greta had heard horror stories from other plus-sized friends about demeaning experiences in bridal salons while trying on dresses designed for twenty year old brides who wear a size 6.   Greta is a size 30 and will be 39 at the time of her wedding.  She just wants to look pretty on her wedding day.  She doesn't want to look like a skinny twenty-year-old.  She wants to look her best!
She had expressed her "dress-dread" to a friend of hers who had a great idea!  Her friend said to "do whatever you can to make the dress your absolute favorite part of the whole wedding."  Greta decided to forgo the dress shopping experience all together and search for a custom dressmaker.
She wants a simple high-quality upscale wedding dress, but she also wants a wedding dress experience that is pleasant and encouraging.  She did her research and found me.
I told you, when Greta wants something she finds out how to get it.  I can't wait to work with her!