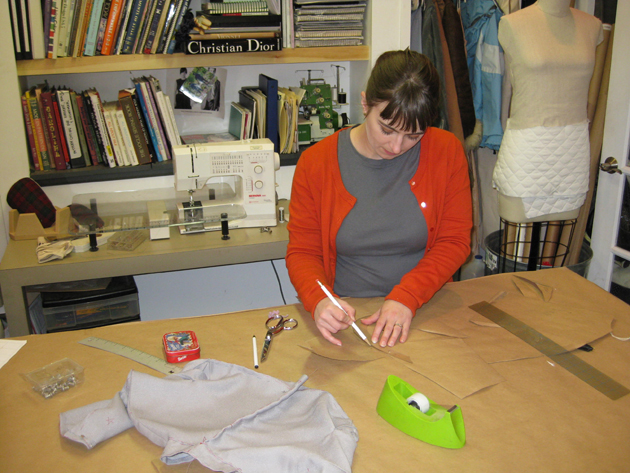 Pattern correction always creates an interesting conflict of interests for me.  The fewer corrections you have to make, the closer that the dress is to being perfect, but one of my favorite tasks of dressmaking is pattern corrections.  I really enjoy taking the garment from the fitting, with all of its pins, cuts and marks, and translating that back to the pattern.  It's very technical, but also creative.
There are always problems to solve and balance to create.  All my favorite patternmaking tools come back out:  The pencils, the paper, the french curve, the rulers, the pins… 
It's really fun for me to take my original pattern that was clean and precise, then mess it all up, then create a new pattern that is cleaner, more precise and even better out of the mess.
Jill's pattern corrections are particularly crucial since I am cutting the real fabric straight from these corrections and finishing the garment.  Since the fitting only yielded minor changes, I am confident that I have corrected and created a new well-balanced pattern that will perfectly fit her, will look amazing in the real fabric, and be the perfect style for her wedding day.