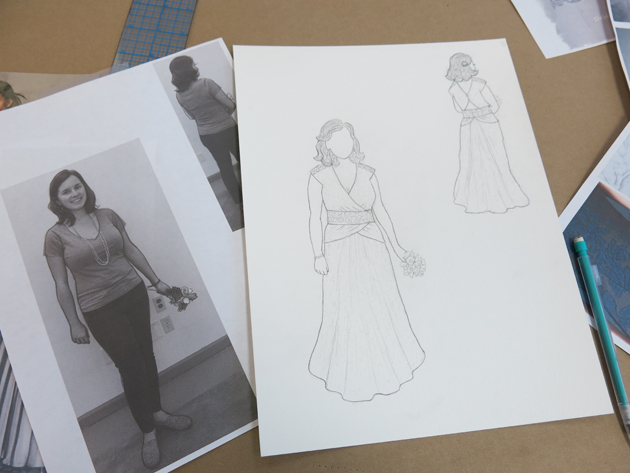 After our design consultation, I continued to brainstorm ideas for Erin's custom wedding dress. In order to see what design elements would look like on Erin, I started to sketch out ideas onto her unique silhouette.
When a bride goes into a wedding dress store, she can try on dresses to see how they look on her. When you commission something to be custom-made, there is no stock to be altered. The dress you will wear has never been created before and will never be created again. It will truly be one-of-a-kind.

So how can you tell what will look good on you?

Instead of using an exaggerated figure or a sample silhouette, I use the actual silhouette of the specific woman's body when I draw my sketch. It is a fun way to "try on" things that don't exist yet! Bonus: it is super easy.
During our design consultation, I asked Erin to pose for her sketch. I took my favorite shot from the front and from the back and printed them out onto regular paper.
On the back of the paper, I scribbled all over the areas where Erin was printed with my pencil.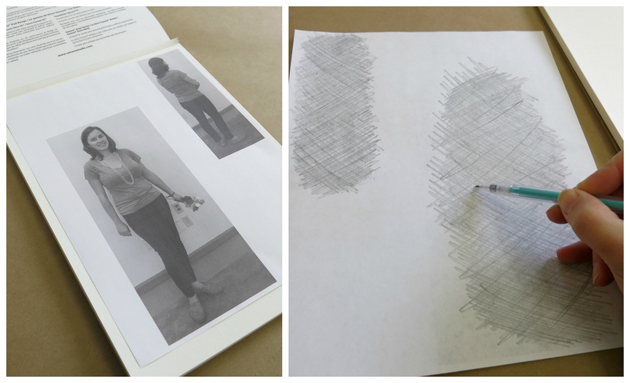 I then taped the printed photo, scribble side down, onto some watercolor paper and traced around Erin's silhouette with my pencil.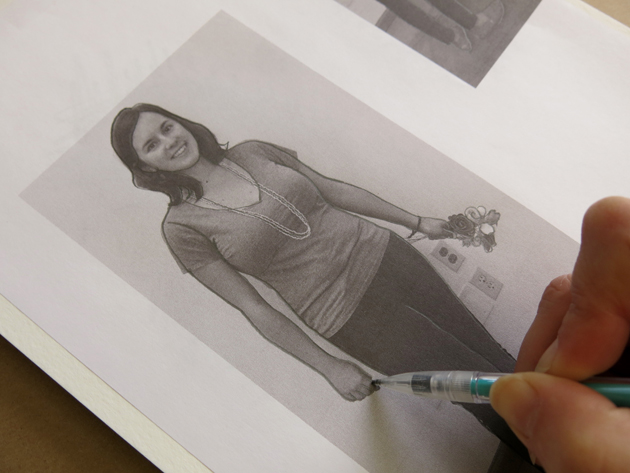 When I was done, I removed the printed photo to reveal a very faint outline of Erin.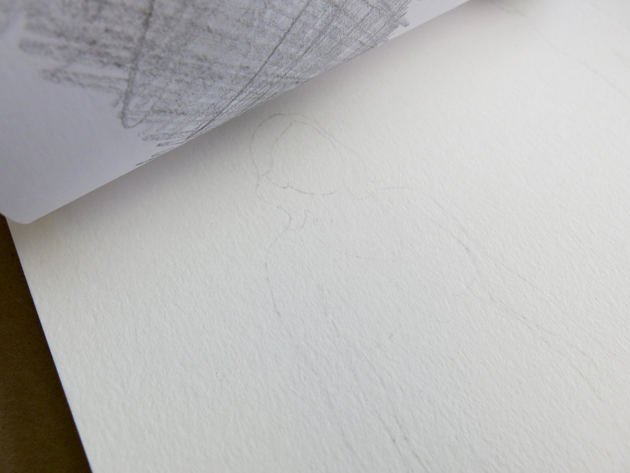 I was finally ready to sketch out my ideas using Erin as my model!
To do this, I darkened lines as I made decisions, and erased ideas that didn't quite work.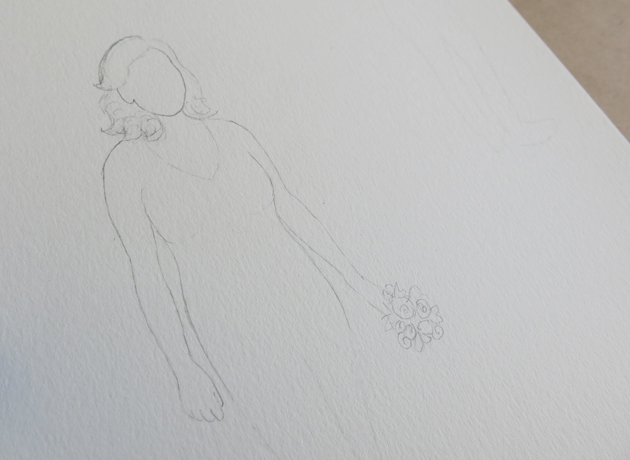 Looking at our inspiration images, I was able to come up with a sketch that celebrated Erin's unique style and her unique figure.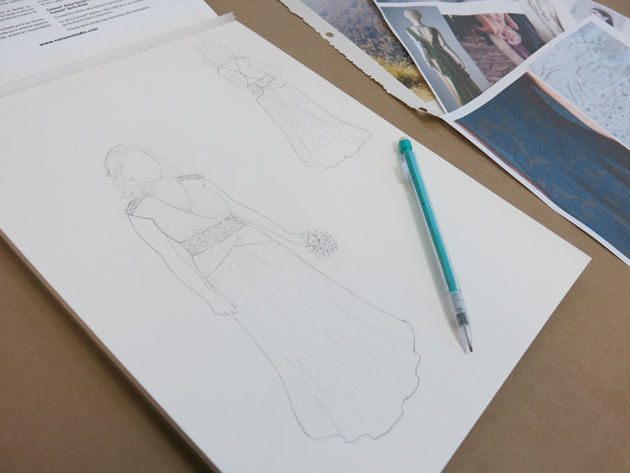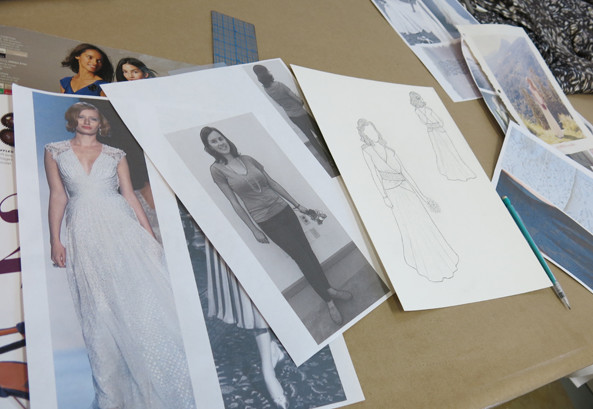 Here's what I came up with!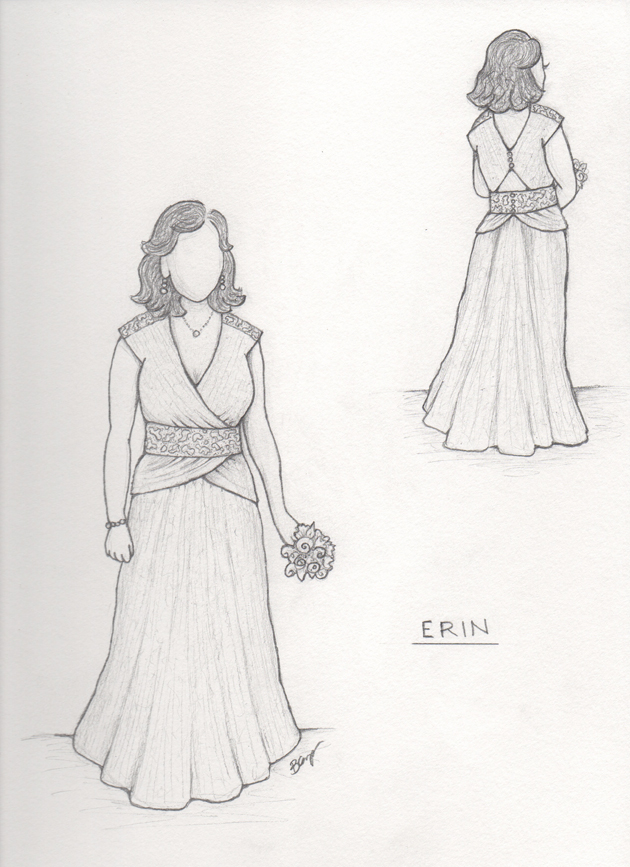 A textured lightweight cotton seersucker dress with flowing skirt, criss-cross details, and appliqué accents. The wide belt and small shoulder details feature Alabama Chanin inspired embroidery in beachy colors. The belt is fastened in the back with a row of bridal buttons. The top of the dress features a V-neckline in both the front and the back. The front drapes toward the belt and the back features a peek of skin below the center bridal button fasteners. The skirt of the dress features a flattering criss-cross of lightweight fabric at the front that drapes over the top of the hips meeting at center back. The skirt is full enough for some beautiful flowing movement with extra fullness added at the center back.
Once I was happy with the design, I created a Design Proposal Website, complete with the sketch and our inspiration images. I sent a link to Erin along with a price estimate for her to consider.
I couldn't wait to hear back! I was totally in love with this design for her and I hoped she'd fall in love with it too!
NEXT POST: (Spoiler alert! Erin loves the design!) I create a Size-Erin dressform in order to start creating patterns for her unique seersucker wedding dress!
Interested in learning more about this sketching technique? My Intro to Custom Sewing eCourse begins with designing and sketching for your body. Then you'll learn how to draft your own custom-fit patterns and complete a custom skirt of your own design! Check out www.SkirtSkills.com to learn more and join the Skirt Skills mailing list to stay informed about future sessions.