Skirt Skills starts July 11! Registration opens June 3!
As many of you know, I recently started teaching my custom sewing and pattern drafting techniques to women who want to make clothes for themselves. I chose to start off in a digital platform and offer the course online. It has been very well received and I have had an absolute blast getting to know women of all skill levels and body types as we learn from each other!
Being new to teaching and "home sewing", it seems that I'm offering something a little bit different than what can be found in "big box" classes online. One difference is that it has limited enrollment so that the students can get to know each other (or not, if you want to stay private) and I can offer very personal one-on-one guidance getting to know each student, her body, and her skill level.
Why learn to sew online?
Skirt Skills is very much like an in-person class, but instead of scheduling and commuting, you get to work at your own pace in your own space! And unlike an in-person class, you get to keep the lessons forever, so you can review and/or take the class over and over any time you'd like.
There's an online classroom where students enjoy sharing and asking questions any time of day or night. If you are local, the course also comes with in-studio office hours. If you are from out of town/state/country, the course offers private Skype calls. I'm dedicated to providing a personal experience for each student.
The mission of the course is to help you learn to confidently take a project all the way from idea to finished garment. Learning to do this "on your own" rather than in a physical classroom I think is also an advantage. I'm available to help you whenever you need me, in order to ultimately be able to work without me. Working together online is a great way to gain confidence to work out projects on your own.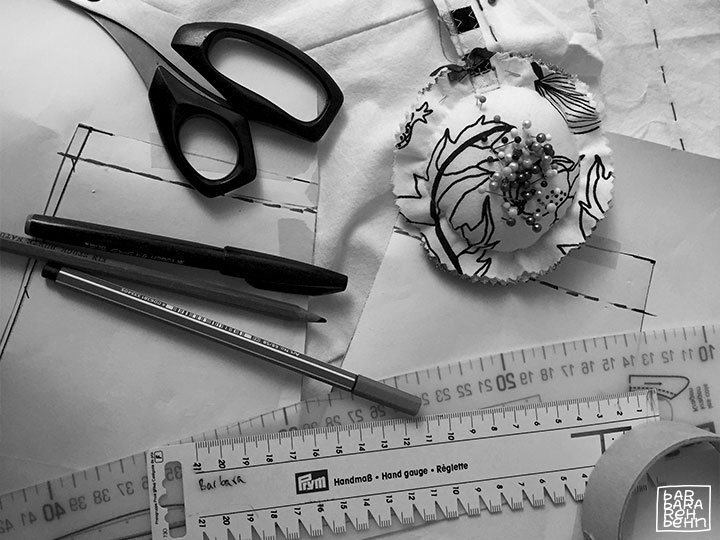 What will I learn in Skirt Skills?
Skirt Skills is an introductory class where you learn the start-to-finish process of "custom sewing" while making the easiest garment: a custom skirt. After you learn to design and sketch using your own body, you'll learn how to draft a custom skirt block (which is a 'size-you' no-design skirt) using your measurements and nothing else. Many "custom" drafting systems use standard measurements or formulas in conjunction with a few of your measurements. My system is all you! We use non-standard methods to sew for our non-standard bodies!
While working through the class, I teach how I like to mark, cut, pin and stitch fabrics (which is different from how "home sewers" do it) and we will learn a lot about custom fitting.
We use your size-you skirt block to learn all about flat pattern making principles. You will learn to draft your own custom-fit patterns for skirts of your own design.
Then, I'll take you through the entire start-to-finish process of how a custom skirt is hand crafted. We'll learn lots of  hand sewing and machine sewing techniques, as well as learn a lot about fabrics, notions, tools, and a bit of couture.
Did I mention that this is an entry level course?
No prior garment sewing experience is required to learn custom sewing, though I've had plenty of students who have been sewing clothes for decades. Since nearly every step I teach is different from following a store-bought pattern, I do not think it is an advantage to already know how to go through that process. (I personally have never been able to complete a garment using a commercial pattern. They are so confusing! And not at all my size!)
Skirt Skills is also the prerequisite to the new course I am finishing up now called Smarty Pants. In Smarty Pants, we are taking everything we learned about the custom process and our Skirt Skills blocks to make custom-fit trousers and jeans. The students are loving it!
Interested in joining or sharing with a friend?
This summer Skirt Skills starts Monday July 11! Registration opens Friday June 3rd! 

Space is limited and the course has sold out quickly in the past. Get on the Skirt Skills mailing list to stay informed and be notified as soon as registration opens!

There's a whole website dedicated to info on the course! At www.SkirtSkills.com you can learn about what is included in the course including the week-by-week course breakdown, more about me and what I'm teaching, answers to lots of frequently asked questions, and lots of testimonials from former students including links to a couple of posts that blogger students have written about their experiences.
I hope you'll join or spread the word! I look forward to working with a great bunch of new women this summer!
NEXT POST: Did you know that I'll be teaching a Couture Hand Sewing Intensive at Camp Workroom Social this Fall? My next blog post will be all about Camp!
Visit www.CampWorkroomSocial.com to learn more now and to register today!