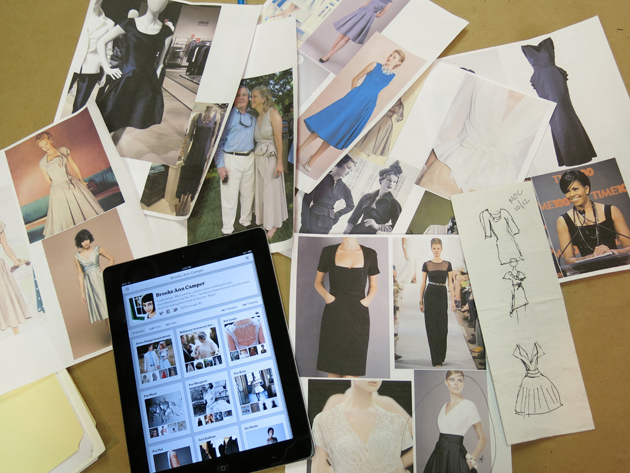 In last week's post I mentioned that even though bespoke dressmaking is an old and traditional art, I love using modern tools to make the experience more fun and stress free.  One of my favorite modern tools is Pinterest.
Once I read Margaret's questionnaire answers, and spoke to her in person at our free Initial Consultation at my studio, I began collecting images to show her with design elements that we could incorporate in her custom mother-of-the-bride dress.  I often collect pages from magazines, but most of my images are on Pinterest.  It is an amazing way to share ideas with clients!
Though I never directly copy someone else's work, I draw from lots of sources to come up with what will ultimately be a unique design.  One image may have an inspiring fabric choice.  The next may be a cool hemline or sleeve.  When you are working to create something that has never been made before, it is very helpful to have visuals to aid in the communication between client and designer.
I'm constantly collecting general Dress Design Inspirations and Millinery/Accessory Inspirations on Pinterest.  When I get a new bride (or in this case, mother-of-the-bride) I start Pinboard just for her.  You can see some of the many images that Margaret and I have been pinning on my pinboard "For Margaret".
I printed out my favorite ideas for Margaret and brought them to our Design Consultation.  Margaret's daughter Mary (the bride!) joined us for the consultation.  We both wanted Mary's input on Margaret's dress.  We wanted to make sure that the mother-of-the-bride dress fit perfectly into the wedding itself, and who knows wedding details better than the bride?  We also thought it might be cool to connect the dresses somehow, having some detail in common between the bride and the mother-of-the-bride's dresses.
Once we sorted through some images, some favorites began to emerge.  Margaret took this photo when she and a friend were shopping in New York.  She loved the fabric and the structure of the dress.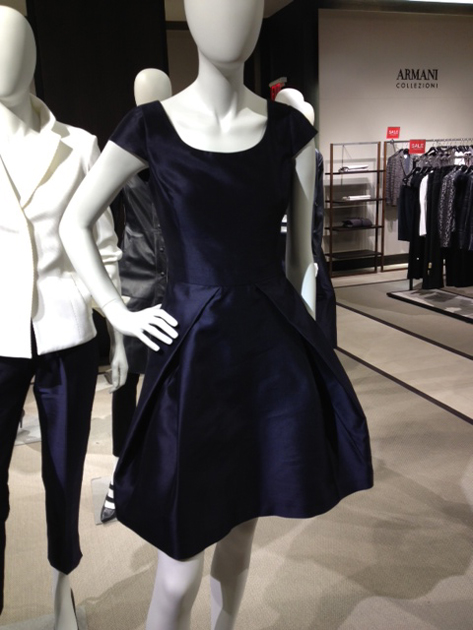 We were also both really inspired by this image: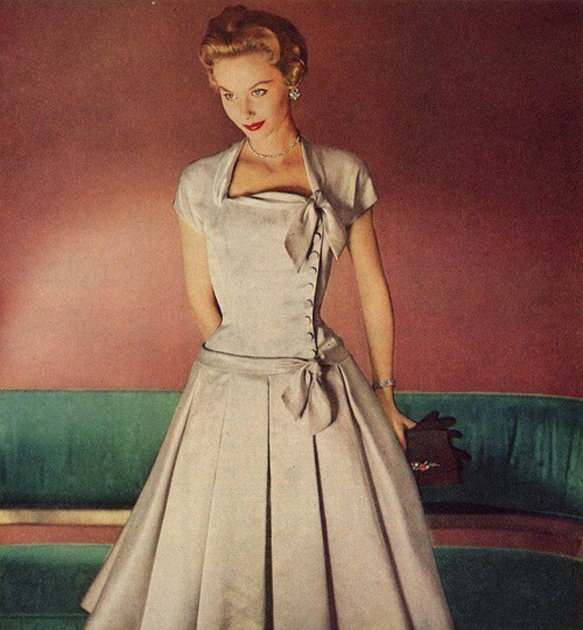 Margaret also wanted a jacket to wear for the ceremony, which will be outdoors in March.  We thought a shrug of some sort might be fun!
During the consultation, the bride Mary realized how much fun it was to have something custom made.  She already purchased a pretty wedding dress, but started entertaining the idea of having a custom jacket and/or other accessories made to jazz up her bridal look!  I can't tell you how excited I was!  We basically tagged on an Initial Consult onto her mother's Design Consult and I couldn't wait to start pinning images "For Mary".
Since I'm already blogging about Margaret's dress, I'm going to hold off blogging about the process of creating Mary's jacket and accessories until after the wedding.  We've got a lot of friends in common (including her fiancé!), so I don't want to spoil the surprise of Mary's bridal look.  You'll all have to wait until after her wedding day to see Mary's custom designs and read about the process of creating them!
After we played with images, I took some posed photos of both women for me to use in my sketches.  I like to draw my sketches on actual bodies, rather than stylized tall skinny models, so that we can both see what does and does not look good on the specific woman's unique figure.
Next we all took a trip to Mulberry Silks and Fine Fabrics in Carrboro.  They happened to be having their annual 40% off in-stock yardage sale and there were lots of gorgeous fabrics in stock.  Margaret and I were both drawn to a Carolina Herrera hammered silk.  It was in a beautiful deep color that reminded us of the fabric that she loved on the dress she saw in New York.  It was a color that sometimes looks black, sometimes navy, or plum, or brown, or dark gray….  the best I could come up with was that it was "smoky hued".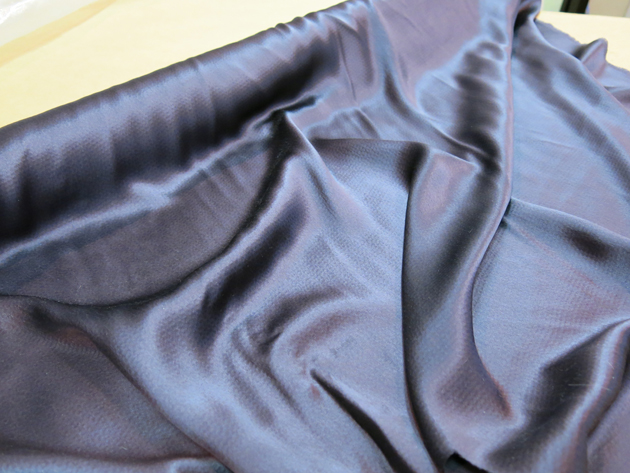 It truly was the prettiest fabric in the store and with a price that couldn't be beat we went ahead and purchased it!  I normally don't encourage buying fabric this early in the game (we don't have a design yet, much less a pattern that will let us know exactly how much yardage to purchase!) but in a case like this, we can always overbuy and use the leftover fabric (assuming there will be some!) for other purposes.
Inspired and energized, we parted ways at the fabric store and I went back to my studio to start drawing!  I'd spend the next few days working out the details for what could be Margaret's perfect dress…