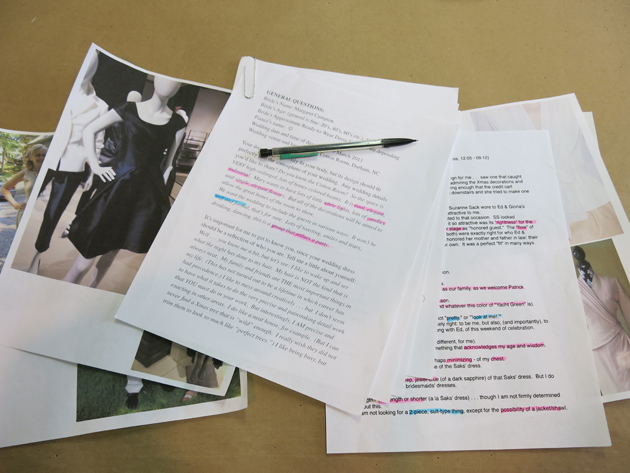 Margaret is a free-spirited woman with a smile that can light up a room.  She had some ideas for her mother-of-the-bride dress, but was open and eager to hear what I thought would be good choices for her.  I found out that her main reason for wanting to commission this dress was because she knew what a great experience Leah had when I made her custom wedding dress.  She had also heard from friends how adorable my home is and couldn't wait for an excuse to spend time with me and see me truly in my element.
My process is very interactive and personal, as well as visual.  Though bespoke dressmaking is a very traditional and old art, I love using modern tools to make the experience more fun and stress-free.  My process begins with a questionnaire.  Margaret filled it out and returned it quickly giving me lots of great insight as to what her custom dress could become. 
Her daughter's wedding would be outdoors in March (just like my own wedding!) with an indoor reception at a very cool, elegant, venue space in part of the American Tobacco Historic District in Downtown Durham.  I learned that the wedding was to be simple and special, decorated with lots of candles and white lights, and that the guests would be involved in the event in various ways.  Margaret said "It won't be stiff and formal, that's for sure.  Lots of toasting, smiles, tears, drinking, dancing…  This is a group who values a party!"
Via the questionnaire, I learned a little about Margaret herself as well as her style.  I also learned that she does not like man-made (aka polyester) fabrics, and even high-end dresses these days are passing synthetics off as luxury fabrics or sneaking them in as linings.  Margaret doesn't really like shopping and knew I was an expert on fabrics and designs and weddings, so she hoped that I'd be available to help her with her perfect mother-of-the-bride dress.
The questionnaire is a very important step.  I'm an expert at dressmaking as well as fitting all types of bodies, but you are the expert on you.  All this "getting to know you" stuff helps me to help you come up with a design that fits not only fits your unique body, but also your personality, age, and personal style, as well as the event itself including the venue, colors, season, and time of day.  It is really important to me to be very thoughtful about all of these elements throughout our design process.
What I learned most of all was that Margaret wanted something that was perfect for the occasion.  She would be a host of the celebration, but not center stage.  She wanted to honor her daughter and her fiancé, as well as her own husband and family.  She wanted to feel comfortable and stunning, but not in a "look at me!" way.  She also wanted to break away a bit from her "old standby" style which is a somewhat bohemian, flowy, and carefree.  For this special day she wanted something a bit more structured; something that "acknowledges my age and wisdom".
All of Margaret's questionnaire answers got me really excited!  It seemed to me like we'd be a perfect match and I couldn't wait to start gathering inspiration images for our Design Consultation!