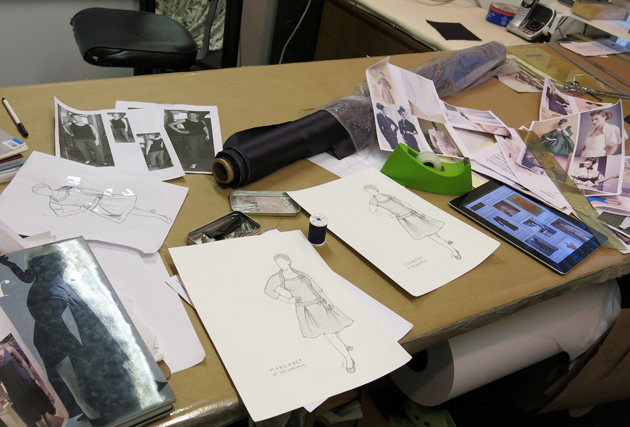 After our fun Design Consultation, I couldn't wait to start brainstorming and sketching Margaret's custom mother-of-the-bride dress.  I have a large cutting table where I spread out all of our favorite images and our beautiful fabric. 
I took some posed photos of Margaret during our meeting.  I looked through those and printed out the one that I thought was the best for my sketch.  I then transfer the image onto watercolor paper!  It's so easy!
I do this by scribbling across the back of the printed photo with pencil, then taping the image to a piece of watercolor paper (scribble side down), and drawing around her body from the photograph.  Remove the paper and there is a faint outline of Margaret's body.  I always start drawing fairly lightly and as I make decisions, I began to darken and commit to lines.  I always have a nice eraser nearby!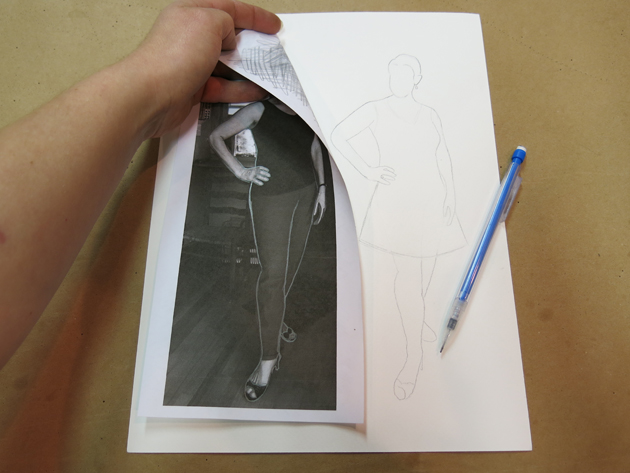 When drawing the designs on the woman's body, rather than a stylized fashion model illustration, you really can see what does and does not look good on the unique woman you are designing for.  Sometimes what you think will look good, will not.  And vice versa.  Sketching this way is very helpful to me and to the client.  Once I started sketching like this, I've never done it any other way!
These are the first set of sketches I made for Margaret!  They are based on the inspiration photos that I mentioned in last week's post, as well as the inspirations featured on her website.
My previous posts have mentioned how I love to use modern tools during my design process.  Creating a website for each client is yet another way that we can communicate in an easy stress-free way.  Once I've got the sketches prepared, I create a Design Proposal which I present on a webpage that I email to the client.  In the email is a contract with a price estimate for the dress in the proposal.
I like presenting the designs this way because it really gives the bride (or mother-of-the-bride) time to look it over and think about it on her own time, maybe share it with some friends, rather than being right in front of me for the reveal.  She can look at the website anytime she feels comfortable and decide whether or not she wants to book the dress.
Sometimes the design is perfect the first time.  Sometimes it takes several tries.  Sometimes we are tweaking the design up to the final fitting.   That's all part of the custom experience!
In this case (as was the case with Lila Rose), Margaret was in love with the custom experience and knew she wanted to book the dress, but she was not completely happy with the designs in the sketches.  She gave me some really great feedback and I went back to the drawing board.   It's always fun to see how one idea leads to a better idea, ultimately leading to the perfect dress…
Next post, I'll share two new options for Margaret's custom mother-of-the-bride dress!
Never miss a post! Sign up for my email newsletter.