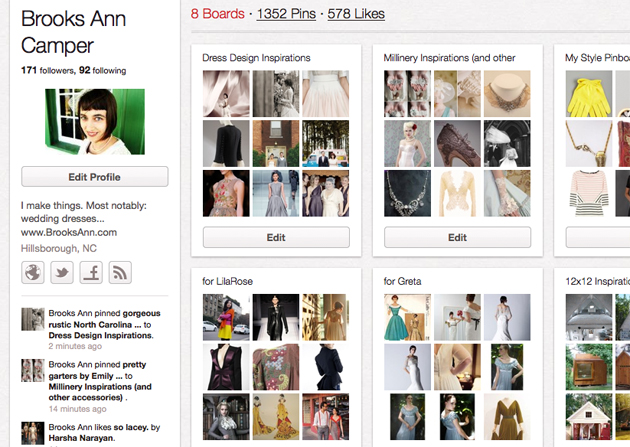 When a bride first contacts me, I send her a questionnaire.  I'm going to help her design a dress that is indicative of who she is, so I need to know a little about her!
Lila Rose sent back her completed questionnaire quickly.  And in hot pink type!
Via this questionnaire, I learned that Lila Rose is a nursing student with a passion for bright colors and the designs of the 1980s.  I learned that her wedding will be held in late August in Ohio.  I learned the location of her ceremony (her elementary school!) and that it would follow Quaker tradition.
As far as the dress is concerned, the questionnaire revealed that (among other things) she likes tailored looks with sleeves and wanted a short pencil skirt with a removable train and a bustle.  She also wanted to incorporate an heirloom, a shirt that her aunt crocheted for her mother's wedding day.
The questionnaire also has a brainstorming section where the bride lists adjectives that describe how she wants to look and feel on her wedding day.  Lila Rose chose these words:  fun, colorful, empowering, unusual, unexpected, and dramatic.
Sounds like a challenge that I was happy to help turn into reality!  We scheduled a Design Consultation.
Since Lila Rose lives so far away and she had so many different ideas, we began to communicate design ideas over Pinterest.com prior to our Design Consultaion.  Pinterest is an amazing online tool that lets you collect and group images visually and share them with others.  I've been pinning for over a year now, curating images that have elements that a future bride might want to incorporate into her custom dress.  Maybe it is a sleeve, or a trim detail, or a neckline, or a silhouette.  Maybe it is a color or a type of fabric or even a mood.  You can see my general Pinterest board of Dress Design Inspirations by clicking here.
You can view some of the inspirations specifically for Lila Rose's dress on my Pinterest pinboard called For Lila Rose.  Some of these pins were pinned by Lila Rose and some I pinned using Lila Rose as an inspiration.  These images along with magazine clippings and images from some of my fantastic books are all discussed and edited when we meet for the Design Consultation…
..which I will tell you about in my next post!
(If you also have a passion for Pinterest, follow all of my pinboards here!)