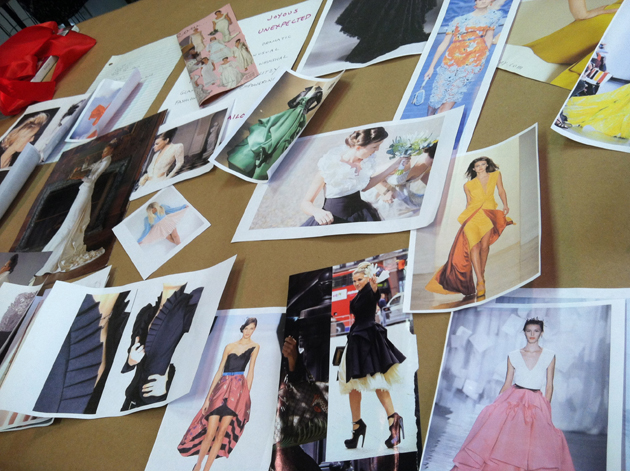 A few months ago, Lila Rose flew in from Boston for her Design Consultation.  I picked her up from the airport early in the morning and we got straight to work!
The Design Consultation is the meeting where we share all of our favorite design ideas, and then edit them down into what works best for this one unique wedding dress.  This is always one of my very favorite parts of the bespoke process!
The two of us had collected a lot of images, and we were able to group them into piles of ideas for Silhouettes, Necklines, Skirts, Colors & Textures, Trains, Bustles, Sleeves, and All-Around Awesome.  I also wrote out her expanded list of inspiration adjectives chosen from her questionnaire (Fun, Joyous, Colorful, Unexpected, Funky, Artistic, Dramatic, Non-Traditional, Unusual, Different, Vibrant, Glamorous, Whimsical, Fashion-Forward, Empowering, Tailored and Comfortable) to help us guide our choices.
We spent the morning laughing, getting to know each other, brainstorming and getting inspired while sorting through all of our amazing ideas!  (In case you missed it last week, you can see a lot of the images here on my Pinterest page For Lila Rose.)  Together, we were able to edit our piles into manageable options and absolute favorites.
Since Lila Rose is from out of town and we'd like to keep our meetings to a minimum, I went ahead and took a set of over 30 measurements of her cute figure.  If she decides to book the dress with me (spoiler alert: she did!), we can finalize contracts via the mail and I will be able to get right into patterning without having to physically meet again.
Still inspired, we then took a trip to Mulberry Silks Fine Fabrics so that I could get an idea of what types of fabrics that Lila Rose was drawn to.  We weren't there to purchase or ultimately make fabric decisions, (we will do that later once the pattern is made and yardage is determined) but to start to get a feel for the experience and to help me put a more accurate price estimate together for this amazing dress-to-be.
Lila Rose and I had a bit of lunch together and then I dropped her off at the house of our mutual friend Rosemary.  Inspired, I got right to work processing our amazing morning into an actual design.
Contractually, I have ten days to compile our ideas into a Design Proposal complete with custom sketches and a price estimate which I present to the bride via her own little website.  It's yet another fun way to communicate design ideas that the bride can then share with her loved ones!
More on Lila Rose's Design Proposal next post!