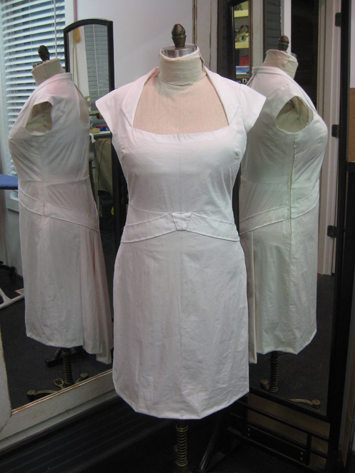 The mockup is ready for Michelle to try on! I added a new page to her website with more photos, so that she could preview the mockup before arriving here for the fitting.  I know it has got to be nerve-wracking to have a fitting scheduled for something you've never seen before, so hopefully the preview takes a little of the edge off.  She's also on the hunt for the perfect undergarments, and hopefully seeing a version of the dress on a "body" will help her get a better idea of what to look for.

Michelle also asked if it was okay to bring a friend with her to the fitting.  I told her that was totally fine, (I love it when brides have a support system!) as long as the friend knew that this was not the actual wedding dress!  I get nervous at this stage because I know what this will become and how beautiful it will be, but at this mockup stage the dress always looks odd, unfinished and will not fit perfectly.  We will test and tweak it on her body as the first step toward a perfect design and fit.
The fitting is this weekend, but until then, you can view Michelle's Mockup Preview by clicking here. Enjoy!!