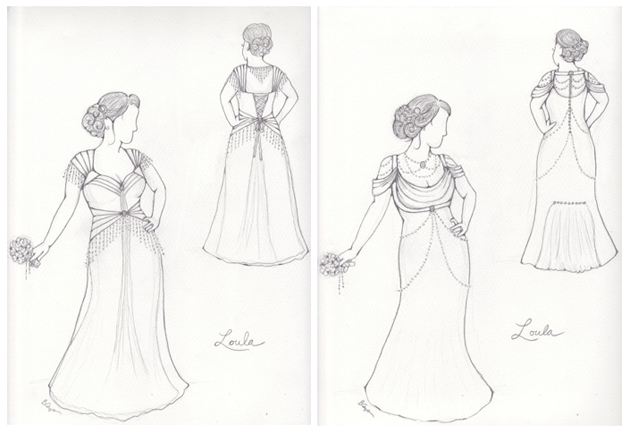 After playing around adding images to our Pinterest group board, I narrowed the inspirations for Loula's custom wedding dress down a bit.  I added our absolute favorites into a Pinterest board called "For Loula (for Real)."  I began to see that there were two competing styles:  an architectural style and a romantic style.  Since there is no way I can add every favorite element into one dress, I decided to create two different sketches and see what Loula preferred.  Even if neither were spot-on, it would get the conversation going for what her custom wedding dress could eventually become!
Loula'a inspiration words from her questionnaire were: Glamorous, Unusual, Dramatic, Deco, Edgy, Sexy, Fun, and Elegant.  She wanted a full length evening gown with some sort of sleeves.  She hoped to use New Orleans as an inspiration as well as possibly use metal somewhere in the design. 
Another inspiration was Loula's engagement ring.  It is a vintage ring from the Art Deco period.  This is a photo of her actual ring!  Isn't it incredible!?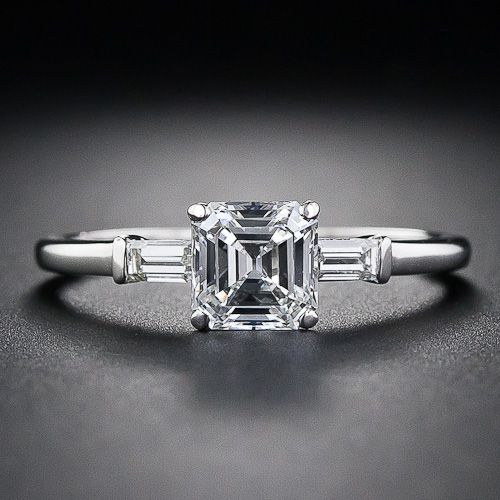 All this gave me an idea.
Loula and I each used to wear ball chain necklaces back in college.  Ball chain is a metal chain that is normally found in a hardware store to either hold the plug of your bathtub stopper or as a pull chain for your ceiling fan.  It seems ordinary when it is used in such a utilitarian way, but it can actually be really beautiful if used in an extraordinary way!  Somehow it reminded me of both New Orleans and Deco styles.  It not only could be an elegant version of Mardi Gras beads, it could be used as fringe or as low slung jewelry both popular in the Deco period.  It has metal!  It has sparkle!  I used stainless steel ball chain in both of my sketches.

First I created the Architectural look:  A Deco inspired evening gown featuring pleated shoulder, neckline, and waist details and V-shaped corset tied back.  Ball chain is used as "fringe" on the shoulders and hipline, and triangle-shaped upper back jewelry.  There are two layers of fabric with the top layer being sheer with extra fullness center back and center front.  Sparkly vintage brooches are featured in the center of the sweetheart neckline as well as at the center of the waist detail.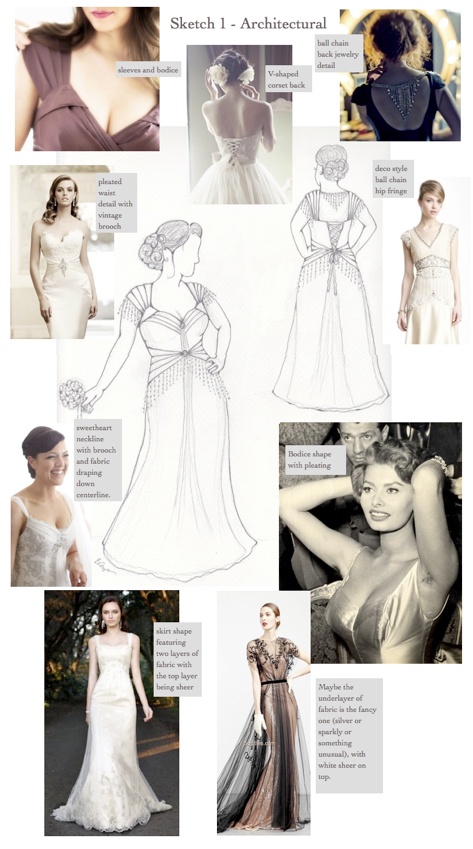 Then the Romantic look:  A soft romantic "New Orleans" inspired evening gown featuring shelf bust with rounded draped neckline and soft low-slung sleeves.  Ball chain neck, shoulder, back, and hip jewelry are accented with sparkly vintage brooches.  Silver or rhinestone buttons are featured down the center back (from neck to hips) and at the top of the hem detail that adds an extra kick of fullness at the back of the skirt.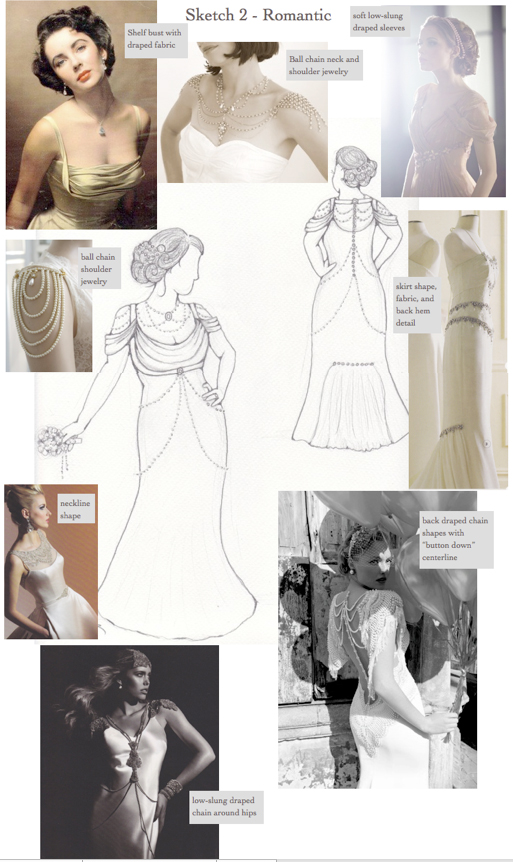 Sources for all the images can be found on Loula's Design Proposal website.  I just thought I'd add a sneak peek for all of you in this blog post.
Do you have a favorite??